10 Reasons To Love Shopping For Bedroom Furniture At Wayfair.ca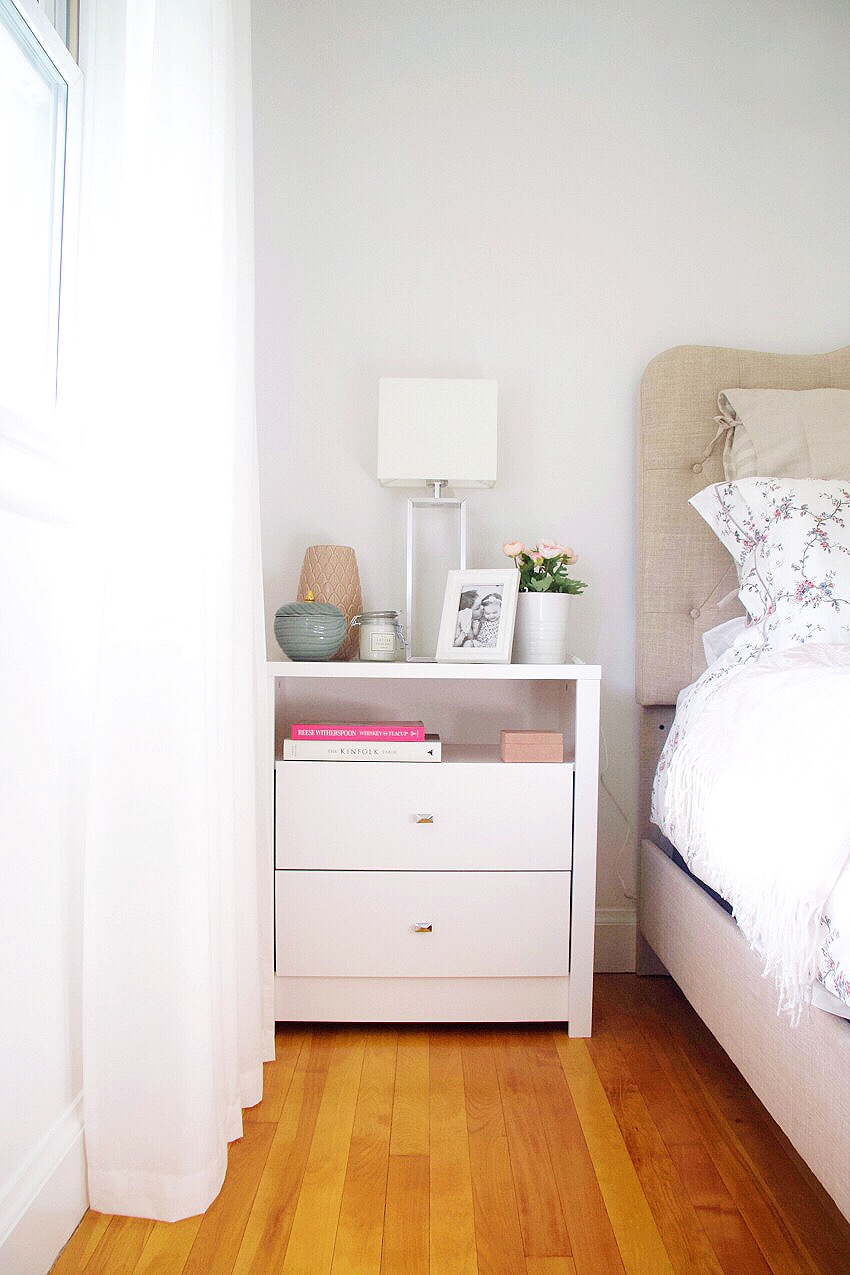 This post is sponsored by Wayfair Canada. As always, all opinions are honest and personal.
Choosing the right furniture was probably the toughest part of redecorating our master bedroom. We always had a theme for the makeover, but we had to decide on how we would use our space, and the items to go into it. We also planned to buy as much of it online as possible to save us time.
I have to say, I'm a pretty big fan of online shopping. Being able to explore several options and find the best deals all from the comfort of my home is amazing.
But with furniture, we were a bit skeptical. I mean, wouldn't it be better to walk into a showroom, feel the furniture first-hand, and decide if it's something we want in our home? Turns out, with all the available tools online, like clear photos, dimensions, fabric details, and in depth reviews, making the decision to purchase bedroom furniture was just as easy as a in the showroom, if not more.
Wayfair.ca, an online furniture and decor company, was where we did our big shop to update our master bedroom.The process was exciting and in my opinion, easier than it would have been if I went to a physical store. My husband and I were able to set up comfortably side by side, shop lots of different styles, narrow down our favourites by saving them to our "bedroom board", and compare them at length until we finally made our decision. All without the stress of large crowds, lineups, picking up furniture (or paying extra for delivery), or dealing with pushy salespeople.
With the quality and elegance of the furniture we received, our selections couldn't be more perfect!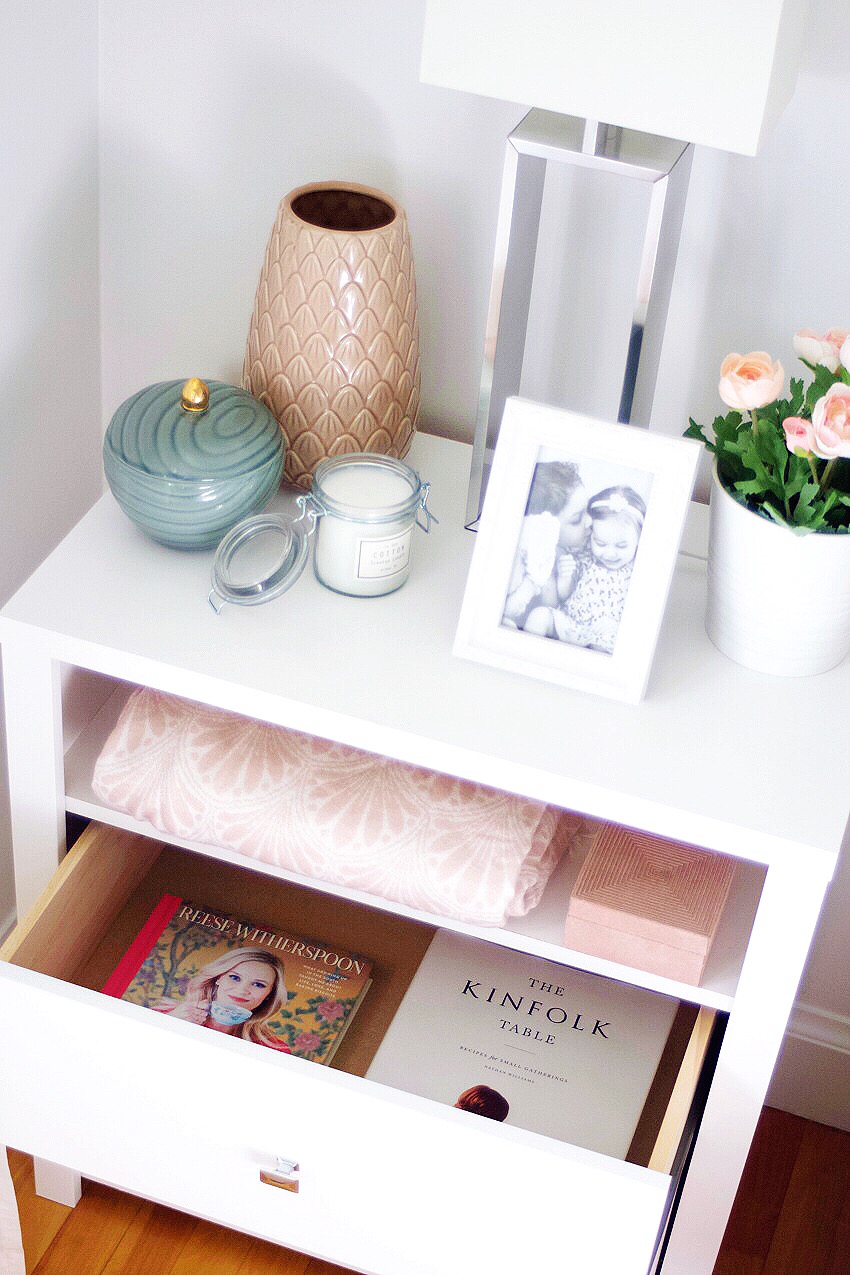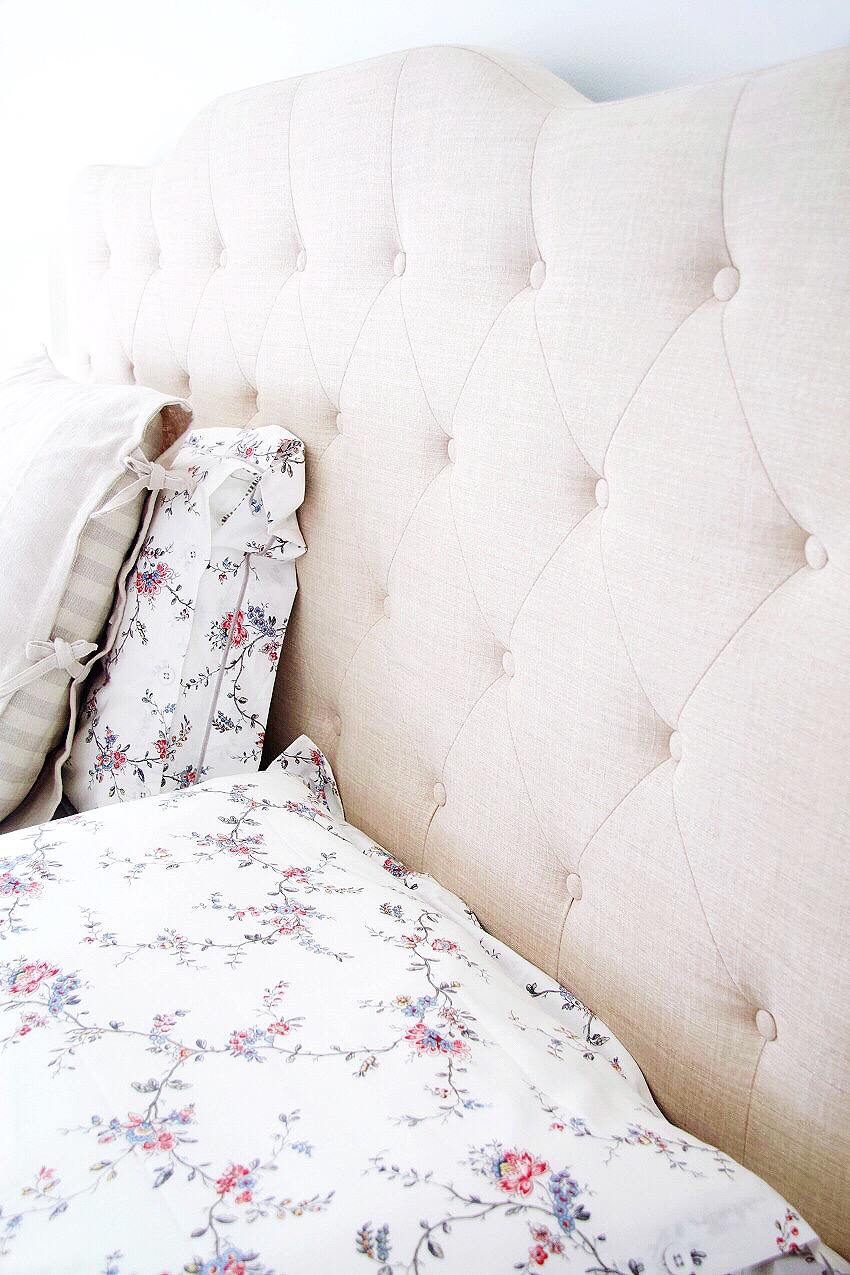 These are the pieces we chose from Wayfair for our bedroom:
The Calla Tall Two-Drawer Night Stand
We ordered two of these drawer stands for either sides of the bed; my husband and I really loved them when we spotted them. With solid drawers, a clean design and chrome finished diamond cut metal knobs, they perfectly complement our minimalist decor. They have two shelves and two drawers (each), giving us enough space to store accessories, books, tech, and all the other items we usually keep in our nightstands.
The Rockhamptom Upholstered Panel Bed
We wanted a simple yet elegant bed frame, and we got just that. Our new bed is designed with a headboard style frame and exposed wooden feet for sturdy support. The upholstery is linen and polyester blend material that feels high-quality and durable. I must say that this is the easiest bed I've ever had to unpack. The headboard comes with a zippered compartment, and all the frames, legs, and wooden slats we needed to set up the bed were in there.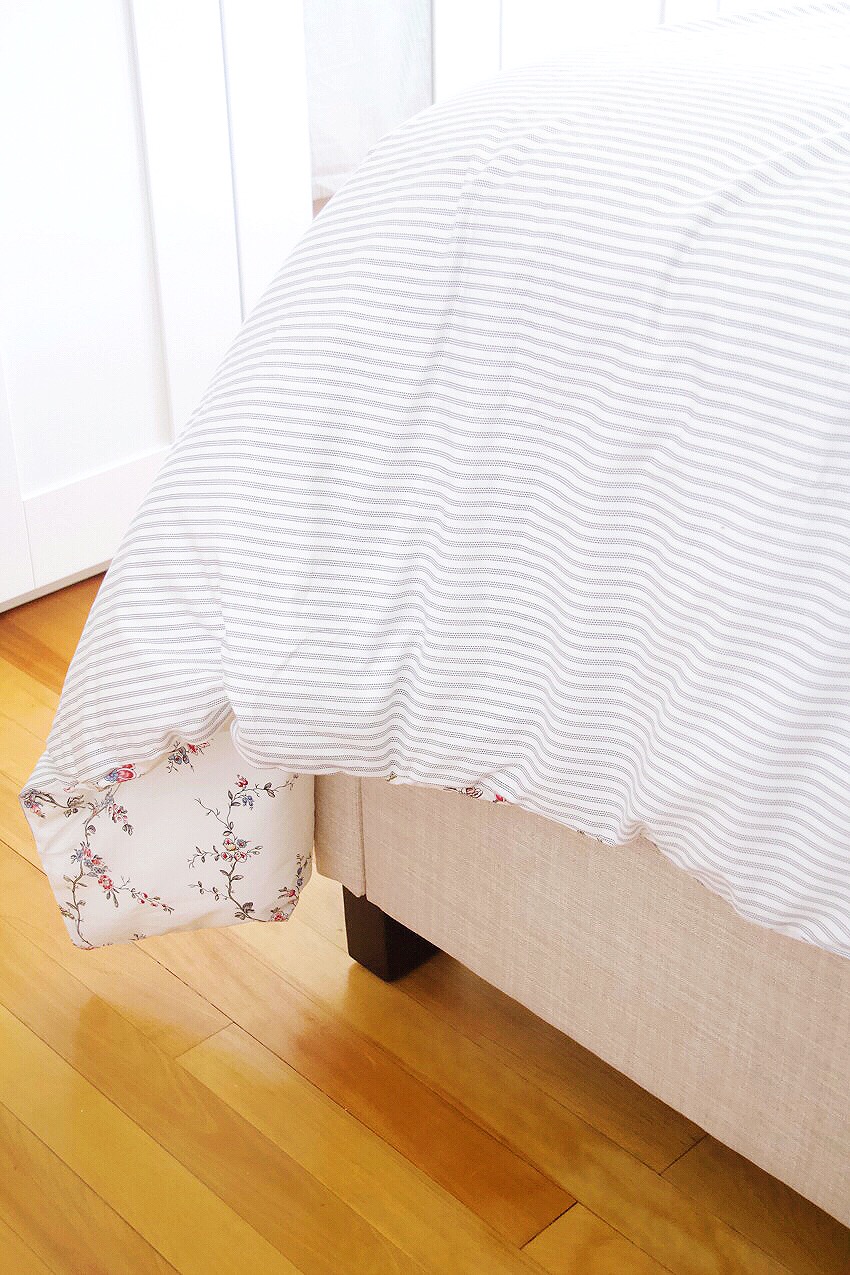 As you can tell, I'm really happy with my new pieces. Here are 10 more reasons to love shopping online at wayfair.ca:
1. Tons of bedroom inspiration and ideas
Their website is like a black hole of the best accessories and furniture for your home or office. There's also a 'Room Ideas' section you can scroll through for design inspiration.
2. Easy to navigate website to find just what you're looking for
The website has a clean layout that is super easy to navigate. Considering that they have hundreds of items listed, it was very easy to find what I needed. There are well-organized sections and subsections to make the search easier.
3. Awesome sales
It's almost like there's always a Sale going on. And it's not the small stuff either. I'm talking about major steals you wouldn't want to miss. To get notified of them, you will have to sign up for their newsletter.
4. Excellent customer service
I had a few concerns about the bed I was ordering, and reached out to customer service for help. Not only was I answered swiftly, but I could tell that the person on the other end had good knowledge of their products, and could give me the information I needed.
5. Lots of reviews and customer photos
There were almost no doubts by the time I was done reading their reviews. I was ready to make a purchase right away because their customers seemed so satisfied. Now I know why.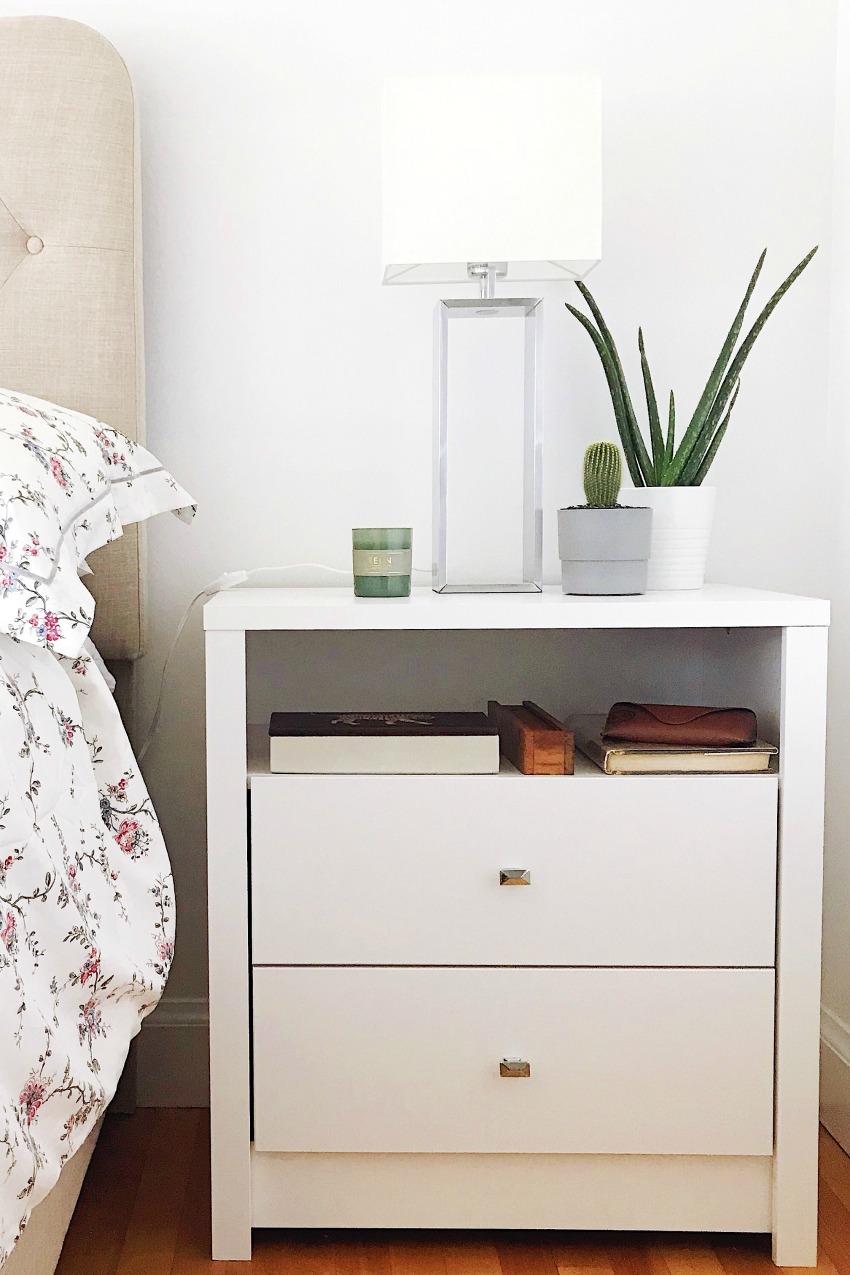 6. Free delivery and easy returns
My new furniture was shipped to me absolutely free within two days. Both purchases also came with an easy 30-day return window.
7. Delivery right to your doorstep (no need to visit a showroom)
It's amazing that I got a new bed and drawers without having to rent a truck, or pay anyone to do the heavy lifting for me. Talk about convenience!
8. Beautiful and expansive selection of bedroom furniture and accessories
When shopping on Wayfair, you're only limited by your budget. They have a very wide selection of furniture and accessories to choose from.
9. Affordable style
Their affordable products are very high-quality. The filter section also allows you to find products within your budget, starting with products below CAD $100.
10. Gorgeous pieces to create a home you love
With these Wayfair pieces, my bedroom is beginning to look like the plan I spent so many months putting together. That satisfaction is everything for me.
Let me know in the comment section what you think about my new furniture. I highly recommend visiting Wayfair.ca if you're considering updating your bedroom, or any other room in your home for that matter. As you can see, they have lots to offer!
Latest posts by Emily Smith
(see all)