It started with a basket of yellow plums, a look into the fridge, and a crazy idea. You see, I've been moving more and more towards a plant-based diet, with lots of fruits, vegetables, nuts, and such – so I'm branching out into new recipe development territory! After my second pregnancy, my stomach was all out of whack from the months of hyperemesis gravidarum. My metabolism just wasn't the same. Even now, eight months after delivery, foods that I had no issue with are very hard to digest. I have found that eating mostly raw whole foods has begun rebooting my metabolism and also it is the easiest thing for me to digest. Not to mention, all those nutrients fuel me for a busy work day with two Littles ones in tow. More on that later….
THE PIE.
The pie could be considered a tart, or a raw cheesecake – but it felt like a pie and my husband (he's from the south, y'all) agreed it was. I made the crust with almonds, dates, coconut oil and a bit of water. I didn't add a natural sweetener, because I find dates sweet enough, but you could try maple syrup (or honey). For the creamy filling, I used the cream from full-fat organic canned coconut milk
(which had been refrigerated overnight) and processed in yellow plums, dates, along with the juice and zest of a lime. Again, no added sweetener, but I might add 1 teaspoon of pure maple syrup next time. You can taste test the filling before you chill it to see if you are satisfied with it's natural sweetness.
The raspberries were initially for decoration, but boy did they make the plum and lime flavour pop! It was such a great combination and I was glad for the happenstance of it. Little A. watched in amazement as the pie was being brought to the table. A birthday cake, for me!! Yes Little One, it's always for you! I cut slices and served them all around; I waited for a reaction…I was hopeful…I was surprised…I was very, very pleased. They loved it! I loved it, I thought it was amazing. I didn't know if it would last overnight in our fridge, it was that good.
If you're having sugar cravings and want something sweet, why not make this scrumptious pie that is naturally sweetened with the juice of in-season plums and delicate dates.
Enjoy friends, let me know it there's any leftovers!
Print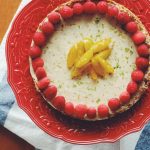 Raw Plum Pie
---
Author:

Total Time:

30 minutes
Description
Naturally sweet and tangy, a pie for a summer's afternoon that will satisfy your sugar cravings.
---
For the Crust
3 cups

of raw almonds

5

medjool dates

2 Tbsp

virgin coconut oil (more for greasing pan)

1

–

2

teaspoon of water
For the Filling
6

plums, pitted and sliced

1

can (14 oz) refrigerated full-fat coconut milk, the cream only (save the water for smoothies)

3

medjool dates

1/2

lime, squeezed
zest of lime

1

–

2

Teaspoons of pure maple syrup, optional
For Toppings
1 cup

of raspberries

4

plums, pitted and sliced thinly
Lime zest
---
Instructions
For the Crust
Grease a 8″ spring form pan with virgin coconut oil
In a food processor, combine almonds, dates, virgin coconut oil and process until a crumbly dough forms (5-7 minutes) . Pinch some of the dough together to see if it will stick. If not, add a little bit of water and process again for 1 minute. Crust should be sticky enough to pat down in the pan.
Transfer crumbly mixture into the spring form.
Press into the bottom of the pan and create a 1 inch high side.
Place in the freezer to set while you prepare the filling.
For the filling
Wash the food processor and add the filling ingredients; scoop only the cream of the canned coconut milk into the bowl, with dates, plums, and lemon juice.
Process for 2 minutes until smooth.
Putting the pie together
Remove the spring form from the freezer.
Pour the filling into it.
Tap the sides until it's smooth straight across.
Put back into the freezer for 2-3 HOURS while it sets.
Remove from freezer, and top with raspberries, plums and more zest.
Serve and enjoy!
Notes
You can store this pie in the fridge, it will be softer than originally, but still held together and delicious OR you can store in freezer with air tight container or with freezer plastic wrap and remove 15 minutes before serving so it has time to soften to perfect consistency.
Latest posts by Emily Smith
(see all)