After school snacks are kind of a big deal in the Smith household. When I was little, my mom always had something special waiting for me for when I got off the schoolbus. Most of the time, there was baking with fruits and vegetables. I rode the bus for forty-five minutes after school let out, and I can tell you that by the time I hit the door, I was always hungry for what my Mom was preparing. Some days, she would have everything ready so that we could make my snack together. That was always a lot of fun for me and no doubt has inspired my desire to create in the kitchen!
We've carried on the same tradition with Aiden. As an active junior kindergartener, he comes home hungry and excited to munch on something healthy and delicious. He's a huge fan of Kraft All Natural Smooth Peanut Butter, which he spreads on toast and eats with a banana.
On this special day after school I surprised him with a kitchen activity, the same way my mom used to. I measured and prepared all of the ingredients and set out a clean working space for him to create a healthy snack. Boy was he thrilled and ready to jump to the task at hand!
He shows us just how easy and fun to make these Blueberry Coconut Peanut Butter Snack Bites really are!
Voila, just like that you have a nutritious and scrumptious snack to enjoy with your loved ones.
Print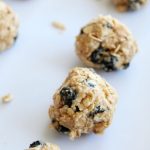 Blueberry Coconut Peanut Butter Snack Bites
---
Description
No baking required! I made this quick and yummy Blueberry Coconut Peanut Butter Snack Bites recipe using Kraft All Natural Smooth Peanut Butter. It's so easy, my four year old can make them too! Enjoy this tasty, healthy snack.
Peanut Butter as the main ingredient.
---
1 cup

large flaked rolled oats

½ cup

Kraft All Natural Smooth Peanut Butter

¼ cup

honey

½ cup

dried organic blueberries

½ cup

unsweetened shredded coconut

1 tsp

pure vanilla extract
---
Instructions
MIX together all ingredients in a medium bowl until blended.
ROLL into 20 (1-inch) balls, using about 2 Tbsp. for each.
CHILL for 20 to 30 min.
Notes
There are so many variations to try! Please visit the Kraft Canada website for Kraft Peanut Butter Snack Bites recipe ideas: http://www.kraftcanada.com/brands/kraft-peanut-butter/recipes/
After he made the Blueberry Coconut Peanut Butter Snack Bites, he was very proud of himself – as was I. We let them cool in the fridge and then enjoyed them together. He was very happy to share with his little sister, Abigail and with his daddy too. It's neat to watch him in the kitchen, developing his confidence and unique style. As a recipe developer myself, I love sharing that aspect with him.
There are a lot more ways to enjoy these amazing Peanut Butter Snack Bites – for more recipe ideas visit www.sticktogether.ca and follow the hashtag #MyKPBsnackbite to join the conversation on Twitter.
Once you make your tasty treats, share them with us! Visit sheblogs Canada to enter the Make It Yours photo contest. By sharing a photo of your Peanut Butter Snack Bites recipe, you will be entered to win 1 of 4 Kraft Peanut Butter prize packs.
Sharing moments, creating memories, and making mouth-watering snacks is just about the best combination ever!
Although this post has been generously sponsored by Kraft Canada, the opinions and language are my own, and in no way do they reflect Kraft Canada.
Latest posts by Emily Smith
(see all)