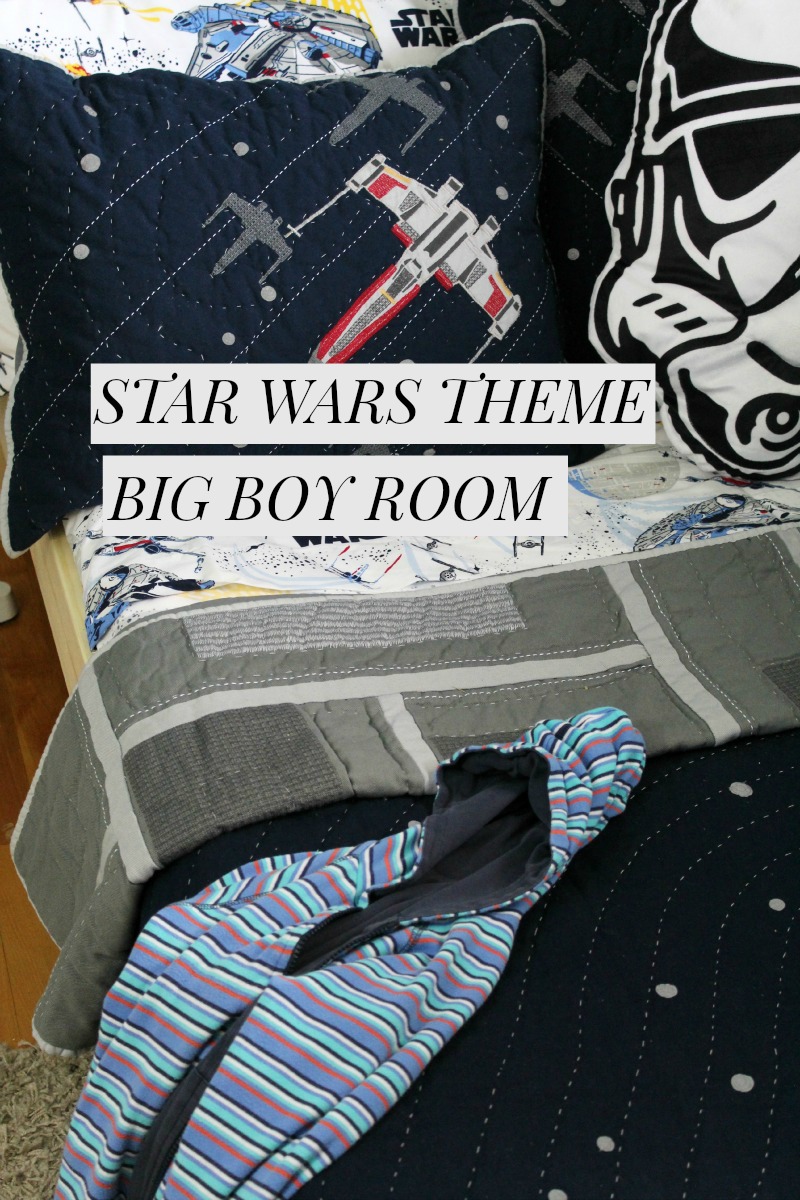 Last weekend, my son turned 5. Just saying that sentence makes me pause. Five years ago, my life was changed forever and into it, entered this incredible gem of a boy. From day one, he set my world on fire with his big eyes, ginger hair, and wild personality. Every day has been an adventure with him and I thank my lucky stars that he chose me to be his Mama.
We moved into our new home last year, however we didn't decorate Little A's room straight away. He was in the middle of a bridge, from preschooler to big kid. A lot of his decor from his previous room seemed too baby-ish for him now, so we stored most of his nursery pieces and kept things simple, neutral and necessary (lots of toys!).
Fast forward to this fall, we finally created a large and dedicated play space in the basement and it was time to transition Aiden's room into a big boys room. We asked him what theme he wanted for his bedroom and he said "Star Wars, I want the robots and starships!".
Star Wars it is!
To bring his room to life, we teamed up with Pottery Barn Kids, Giant Tiger, and several Etsy Shops including Chloe Vaux, House of Print Shop, Dime Store Saint Design, Kali Laine Designs and Domestically Curated. With their help, the world of Star Wars exploded into Aiden's bedroom and when he saw it for the first time he said in awe, "This is the COOLEST room in the whole world, right Mama?" And I certainly didn't disagree!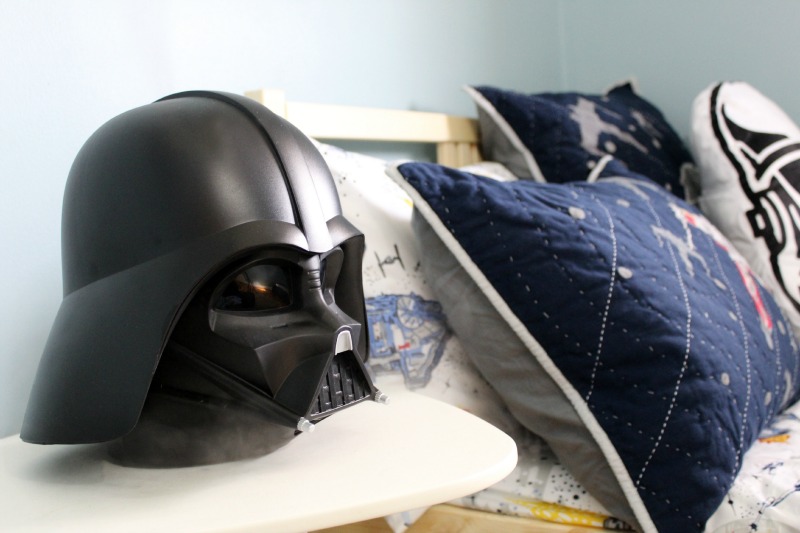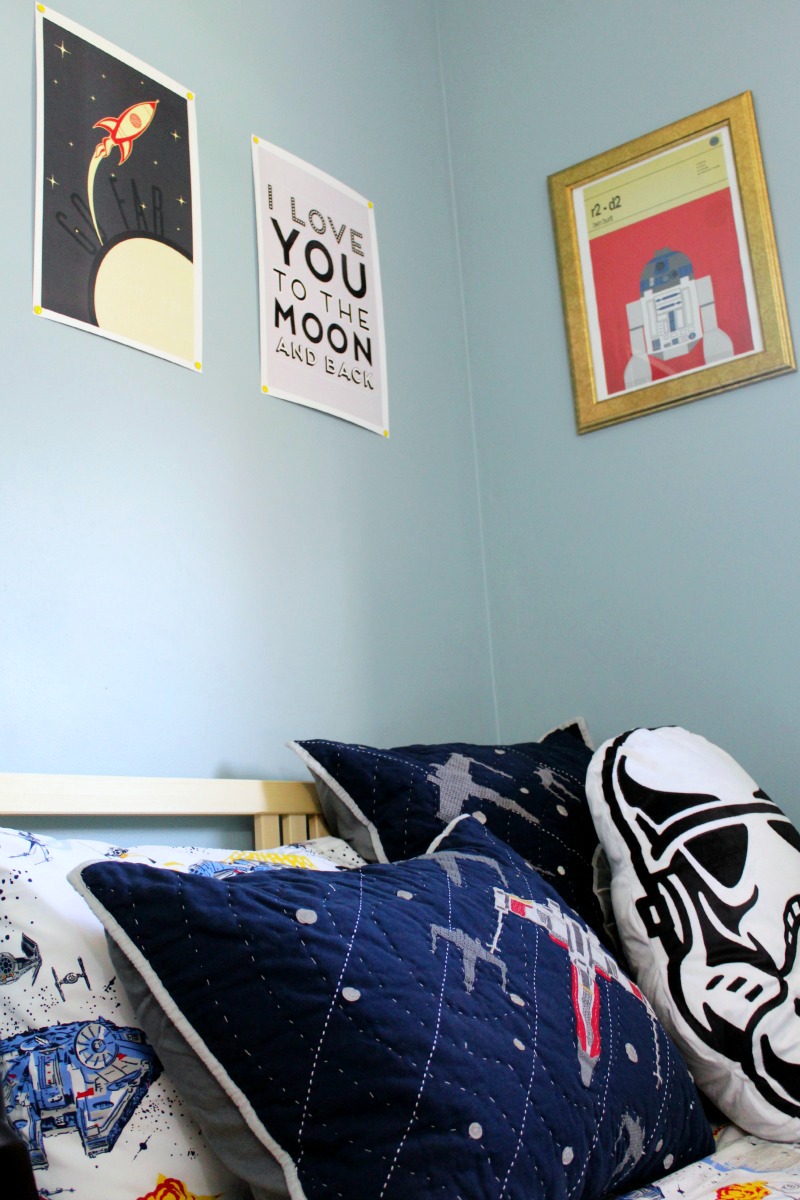 The Star Wars™ Millennium Falcon™ Quilt from Pottery Barn Kids is the focal point in Aiden's room. When you come into his bedroom, his bed looks so inviting and cozy with the pure cotton quilt and plush pillows. The intergalactic design featuring the Millennium Falcon™ flanked by X-wing™ fighters is iconic Star Wars style all the way!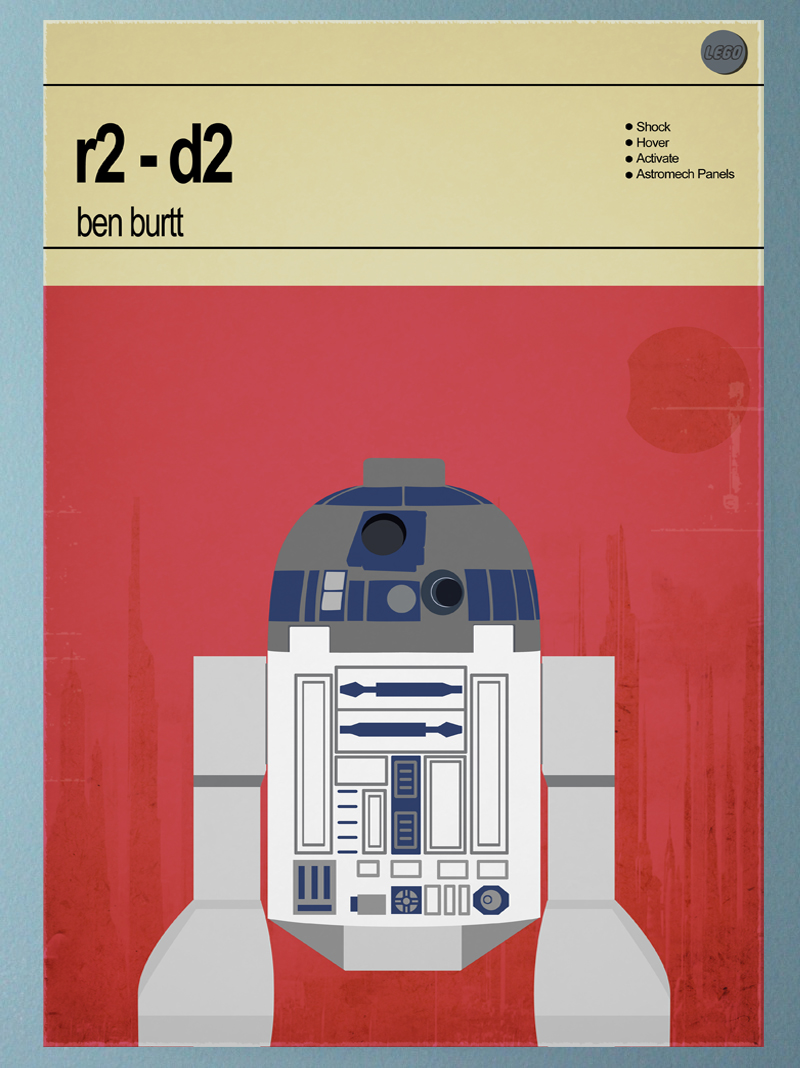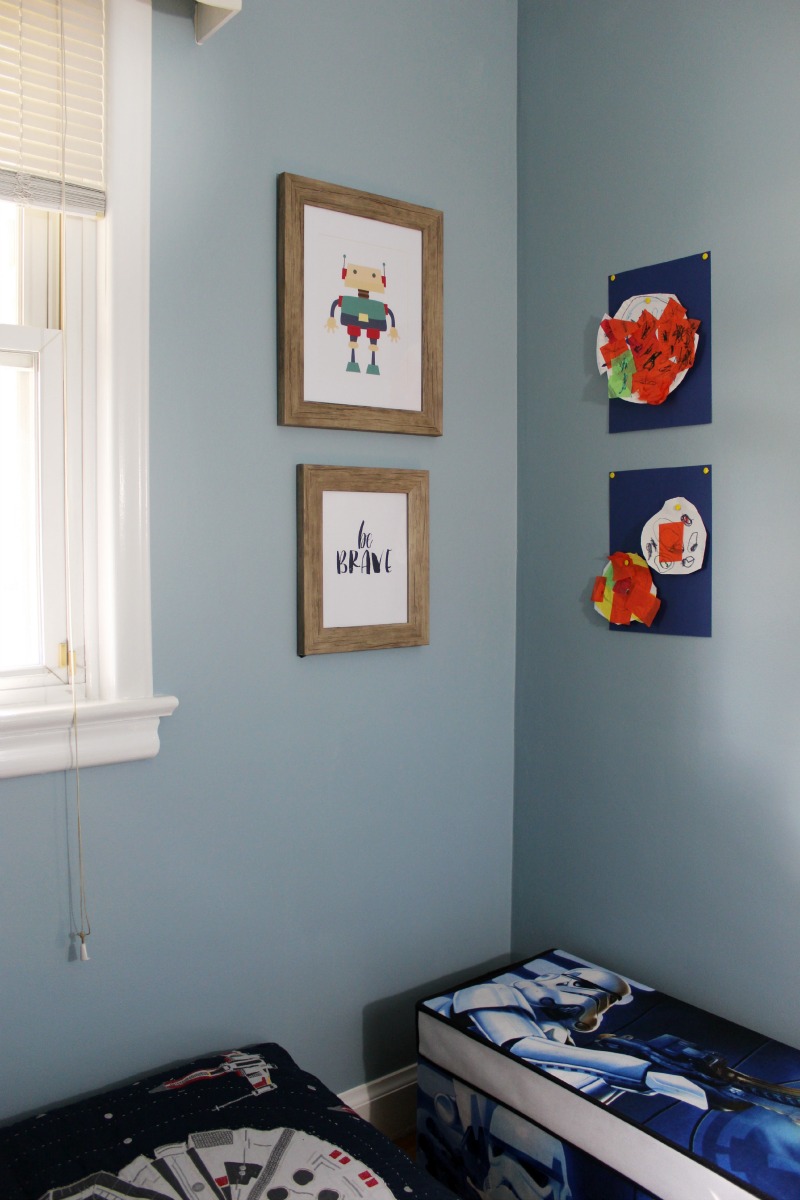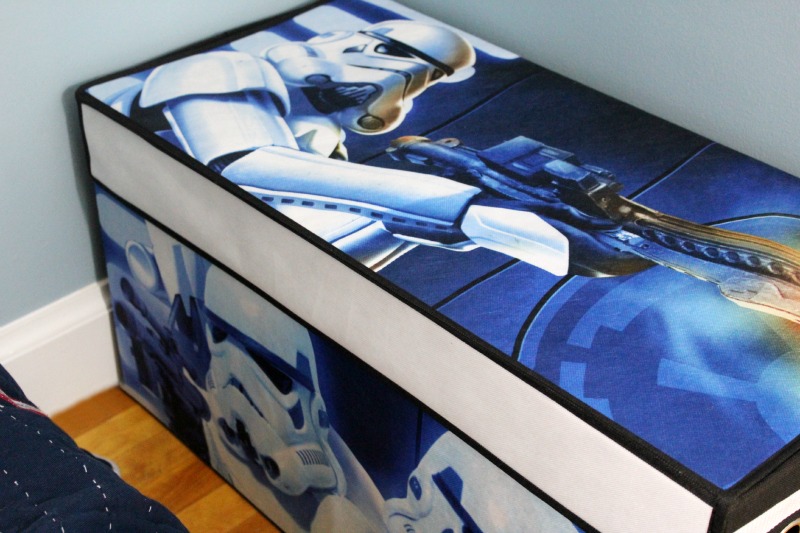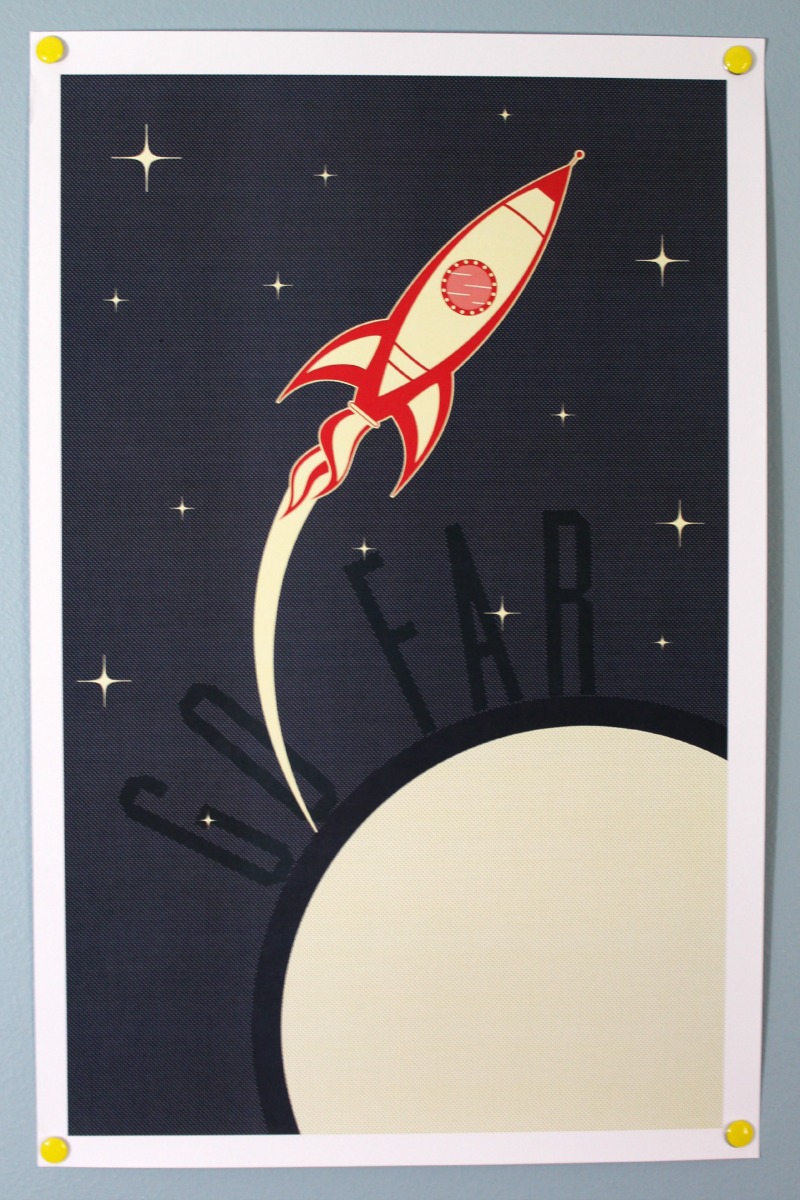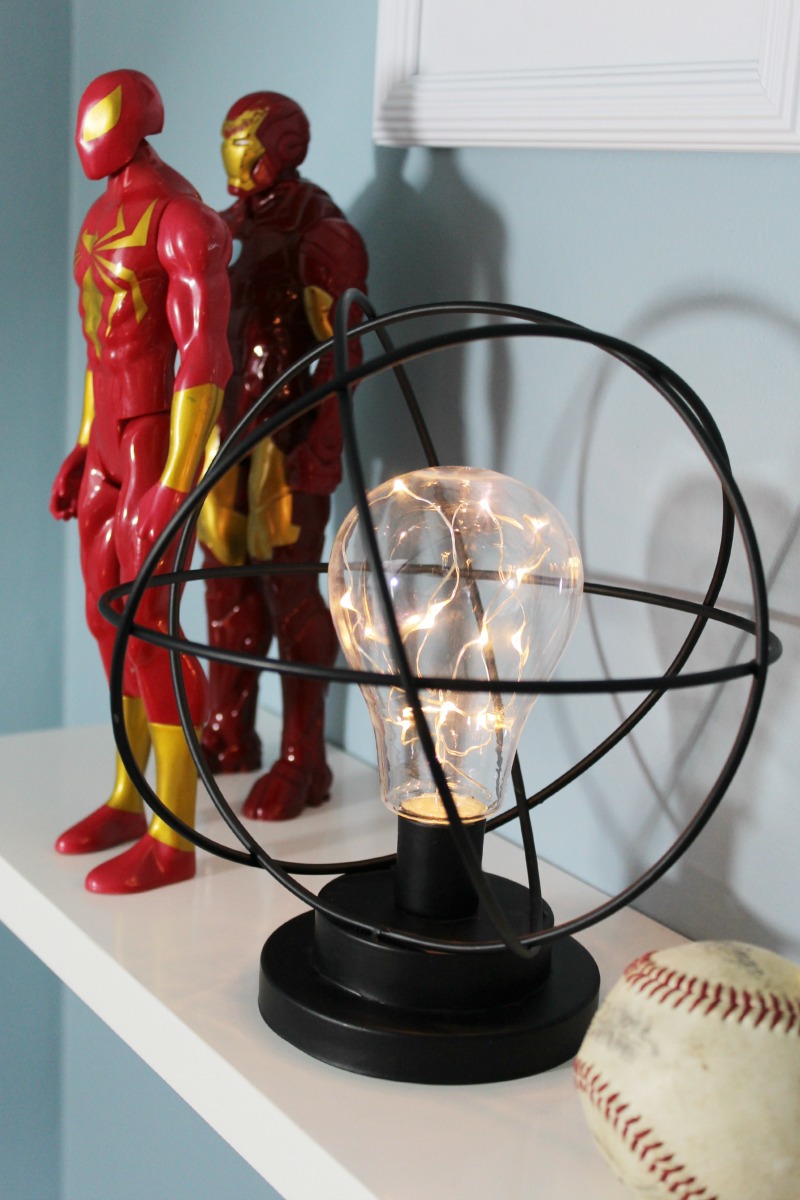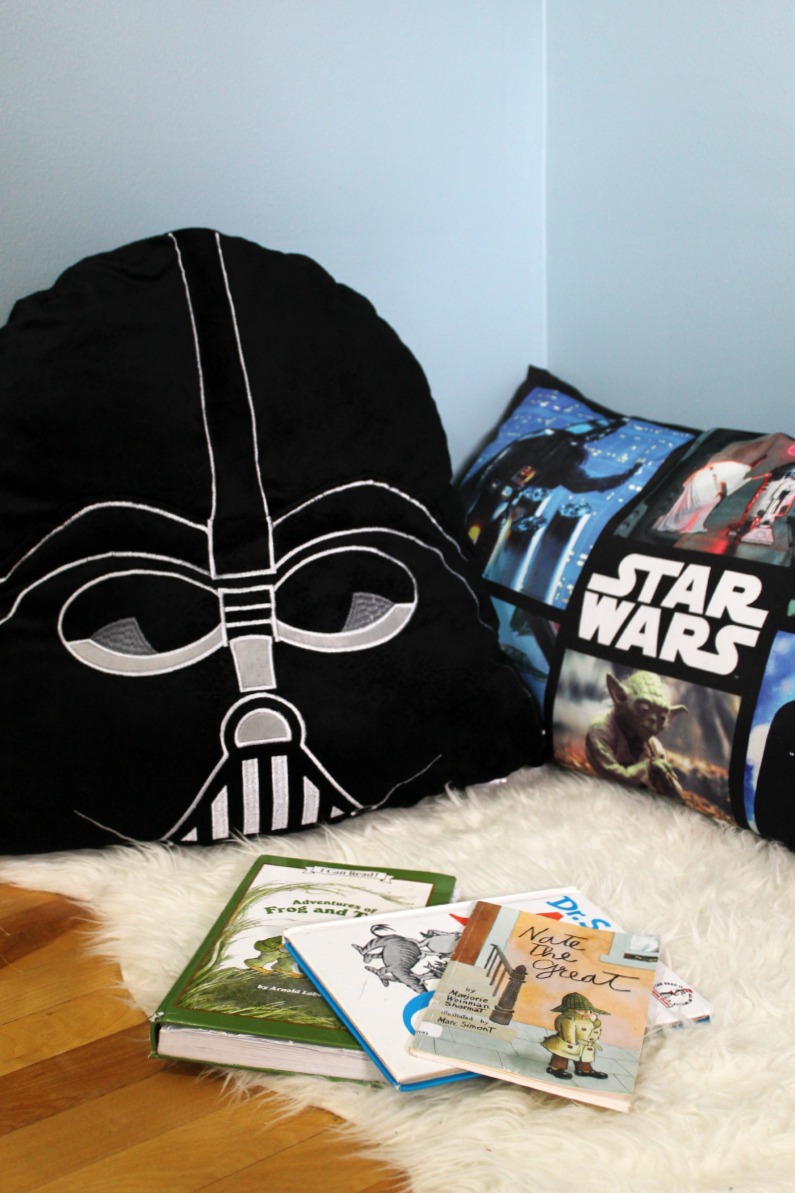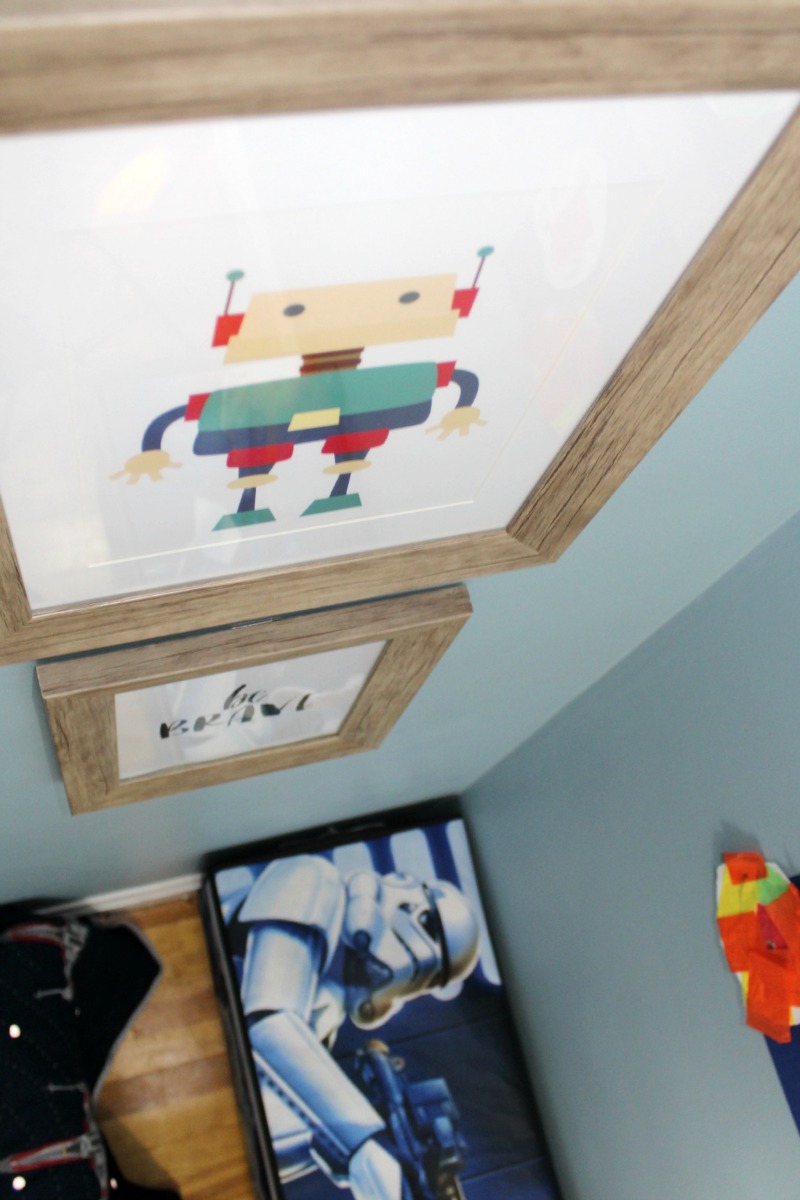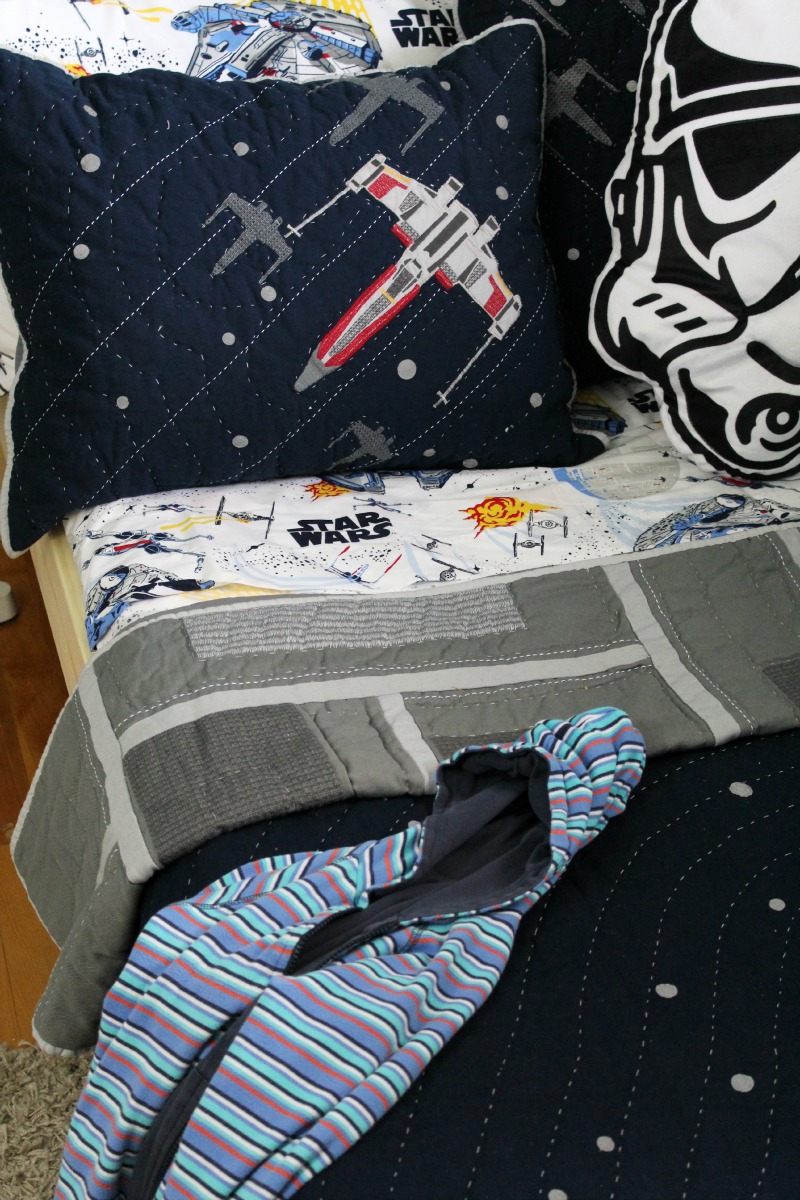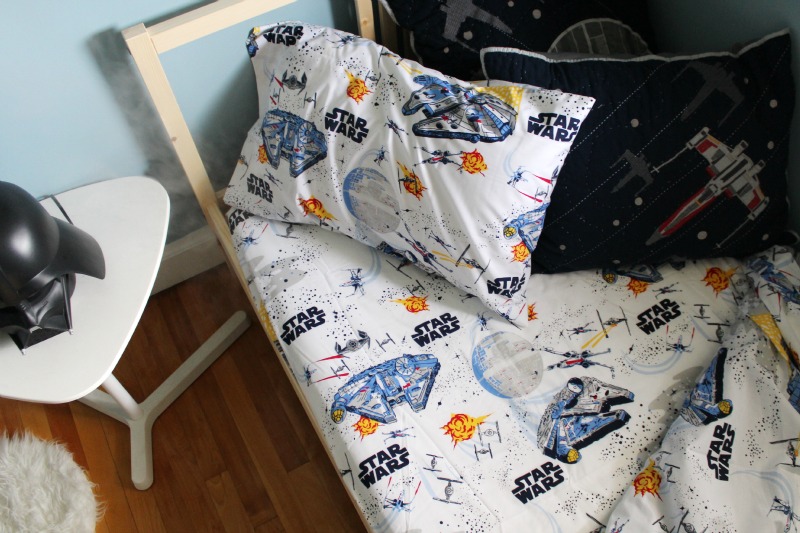 The Darth Vader humidifier from Giant Tiger is such a cool feature in his room. Who would have thought a humidifier could be so much fun? Kids and adults are quick to comment on how impressive it is.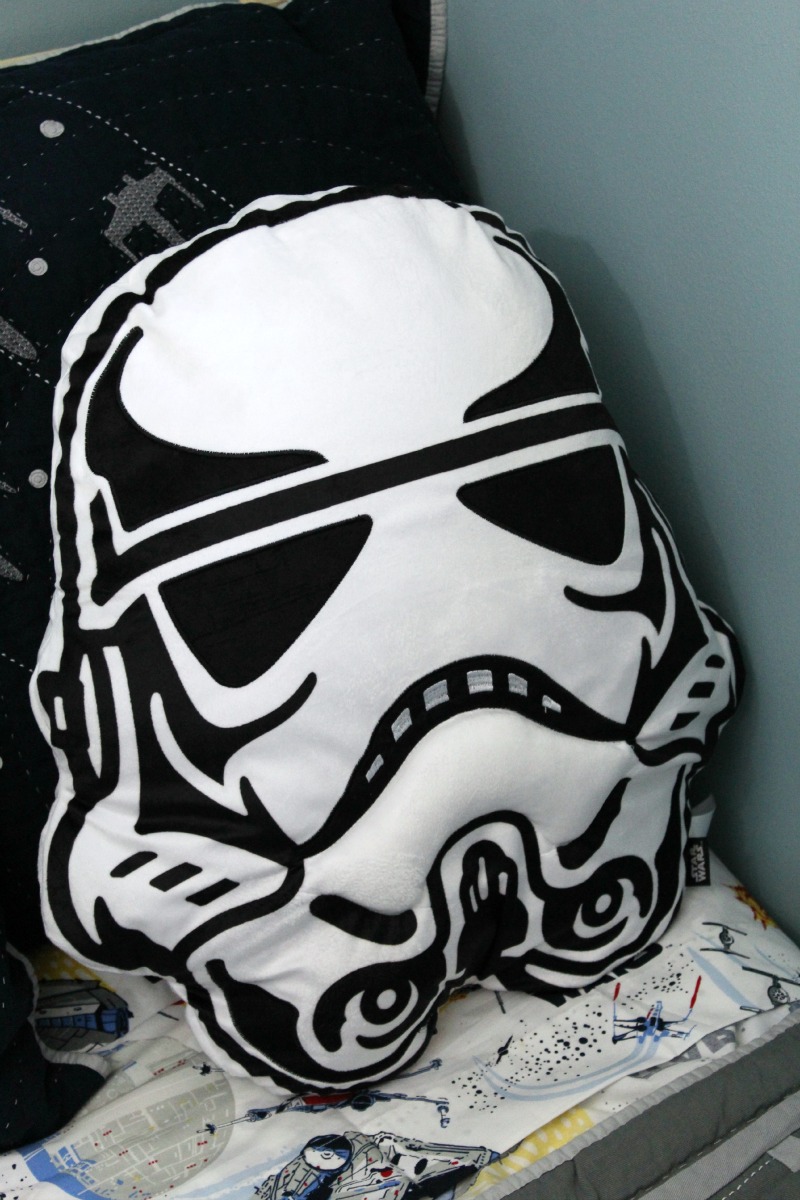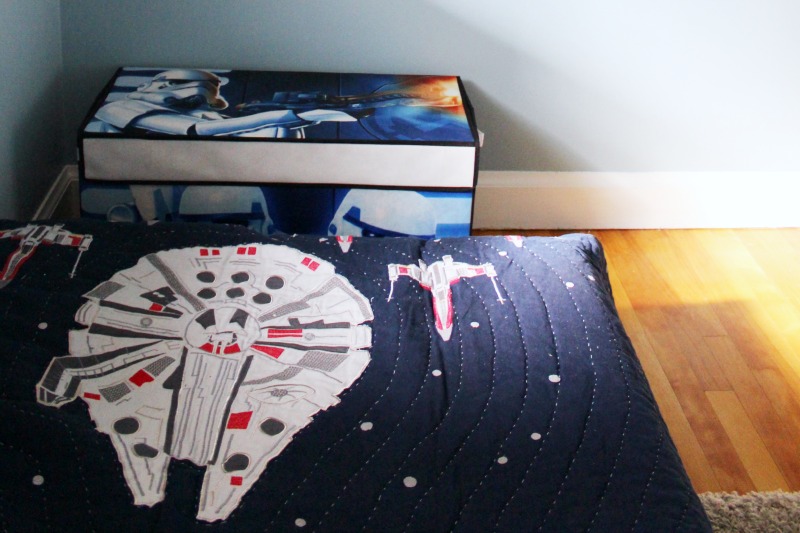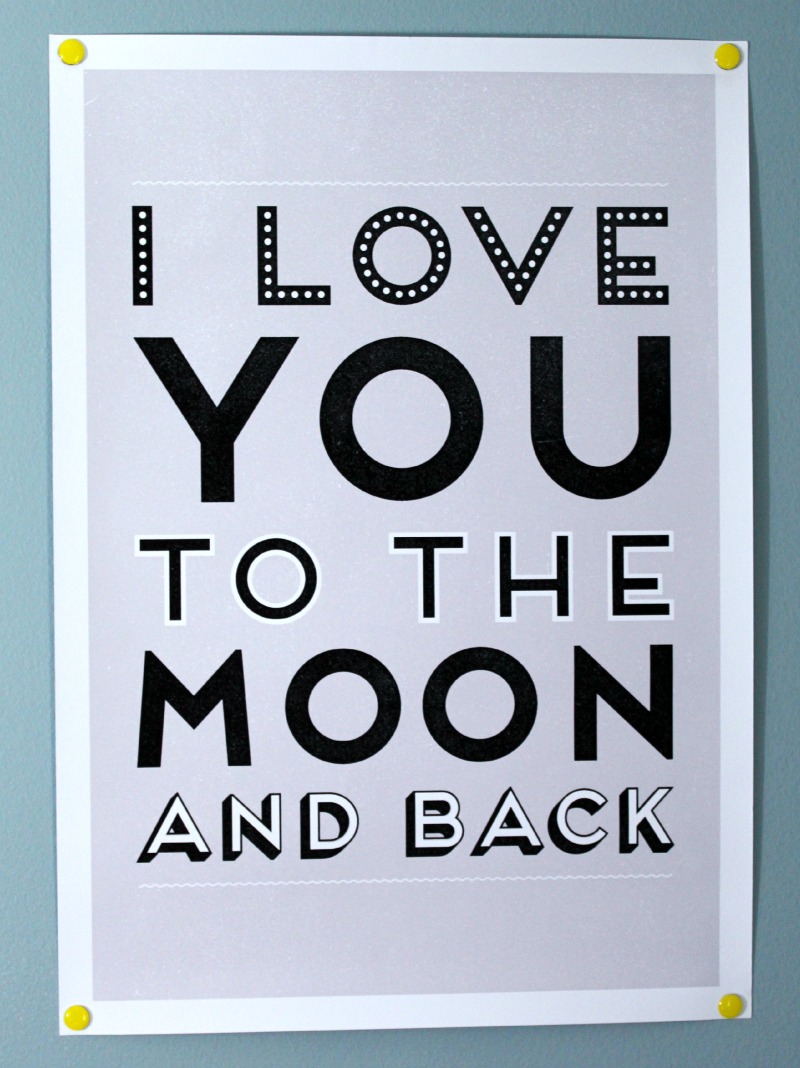 To streamline Aiden's room, we went through all of his toys with him and kept only the ones he really wanted and currently played with. We donated the rest with his blessing and moved most of the bulkier, bigger toys and building blocks to the basement play room. Now in his room, he plays with his action figures, puzzles and reads books – it feels like a calmer space. We displayed some of his special pieces and pictures on a top shelf and of course, memorabilia from the past five years is stored in a chest for him.
For the transition of his room, from preschooler to big boy, we focused on colours and accessories that were more refined – less bright and bold. For instance, he had a play mat for cars that was really colourful and some primary coloured storage boxes – those were a great fit for our play room instead of his bedroom. You really do get a sense of it being his personal space as you enter the room.
We created more floor space, by putting his tall dresser into his closet which is deep enough to accommodate it. The less bulk in the room, the more it became a place to chill out. With that also in mind, we chose a grey-blue wall paint that hems the bedroom in and makes it feel rather serene.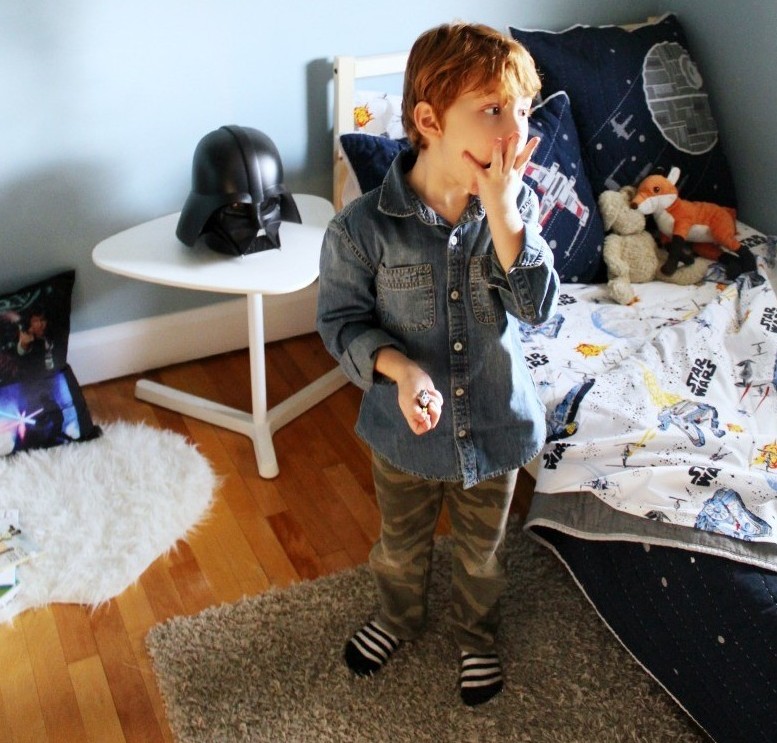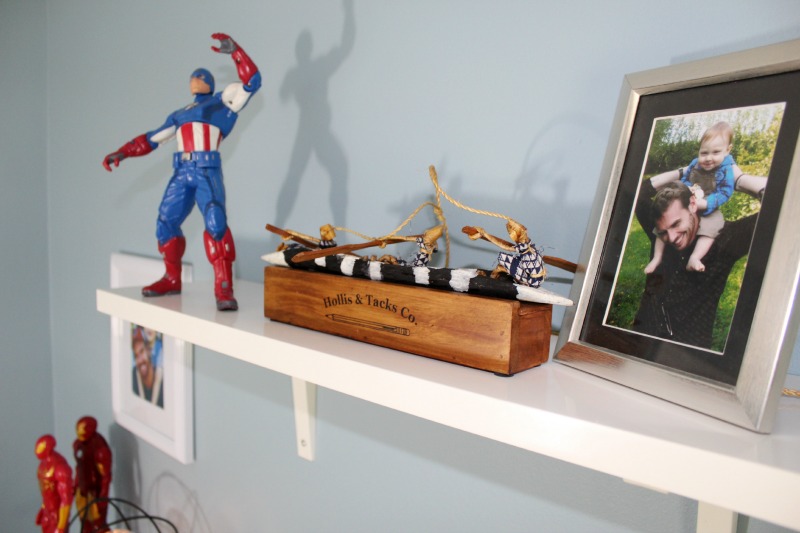 Star Wars Themed Bedroom Features:
It's so hard to choose a favourite item in his room, because I love the WHOLE look! Does something catch your eye?
Many of the pieces from Giant Tiger will be available at select stores mid-November. For all the other featured pieces, you can click-through to order them directly online. A special thank you to the brands who contributed to this amazing room. I hope you are inspired to create an intergalactic space for your Star Wars fans too!
Latest posts by Emily Smith
(see all)