This piece is written in partnership with Cirque Du Soleil. All opinions are personal.
"Join the parade and get carried away with life!"
CORTEO, Cirque's latest production is coming to Ottawa this summer from June 27 to July 1 at the Canadian Tire Centre. This show brings together the passion of the actor with the grace and power of the acrobat to plunge the audience into a theatrical world of fun, comedy and spontaneity situated in a mysterious space between heaven and earth.
Have you ever been to the circus? When I was a kid I had made up my mind that circuses were not for me, they were weird, old-fashioned, and very crowded. Add to this the fact that a clown kept bothering me, and I don't like clowns, I felt very strongly that the circus wasn't for me. But that all changed last summer when seeing Cirque Du Soleil's VOLTA, and my stance on circuses changed immediately. This was something different, fresh but sort of nostalgic, and like being caught up in the most amazing dream. Just like that, I was a fan of the circus, or at the least the circus that is put on by Cirque Du Soleil.
Cirque Du Soleil's VOLTA didn't just change my mind about circuses, it changed my perception of the limits of human movement. There was dancing, acrobatics, gymnastics, balancing, somersaults, tumbling, feats of strengths and so much more all blending together to create a visual story that was just a feast for my imagination. This with the live music was so much more than I anticipated, and there were clowns but I didn't care, because this was just simply too beautiful.
If you've never been to a Cirque Du Soleil show then I am here to tell you, it's so much more than a the concept of a circus – it truly is a wonderment.
It certainly isn't the spectacle I grew up wanting to avoid, it's an entertainment that isn't comparable to other shows, and I can unabashedly say I am excited for it's latest show this summer, and I anticipate that Corteo will likewise be something completely exceptional!
For those of you reading you haven't seen a Cirque show, I definitely recommend attending CORTEO, of course if you have been to a Cirque Du Soleil event then you certainly don't need my recommendation, because as you already know – the show is like being in a fantasy, a wonderful story that just swoops you up. Hope to see you there!
p.s if you need more convincing – watch the trailer 😉
Cirque Du Soleil x The Best of this Life Giveaway!
We've partnered with Cirque Du Soleil to giveaway 2 tickets to see CORTEO on opening night on Wednesday, June 27, 2018 at 7:30pm! This giveaway is open to Canadian residents in the region who will be able to attend the show at The Canadian Tire Centre. You can enter our giveaway below, good luck!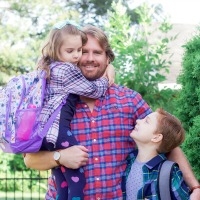 Latest posts by David Smith
(see all)