3 Ingredient Banana Coconut Pancakes
These gluten-free pancakes are naturally sweet, deliciously flavourful, fluffy, and oh so very satisfying. Made with just three simple ingredients: bananas, eggs, and coconut flour.
We Can't Get Enough of These Pancakes
Pancakes are always a favourite food in our home. Honestly, we could probably eat them everyday! What's not to love? They're warm, comforting, and delicious. I enjoy making all kinds of pancakes from more traditional buttermilk pancakes to a hearty buckwheat variety. These banana coconut pancakes are no exception! I love the naturally sweet, and slightly tropical flavour that you get in each bite.

A Delicious Gluten-Free, High-Protein Breakfast
If you're looking for a gluten-free, high-protein pancake, these are such a great option! They are made with three simple ingredients: bananas, eggs, and coconut flour. Are you a fan of banana baking like banana muffins or banana bread? If so, you'll love these! They are fluffy, moist, filling and energizing. I love that they give you a boost instead of weigh you down, thanks to the protein content.
The Benefits of Coconut Flour
Coconut flour is so light and airy; it works as a great substitute for wheat flour, especially when it comes to fluffy baked goods, like pancakes and muffins. Coconut flour is high in dietary fiber, which makes you feel full in a good way. Compared to wheat flour, coconut flour contains five times the amount of fiber. Coconut flour also boasts more protein, so if you're looking to up your protein intake, it's a great choice.
Combined with the nutritional benefits of eggs and bananas, these simple 3-ingredient pancakes pack a healthful punch!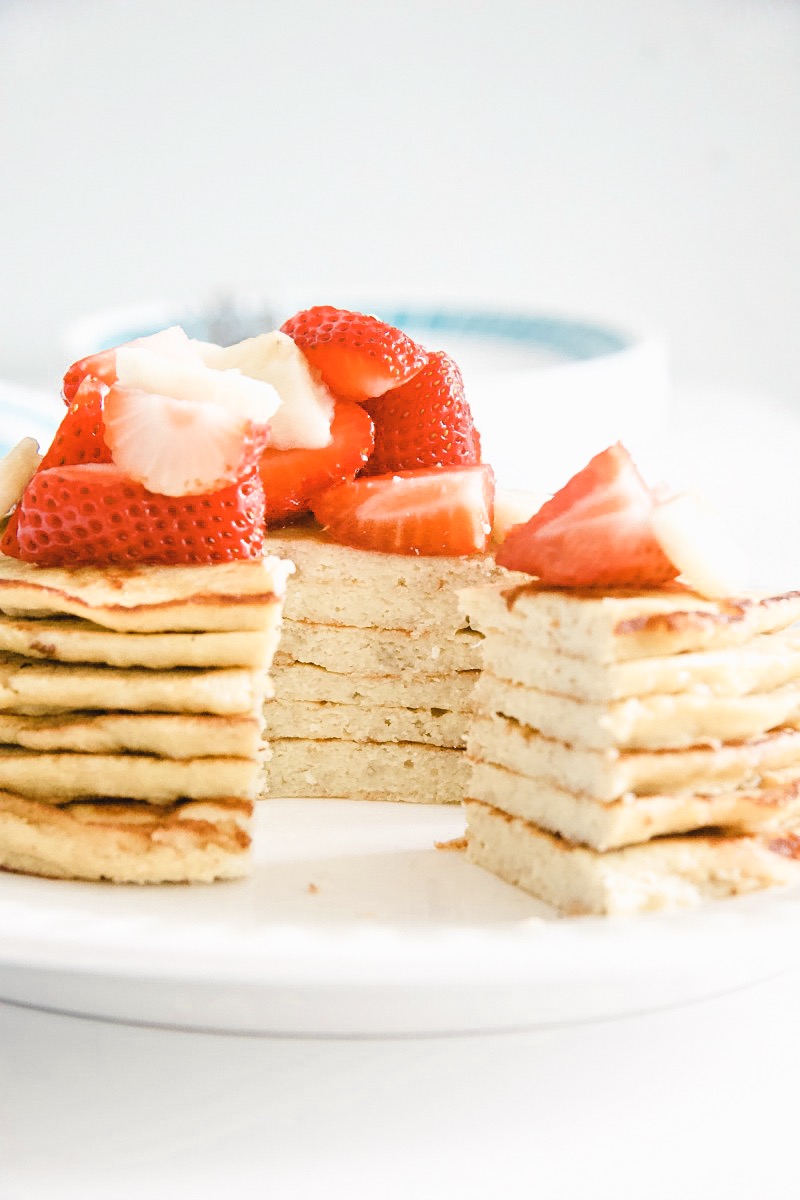 You can enjoy these coconut banana pancakes just as they are, or topped with your favourite toppings like maple syrup, fresh fruit, honey, jam, and whipped cream. You can also pair them with more savoury ingredients for a whole new twist.
Feel free to use this recipe as a base and play around with it! Add a little cinnamon or vanilla. Make them chocolatey with some cocoa powder, or seasonal with a scoop of cooked pumpkin (reduce banana).
They also taste yummy cold and work well as a snack too!
Cooking Tips
This recipe makes about 8 5-inch pancakes. You can reduce the diameter if you'd prefer to make more servings of smaller pancakes. Take your time cooking them on medium-low, and wait 2-3 minutes for each side to cook (keep your eye on them, as they cook differently than traditional pancakes – if they're browning too quickly, reduce the heat). Use a wide spatula to help you flip them easily and put a cover over the prepared stack as you're cooking, to keep them nice and hot when it's time to serve them.
I hope you enjoy these delectable pancakes are much as I do!
Print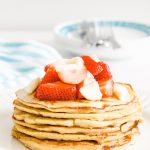 3 Ingredient Banana Coconut Pancakes
---
Total Time:

30 minutes

Yield:

4

1

x
Description
These naturally sweet and healthy protein pancakes are flavourful, fluffy, and very satisfying.
---
3

ripe bananas

6

large eggs

1/3 cup

coconut flour

1/4 cup

coconut oil or butter for cooking
---
Instructions
In a medium-sized mixing bowl, mash bananas until as smooth as possible. Add in eggs and whisk until blended. Add in coconut flour and stir until combined. Alternatively, place all ingredients in blender or food processor and blend until smooth but not liquified.
Batter should resemble a traditional pancake batter consistency (some bananas lumps might remain). If it's too runny, add another teaspoon or so of coconut flour.
Place a pan on medium-low heat, spread a bit of coconut oil or butter to grease the pan. Once heated, pour your first pancake, around 3-4 inch diameter and spread just a bit with a spoon (to 4-5 inch). Cook for 2-3 minutes, check the bottom for browning and watch carefully. Flip and do the same on the other side. Repeat until all the batter is used.
Serve with favourite toppings and enjoy!
Prep Time:

5 minutes

Cook Time:

25 minutes
PIN THIS RECIPE!
Latest posts by Emily Smith
(see all)