5 Back to School Smoothies for Kids On The Go
This post is proudly presented in partnership with Hamilton Beach Canada, as always all opinions are personal. Emily is a 2017-2018 Hamilton Beach Canada Ambassador.
Smoothies are yummy, healthy snacks for growing kids. The best part is, they can have it every day. This is why I've made smoothies a daily addition to at least one of our family meals. It makes it easier for the kids to get their needed vitamins while enjoying a nutritious snack. I plan to keep this routine even after my kids go back to school, and today I'm sharing 5 of my current smoothie recipes so you can try the same!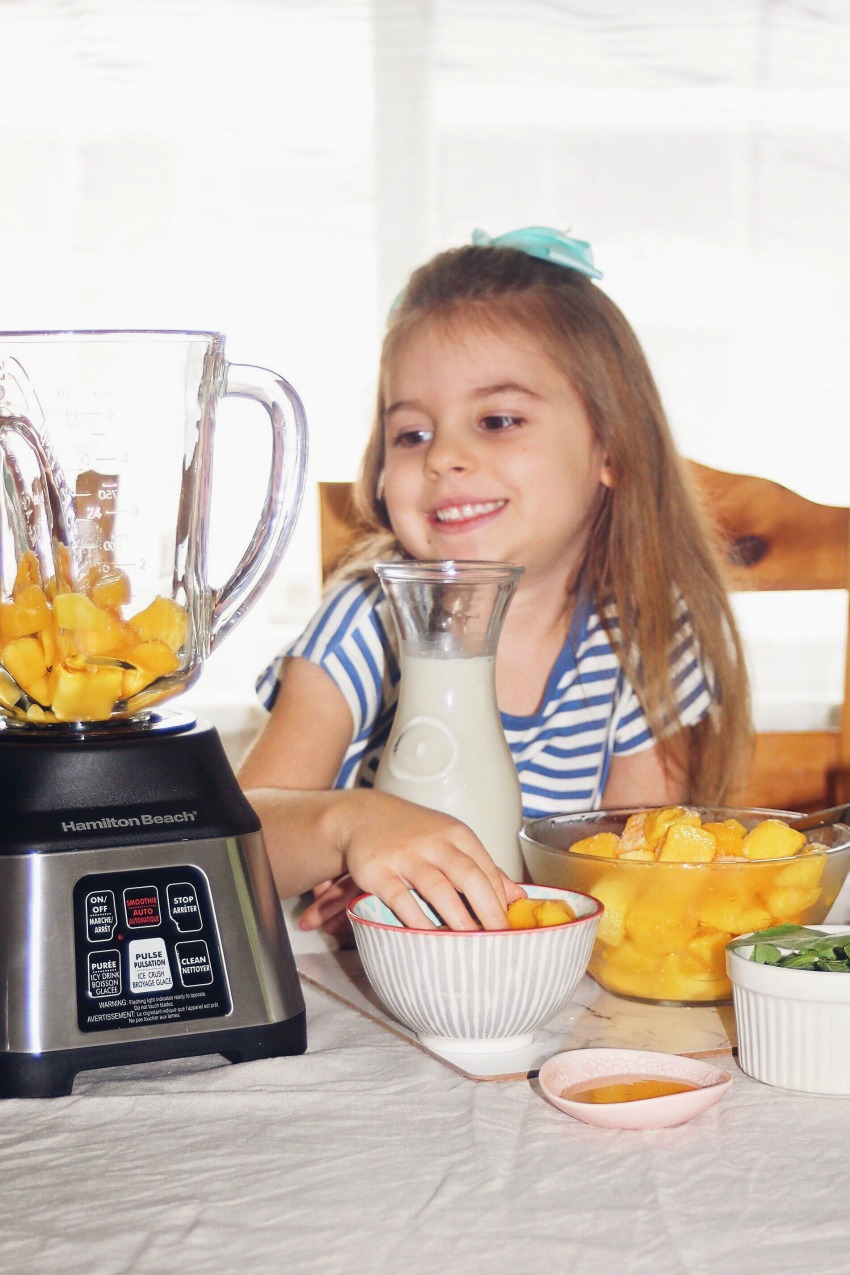 This month, we've been making our smoothies using the new Hamilton Beach Smart Blender. I love this blender because it's designed for one thing; making smoothies (note that you can use it for milkshakes, soups, and other drinks too). It doesn't come with confusing designs and options. All I have to do is push one button. Really.
It's also very safe for my kids to use, even my 4 and 7 year old are comfortable using it (with nearby supervision). I don't have to worry about getting my counter covered in fruits and veggies when my children want to make a smoothie, because the lid is well-fitting and has a perfect design, in my opinion. It seals tightly shut and has a wide spout that's ideal for easy pouring.
I already see this blender in my school morning toolbox. Now that my kids can choose and make their smoothies without my help, I'm hoping I can free up a few more prep minutes every day.
If you're in the market for a smoothie blender that can get the job done, I highly recommend the Hamilton Beach Smoothie Smart Blender. Here are some of its features:
▪ 40 oz. glass jar blender
I'm a big fan of glass jars and this one is a great shape and size for our family of four.
▪ The perfect one-touch smoothie
The smoothie mode is flawless! I've tested it with several of my smoothie recipes and it has an ideal balance of pulsing and blending to get your smoothie just right every time.
▪ No-mess pouring spout for fewer drips
As I mentioned above, the spout design is the best I've seen!
▪ Patented Wave~Action® system for smooth results without stirring
No kidding! It gets the job done seamlessly.
▪ Pre-programmed setting for the most popular blender creations
▪ 4 functions for blending versatility
Smoothies, purees, and blended drinks are so easy to make to perfection.
▪ Clean & puree functions
Just add a bit of water and soap to clean up easier than ever.
▪ 700 watts peak power
▪ Stainless steel base
Sounds pretty amazing, right?! That's because it is! To learn more, visit hamiltonbeach.ca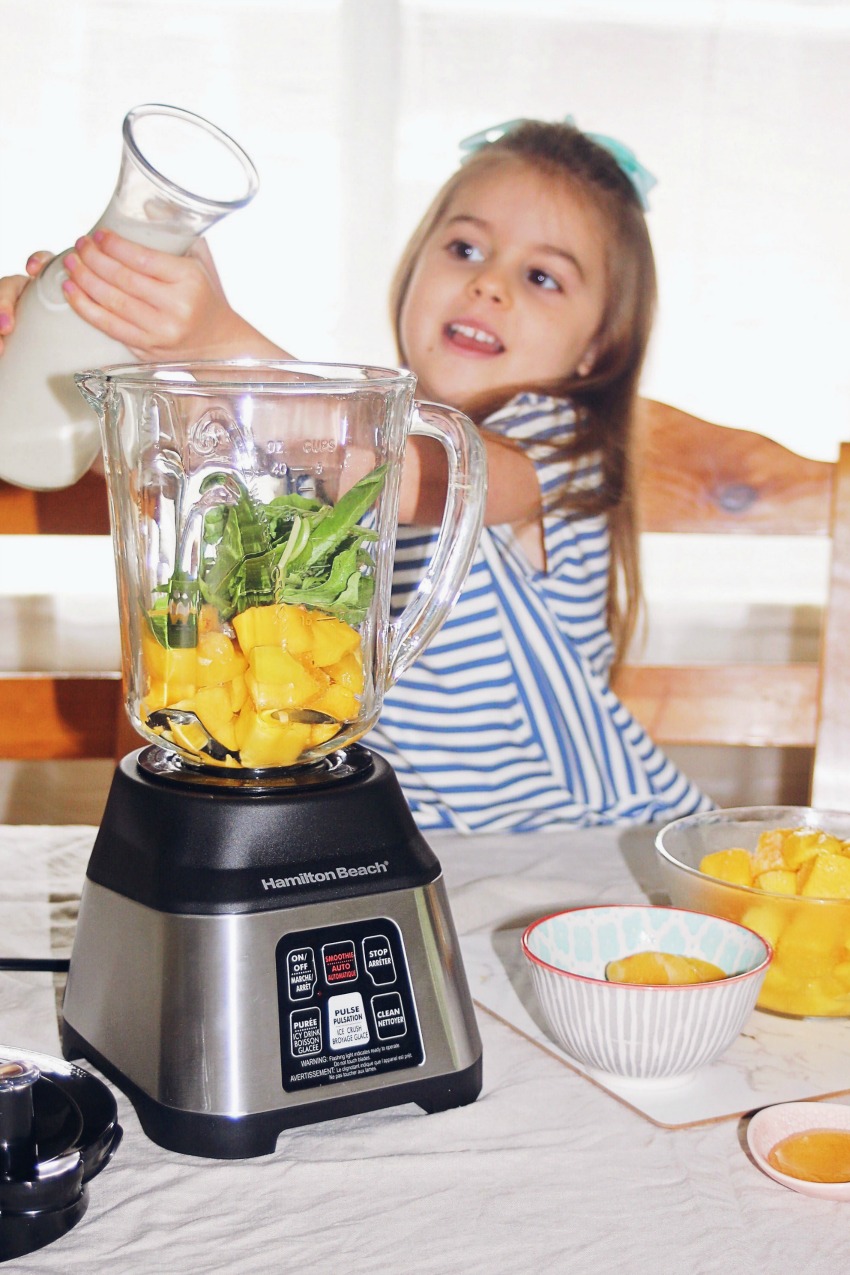 Now, based on all of our taste-tests and combined smoothie skills, here are 5 back-to-school smoothie recipes that your kids will love.
1. Mango Green Smoothie
This smoothie will provide your kids with vitamins, proteins, and fiber. It's especially hard to get kids to eat fiber (see struggle with broccoli), but mangoes and spinach also come loaded with the stuff.
1 serving
Ingredients:
1 cup frozen mango chunks
½ cup frozen peach slices
1 cup baby spinach (or mixed greens)
1 cup almond milk
Optional: teaspoon of honey
How-to:
Place all ingredients in blender. Blend until smooth and enjoy!
2. Blueberry Protein Smoothie
This smoothie packs a mean protein punch. The different ingredients offer different protein types, making it even more nutritious. It also contains honey which is a healthy sweetener that provides several nutrients.
1 serving
Ingredients:
½ cup frozen blueberries
½ cup frozen banana slices
¼ cup coconut cream (refrigerate full-fat canned coconut milk, scoop cream)
1 tablespoon of almond butter
1 teaspoon honey
1 teaspoon of favorite protein powder (I used pea protein)
3/4 cup vanilla almond milk
How-to:
Place all ingredients in blender. Blend until smooth and enjoy!
3. Avocado Peach Smoothie
This recipe is great because it contains calories derived from healthy fatty acids. If you have active kids, you might want to try it out. Avocado has a thick consistency, so the water is necessary to make it easier to enjoy for your kids.
1 serving
Ingredients:
1/2 avocado, pitted
2 peaches, pitted and sliced
5 strawberries
5 ice cubes
1 cup water
1 cup almond milk
How to:
Put all of the ingredients, except the ice, into the blender. Blend until combined, then add ice. Blend until smooth. About 1-2 minutes. Enjoy!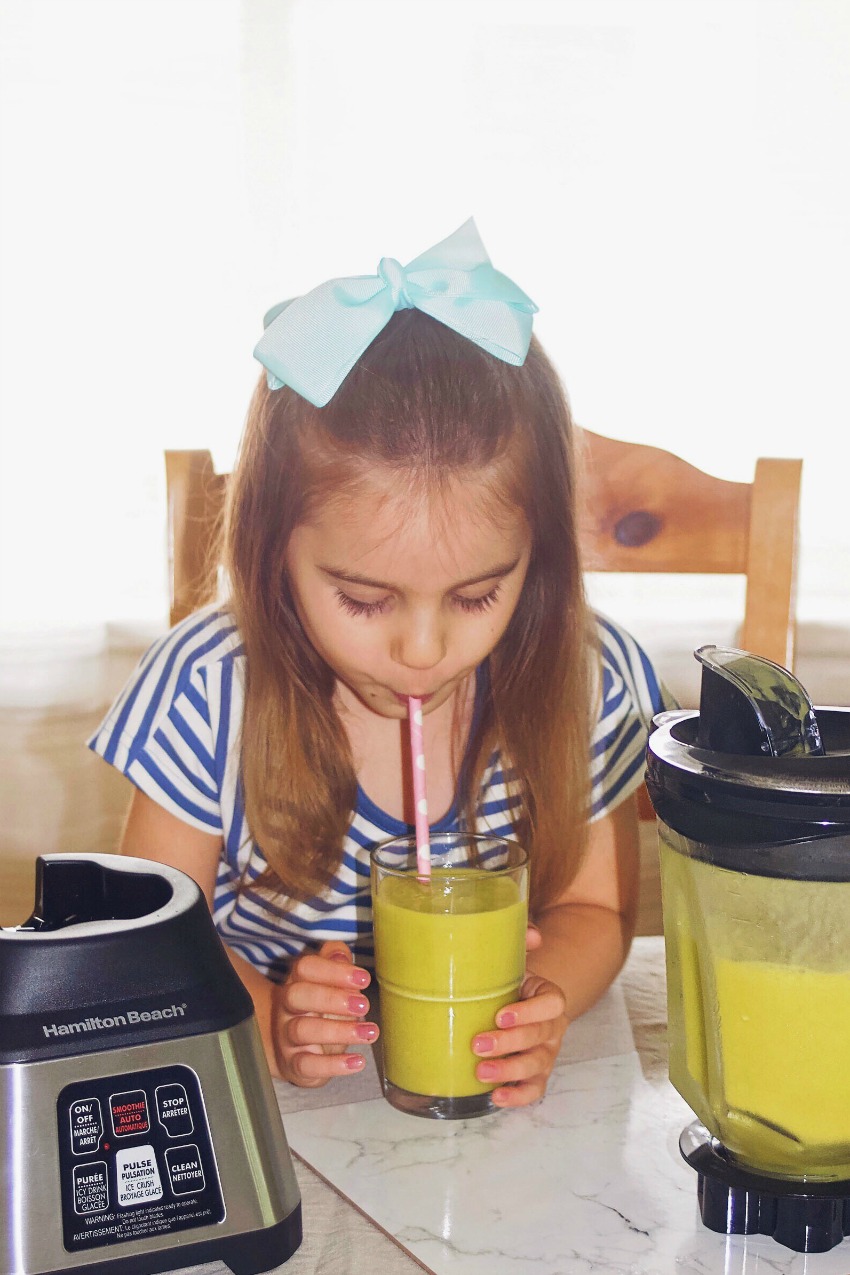 4. Sugar-Free Peanut Butter & Jelly Smoothie
For a sugar-free smoothie, this one sure is delicious. If you're concerned about your kids' sugar intake, then this is a good recipe for you. A PB&J smoothie might sound questionable, but it's a healthy take on the classic and we love it over here.
4 servings – perfect for the whole family!
Ingredients:
1 1/2 cups frozen mixed berries
1 cup frozen purple grapes
1 1/2 cups unsweetened almond milk
1/2 tsp cinnamon
Peanut Butter Smoothie
1/3 cup natural crunchy peanut butter
2 frozen ripe bananas
1 1/2 cups of unsweetened cashew milk
6 ice cubes
Optional:
Natural peanuts (unsalted and unsweetened)
How-to:
Place all ingredients for the "jelly" smoothie into the blender. Blend on high until smooth. If you need to add a bit more liquid to get the right consistency, you can.
Serve into 4 medium glasses in equal parts.
Rinse the blender from any remaining smoothie.
Place all ingredients for the "peanut butter" smoothie into the blender. Blend on high until smooth. It should be nice and thick.
Slowly pour into the 4 glasses in equal parts.
Swirl with a straw to create a top swirl, if you wish. Top with peanuts and enjoy!
5. Berry Banana Popeye Smoothie
This smoothie offers proteins, vitamins, and fiber in one serving, among other nutrients. With the light coconut milk, it has a great consistency that your kids can easily enjoy.
2 servings
Ingredients:
1 frozen banana
3/4 cup of frozen strawberries
1/2 cup frozen blueberries
3/4 cup frozen baby spinach
2 1/2 cups of light bpa-free canned coconut milk (or natural almond milk)
How-to:
Place all ingredients in power blender. Blend for 2-3 minutes, or until smooth. Enjoy!
If you do try out any of the smoothie recipes, please let me know how your kids liked them. Also, share in the comments below some of your best smoothie ingredient combos that your kids love.
Latest posts by Emily Smith
(see all)