5 Simple and Healthy Rolled Oats Recipes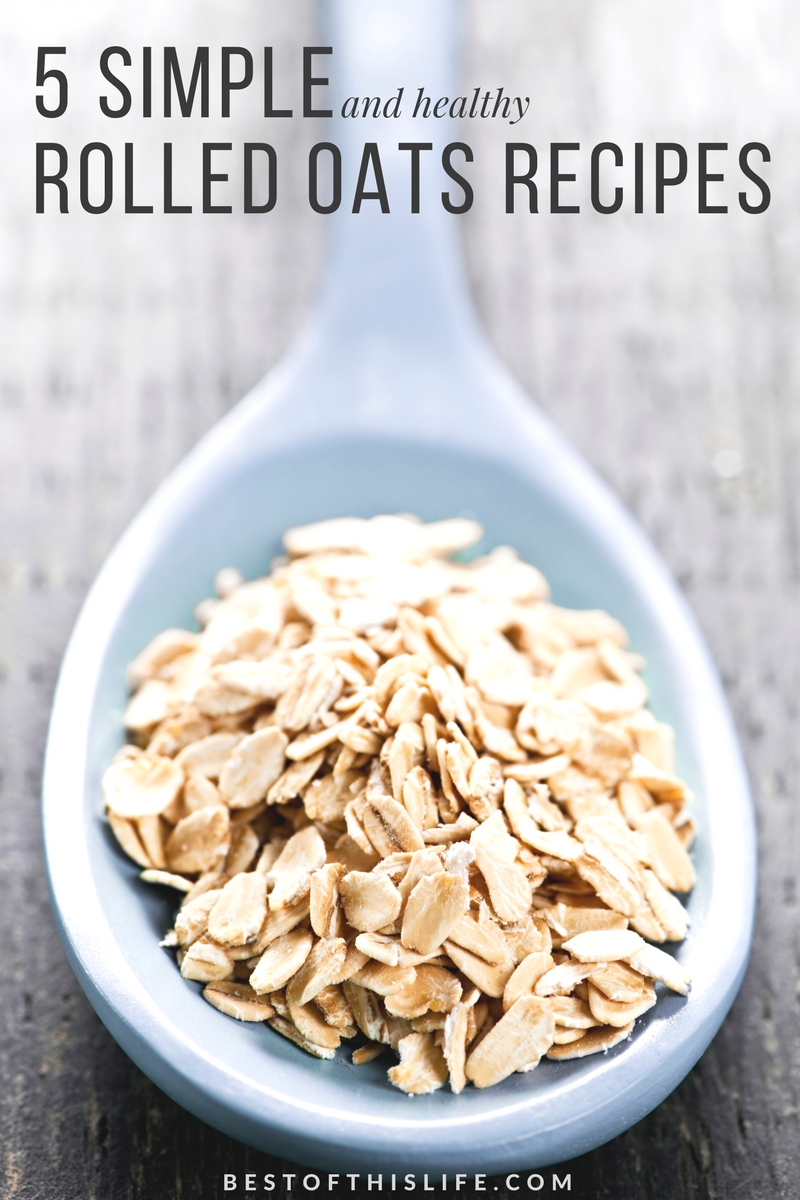 Is it odd to say that rolled oats are the "newest on-trend health food?" Well, I'm going for it—rolled oats are all the rage right now, especially when it comes to easy overnight concoctions that can be heated up in a cinch the next morning or eaten cold! Rolled oats have been part of our diets for centuries, and for good reason; they have a high amount of fiber that effectively lowers cholesterol and staves off heart disease, they're a good source of protein, and they're naturally free of sugar. I incorporate rolled oats into my family's diets as much as possible, be it in a smoothie to thicken the consistency, a warm bowl of oatmeal breakfast with sliced bananas and cinnamon, or a hearty batch of chocolate chip and oatmeal cookies. Below I'll share my five go-to rolled oats recipes when I'm looking for something simple with a health kick.
Rolled Oats are SO good for you. Try these 5 delicious recipes:
1. The Best of This Life's Healthy Gluten-Free Apple Oatmeal Bars
These bars are a surprisingly decadent breakfast option, and can be made the day before. Apples, cinnamon, nutmeg, unsweetened applesauce, and old-fashioned oats come together for a delicious meal or afternoon snack, one that's dairy-free and gluten-free but bursting with flavor.
2. Serious Eats' Honey Almond Granola
This scrumptious granola is set apart by its addition of orange zest and orange blossom honey (you heard that right; yummy!), and only takes ten minutes to make.
3. Wholefully's Classic Overnight Oats
Greek yogurt, rolled oats, and chia seeds make this overnight oats recipe one of the heartiest around (seriously, you won't be hungry again until dinnertime).
4. Gluten-Free on a Shoestring's Gluten-Free Oatmeal Cookies
I had to include an oatmeal cookie recipe, and this is one of my favourites. The semisweet chocolate chips can be substituted with raisins if you're craving a more traditional treat.
5. The Best of This Life's Awake Peanut Butter Snack Bites
Peanut butter, coffee, chocolate, and old-fashioned oats…I'm not sure there's anything better than these snack bites, so it's a good thing they're on the smaller side. No baking is needed and they only require six ingredients altogether, so you can't get simpler than that!
Do you have a favourite rolled oats recipe from your childhood? How do you incorporate rolled oats into your diet? As always, I love to hear your thoughts!
p.s Thank you SOmuch for reading today. Do you know someone who LOVES rolled oats? Please send this article their way, you might just make their day! And to keep up with all of our new posts, be sure to FOLLOW The Best of this Life on Facebook and join the conversation!
THE BEST OF THIS LIFE: ESTABLISHED IN 2011 AND HELPING READERS LIVE THEIR HEALTHIEST, HAPPIEST, BEST LIFE SINCE!
Latest posts by Emily Smith
(see all)