A Dreamy Blue Paint for a Boy's Bright and Modern Bedroom
Getting Help from the Experts
Last year, we freshened up our master bedroom with the perfect-for-us white paint from Dulux. Picking the right white required some help from the experts, who encouraged us to consider the natural lighting of the room. Depending on the prominent light your room receives, your decor, and the artificial light (light bulbs) you use – the colour of your paint will look different. Taking these factors into the equation, we ultimately chose Snow Storm Dulux Diamond Pearl for our master bedroom. It was a perfect choice then and a year later, we're still smitten!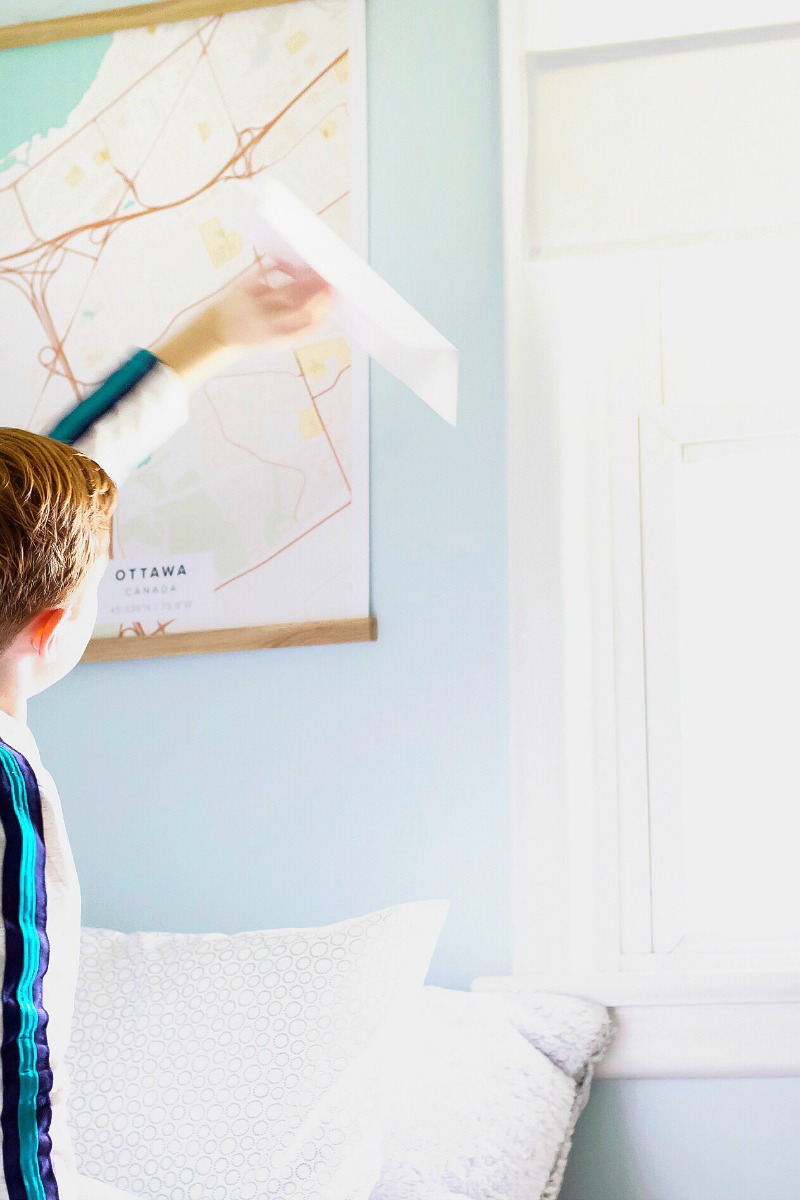 A Bright Bedroom Refresh
At the beginning of this summer, when we decided to give our son Aiden's room a makeover, we knew we would be heading back to our local Dulux paint store for guidance on selecting the ideal colour for his room. We've been long-time fans of Dulux for their high-quality paint and wonderful customer service. Every time I've walked into one of their stores, I've received the help I was looking for, from choosing paint colours to finding the right tools for the job at hand.
For Aiden's bedroom makeover, we wanted to give him a bright and modern space. He will be turning 9 years old this year and we wanted his space to reflect where he is in life right now. He loves all things related to space, science, geography, reading, drawing, and video games, among other things! My husband and I wanted to update his room with elements of the things he currently loves and give him room to grow in his room, including a desk where he could write, draw, and create.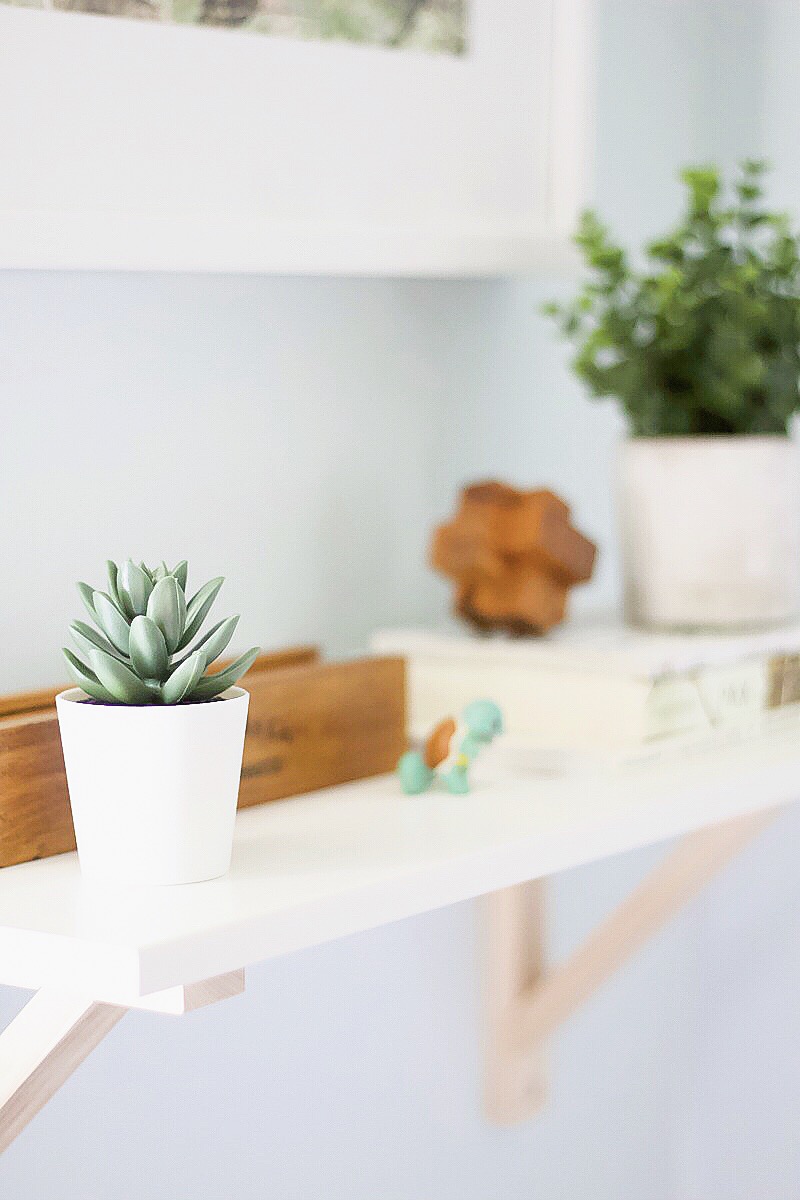 Choosing the Perfect Paint Colour
The last time we updated his room was four years ago. We incorporated a Star Wars theme throughout his room, which he was a big fan of at the time. To work with the colour scheme of his selected bedspread and other decor elements, we chose a darker blue paint. Fast forward to today and we knew it was time for a change. The dark blue wasn't going to work. We wanted to brighten up his room and create a dreamy environment that fosters creativity and discovery.
For this project, we began with the paint. It would be the blank canvas from which everything else would develop and as such, needed to possess and evoke the essence of what we wanted the space to be for Aiden.
When I asked Aiden what colour he wanted for his walls, he answered, "blue." So we were still at blue, but just not the same as before.
I visited our local Dulux store to gather some colour samples and ask some questions about painting over the darker blue. I found a great selection of colour choices to consider and was reassured that with the Dulux Diamond paint, I wouldn't need a primer for the job.
While browsing, one paint colour strip stood out to me the most. Its root colour being a deep emerald (with a touch of blue). It was a lighter hue on the strip that caught my attention, called "Cosmic Rays". I admit the name was the confirmation that I was looking for! Silly, I suppose, but the colour was that dreamy blue (with an undertone of emerald) that captured the essence I was talking about. I could see it on the walls of his room and it would say, dreams are dreamt here.
Aiden approved of the colour choice and, like me, loved the name!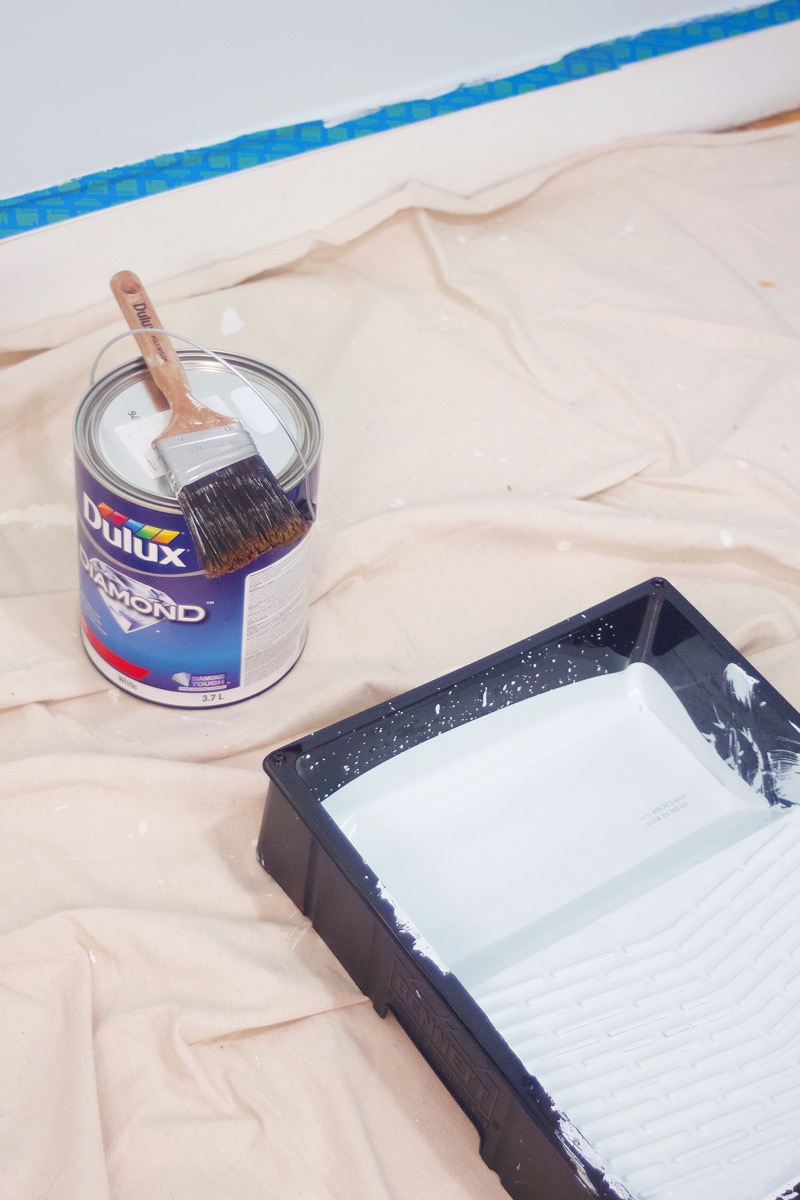 Starting with the Best Tools
On my next trip to Dulux, we picked up the paint and supplies to get started.
Here's a list of the Dulux paint products we used:
2 Gallons of Dulux Diamond Pearl – Cosmic Rays
A Gallon of Dulux Diamond Semi-Gloss – Commercial White (for trim, like windows and doorways)
A Gallon of Dulux X-Pert Ceiling Flat – Commercial White (for the ceiling)
Rollers, Roller Sleeves, Extension Pole, Paint Brushes, Drop Cloth (all available at your local Dulux store)
As I mentioned earlier, we recently painted our master bedroom with Dulux Diamond Interior Acrylic paint and were very happy with the finish. It's a very high-quality paint that goes on easily and dries quickly. It's also washable, which is great for high traffic rooms or when kids get their hands all over the walls!
The Dulux Diamond Interior Acrylic has a unique formula that offers advanced stain resistant technologies and superior performance over traditional interior acrylic paints.
There's no doubt, this paint is top of the line. It is so easy and smooth to paint with! And the extra help from the extension pole made our job a cinch. In no time at all, the fresh paint was on, and Aiden's bedroom transformation began.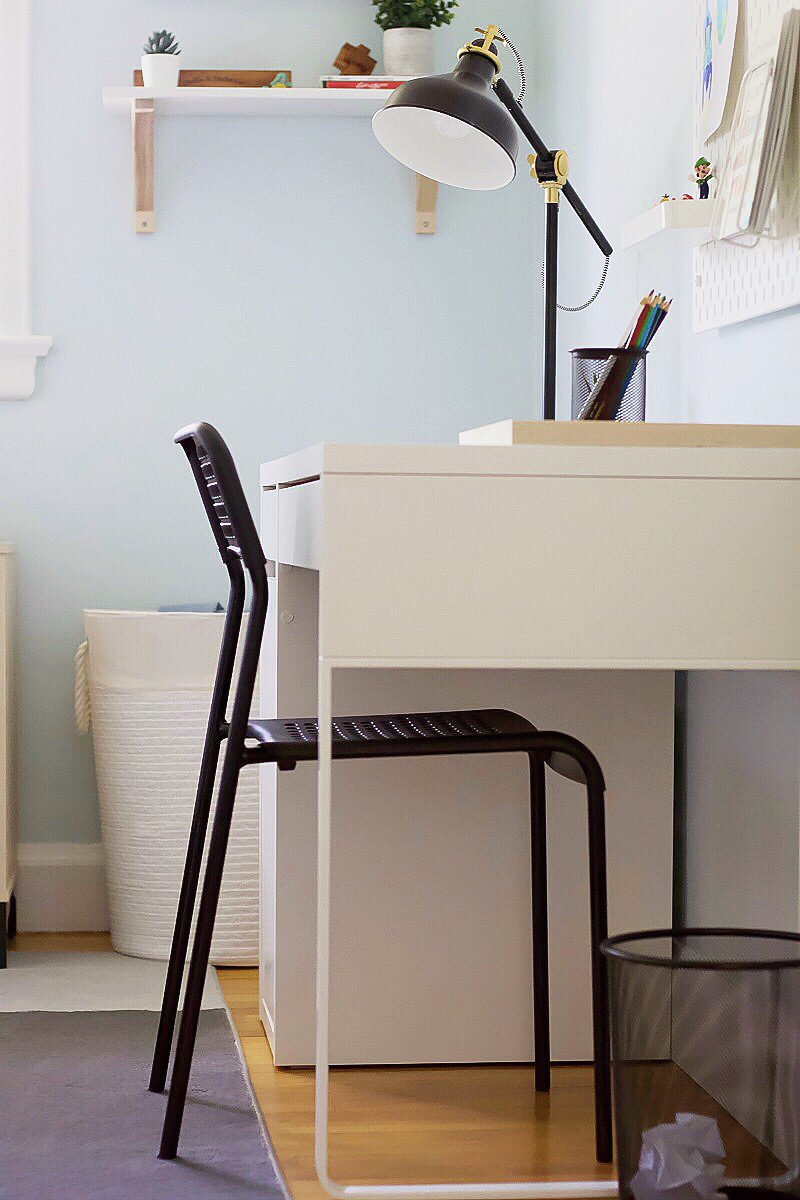 We Couldn't Be Happier with the Transformation
I absolutely love the colour and finish. It was exactly what we were looking for to update his room. It's bright, modern, airy, and dreamy! The colour makes his room feel so peaceful and complements his white and birch bedroom furniture wonderfully. It's incredible how expanded and light-filled his room feels now. Whether it's the light morning sunshine or golden dusk that comes through his window, the paint reflects the light now instead of absorbing it and creates such an inviting ambiance.
Once again, we are so pleased with our experience using Dulux paints. From the expert customer service to the end results, we couldn't be happier. Aiden's room has a beautiful fresh new coat of dreamy "Cosmic Rays" paint and it turned out just how we hoped it would.
Whether you're moving into a new home or updating a room, I encourage you to visit a Dulux store near you for some friendly and helpful advice on choosing the right paint, colour, and tools to accomplish what you're hoping for. The staff is very helpful and as I've shared with you today, the paint is superb!
This post is in partnership with Dulux. As always, all opinions are personal. Thank you for supporting my efforts to bring you exciting, new content.
Latest posts by Emily Smith
(see all)