Yummy Banana Split Bites for a Healthy After School Snack
Make these Banana Split Bites in no time with only 5 ingredients! They are delicious, healthy, and a fun treat the whole family will enjoy.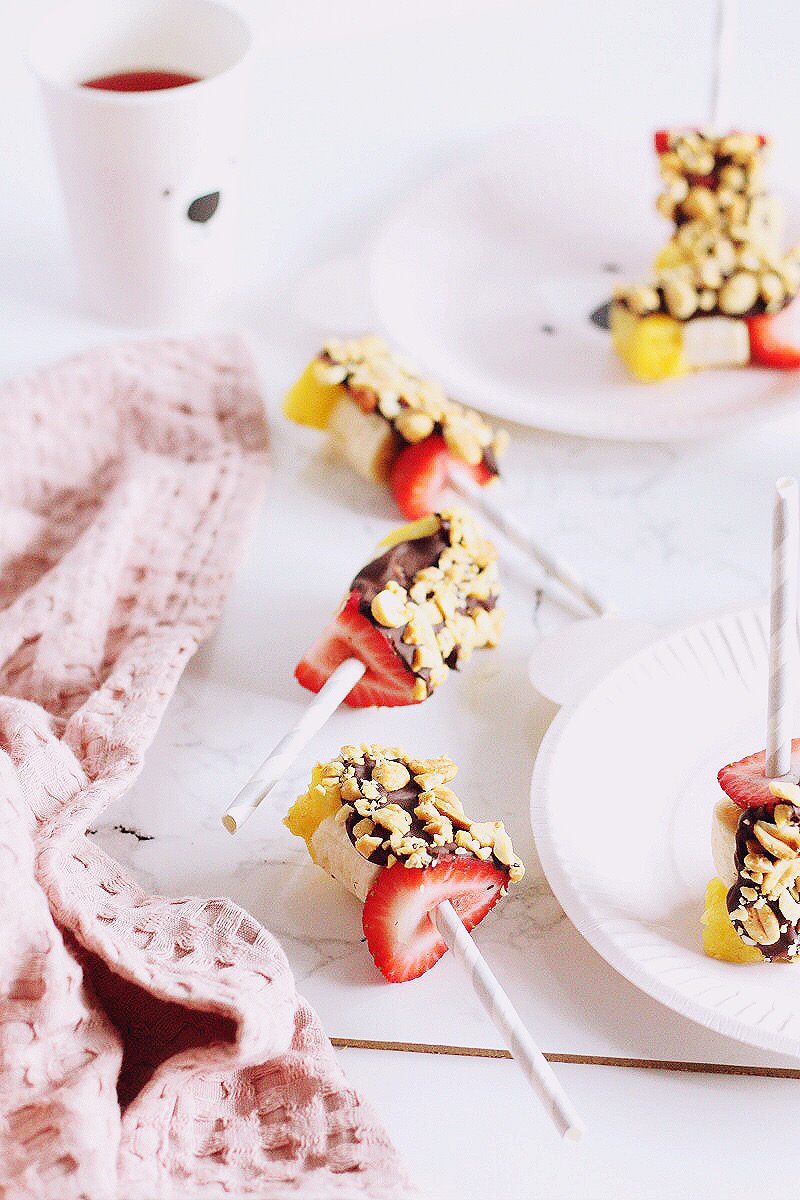 It's around this time of year that I receive lots of searches on The Best of this Life for after school snacks, and I can totally relate! I often go back through my recipe archive to get ideas and try old favourites, as well as scout Pinterest for fresh inspiration.
Even though snacks are not a new commodity come September, sometimes by the end of summer we've exhausted all our tried and true options. Especially when it comes to healthy snacks. Finding new, nutritious recipes to make can be just as exciting for parents and caregivers as it is for the kids.
Have Fun Trying New Snack Recipes With Your Kids
I always like trying new things in the kitchen and creating yummy, healthy snacks is no exception. It's also fun to get my kids involved and encourage the development of their culinary skills. They love being part of making their food!
I came across these Banana Split Bites on Pinterest from several different sources (like these ones from Family Fresh meals and these ones from Our Family of Seven) and thought they were too cute not to make. I knew my kids would love them.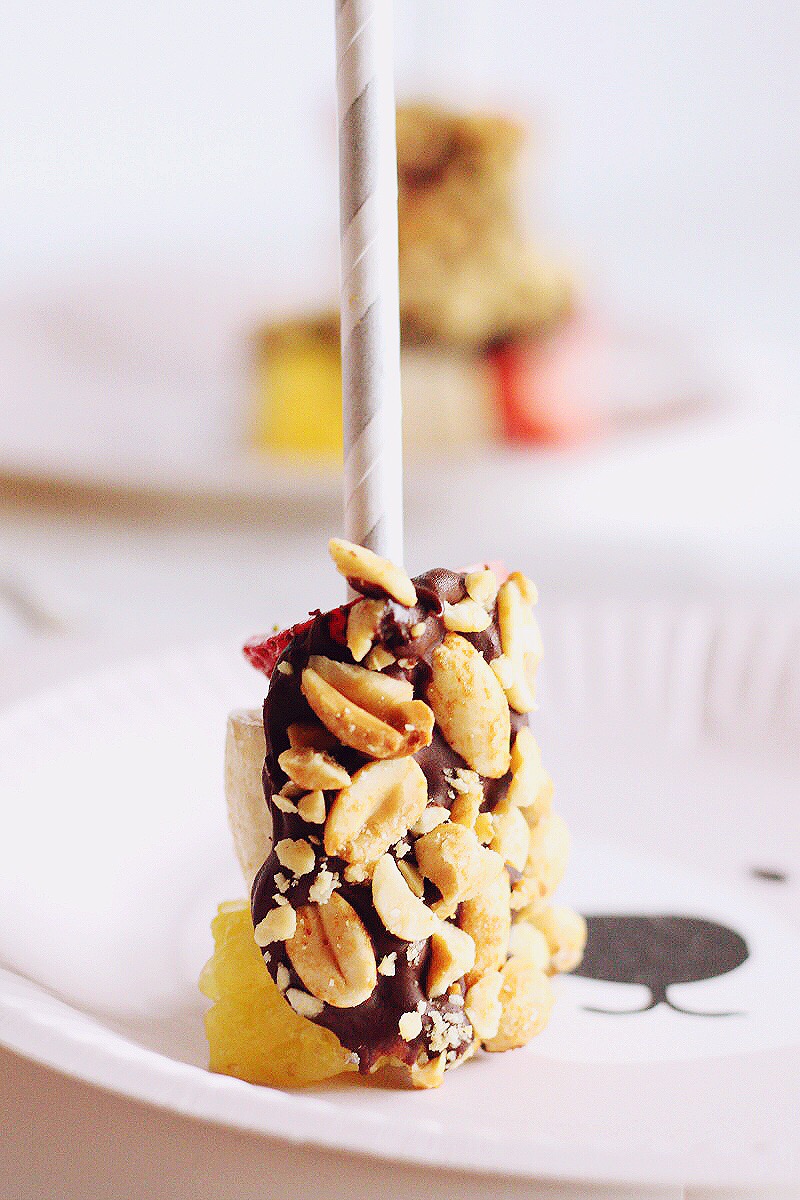 Get Creative With a Personalized Treat
You can make them a few different ways, including with sprinkles and whipped cream! But for the purpose of a healthier after school snack, I opted for simply using strawberries, bananas, pineapples, semi-sweet chocolate, and chopped peanuts. Get creative and use whatever fruit and nuts you have on hand!
Just 5 ingredients and you've got yourself a scrumptious and healthy treat both you and your kiddos will surely enjoy!
You can make these ahead of time or you can have all the ingredients prepped for when your kids come home from school and make them together. Getting messy in the kitchen makes for great family memories. I fondly remember the times I baked with my mom as a kid and cherish those times we had together.
Here's what you'll need to make a half dozen Banana Split Bites:
1 banana
3 large strawberries (or six smaller ones)
6 pieces of pineapple
½ cup semi-sweet chocolate chips, melted (use double-boiler method or microwave)
⅓ cup crushed peanuts (use a rolling pin to crush them if you are using whole ones)
6 popsicles sticks, wooden skewers, or paper straws cut down to size
Begin by preparing your fruit. Slice a banana into six pieces, the strawberries in half, and the pineapple into cubes of the approximate width of the banana slices (I used frozen pineapple, which is already cubed and evened out some of the pieces). Slide the fruit onto skewers, place them on a tray and put them into the freezer for 15 minutes.
Proceed with melting the chocolate. Make sure you don't overheat it! The chocolate should be just melted enough to be smooth. In the microwave, start with 20 seconds, stir and repeat until it's melted. If you use the double boiler method, watch it carefully, until it's melted smooth and you can spoon it easily. If you find that it's too thick, you can add a teaspoon of melted coconut oil to thin it out.
Prepare a serving plate or tray with parchment paper, where you will place the fruit bites once you've dipped them and rolled them in the peanuts.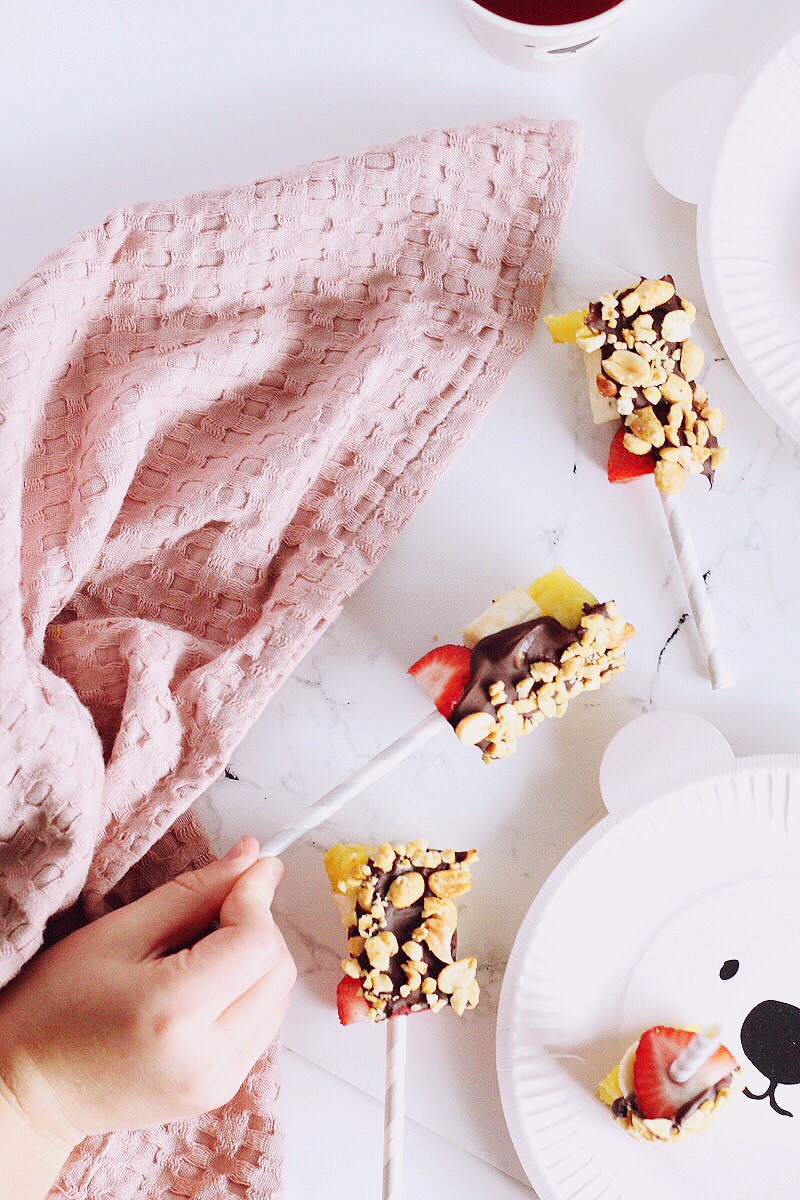 Now You're Ready to Start Dipping!
Have your melted chocolate ready in a bowl and the crushed peanuts in a small dish.
Remove the fruit bites from the freezer and either dip each one in chocolate or spoon the chocolate to cover one side. Next, roll the chocolate covered side in peanuts. Set them aside on the prepared serving plate and give them a minute for the chocolate to solidify before digging in!
If you're preparing the Banana Split Bites in advance, you can keep them in an air-tight container in the freezer for up to a week. When you're ready to eat them, take them out of the freezer and let them sit for 15-20 minutes at room temperature so the fruit won't be frozen solid.
These delightful, healthy treats are super fun to make and equally so to eat! They're a delicious snack that brings the taste of summer into the beginning of the school year.
My kids were big fans of this recipe and loved the combination of fruits, semi-sweet chocolate and peanuts!
Don't forget to pin this recipe and let me know when you give it a try! I hope you enjoy them as much as we do.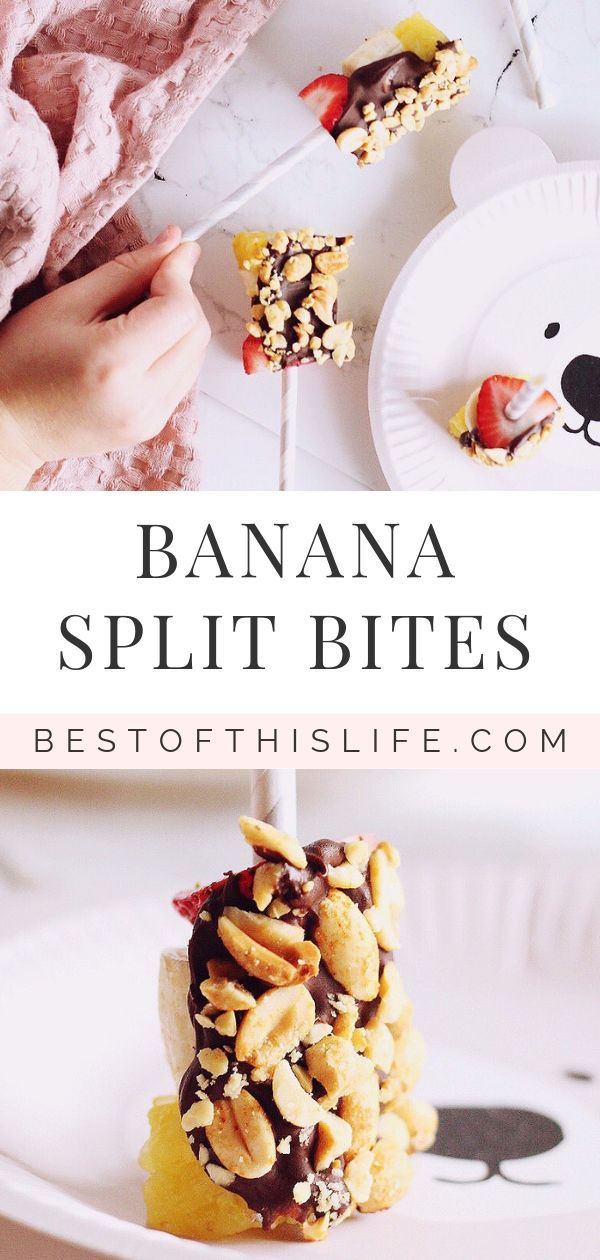 Latest posts by Emily Smith
(see all)