Become a Giant Tiger Vip for Access to the Best Deals
Who doesn't love a good deal!
Did you know that on TikTok, the social media video app, there are over 30 million views of the hashtag #coupons – and on Instagram, the hashtag has 3.8 million posts! Everyone loves to save money, including me.
I'm all about taking a few extra steps to save. Because, why not? If downloading an app or subscribing to a newsletter helps me meet our family's budget at the end of the month, I'm down!
Exclusive Weekly Deals with GT Vip
That's why it was an easy decision to sign up for Giant Tiger's new GT VIP loyalty program. Being a GT VIP means you get access to exclusive weekly deals throughout the store. You can check your deals online at giantiger.com or download the app conveniently to your phone.
With the app, you can also easily view Giant Tiger's weekly flyer and connect to their website to shop online. Plus, it makes it easy to use your deals as a shopping list when you're in-store and allows you to easily and quickly scan your VIP barcode at checkout. Or if you've forgotten your phone, simply give the cashier your phone number you used to sign up with to unlock your savings.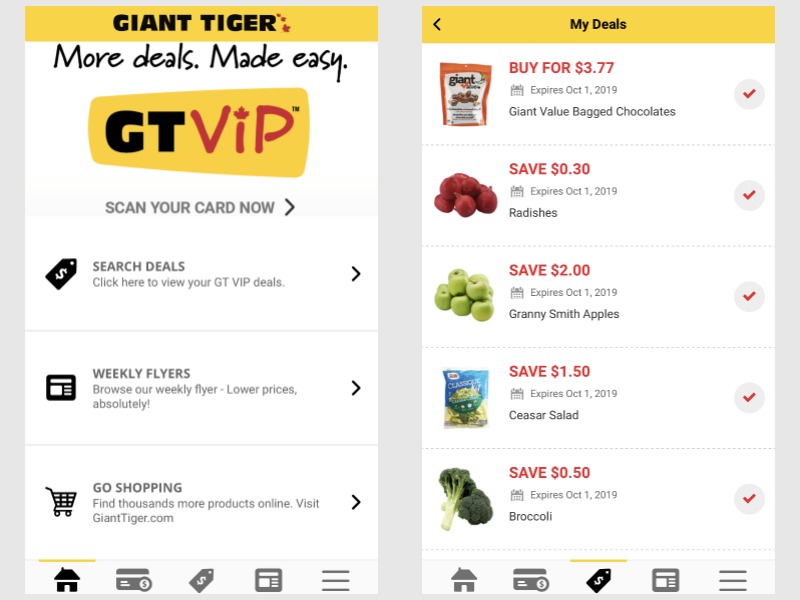 Get Access to Member-Only Contests and Other Perks
Additionally, as a GT VIP member, you'll unlock perks like member-only contests and partner benefits. For example, right now as a GT VIP, you get free delivery with Greek on Wheels and 20% off Ottawa Fury adult and youth tickets for all regular season matches.
GT VIP is rolling out this year in all Ontario stores and has been live in 23 Ottawa area stores since the end of April. Recently I started using the app to check my deals and began taking advantage of the offers from my local Giant Tiger store. 
Some of my deals this week included $2.00 off on Granny Smith Apples, 3lb bags, $0.50 off on Broccoli, Valley Baker Rye Bread for $1.97 (regular $3.29), and Giant Value Facial Tissue for $1.50 (individual size – 10 pack). Those are some great deals, right!
Signing up to become a GT VIP member is completely free!
It takes less than 5 minutes to download the app (or visit the website), enter your information and start saving!
If you have a Giant Tiger store in your area, it's worth the small step of signing up to see what kind of savings you can cash in on throughout your local store.
Not only are the personalized deals through the GT VIP program worth it, but I regularly check out the weekly flyer to see what's on promotion. On my last visit, I picked up some great fall decor pieces including a tablecloth for $12, a lantern for $5, and lined-basket for $6. Such a score! I can't wait to use them for my Thanksgiving tabletop decor.
Let's recap: I got extra savings using my GT VIP deals, I found some awesome sales in-store, most of my ingredients to create an easy Thanksgiving dinner (stay tuned!) at a fantastic price point, and cute autumnal decorations! I'd say that's a pretty big win.
I encourage you to check out the program and sign up today! Oh, and don't forget to hashtag your finds! #coupon #extremecouponing #coupongoals
*This post is in partnership with Giant Tiger. As always, all opinions are honest and personal.
Latest posts by Emily Smith
(see all)