Did you Know? Canning's Easy and Fun Too!
This is a sponsored post written by me on behalf of Bernardin. All opinions are 100% mine.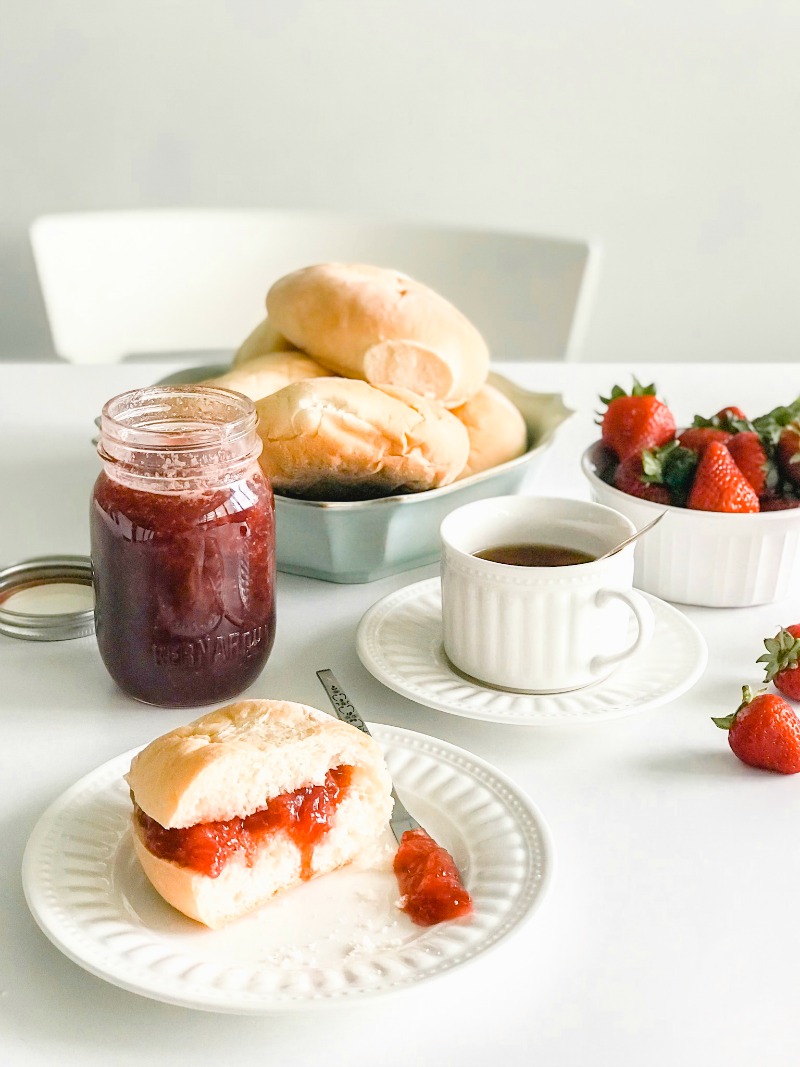 I got it from my mama!
And she got it from her mama.
I'm talking about canning, friends. It's not just a thing of the past. No way! It's fun, yummy, and very now. Just search the hashtag #canning on Instagram to see over 432,000 posts! Not only will you see some major eye-candy, but you'll also have the inspiration to try it yourself. If you're not already a pro!
I'm telling you, once you start, you won't want to stop. When you capture the taste of fresh fruits and vegetables in a jar, it's pretty rewarding and well to put it plainly, simply delicious.
You know who loves canning? Bernardin! For 100 years, they've been Canada's go-to for canning products. And it's easy to see why, just take a peek at their website (bernardin.ca) to see their extensive offering of products, how-to guides, recipes, and more.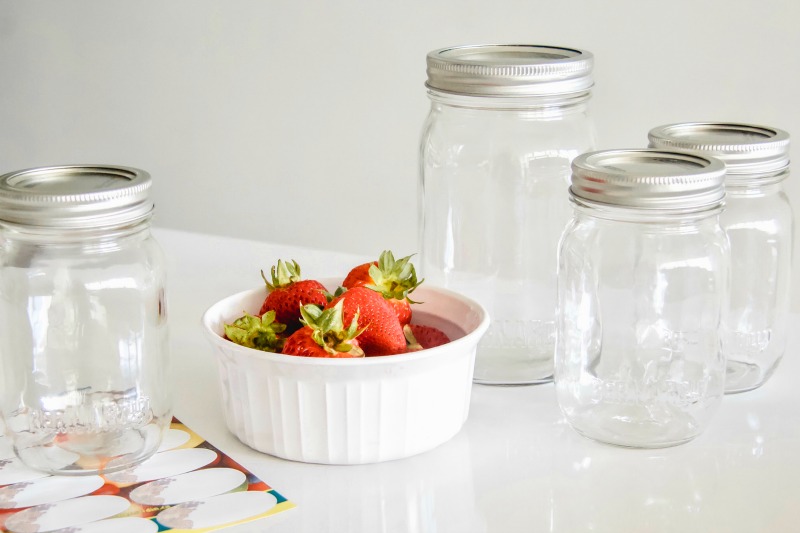 I went through their recipe index and was swooning over all the scrumptious jams, jellies, sauces, and salsas. Check it out, you'll be salivating too!
Recently, they added Smooth Jars to their line, in the 500ml and 1-litre sizes. You may have already spotted them in stores. They're modern, minimal, elegant, and oh-so-pretty! Can't you just see these beauties lined up in your pantry? You can pick them up at Walmart, Canadian Tire Canning landing page, and London Drugs. Print out this coupon to save on your purchase!
My husband and I worked on our first small batch of canning for the season, Strawberry Jam, and filled up two 500ml jars. Boy does our jam look good in 'em. Of course, it tastes good too, thanks to the tightly sealed lid that keeps it nice and fresh.
When it comes to canning, it's best to start with learning the basics. On bernadin.ca you'll find the Introduction to Canning guide, as well as a Step by Step guide. These are such great tools so you know exactly what you're doing, especially with sanitization (boiling and sealing jars for long-term preservation).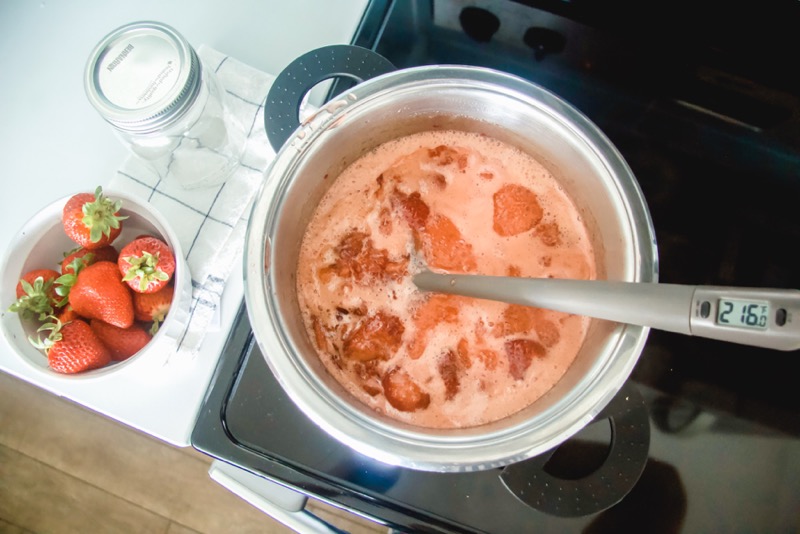 I'll let you dig into the how-to's on your own, and jump to sharing my Strawberry Jam recipe with you. It's easy as can be yet incredibly delectable. If you're a fan of a sweet and slightly tangy jam, this is for you.
My children love strawberry jam and I wanted to kick off the canning season with this traditional recipe, with a twist. I added a touch of balsamic vinegar and vanilla extract to add a hint of je ne sais quoi.
Sweet, tangy, juicy, and zesty. This jam has got it going on.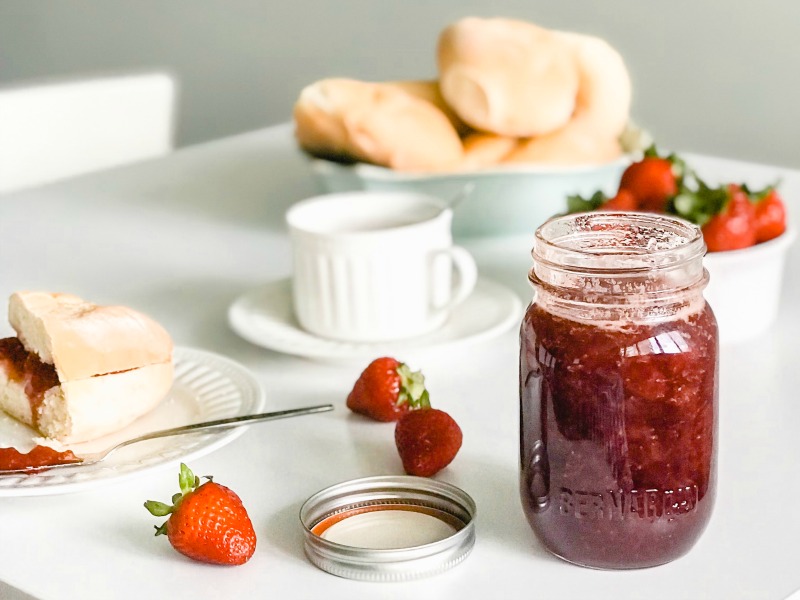 Here's what you'll need:
2 Bernardin 500ml Smooth Jars
2 pounds fresh strawberries, hulled
4 cups white sugar
1/4 cup lemon juice
2 tsp balsamic vinegar
2 tsp vanilla extract
Directions:
Wash and prepare berries.
In a large mixing bowl, crush strawberries with a masher, leaving some chunks.
In a large pot, over low heat, measure 4 cups of mashed strawberries. Add to the pot, along with all the other ingredients. Stir until the sugar dissolves (3-4 minutes).
Turn the heat to high and boil the strawberry mixture until it reaches around 215F.
Return the heat to low and let the mixture simmer for 45-60 minutes. Stir ever so often.
Test the jam by placing a spoonful on a plate and placing it in the freezer for 1 minute. If it solidifies and is spreadable (and sticky), the jam is ready to place in jars.
Follow Bernardin's guide for sterilizing your jars.
Transfer the jam to sterile jars, leaving a ¼ inch at the top and seal the jars.
If you will be eating the jam over the next week, you can just place it in the fridge.
For storing jam and preserving it for up to a year, process the closed jars in a water bath for sterilization. Please refer to Bernardin's guide for these steps.
Enjoy your jam now and later!
There you have it – a simple, decadent Strawberry Jam perfect for enjoying all summer long and ideal for preserving and saving to dig into this winter too. I highly recommend adding canning to your summer bucket list and picking up some of Bernardin's new Smooth Jars to store your scrumptious creations.
Latest posts by Emily Smith
(see all)