Caramel-Filled Dark Chocolate Cookies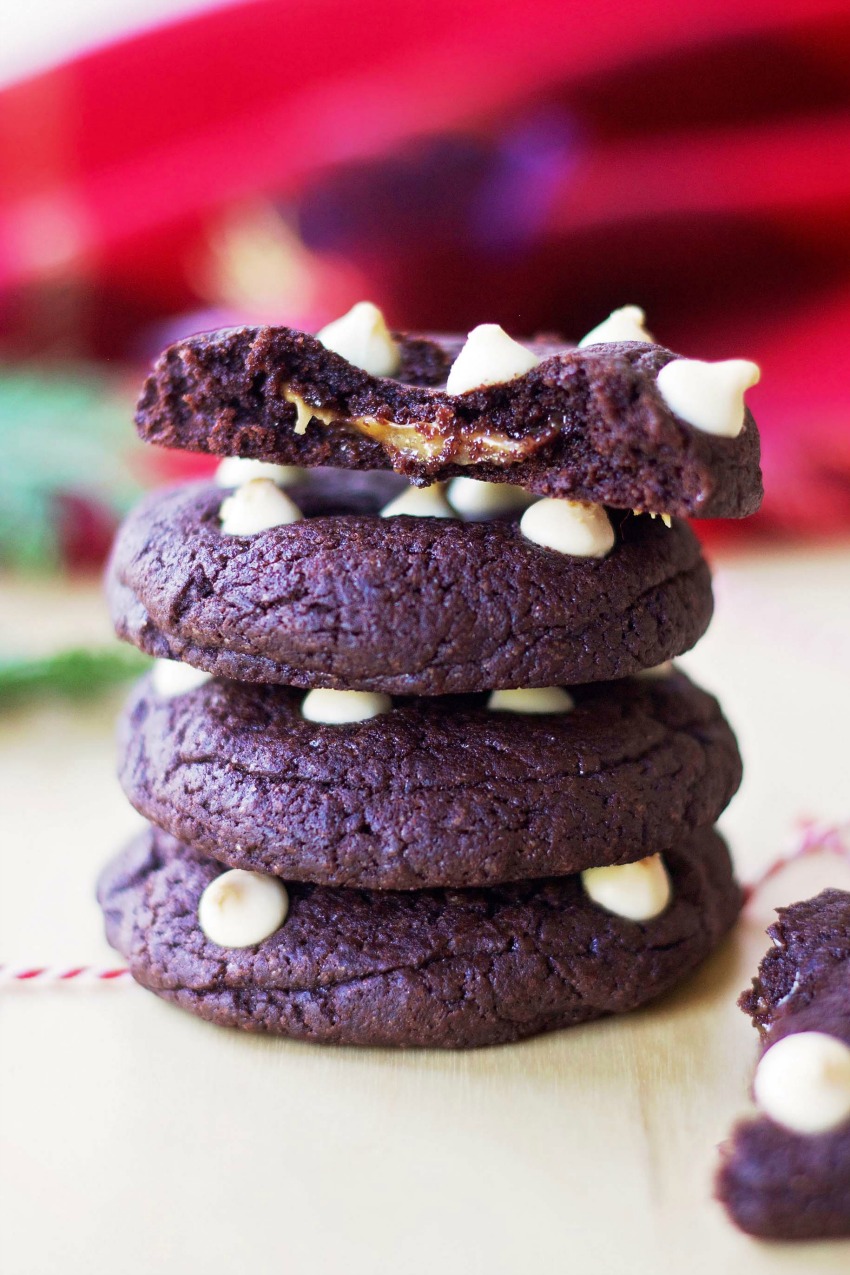 When I first opened this month's PC Black Label Black Box, my first thoughts were, "PIZZA!"
You see, what I found inside November's delivery was PC Black Label Pizza Sauce and PC Black Label "00" Farina Enriched, Unbleached Fine Wheat Flour. So of course, pizza would be at the top of the list for what to make with these scrumptious ingredients, but then I remembered I already made pizza using one of my PC Black Label Black Boxes and wanted to play around with something else. With it being the holiday season and all, I decided to make something a bit more festive.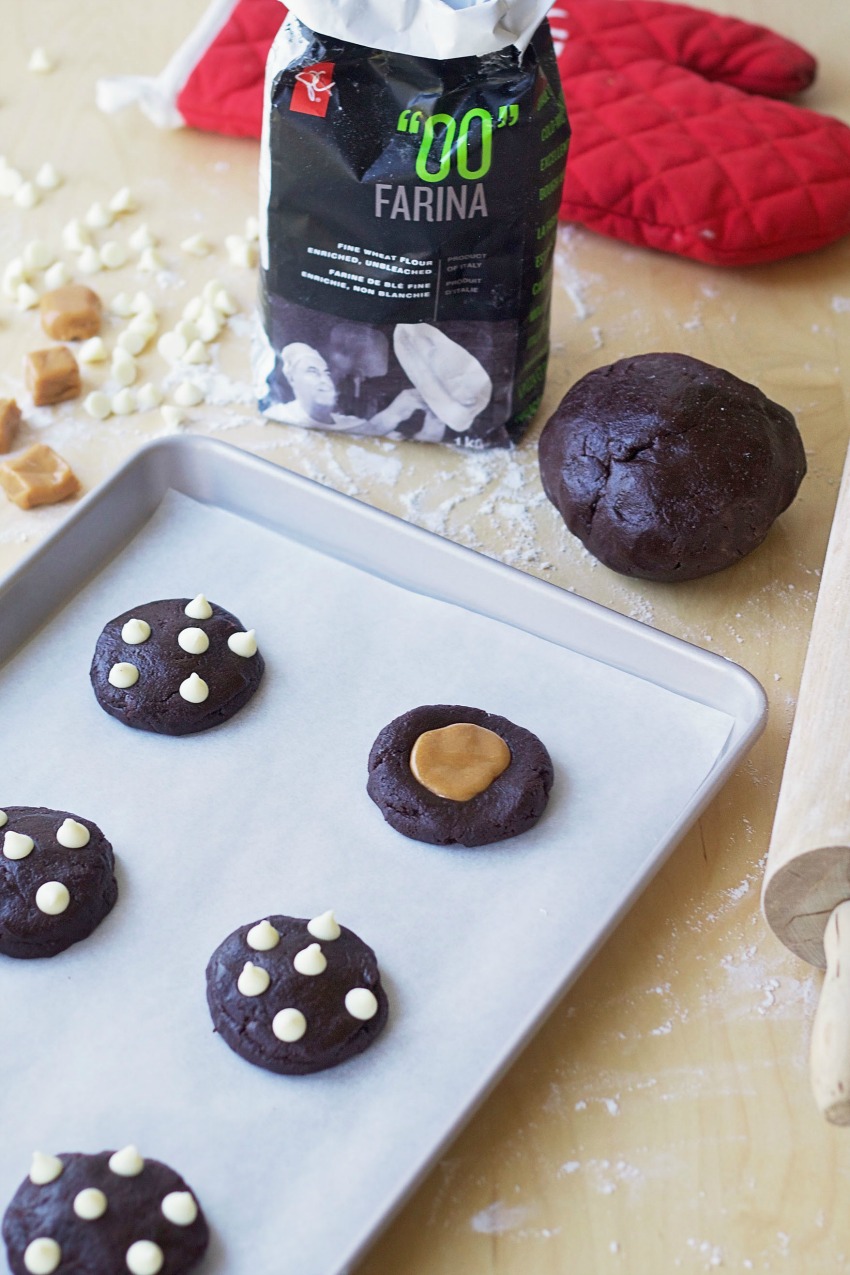 Now, I'm hoping that I won't offend any foodies by using the finest grade of milled Italian flour to make cookies! But for some reason the incredibly smooth, silky, fluffy flour just made me think of soft centered cookies that melt in your mouth. So there you have it, I used the PC Black Label "00" Farina Enriched, Unbleached Fine Wheat Flour to whip up these incredibly decadent Dark Chocolate Caramel Cookies and I couldn't be happier about how they turned out.
Friends, these are not your regular, run of the mill chocolate cookies – no, these taste like the darkest, richest hot chocolate you've ever had with a swirl of gooey, sweet, oh-so-yummy caramel in the centre, sprinkled with white chocolate chips – just to throw it completely over the top in the best of ways.
Let me paint you a picture: you, nestled under a cozy, wool blanket, warming up by the fire with a mug of hot cocoa, and one of these mouthwatering cookies to enjoy, savour, and let melt in your mouth with every bite. Mmmmm….can't you just taste them?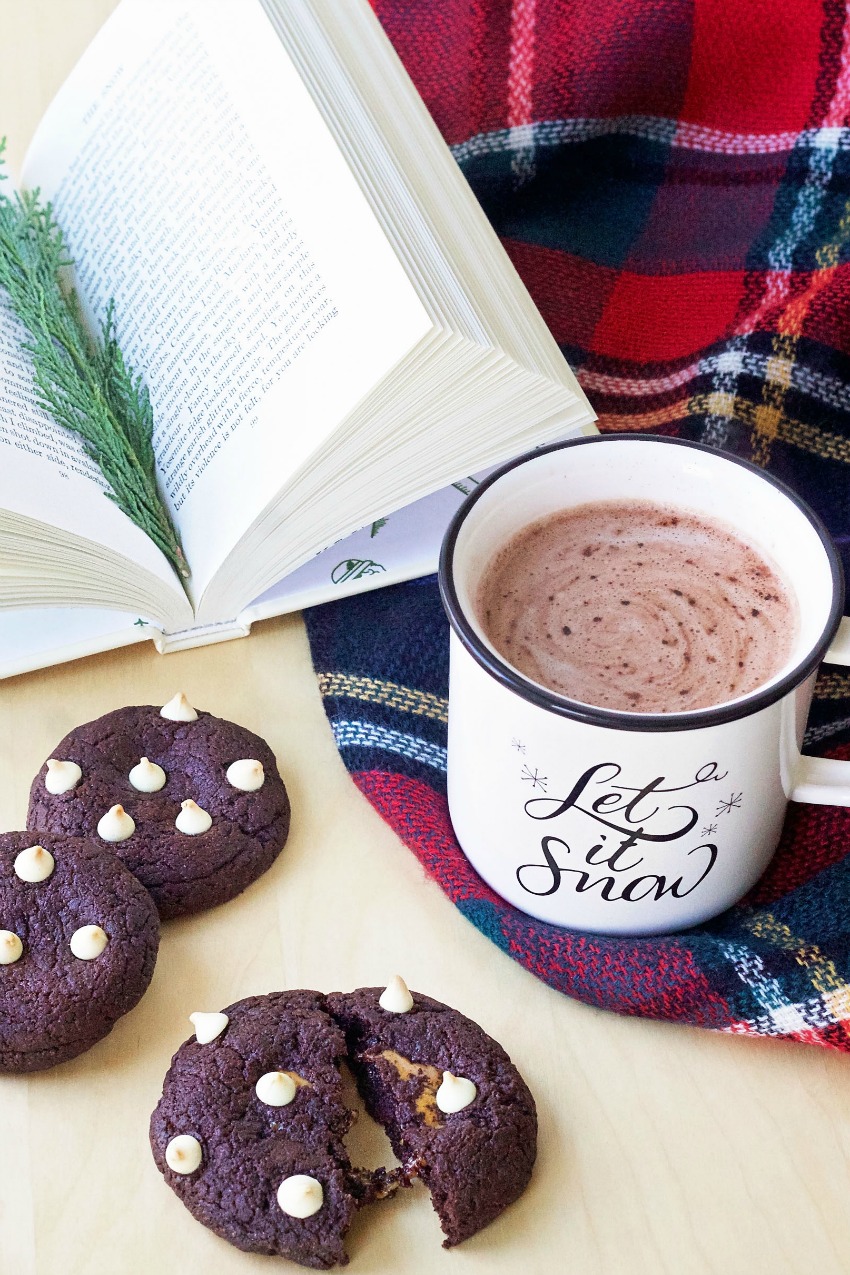 When it comes to Christmas cookies, I must tell you, my husband is the ultimate judge. He taste-tests all my cookies and let's me know what's what. Because of food sensitivities and preferences in my family, I make a variety of cookies, including gluten-free. These cookies past the test as they are, as well as the allergy-friendly alternative (an easy conversion with PC All Purpose Gluten-Free Flour). OH YA! They're winners all around.
Without further ado, here is the incredibly scrumptious recipe – I just know you'll love, because chocolate…and caramel…and the finest grade of milled Italian flour!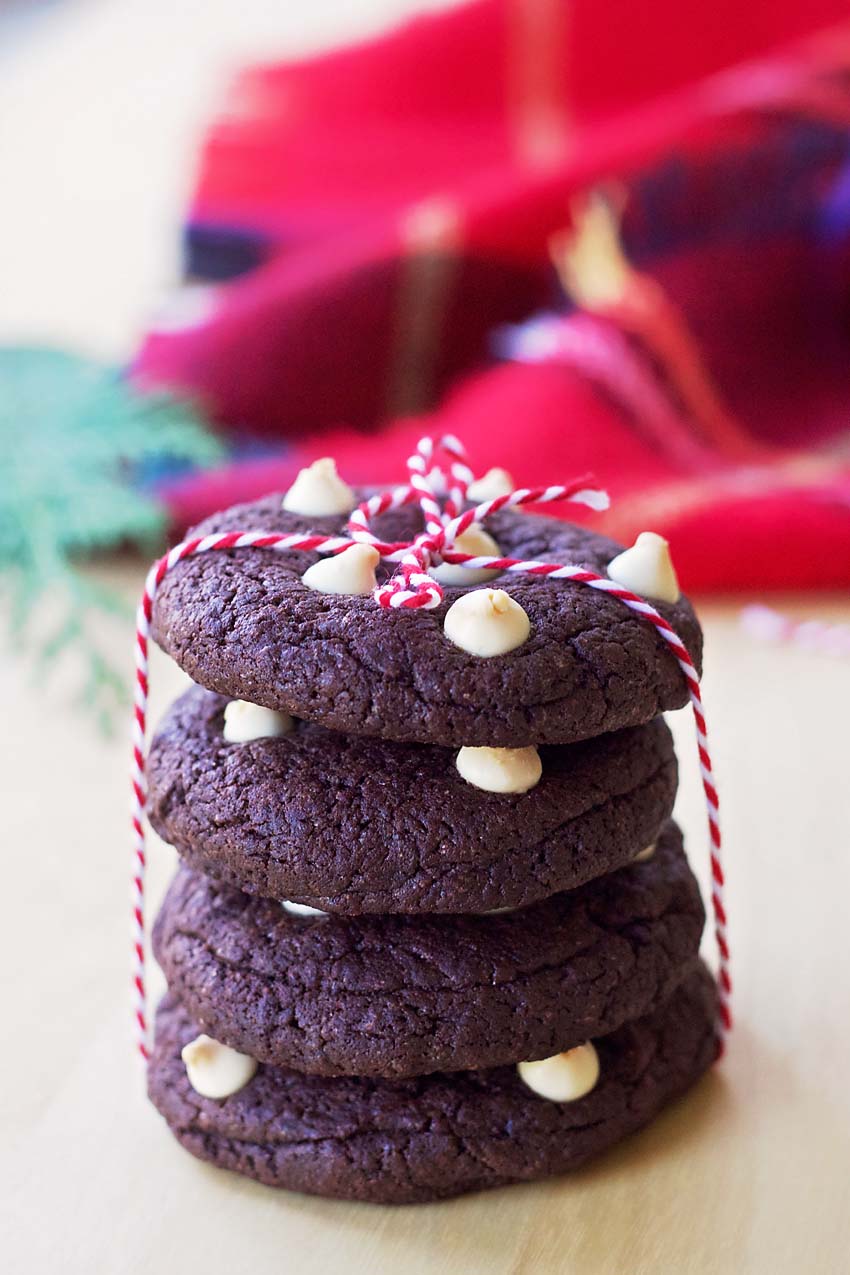 Print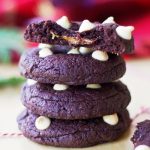 Caramel-Filled Dark Chocolate Cookies
---
Author:

Total Time:

12 minutes

Yield:

1

4

1

x
Description
Rich, decadent, caramel-filled dark chocolate cookies that melt in your mouth.
---
1/2 cup

unsalted butter

1 1/2 cup

dark chocolate chips

1 cup

light brown sugar, packed

3

large eggs

2 teaspoons

vanilla extract

1/4 cup

unsweetened natural cocoa powder

1 1/2 cups

PC Black Label 00 Flour

1 1/2 teaspoons

baking powder

1/4 teaspoon

salt

14

–

16

small soft caramel candies

1/4 cup

white chocolate chips
---
Instructions
In a double-boiler (or the microwave), on medium heat, combine butter and chocolate chips, stirring until the chocolate chips have completely melted. Let cool for 5-8 minutes.
In a large mixing bowl, blend the eggs, brown sugar, and vanilla until smooth (you can use an electric mixer for 30 seconds-1 minute). Slowly pour in the melted chocolate and butter, mix until blended.
Next, add in the cocoa powder, PC Black Label 00 Flour, baking powder, and salt – stirring until well combined. Again, you can use a an electric mixer here to help you out.
Once the dough is prepared, cover it with plastic wrap and let stand in the fridge for 1 ½ hours or overnight. If you do overnight, you will have to let it sit at room temperature for about 20 minutes before using it as it will be too firm.
Preheat oven to 350 F and line two baking sheets with parchment paper.
Unwrap caramel squares, and slightly flatten them (using your hands or rolling pin) to better fit in the cookies.
Using a measurment spoon scoop 1 Tbsp of dough and roll it into a ball, slightly flatten it and place a caramel in the center. Spoon another 1 Tbsp of dough, roll it into ball then top the bottom half with it, slightly flattening and sealing the sides together.
Repeat until all the dough is used, it should make around 14-16 cookies.
Once all the cookies are on the baking sheets, add a few white chocolate chips to the top of each cookie.
Bake for 10-12 minutes. Allow cookies to cool for 15 minutes before moving or serving. Ideally, transfer them to a wire rack to cool completely through before storing. Enjoy!
Notes
If the dough is too wet when you're working with it, sprinkle a little bit of flour on it to manage it better (use sparingly!). Keeps for 1 week in the fridge in a air-sealed container.
Now what about that pizza sauce? Well, making pizza with my kids is still on my mind, and I'm thinking of making some pizza bites to serve up as holiday appetizers, I have a feeling the little folk will particularly enjoy them. This PC Black Label Pizza Sauce is made in Italy with a blend of simple, traditional ingredients, such as sweet Italian tomatoes, extra virgin olive oil, onions and carefully selected herbs and spices. It has a wonderful flavour to it!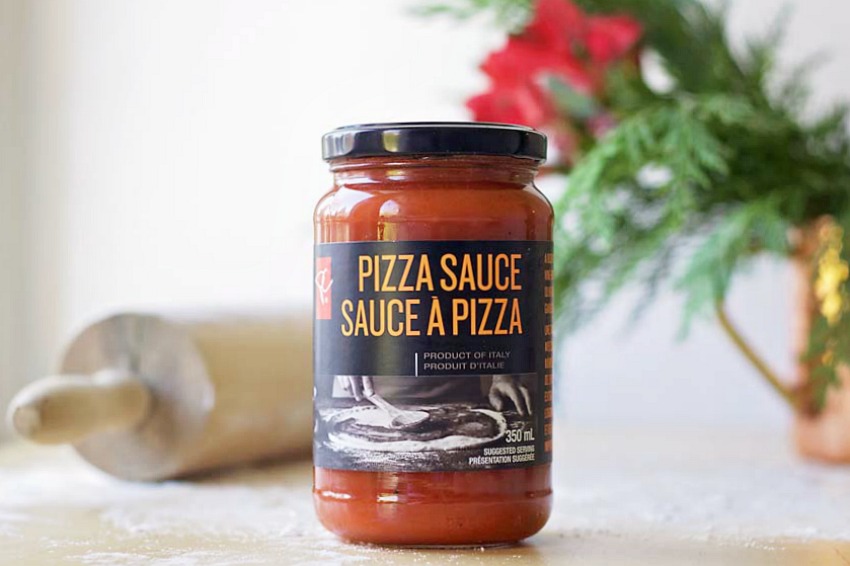 The holiday season is a wonderful time to get creative in the kitchen!
This recipe has been created in partnership with President's Choice and the PC Black Label Collection. I am proud to be a #PlayWithYourFood partner! As always, all opinions are personal.
Latest posts by Emily Smith
(see all)