Carrot Ginger Soup (and My Misconceptions About Canning)
This is a sponsored post written by me on behalf of Bernardin. All opinions are 100% mine.
Before I started canning, I thought it was difficult, risky, and time-consuming.
Boy was I wrong!
It's not difficult. It's as simple as following a recipe and following instructions to can properly. It's not risky. As long as you carefully stick to the guidelines, like the ones outlined on Bernardin's website, you will be able to can safely. It's not time-consuming. While canning still involves preparing food and processing the jars, it's not as long or as tedious as I imagined it to be. Plus, the time you do put in pays itself back in dividends when you get to enjoy your preserved homemade food all year round.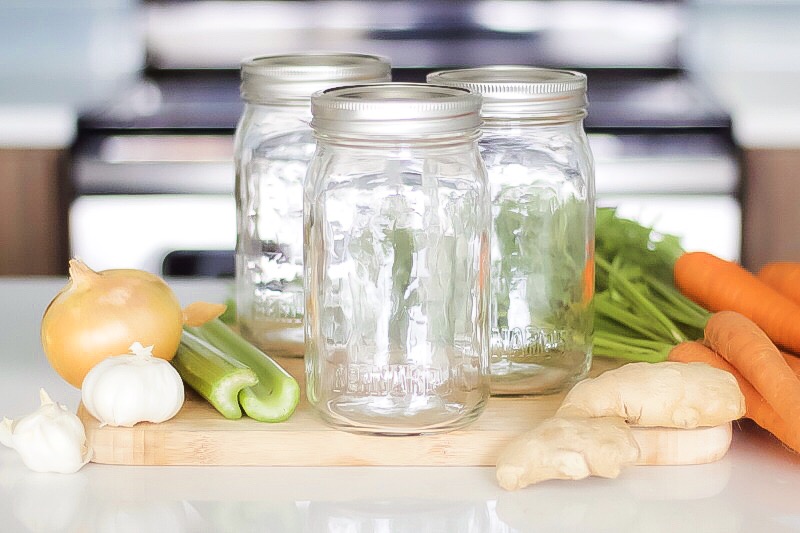 When it comes to canning, one of the most important things is the lid. You must always use new lids. Bernardin has perfected the seal in their lids through extensive research, development and testing to preserve your food safely. The magic is in the seal!
For my latest canning adventure, I made a creamy, savoury batch of Carrot Ginger Soup and canned it in Bernardin 1L Smooth Jars. I've been using the new Smooth Jars this year for all my canning, from jam to dill pickles, and I love how everything I make looks in them! It's such a pretty presentation in a clear and modern style.
If you've been on the fence about canning, like I was, I want to encourage you to just go for it! Get started with a beginner's kit like Bernardin's Full Canning Set and pick up some new Bernardin's Smooth Jars. You can save $2 off your purchase of Bernardin 1L Smooth Jars.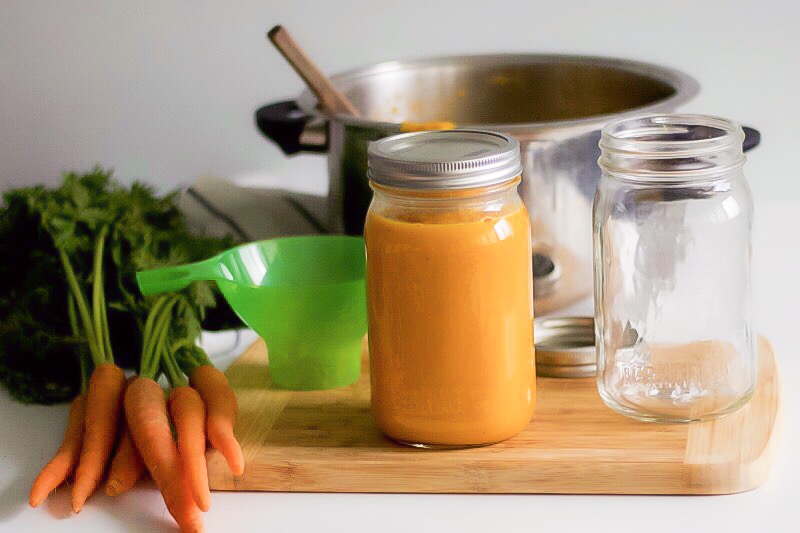 I'm such a fan of hearty soups during the colder months, and Bernardin is my go-to for preserving them. It's such a satisfying feeling to make homemade soup and then can it to enjoy all throughout the year. That home-cooked flavour is just the best!
This flavour-packed Carrot Ginger Soup warms your belly up and is so comforting. The medley of carrots, onions, celery, and ginger make it one savoury soup perfect to enjoy on its own or as a starter to a meal.
The beauty is how easy it is to make! Seriously, friends. You just chop up all the ingredients, toss it in a pot with broth, let it simmer and before you know it, you are ready to puree and transfer it into jars. Voila!
It's that simple and you've got yourself some tasty soup you can heat up and eat whenever you're in the mood for a warm bowl of goodness.
To Make Carrot Ginger Soup You'll Need:
2 Bernardin 1L Smooth Jars
3 tablespoons virgin olive oil
3 cloves of garlic, peeled
3 tablespoons fresh ginger, peeled and chopped
1 large onion, peeled and diced
2 celery stalks sliced
3 pounds of carrots, peeled and sliced
8 cups vegetable stock
1 teaspoon Italian seasoning
1 teaspoon ground ginger
1/2 cup honey
Salt and pepper, to taste
Directions:
Pour olive oil into a large stainless steel pot over medium-high heat. Add in the onion, garlic, ginger, celery, and carrots. Sauté for 8 minutes, stirring every minute. Pour in the stock and bring to a rolling boil for about 2 minutes.
Reduce the heat to medium and simmer for 30 minutes, or until carrots cook through. Remove from heat and add remaining ingredients. Using an immersion blender, blend the soup until it's puréed and no chunks remaining.
Prepare the jars for canning using the sterilizing directions found on Bernardin's website. Fill two 1L Smooth Jars with soup, then gently fasten the lid and rings on the jars. Place them in a large pot of boiling water and follow the processing directions on Bernardin's website for best sterilization practices.
Notes: This recipe makes enough to fill 2 x 1 L jars, plus a bit extra which you can store in a 500ml jar or eat right away!
I hope you enjoy this recipe friends and let me know in the comments where you're at on your canning journey. Are you a seasoned pro? New to canning?
I'd love to hear from you and your thoughts on canning in general. I personally have found canning incredibly rewarding and the more I do it, the more I love it!
Latest posts by Emily Smith
(see all)