How to Create a Simple Snack and Activity Station for Kids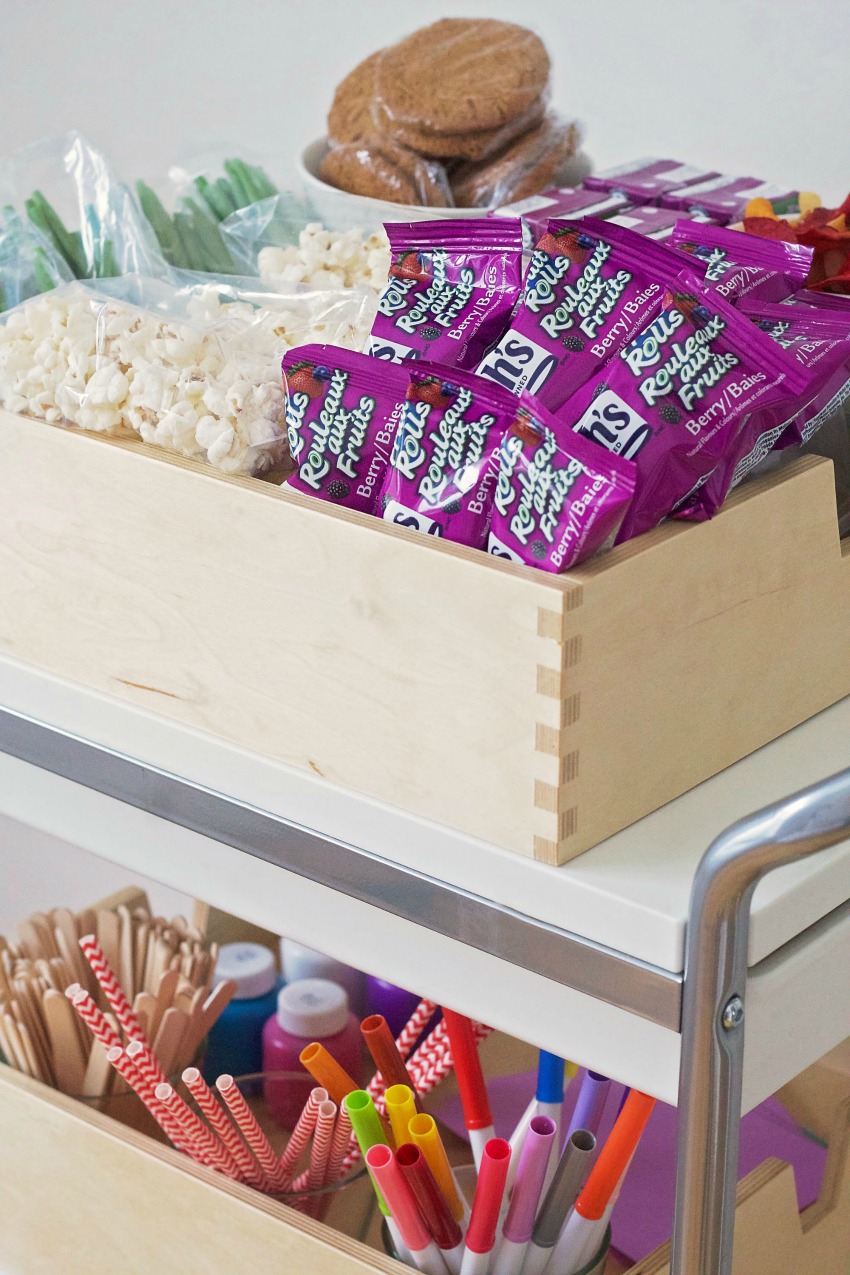 This post is sponsored by Welch's® Fruit Rolls. I am being compensated for this post. All comments and opinions are my own.
Last Friday, my son came off the bus with his little sister and just as we were getting through the door, a friend of his and his grandmother came walking up the sidewalk towards the house. "Hey Aiden, are you ready for a playdate?" his friend called to him. Unbeknownst to my husband or me, these two buddies had planned for some playtime together! Since we didn't have anything lined up, it all worked out.
After it was settled, my husband turned to me and said, "I think we just got a glimpse of the future." It's not just mommy and daddy planning the activities around here anymore!
Drop-ins and last-minute plans with friends are a big part of growing up, especially as kids enter the tween and teenage years. I can remember so many times being on the phone with a friend and planning a whole weekend sleepover before even asking our parents, because we were just so excited about it and it inevitably got lost in our world. As a kid, hanging out with your best friends is one of the best things about childhood.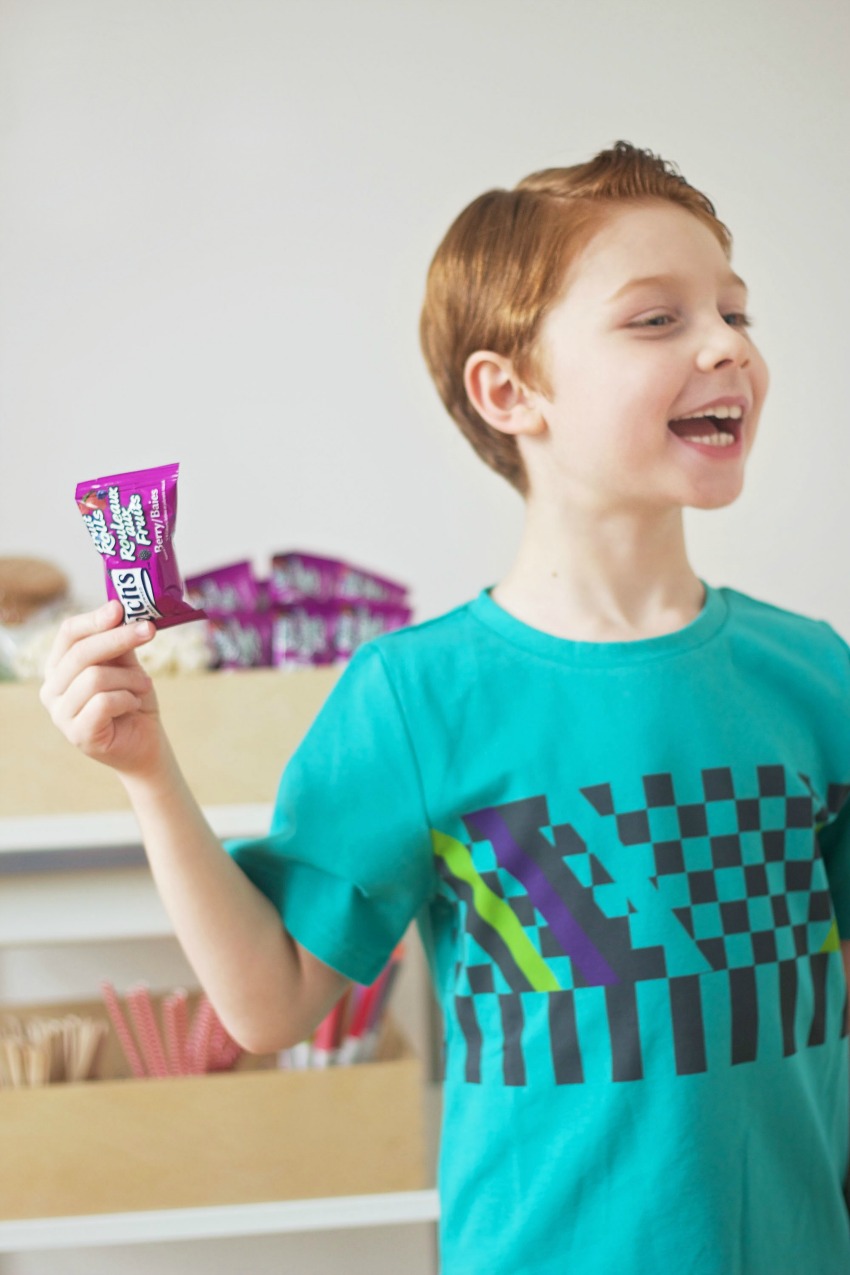 Over spring school break, we had several of Aiden's friends over throughout the week and I made sure to take the time to plan ahead. I picked up lots of snacks and organized some items to create a snack and activity station. It was a pretty simple setup we were able to roll out during the spring school break so my son and his friends could grab a snack when they were hungry between meals, and when they were looking for an activity, they were able to easily pull out some construction paper, markers, paint, glue and fun bits and bobs they used for their crafts (including: popsicle sticks, funky straws, and pom-poms).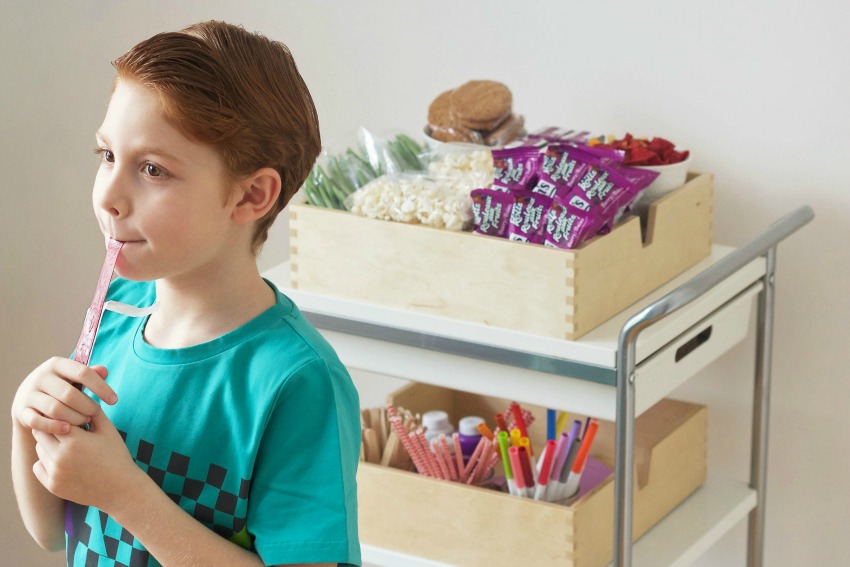 A few of my snack picks included chopped vegetables, popcorn, oatmeal cookies, and my go-to choice for bringing a big smile to Aiden's face, Welch's Fruit Rolls. My son and his friends always get such a kick out of creatively eating their Welch's Fruit Rolls – they love to "Unroll the Fun" and enjoy every delicious bite. Since Welch's Fruit Rolls' first ingredient is fruit and they contain 100% daily value of Vitamin C and 25% daily value of Vitamins A & E, they're totally mom-approved! In fact, I've been known to join in the silly fun of finding new ways to eat Welch's Fruit Rolls! Here are some of the styles I've come up with:
Wrap Around: wrap the fruit roll around your pointer finger.

Cat's Cradle: unwind the entire fruit roll and try to make a cat's cradle with it (it's tricky, but fun!)

Yo-Yo: hold the fruit roll at the tip and see how if you can unravel it with a yo-yo flick of the wrist.
What can I say, some snacks were just made to be played with and any opportunity to get in on the fun with my kids is one I'm happy to take!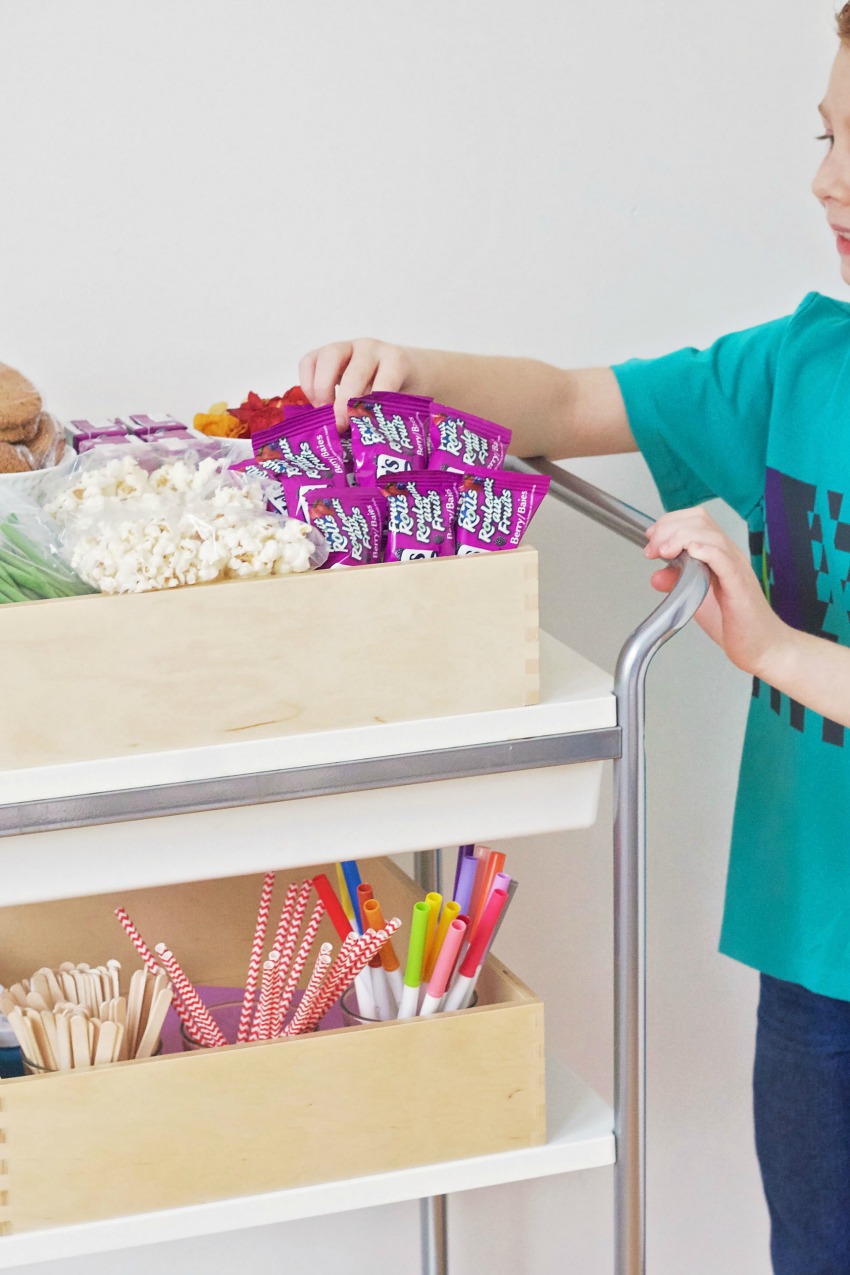 To create your own snack and activity station, find a space where you can set up two large containers. For the snack display, use a few ice packs to line the bottom of the container where the vegetables and drinks will sit. Place those items on top and the other snacks, like the Welch's Fruit Rolls, around them. For any fresh produce, I'll only put that out when the playdate starts and anything uneaten will go back in the fridge (maximum counter time should be 2 hours). For the activity display, pick up some craft items at the store or take a look around your house to see what you have on-hand to use for making a spot where kids can get creative.
Before you head out shopping to stock up on supplies, grab this $1.00 off coupon to use towards an 18 count box of Welch's Fruit Rolls in Berry flavour. You can find Welch's Fruit Rolls at Walmart.
Here's to unrolling the fun this spring with your kids!
Latest posts by Emily Smith
(see all)