Delicious Vegan Gluten-Free Buckwheat Pancakes
When the weather dips low, buckwheat pancakes are what I consider to be an ideal comfort food. They are wonderful for breakfast, but are equally a very delicious, as well as filling dinner. Buckwheat is naturally gluten-free and is full of iron. These are one of the simplest pancakes to make and are so delicious paired with fruit, sweet syrup, or even made savoury by pairing with scrambled eggs and herbs.
Did you know that buckwheat is a superstar food? Although often mistaken for a grain, buckwheat is relative of the rhubarb plant. It is hearty and has a nutty flavour. I love it! It even takes longer to digest which keeps you full and satisfied for longer.
Nutritionally, buckwheat provides vitamins B1 and B2, the minerals potassium, magnesium, phosphate and iron (buckwheat contains more iron than cereal grains), and it has nearly twice the amount of the amino acid lysine found in rice (source)
This recipe is made without sugar, as the nut flavour from buckwheat is quite enjoyable without too much added sweetness. Should you want to sweeten your pancakes, you can top them with pure maple syrup, molasses, cooked fruit, or a family favourite – the chocolate coconut syrup recipe I am sharing with you today.
With just a few simple ingredients, you can make a very decadent yet healthy meal. Enjoy your pancakes!
Print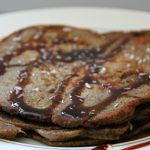 Vegan Gluten-Free Buckwheat Pancakes
---
1 cup

buckwheat flour

1 teaspoon

baking powder

1 teaspoon

baking soda

1/4 teaspoon

salt

1/2 teaspoon

of cinnamon

1 1/4 cups

almond milk

1 teaspoon

pure vanilla extract
virgin coconut oil
Chocolate Coconut Sauce
1/2 cup

of organic, unrefined coconut oil

6 Tbsp

unsweetened cacao powder

4 Tbsp

of pure maple syrup or raw, local honey

1/4 teaspoon

of pure vanilla extract

1

–

2

pinches of sea salt
---
Instructions
In a medium mixing bowl, stir together the buckwheat flour, baking powder, baking soda and salt. Add the wet ingredients to the dry ingredients and mix until just combined.
Preheat your skillet over medium-low heat and melt 1 Tbsp of coconut oil. Using a ladle to measure, pour the batter onto the warm skillet.
Cook for 2 to 3 minutes until the edges are golden and little bubbles form, then flip and cook for another 2 minutes.
For the Chocolate Coconut Syrup
Add the coconut oil to a small sauce pan and melt on low. When liquid, remove from the heat and stir in the cacao powder. Mix until all the lumps are dissolved, then stir in the maple syrup or honey, vanilla extract and sea salt.
Notes
You can add an egg to the mix as well, but it may result in slightly fluffier pancakes. I've made it both ways and actually lean towards making it without because it doesn't seem necessary – the pancakes are pretty thin regardless.
More Buckwheat Recipes You Might Enjoy:
Ingredients You Might Need:
Latest posts by Emily Smith
(see all)