These Gluten-Free Buckwheat Cocoa Crepes Sure Hit the Spot

Did you know buckwheat flour has 4 grams of protein per ¼ cup?
It's a pretty good dose of protein! That's why I love using buckwheat flour for making crepes and pancakes. Whether I use all buckwheat flour, like this recipe, or mix it with oat flour, rice flour, or all-purpose – it's a great way to add protein.
These aren't your typical crepes or pancakes – they aren't very sweet, they are more savoury because the buckwheat flavour really comes through and I didn't add any sugar to the mix. I don't mind that at all and actually really enjoy the strong flavour. These crepes are pretty versatile and work well with either sweet or savoury toppings. For instance, you could make scrambled eggs and fill one up (using it like a wrap) or like I've done here, top it with strawberry puree and whipped coconut cream.
These Crepes are a Great Boost of Energy
My husband was all over these, because they are great energy booster before a workout. They fill you up but don't weigh you down and as I mentioned above, you can use so many different toppings with them, like natural peanut butter or almond butter which complement the nutty flavour of buckwheat.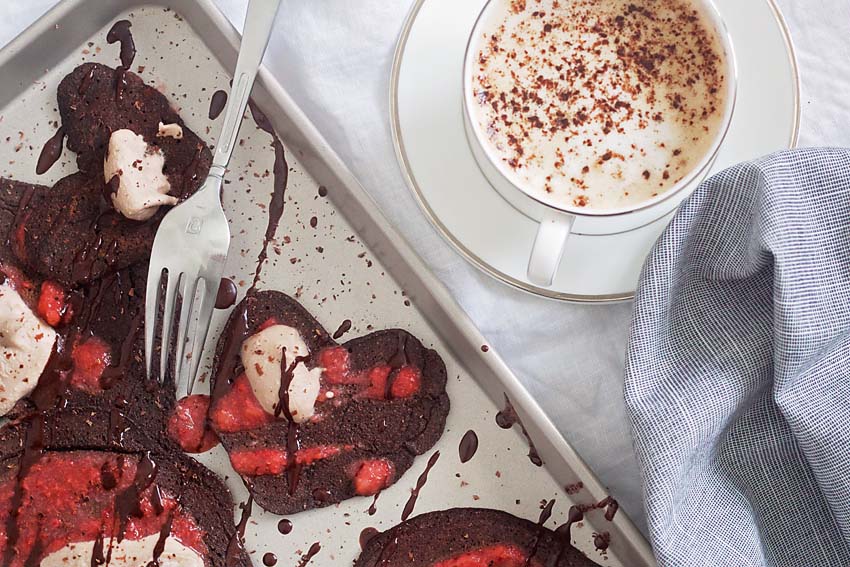 Here are a Few Fun Facts About Buckwheat Flour
Buckwheat is often mistaken as a grain, but it's in fact the seed of a broadleaf plant related to rhubarb. Buckwheat has more protein than rice, wheat, millet or corn and is high in the essential amino acids. Buckwheat surpasses rice, wheat and corn on almost every measure of healthfulness. Buckwheat ranks low on the glycemic scale and is an overall wholesome and healthful food to include in your diet.
That's just a few of the reasons why so many health experts consider buckwheat to be a superfood. Now, it's time to whip some up and dig in!
Print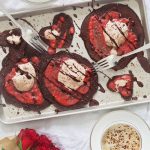 Gluten-Free Protein Buckwheat Cocoa Crepes
---
Description
These hearty protein crepes are a great way to start the day on the right foot!
---
1 cup

buckwheat flour

2 Tbsp

cocoa powder

1 1/2 cups

filtered water

1 teaspoon

pure vanilla extract

1

egg
---
Instructions
In a medium mixing bowl, stir together the buckwheat flour and cocoa powder. In a small bowl, whisk the egg. Add the wet ingredients to the dry ingredients and mix until just combined.
Preheat your skillet over medium-low heat and melt 1 Tbsp of coconut oil or butter. Using a ladle to measure, pour the batter onto the warm skillet.
Cook for 30 seconds-1 minute on one side, watching the edges closely (flip sooner if need be!). Repeat on other side. Continue until the batter is used up. Serve and enjoy!
Strawberry Puree
Heat up 1 cup of frozen or fresh strawberries in a skillet over medium heat, with 2 Tbsp of water. Cook until soft right through. Put the berries in a blender or food processor and process until smooth puree.
Vanilla Coconut Whipped Cream
Makes 1 cup
1 15 ounce can of coconut milk, full fat
1 teaspoon of cinnamon
1 Tbsp pure vanilla extract
Place can of coconut milk in refrigerator for at least 12 hours – aim for 24.
When you open the can of coconut milk, you will find a thick layer of cream on top, scoop this out into a medium sized bowl. Take only the cream and leave the coconut water for a smoothie.
Whip with a hand mixer on high for 1 minute.
Add in cinnamon and vanilla extract
Whip for another 2-3 minutes.
Latest posts by Emily Smith
(see all)