Gluten-Free Buttermilk Pancakes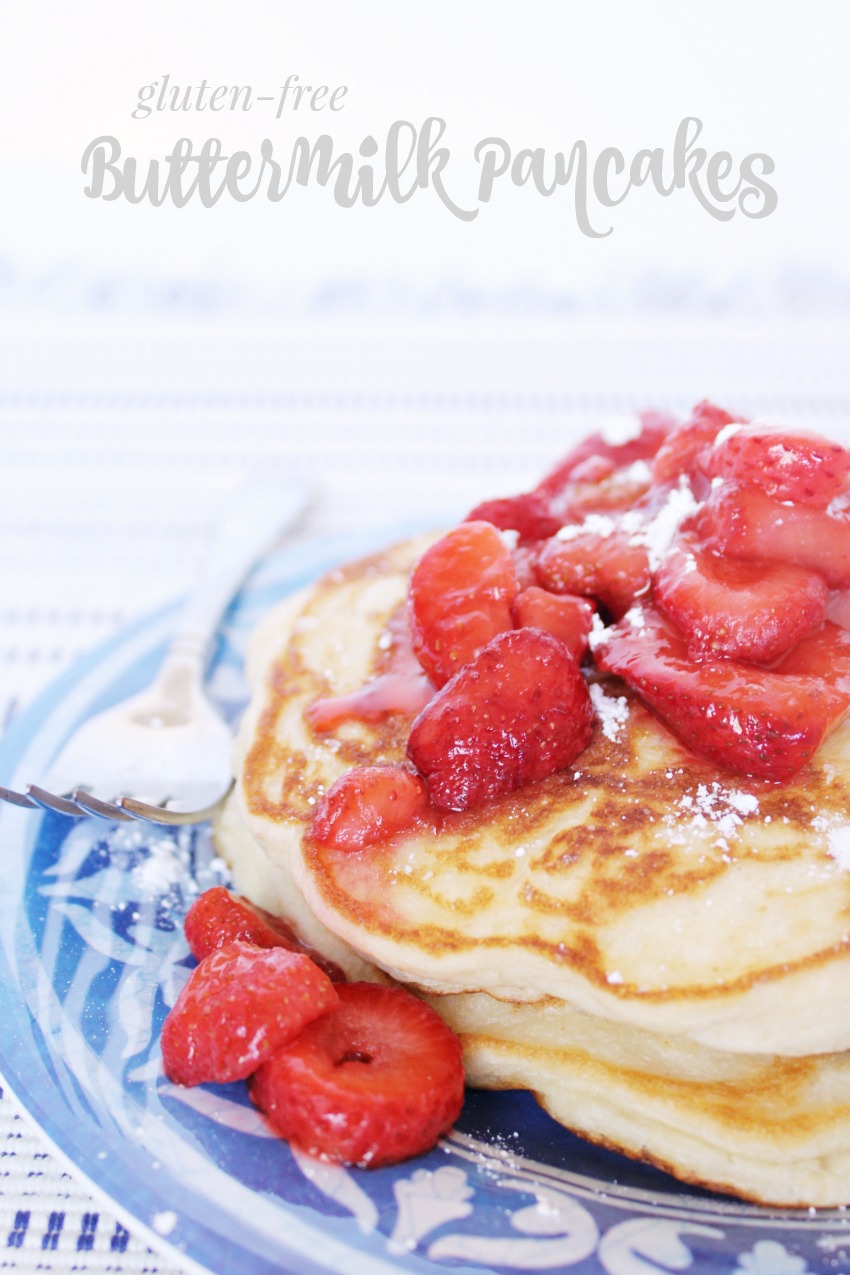 Gluten-free foods just aren't what they used to be.
And thank goodness for that!
The Ghost of Gluten-Free Past
I was a teenager when we figured out that I had a sensitivity to gluten. Fifteen years ago, you couldn't find gluten-free products in your regular grocery store. I remember my first trip to the health food store with my mom, resulting in the purchase of a very dense, seed bread and a whole bunch of gluten-free flours to try baking with. There were very few ready-made products available and only a handful of baking mixes to choose from. The worst part was that even the items you did purchase, were often lacking in taste. Especially as a teen who wanted all the typical teen-loving carbs like pizza, bagels, pancakes. It didn't leave much choice. Thankfully, my mom is a great baker and started to make some gluten-free baked goods that turned out pretty good, considering the limited ingredients available (it makes me chuckle to reminisce on all of our mishaps in the kitchen, trying to figure out how to bake gluten-free!).
Over the years, I've tried many gluten-free store all-purpose flours, mixes, and store-bought goods. Some were just a complete waste of money. They didn't even taste remotely like what they were suppose to be. Yuck! There is nothing like spending double on a product because you have a food sensitivity, only to bite into something that feels like dust in your mouth.
Thank Goodness For Delicious Gluten-Free Food
I have a handful of brands that I can count on for great tasting gluten-free options, which includes President's Choice®. I remember the first time I had one of their baked gluten-free cookies….Mmmmmm, were they ever good!
It can be difficult finding the real deal when you have food sensitivities or allergies. Finding a brand that offers gluten-free, lactose-free, and peanut-free options that don't compromise on taste and texture is a big win. Thank goodness for President's Choice®!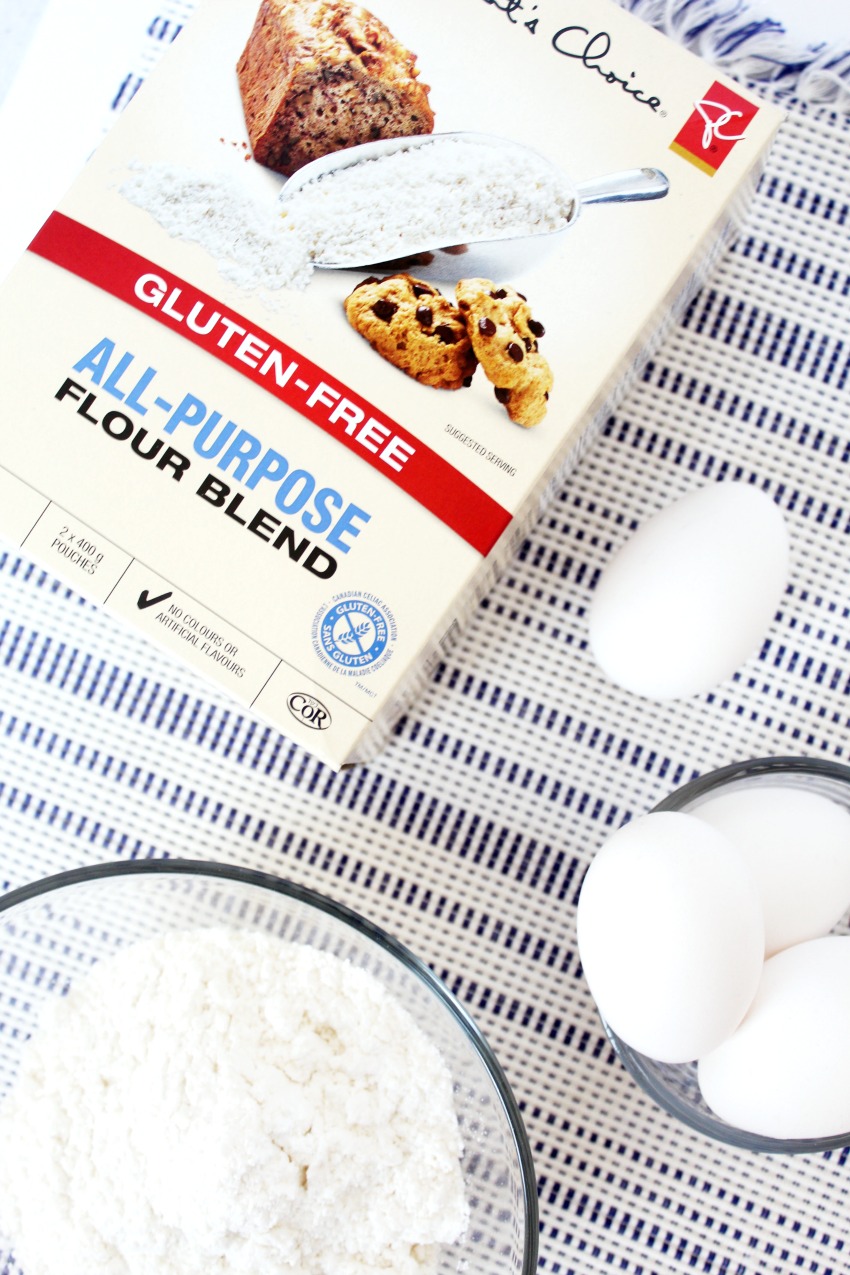 President's Choice® is dedicated to helping all Canadians find freedom in "-free" products. They offer a wide variety of foods for different allergies, so you don't have to feel restricted. Which means that you and I can explore more delicious recipes, like this collection of recipes by PC® created for people with food sensitivities.
One common complaint with gluten-free foods is their lack of "fluffiness" and volume. Well, I can assure you that these gluten-free buttermilk pancakes hit a fluff and flavour home run! I've always been more of a crepe or oatmeal griddle pancake kind of girl, but my husband loves a good old-fashioned flapjack pancake – which can be tricky to make gluten-free. He was the ultimate taste-tester for this recipe and his verdict is strong. He said, with a mouthful, "These are the best pancakes ever!"
To which I said, "Excuse me?"
To which he replied, "Second to yours baby, second to yours."
Then I had a few bites – and while my chef's ego couldn't take the bump from first, I agreed that these buttermilk pancakes were in fact incredibly delicious!
Flavourful, moist, fluffy, lightly sweetened, golden pancakes. Mmmmmm….
This recipe is a cinch to whip up, thanks to using PC® Gluten Free All-Purpose Flour, instead of mixing and measuring a whole bunch of different gluten-free flours. Each pancake cooks in approximately 5 minutes and you can have several in a pan at once making wait time (for the kids saying, "When's it going to be ready!") relatively short.
Your stack of scrumptious, authentic buttermilk pancakes is ready in no time.
Just look at that texture. It's perfection.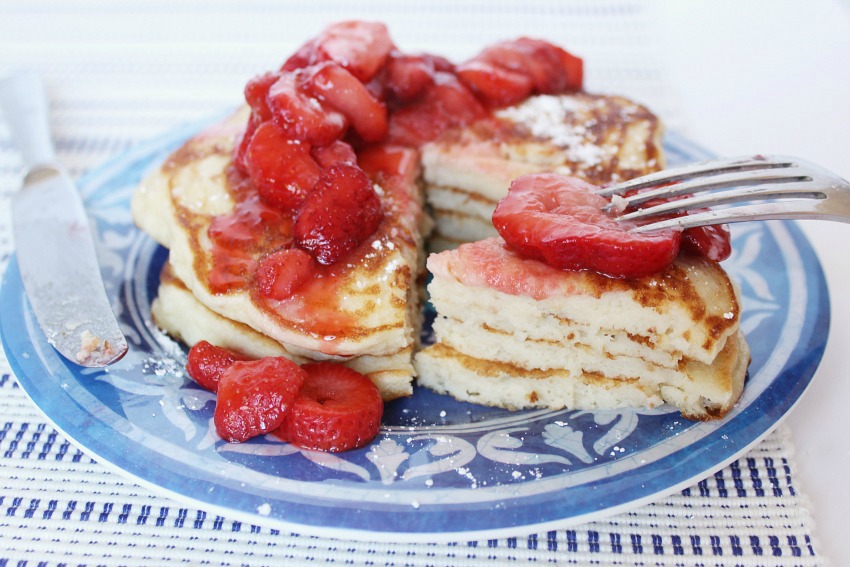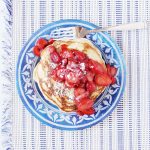 Gluten-Free Buttermilk Pancakes
---
Description
Deliciously tender buttermilk pancakes made with gluten-free flour are a breakfast everyone can get behind! Serve with maple syrup, or with mouth-watering PC® black label fruit syrup.
---
1

–

½

(375 g) PC® Gluten Free All-Purpose Flour

2 Tbsp

(

25

mL) granulated sugar

2 Tsp

(

10

mL) baking powder

¼ Tsp

(

1

mL) salt

2

eggs

1

–

1/2

cups (

375

mL) buttermilk

2 Tbsp

(

25

mL) canola oil

2 Tsp

(

10

mL) pure vanilla
---
Instructions
Preheat oven to 250°F (120°C).
In large bowl, whisk together flour, sugar, baking powder and salt. In another bowl, whisk together eggs, buttermilk, oil and vanilla; pour over dry ingredients. Using wooden spoon, stir until mixture is combined but still has small lumps.
Spray large non-stick frying pan liberally with cooking spray.
Heat over medium-high heat.
Using a 1/4 cup (50 mL) dry measure, pour batter into pan, spacing pancakes well apart.
Do not overcrowd pan. Cook until bubbles appear on top and edge looks set, about 3 minutes. Turn; cook until cooked through and bottoms are browned, about 2 minutes. T
ransfer to rimmed baking sheet.
Place in oven to keep warm while cooking remaining pancakes.
Makes about 10.
The beauty of this recipe? No compromises! These gluten-free buttermilk pancakes are the
real deal
and they come with my family's seal of approval. I am thankful that President's Choice is giving people who have a gluten-free, peanut-free, or lactose-free diet more options to make life easier and tastier.
President's Choice $100 Gift Card Giveaway
PC® is giving one lucky reader of The Best of this Life a $100 President's Choice Gift Card! We really want you to show off your favourite compromise-free products (and meals!) that are gluten-free, lactose-free or peanut-free. Snap a pic, post it on Instagram or Twitter (don't forget to tag me!!) and use the hashtag: #CompromiseFree
All the details on how to enter are in the giveaway widget below (picture uploads aren't mandatory, but I'd love to see your faves!) Good luck 🙂
Giveaway is open to Canadian residents only.
$100 President's Choice Gift Card

The Best of this Life is part of PC Lifestyle Ambassador program. Opinions are 100% personal.
Latest posts by Emily Smith
(see all)