Gluten-Free French Toast Casserole
Weekend brunch is kind of a ritual around here. It usually happens on Saturdays, mid-morning, after a first pot of coffee. Some days it's just Mr.Smith and I, with the kids. And other weekends, it's extended family and friends. Whatever the deal, breakfast foods are on the menu from pancakes to fruit salad. We love breakfast around here.
With that in mind, you can imagine my delight when a box of PURE Infused Maple Syrups arrived on my front steps. Pure maple syrup is a sweet indulgence that has been going on in my family for generations – straight from the farm. I remember how Grand-Maman would pour it over everything on our breakfast plate. Who can say no to pure Canadian maple syrup?
Upon opening the box, I found five bottles of infused maple syrup. They looked almost too lovely to open, but that sentiment didn't last long. The first to catch my attention, although they all awakened my desire to taste, was Cinnamon, Nutmeg and Cloves PURE Infused Maple Syrup. I love warm spices and this blend had my name on it.
I began to think of recipes I would like to use this syrup in or with. Should it be an ingredient or a topping…or both? My thoughts wandered as I reminisced on delicious crepes, pancakes, and french toast that I've long enjoyed. I rested on the idea of a french toast casserole, something I had yet to try my hand at; something I thought this syrup would be perfect for.
The rich yokes of eggs whirling into creamy almond milk, swirled with Cinnamon, Nutmeg and Cloves PURE Infused Maple Syrup, created an intoxicating potion to be poured over fluffy gluten-free bread. The later, soaking it up and making me anticipate the aroma that would soon fill our home. Can you smell it?
All those spices, and the sweetness of maple syrup began to fill the air, making brunch-goers gleeful with expectation.
As the french toast casserole baked, I couldn't resist a little taste-test. With a few silver teaspoons in hand, I opened up each magical bottle of PURE Infused Maple Syrup. To pick a favourite would be cruel, considering they were all delectable. I can tell you that they each inspired unique recipes and creations in the kitchen, which in my opinion is a sign of a great product.
I have enjoyed the Gastrique, with Apple Cider Vinegar & Ginger over a mixed leafy green, fresh herb, and strawberry salad and it was amazing. The Lavender & Chai has found its way into a morning latte or two, and turning those particular mornings into dreamy bliss.
Vanilla, Cinnamon & Star Anise is another infusion, which would also be beautiful in this recipe – not to mention over toasted coconut ice cream!! Is your mouth watering yet? Mine sure is. Lastly, but not least – Chipotle & Lemongrass has been a favourite for marinating fresh fish. I also have a vegan mayo dip that I'm dying to try it in.
The culinary possibilities are limitless.
As for the gluten-free french toast casserole? Divine. Incredible. OH. MY. GOODNESS. And if you were wondering…we did pour some more syrup on top. Bon appetit!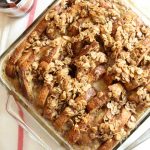 Gluten-Free French Toast Casserole Made With PURE Infused Maple Syrup
---
Description
Delicious french toast made as a casserole with warm spices and sweet pure maple syrup!
---
1

loaf gluten-free bread, sliced (

500g

)

8

eggs

2 1/2 cups

almond milk

2 tablespoons

raw sugar

2 Tablespoons

Cinnamon, Nutmeg and Cloves PURE Infused Maple Syrup

1 teaspoon

pure vanilla extract

1/2 teaspoon

cinnamon
Oat Crunch Topping
1/2 cup

melted virgin coconut oil (or butter)

1 cup

large oat flakes

2 teaspoons

of raw sugar

4 Tablespoons

Cinnamon, Nutmeg and Cloves PURE Infused Maple Syrup

1/2 teaspoon

cinnamon
---
Instructions
Grease an 8 x 8 dish with virgin coconut oil (or butter). Slice an entire loaf of gluten-free bread into halves and arrange into the dish.
In a large mixing bowl, combine the eggs, almond milk, sugar, vanilla, maple syrup, and cinnamon. Whisk until blended and slightly fluffy. Pour mixture evenly over the sliced bread and in between each slice that's in the dish. While the bread is soaking, prepare the oat crunch topping. Preheat the oven to 350 F.
Spread the oat crunch topping on top of the casserole and place into the oven. Bake for 50 minutes, or until the top is golden brown and the egg mixture is bubbling and looks whitish and baked.
Remove from the oven, top with Cinnamon, Nutmeg and Cloves PURE Infused Maple Syrup and serve.
Notes
For the bread, I used PC Gluten-Free Sliced White Sandwich Loaf.
Would you like to taste PURE Infused Maple Syrup? Visit
pureinfuse.ca
to purchase, or connect on
instagram
,
twitter
, and
facebook
. For even more delicious recipes, follow the hashtag
#PureInfused
. Enjoy!
---
The Best of this Life is part of Food Bloggers of Canada & PURE #PureInfused Campaign and as such received delicious syrups to participate.
Latest posts by Emily Smith
(see all)