Grandma's Old Fashioned Baked Beans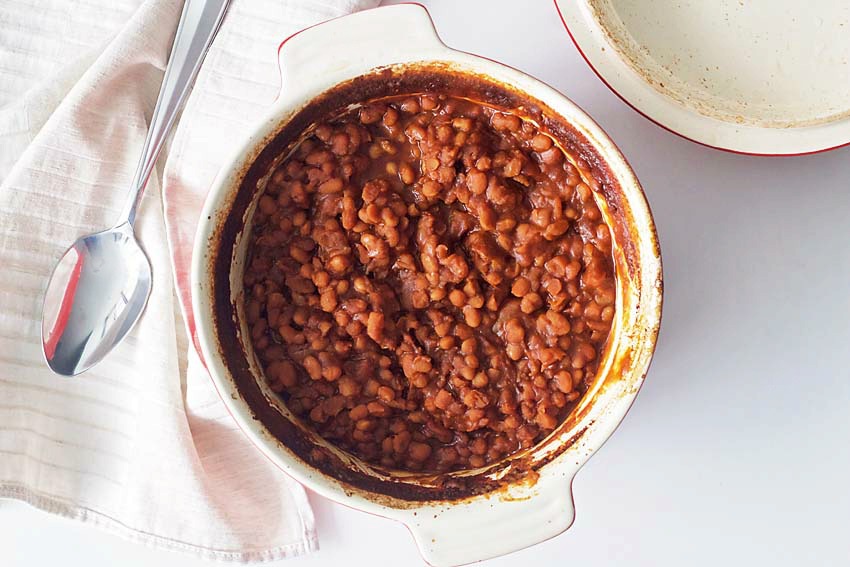 Even though springtime has arrived, the weather in Ottawa has still been rather cool and damp. And we're not quite ready to give up on our warm comfort foods just yet. Homemade baked beans are one of the easiest and hardiest dishes you can make that are perfect for this transitional season.
Whether you enjoy them as a side for breakfast or a full meal for dinner, they're a welcome addition to the weekly menu. I grew up with these old-fashioned baked beans – both my grandmother and my mom would make them. Their flavour is very rich and they are very satisfying in one's belly! Both of my children love these beans, maybe it's the subtle sweetness or the comforting feeling, either way they are a nutritious food that they enjoy, which makes me happy.
We're still in maple syrup season here in Ontario and often these baked beans are served up right alongside pancakes, eggs, bacon, and toast – with a drizzle of delicious pure canadian maple syrup on top. Honestly, I think I could put maple syrup on just about anything!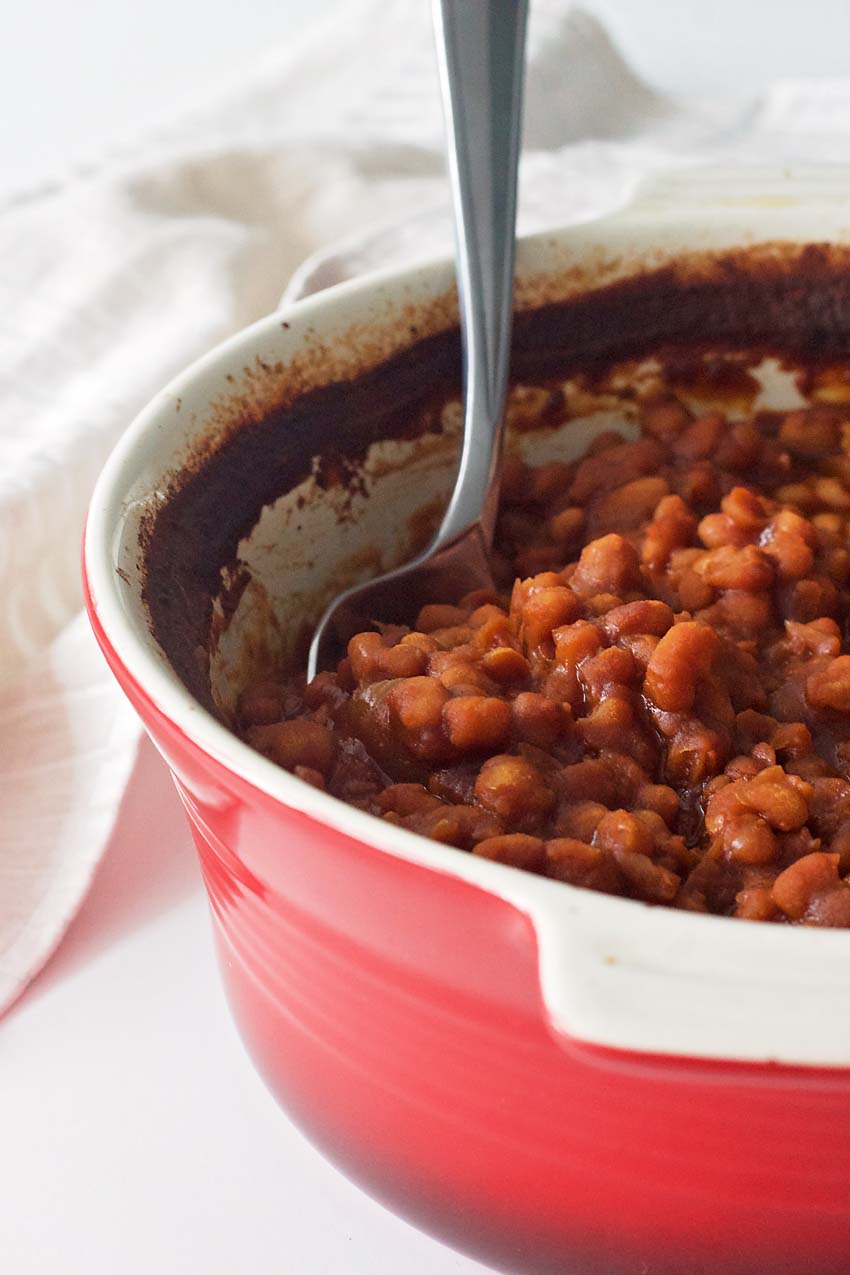 This recipe is based off of Thompson's classic recipe. It's always been a hit, especially because of how wonderful it turns out. The baked beans have a robust texture and flavour from the ingredients used and the long, slow baking time. Don't let that deter you, you just throw them in the oven in the morning and voila, they're done for dinner. Of course, they're just as good re-heated, so you can make them ahead and eat them whenever.
As I mentioned earlier, you can eat these beans as a side or on their own, however they are also delicious in wraps, beef casserole, cheesy dips, shepherd's pie, and turkey chili. There are lots of ways to enjoy them!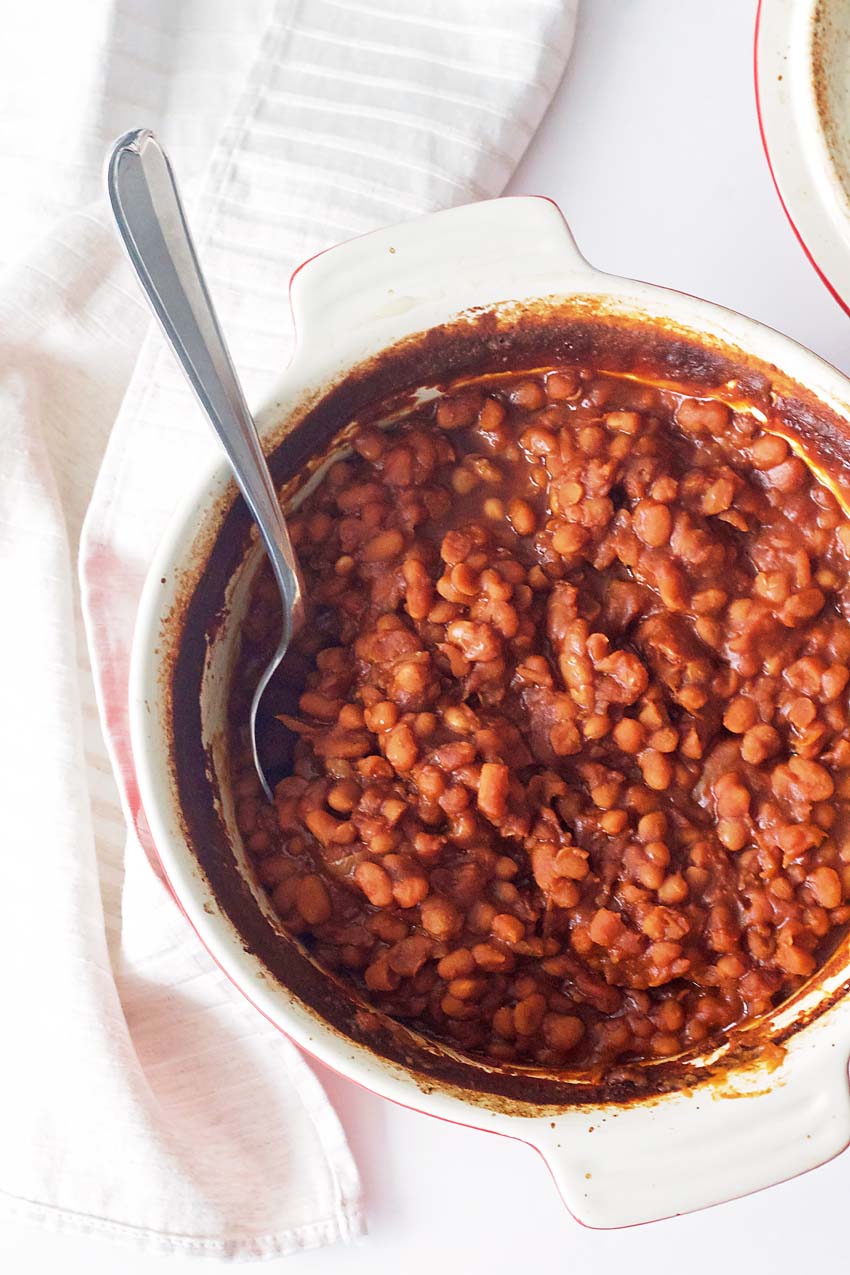 I hope you get a chance to pick up a pack of white beans and try this family classic recipe for yourself.
Bon appetit!
Print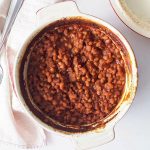 Grandma's Old Fashioned Baked Beans
---
· 2 cups (454 g) white pea beans (like Thompson's)
· 5 cups (1.18 L) cold water
· 1 medium onion, sliced then quartered
· 1½ tsp. (7 ml) salt
· 2 tsp. (10 ml) organic apple cider vinegar
· 1 tbsp. (15 ml) brown sugar
· ½ tsp. (2ml) prepared mustard
· ¼ cup (60 ml) Fancy Molasses
· ½ cup (125 ml) tomato ketchup (with no salt added)
· Pinch black pepper
· ¼ lb. (100 g) lean pork
---
Instructions
Preheat oven to 250F
Sort and rinse beans removing any bean that is not whole.
In a large pot, add beans and pour 5 cups cold water over, cover, heat to boiling, then simmer 1 1/2 hours or until nearly tender. Make sure there is enough water in the pot while it's simmering (if necessary add a little more to keep from bottom burning).
Drain.
Put beans in a 6-cup flameproof casserole dish
Place onions in bean mixture.
Add remaining 7 ingredients in with the beans, stirring gently to combine.
Add additional water enough to cover mixture and place sliced lean pork on top.
Cover with lid and bake in oven at 250F for 7 hours stirring every hour or so.
Notes
Because I didn't soak the beans overnight, I cooked them on low longer than the original recipe. It's up to you whether you soak the beans overnight and cook them for a shorter period of time.
Latest posts by Emily Smith
(see all)