How to Nurture Self-Love Within Yourself and Your Daughter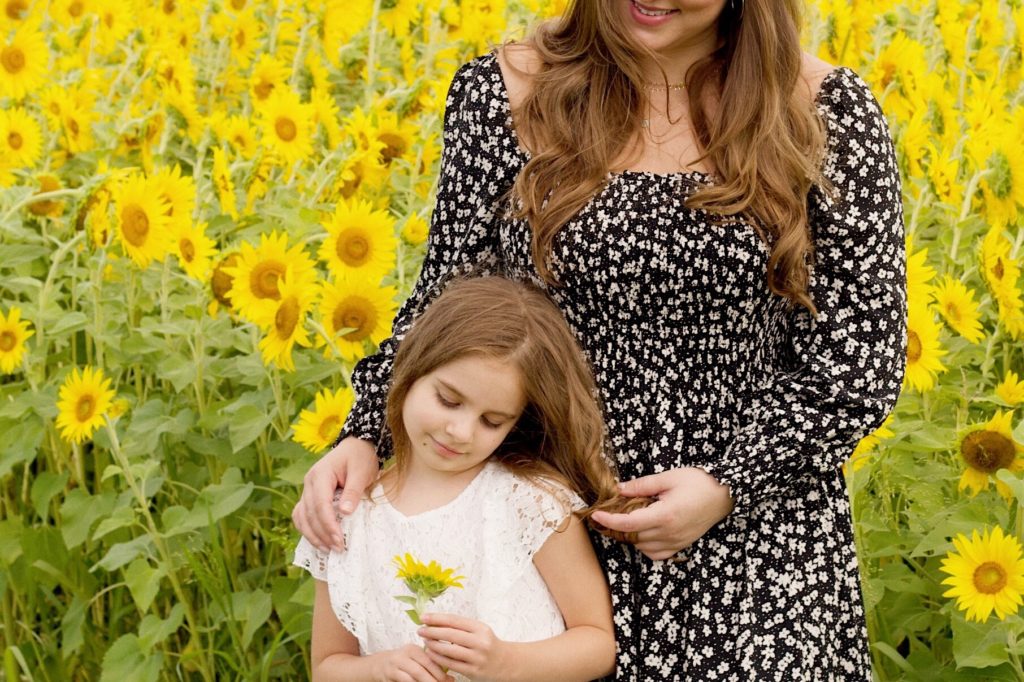 She's watching, she's listening.
Our words, for better or worse, matter. But not just the words we say to our daughters. The words we say aloud about ourselves.
The uplifting and positive things we say about our inner and outer beauty build up our own self-love and acceptance. They also teach our daughters to be confident in who they are.
Why is it so important for women and girls to feel good about themselves?
Because when they don't, it affects their lives negatively.
9 in 10 women and 8 in 10 girls will opt out of important activities such as engaging with friends and loved ones or trying out for a team or club(1).
Is it just about feeling good on the outside? Not entirely.
Self-esteem comes from loving and accepting all of you, inside and out.
When women and girls embrace their inner and outer beauty, they have overall more self-esteem. 7 in 10 women and 8 in 10 girls say taking time for self-care helps them feel more confident (2).
Moms From Our Community Share How They Are Nurturing Self-Love
In partnership with Dove and Refinery29, we invited five moms to share how they nurture self-love and build self-esteem within themselves and their daughters, as well as one thing they love about their inner and outer beauty.
For Olivia Lasting, using her voice to speak up for herself is one way she builds self-love. She is empowering her daughters to do the same.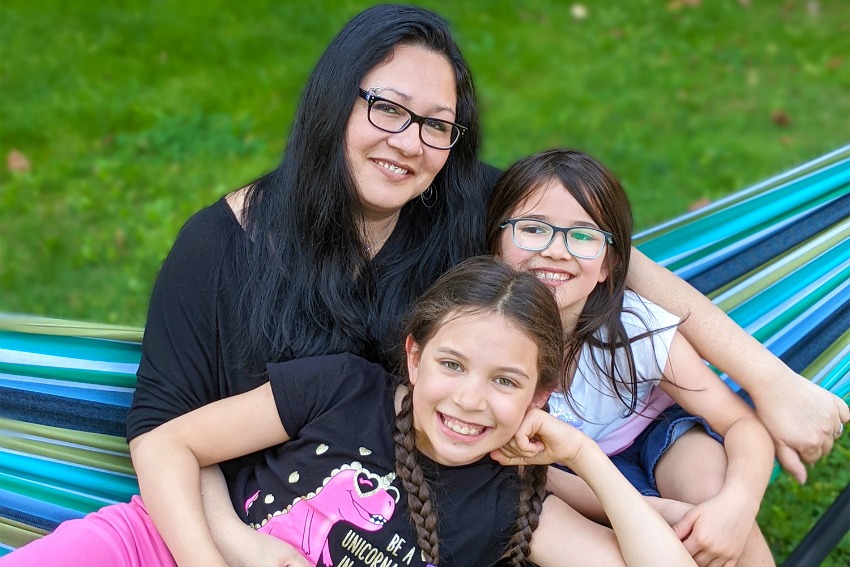 "The day I became a mother, everything changed. All of a sudden I was responsible for someone else's very survival. My body changed too of course, but when I see myself through my daughters' eyes, I see a confident woman whose new shape is strong and resilient and nurturing."
Olivia enjoys spending time outside, even if it's just a walk to the park. When she takes time for herself and encourages her girls to get outside to play as well, she's modeling self-love and self-care for her daughters.
"Growing up, I was told that children should be seen and not heard. It took me years to learn how to speak up for myself, but I know now how important it is for me to role model speaking up and using my voice for my daughters. My voice is one of the things I love best about myself in more than one way. I love that my voice can sing a quiet lullaby to comfort them when they're sick, as well as take the high notes when we're all singing together in the car."
Olivia asked her daughters to think about what they love best about themselves:
"Tee loves that she's adventurous, and she loves her strong arms and legs that let her climb anything. Kay loves that she's kind, and her happy-go-lucky smile shows how much she cares about her friends. As they grow up, I've promised myself I will continue to role-model self-acceptance and never put down my body. I want them to hold on to the self-love and confidence they feel right now, always see their bodies as strong and capable, and never stop using their voices"
Building Acceptance and Belonging
Through conversations and activities that build competence and confidence, moms can develop their daughters' sense of acceptance and belonging. When girls feel good about who they are, their personality, and their personal preferences, from clothes to music, it carries over into their body image and how they see themselves in the mirror.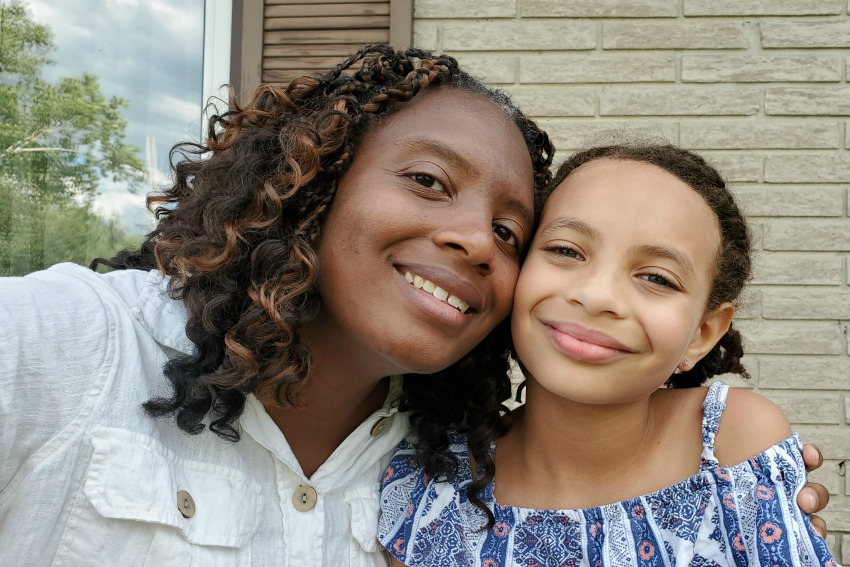 Lian Wright says being a parent is about guiding her kids to feel confident and positive about themselves.
"As a mom, it's important to me to encourage my kids to feel confident about themselves and help build their self-esteem from a young age. I'm someone who naturally cheers others on, and that's especially true when it comes to my kids. By pursuing the things I'm passionate about, I'm demonstrating to them that good self-esteem comes from believing in yourself. When I see my kids are struggling with something in their lives, I think of ways to help boost their spirits and cheer for them to keep trying until they accomplish what they are hoping for."
When it comes to self-love, Lian finds a holistic approach to caring for her inner and outer self has been key. She makes time to work out because it makes her feel strong and healthy. In the same way, she encourages her daughter to do the things that make her feel good too.
"She's a creative child, so I support her to express herself in this way, whether it be with her hair and clothes, her artwork, or through theatre and dance. She feels good about herself when she does these activities, which nurtures her self-love and positive self-image."
The pride Lian has in her kids shows in her smile, one of the features she likes most about herself.
"And I can't help but smile when my daughter Maya shared her thoughts with me about what she loves about herself. She said, 'I am proud of my hair! It is fun to style it to show my creativity. I also love caring for others; it's important to make everyone I am with feel loved and included.' This girl is so loving and special. My desire for her is to always feel proud about who she is as she grows up. As her mom and cheerleader, I will continue to encourage and inspire her to achieve her hopes and dreams."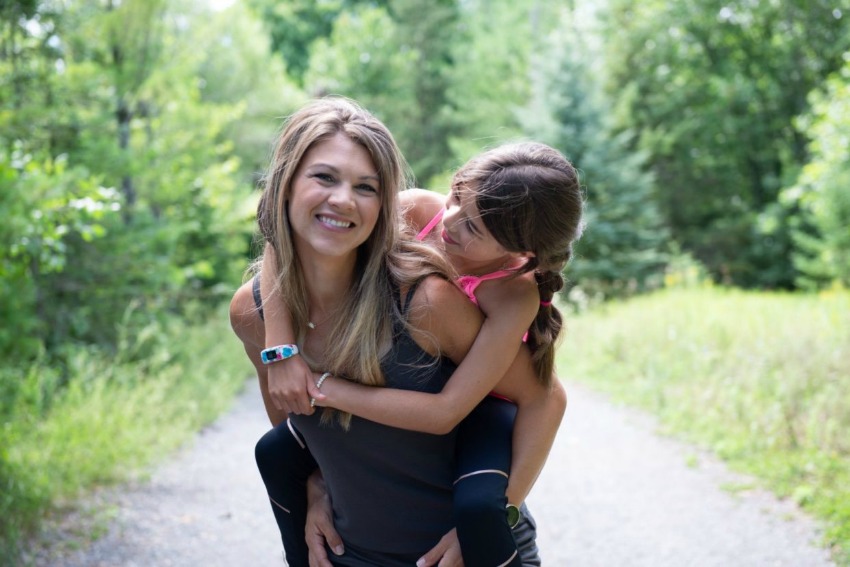 Kristin Paterson has found that carving out time for herself to keep her self-love going strong is vital to set an example for her daughter.
"Getting up early and taking time first thing in the morning for a run is a way I nurture my self-love. It leaves me feeling strong and energized before I even start my day. I love watching my daughter set aside time for her own interests and passions. As she practices ballet or completes a sewing project, I can see it is helping to build her self-love and confidence."
For Kristin, setting an example of confidence in her physical body and who she is as a woman has been important to her since becoming a mom.
"Although it is sometimes a struggle, I am so proud of my body which carried four babies and my legs that have run half marathons! I've always hoped my nurturing, giving nature would bring joy and show kindness in a practical way. When I asked my daughter about what makes her beautiful, she said, "I think my smile is beautiful. I also think I am beautiful because I am kind. And my smile helps people know I am kind!" I love that we share that quality and I am so proud that she believes it makes her beautiful too!"
The Importance of Positive Self-Talk
When we encourage and uplift our daughters with positive words about their inner and outer beauty, it helps to build their self-esteem and body esteem. As moms, we can do that by getting the ball rolling with ourselves. Before girls enter the pre-teen stage, we can nurture early on their self-love by teaching them how to engage in positive self-talk and how to deflect negative thoughts about themselves.
As noted in The Global Beauty Confidence Report by Dove, "Compared to other pressures […school, 'me time' and self-care, having money, friendships…etc], levels of body esteem appeared to be the strongest determining factors of a girl's confidence in her own beauty. This identifies high levels of body esteem as the most important predictor of high beauty confidence. The following statements are the strongest drivers of higher levels of body esteem for age groups 10-13 and 14-17:
"I'm proud of my body."
"I'm pretty happy about the way I look."
"I'm looking as nice as I would like to."
"I like what I see when I look in the mirror."
Girls who agree with these statements have higher body esteem, as they represent key drivers of positive overall appearance (3).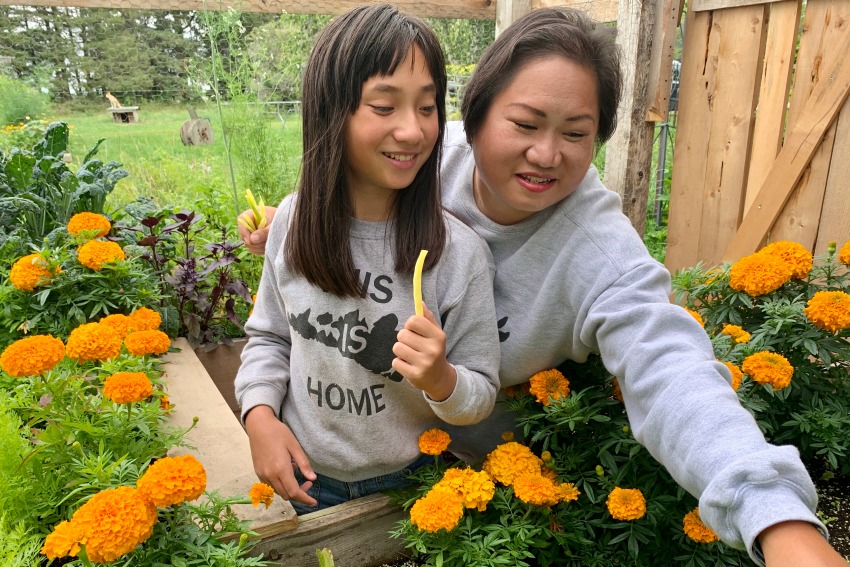 For Christine McNaughton, being able to laugh at her mistakes and focus on feeling good is one of the ways she nurtures her self-love. She encourages her daughter to not be so hard on herself and to think of mistakes as opportunities to learn.
"Being a mom requires me to wear many hats. I'm a confidante, role model, educator, chef, medic, chauffeur, provider, protector, and so much more. It's hard to think of myself most of the time and I often forget to make myself a priority. But I am trying to be better at carving out time for self-care because I really want to show my daughter the importance of self-love."
One of the ways Christine models positive self-image is by showing her daughter what builds her self-esteem.
"For example, I love my giving nature. Helping others and acts of service are important to me – even if it's just preparing a home-cooked meal for friends, family, community members, and even strangers. For me, it feels good on the inside to share who I am and what I have to offer with the world and that shows on my face! Maybe that's why I love my smile so much. It's a bit quirky like me, but it's welcoming and friendly."
Christine is teaching her daughter that it's also important to focus on who you are, not just what you look like, and that self-esteem is built from a positive outlook of oneself both on the inside and the outside.
Recently, when she asked her daughter what she loves about herself, she said she loves that she is brave.
"She is willing to do anything for the people she cares about and she loves trying new things. What she loves about herself on the outside are her eyes. "I like my eyes because they're pretty and an unusual colour — sometimes brown, sometimes you can see green and even gold. They're different, just like me." That is so true! She is a unique child and that is what's amazing about her."
Understanding The Role The Media Plays
As parents, we have a vital role to build up our children's self-love and counteract the polluting effects from the media's beauty standards, and peers who uphold it, which influence girls' self-esteem. However, we also have to look at how it's affecting us as women and identify its pervasiveness in our very own home. Are we also upholding the media standards of beauty? How can we empower our daughters to be confident in themselves in spite of the often singular approach to beauty in the media?
7 in 10 women and girls believe media and advertising set an unrealistic standard of beauty most women can't ever achieve and wish the media did a better job of portraying women of diverse physical attractiveness (4).
It's important for us as women and moms, to debunk not only to our daughters but to ourselves the myth of ideal beauty, which is critical to deflecting low self-esteem developed through comparison.
When we take time to nurture our self-love and appreciate who we are, we are better equipped to handle the intake of beauty standards and realize they are separate from our own worth.
The Dove Self Esteem Project offers articles and activities to help you and your daughters discuss the influence of celebrity culture and the impact of advertising to replace with more empowering messages, protecting their body confidence as they grow.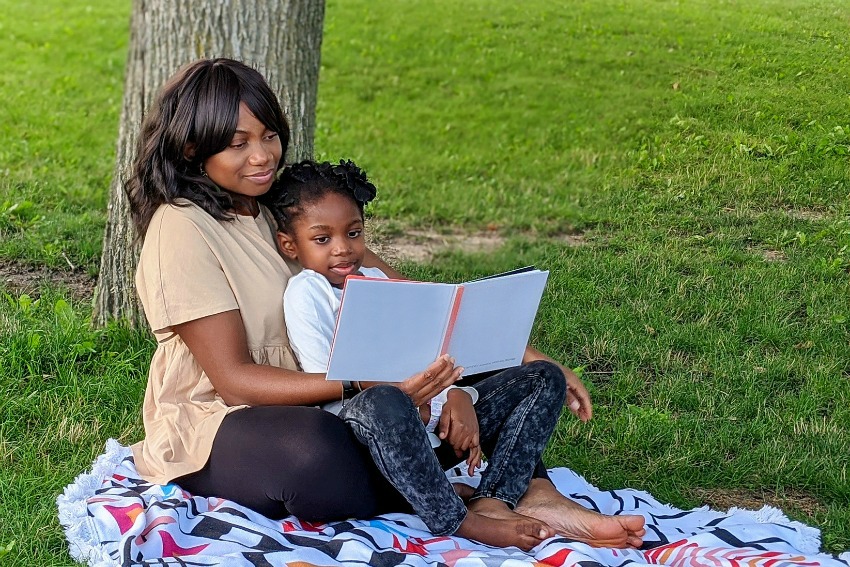 "People often focus on outer beauty because that's the first thing they notice in a person but as a mom, I want to teach my daughter to focus on inner beauty," says Diana Ashu Ayem.
Diana believes in the importance of building up her daughter's self-worth from the inside out.
"Inner beauty to me is accepting yourself for who you are and having positive self-confidence. I'm confident in my skin and I'm teaching my daughter how to be confident as well. When it comes to outer beauty, I love my body, it brought two kids into this world and for that I'm grateful. As for my daughter, she loves that she cares about her little brother, family, and friends. She is always ready to help when possible. I asked my daughter what she loves the most about her outer beauty and she said, "I like it when I smile and it makes my friends happy when I do."
Diana makes time to fill her bucket by doing the things she loves. For example, she enjoys going on walks and finding a quiet spot to pause and listen to the birds chirping.
"I'm encouraging my daughter to do the same. She's happiest when she paints, so we carve out time for her to paint and she gets better at it every time which builds her confidence and self-love."
Everyone's Journey of Self-Acceptance Is Unique
There are many ways to develop a healthy self-esteem and body confidence. Identifying strategies that build self-love within yourself and your daughter, and practicing them, is key.
As some of the moms from our community have shared, nurturing one's self-esteem is a personal journey, both for themselves and their daughters. Self-love is multifaceted and it requires your attention; making time for self-care, doing the things that ignite enthusiasm, and working on embracing ourselves as we are.
Your positive self-worth as a woman is so important. You can't pour from an empty cup. As much as moms cheer their daughters on, we also need to cheer ourselves on.
Nurturing your self-love is invaluable, not only to yourself but to her as well.
Because she's watching, she's listening.
---
For more resources and tools to encourage a healthy body image and self-esteem, visit The Dove Self-Esteem Project website.
1 The 2017 Dove Global Girls Beauty and Confidence Report, p.18
2 The 2017 Dove Global Girls Beauty and Confidence Report, p.19
3 The 2017 Dove Global Girls Beauty and Confidence Report, p.11
4 The 2017 Dove Global Girls Beauty and Confidence Report. p. 23
Latest posts by Emily Smith
(see all)