Cute and Functional Kids Labels From Colle a Moi (Stick 2 Me)
Were you one of the thousands of parents across Canada rummaging through the lost and found on the last day of school? I hope I wasn't alone! Whether it's at school, camp, or a local recreational centre, when parents are on the hunt for one of our children's belongings, we dig.
Personalized Kids Labels Are a Big Help!
You know what makes that whole process a lot easier? Labels! I can spy my kiddos things straight away when they are labelled. Usually by the design we chose and sometimes even just by a little letter of their name peeking out from the pile. That's high-level parent skills right there.
Labels are truly one of those parenting hacks we all need to use. It makes life so much easier, and not just when you're sorting through the lost and found! Labelling your children's stuff makes it easier for them to identify what's theirs. In my daughter's kindergarten class, lots of the kids had the same shoes, backpacks and water bottles! Labels were the solution to help everyone know whose stuff is whose.
We absolutely love Colle a Moi (Stick 2 Me) labels to get the job done. Annie Nadeau, mother of two and creator of the brand, gets just how important and useful labels are! Not only are the personalized label designs unique and cute, but they are highly functional. The labels are both dishwasher and washing machine friendly! Which means they are perfect for all kinds of things from lunch boxes to clothing items. Backed with a 100% satisfaction guarantee, in our house, these labels are completely parent and kid approved!
Don't forget to label your kids clothing and gear this summer. These adorable kids labels get the job done!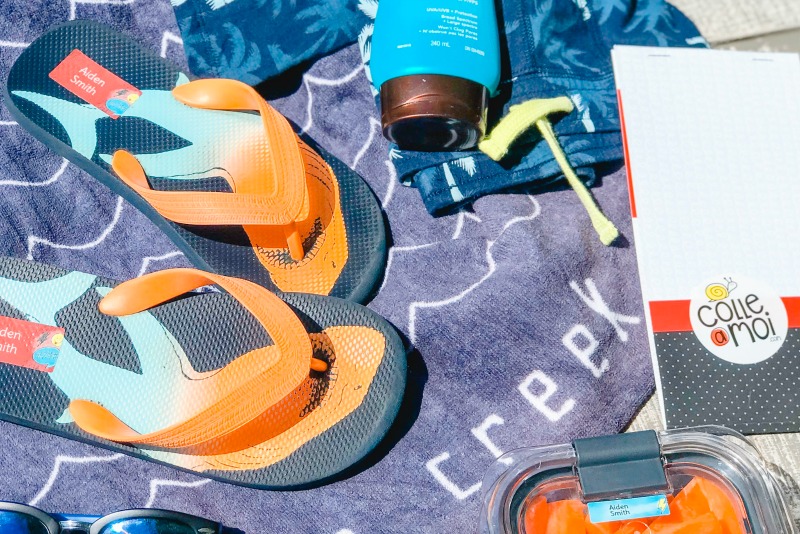 Encourage Children to Take Pride in Their Belongings
In addition to the practical benefit of labelling your children's belongings, my outlook is that when your kids see their stuff labelled it creates an additional sense of pride for their belongings and encourages them to take care of their things.
This summer, when my son is at day camp, he'll be rocking the BD (bande dessinée or comic strip) design on all of his gear. From snack containers to flip-flops, it will be labelled with Colle a Moi (Stick 2 Me) labels. The camp counsellor can quickly identify something if it's left behind and make sure it gets back to him.
Labelling Clothing and Gear Gives Your Kids Stuff a Better Chance of Returning Home
As parents, we invest in our children's clothing, shoes, supplies, toys, and lunch gear (just to name a few!). Taking the extra step to identify these items, with Colle a Moi labels, gives them a better chance of returning home every day.
My daughter chose the Princess Unicorn set to label her summer items. When she visits a friend's house, she likes to bring a whole backpack worth of personal belongings! Having her name on them helps her identify which things to pack up when it's time to come home.
That these labels match aspects of their personality makes me so happy. My daughter is obsessed with unicorns and my son loves comics! There are so many fantastic designs offered by Colle a Moi for all kinds of interests and hobbies. Your kids will have fun choosing their special design and font for their name.
From Camp to Back-To-School
While we've just begun our summer vacation and I hope not to have to go through the school's lost and found until the Christmas concert in December, school will be starting back up in 2 months from now. And we'll be ready with our collection of Colle a Moi (Stick 2 Me) labels.
As I noted, these durable and waterproof labels are perfect to stick on shoes, backpacks, crayon cases, water bottles, winter hats, splash pants, notebooks, lunchboxes. You name it!
Whether it's for summer camp or the beginning of a new school semester labelling your children's belongings properly gives them confidence to know what's theirs. It also gives you peace of mind there's a better chance of them coming home with it. Or at the very least, you finding it easily in the lost and found! 😉
If you are searching for unique, durable, waterproof, and personalized labels I encourage you to visit Colle a Moi (Stick 2 Me) website to see all the great designs available.
*this post is in partnership with Colle a Moi. All opinions are personal.
Latest posts by Emily Smith
(see all)