The LeapFrog Rockit Twist™ Is a Fun Way to Play and Learn
Last school year my son went above and beyond my academic expectations for him. He is such a bright and lovely boy and to see his determination to succeed in mathematics and reading made my heart swell. 
When summer break started I knew he more than deserved to take it easy but I still wanted him to keep his skills sharp for the upcoming school year. I can hardly believe he is going into the fourth grade! 
So while on the hunt for a pastime that would be both entertaining and educational I discovered Rockit Twist™ by LeapFrog. The handheld gaming system wonderfully combines fun activities and learning!
An Educational and Entertaining Gaming System
My family is no stranger to LeapFrog's educational devices and media. My kids have been using the LeapFrog Epic™ Academy Edition Tablet for two years and they still love it. I'm more than happy to vouch for their ability to introduce and encourage children through all types of academic subjects. 
The Rockit Twist™ does this in one of the best ways I have seen. As with other LeapFrog devices, the Rockit Twist™ encourages children to learn and have fun! While finding the balance between educational and entertaining can be difficult to achieve, this device certainly pulls it off. It's a blast to play!
Create Multiple Profiles and Share in the Fun!
The Rockit Twist™ is a single person gaming system that lets you create up to three profiles – a feature we love because it allows for sharing with other family members. 
The interactive nature during game play is one of the coolest aspects of the device. All four panels light up with a D-pad, buttons, dials, a slider, a switch, and a spinner – all letting you progress through the games in such a unique way! 
Another fun feature is the ability to  hatch three cute pets and help them grow (Aiden loves this component!). They are so adorable.
Rockit Twist™ comes with 12 preloaded games and is Wi-Fi free, which means your kids can play it anywhere. It also comes with a rechargeable battery.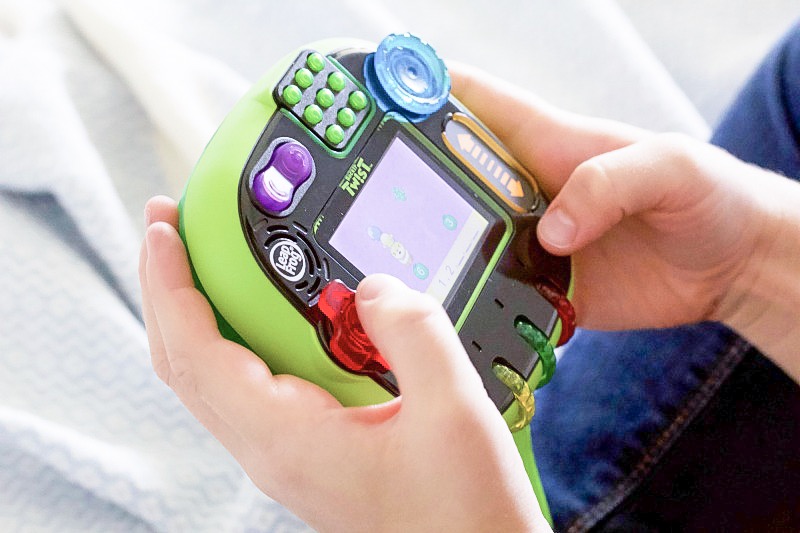 The Rockit Twist™ Fosters Both Play and Academic Skills
The games have 5 different categories with 3 levels of difficulty, that helps children through skills like literacy, math, and problem-solving. It's a very creative way to introduce new academic skill-sets and encourage their development.
While I initially got the Rockit Twist™ with my son in mind, both of my children (aged 8 and 5) are enjoying it. They're having a blast discovering all the games and taking turns playing them. 
If you're on the hunt for a fun learning tool that fosters both play and academic skills, I highly recommend the Rockit Twist™ by LeapFrog! 
This piece is in partnership with LeapFrog. As always, all opinions are personal. Thank you for supporting my efforts to bring you exciting, new content.
Latest posts by Emily Smith
(see all)