Rustic Apple Tart with Apricot Glaze
Presented in partnership with Bonne Maman.
When it comes to preserves, the fruitier the better.
That's why I love Bonne Maman Intense fruit spreads. With 38% less sugar than the classic recipe, they're made from a minimum of 50% fruit. Which is something you notice right away when you take a bite. They're full of fruity goodness – chunks included.
Also noteworthy, Bonne Maman is 100% natural and made without preservatives or artificial flavours.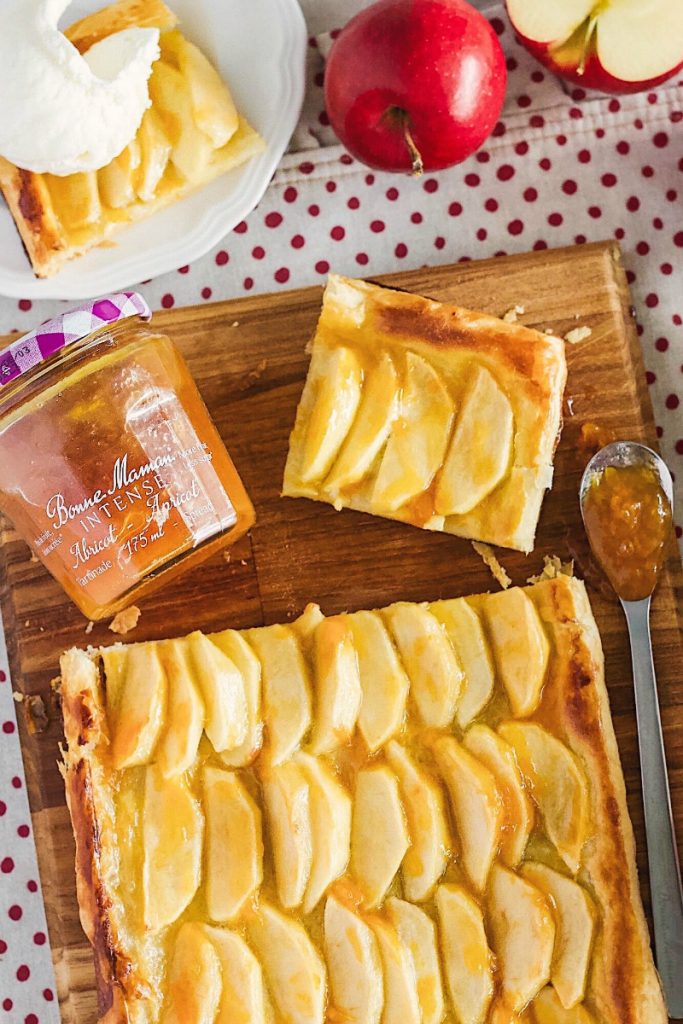 Fresh Inspiration
I've always been a fan of Bonne Maman's original recipe, and now I'm taken with the Intense variety as well. It's ideal for making marinades, glazes, and dressings. I learned this first hand from recently attending a live Zoom event presented by Bonne Maman.
Christine, from The Zero Waste Kitchen, shared four delicious and unique recipes that incorporated Bonne Maman Intense fruit spreads. Each recipe demonstrated how versatile the line of Intense flavours are. You can find and print them here (there's an amazing Vegan Curry Paste that's a must-try!).
I was inspired to jump into the kitchen right away and start using the spreads in creative and delicious ways.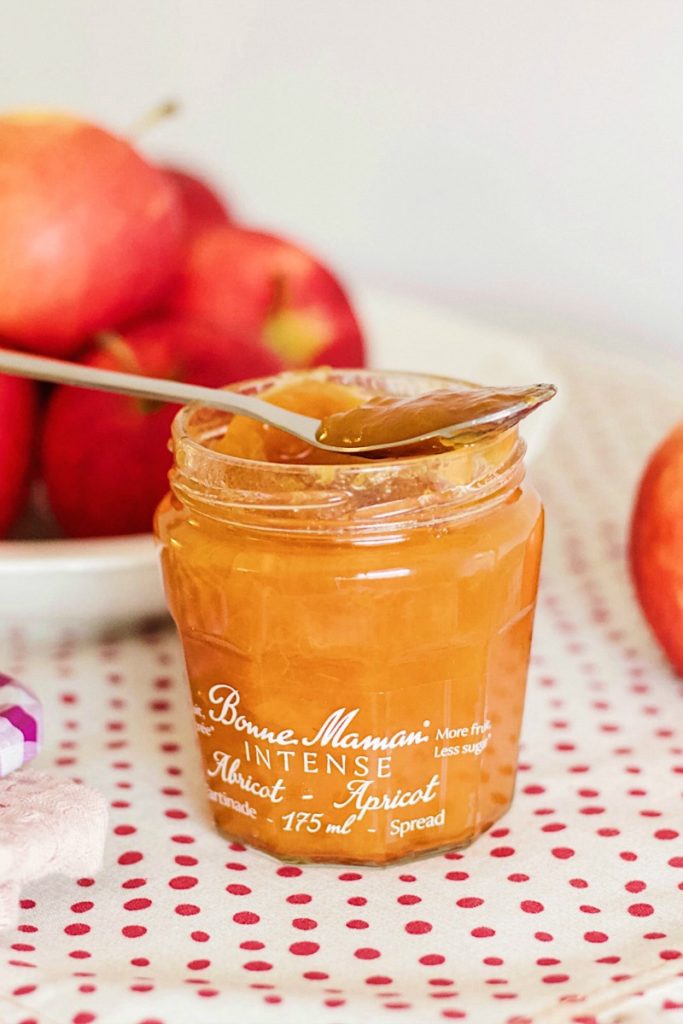 More Fruit, Less Sugar
During the holiday season ahead, I will be incorporating Bonne Maman Intense fruit spreads into my cooking and baking. All the flavours are incredibly enticing, how can I resist! The range includes apricot, blueberry, cherry, orange, raspberry, and strawberry. For more information about the line, visit bonnemaman.ca
While you might think they are more potent than the original style, they are actually quite balanced. They taste less sweet and super fruity. They're perfect to add to desserts that are already on the sweet side. As well as pairing with more savoury dishes.
With autumn in full swing, I have a ton of apples on hand to use up. I thought a rustic apple tart would be a great place to start using my Bonne Maman Intense fruit spreads.
More specifically, the apricot flavour to create a delectable glaze for my tart.
To make the glaze, I warmed up 1/3 cup of Bonne Maman Intense Apricot in a saucepan, on low heat. I added 2 teaspoons of water and stirred for 1 minute. I removed it from the heat and mixed in 1 tablespoon of Grand Marnier. When the tart was done cooking, I coated the apples with the delicious apricot glaze.
It's a perfect fall tart to enjoy this season. I hope you'll give it a try!
Print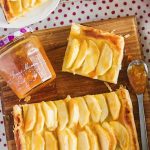 Rustic Apple Tart with Apricot Glaze
---
Description
A delectable rustic apple tart with a heavenly apricot glaze.
---
1

sheet frozen puff pastry, thawed
Flour, for rolling out pastry

3

–

4

Gala apples

1/3 cup

sugar

1/2 tsp

sea salt

1

egg yolk, beaten with 1 teaspoon water, for egg wash

2 Tablespoons

unsalted butter 

1/3 cup

Bonne Maman Intense Apricot preserve

2 teaspoons

water

1 Tablespoon

Grand Marnier
---
Instructions
Preheat the oven to 375 degrees. Lightly flour a clean work surface. Roll out the pastry sheet to approximately 8 x 14 inch rectangle. Using a sharp knife, trim the edges (to make sure the pastry puffs up). Place the pastry on a parchment paper lined baking sheet and place it in the freezer.
Wash, peel, and core apples. Slice them thinly (approximately 1/4 inch thick) and toss them in sugar and pinch of salt in a medium bowl.
Remove pastry from the freezer and brush it with egg wash. Create a border by scoring around the edges of the pastry (about an inch from edge). Arrange the apples within the border. Add the butter on top and bake for 35 minutes (until apples are cooked). You can broil on low for 2-3 minutes to get the top golden.
In a saucepan on the stovetop, mix 1/3 cup Bonne Maman Intense Apricot preserve with 2 teaspoons of water. Heat up the glaze for about 1 minute. Remove from heat, add Grand Marnier. Top the apple tart with the apricot glaze. Serve warm, with ice cream if you want! Enjoy!
Latest posts by Emily Smith
(see all)