How to Incorporate the Scandinavian Aesthetic in a Kids Bedroom
Let's Talk About Kids Bedroom Decor
I've always loved the minimalism and functionality of Scandinavian decor. The paired down use of wood, clean lines, and simple design create pieces you can incorporate into your home with ease. 
That's why, when I started thinking about bedroom furniture to update Aiden's room, I searched for Scandinavian inspired pieces on Wayfair.ca. They have an incredible selection of bedroom furniture for all styles, Scandinavian included.
Wayfair Canada Has Tons of Kids Bedroom Inspiration and Ideas
As I've shared with you before, I love shopping online at Wayfair Canada, because they have lots of options to choose from for your home decor needs. I always make use of their idea boards to help organize my vision and ultimately narrow down my selection to our final choices. It's such a helpful tool and brings out the designer in me!
It was a thrill when I spied the Karan collection by Isabelle & Max. It was just the aesthetic I was looking for. The two-tone pieces feature a light woodgrain and white finish paired with black metal feet, for an altogether modern look.
When we decided it was time to freshen up Aiden's room, my husband and I talked about what we imagined for his space. The last time we gave his room a makeover was four years ago (when he was 5 years old). At nearly 9 years old, his pastimes have shifted and his bedroom wasn't serving him as best it could. He needed more storage for all his books, toys, crafts and projects. He was also outgrowing his bed and needed a more solid frame.
For Aiden's room makeover, we selected two pieces from the Karan collection – a twin bed frame and a nightstand.
Not only is the Karan Twin Platform Bed visually pleasing, but it's also sturdy and offers a clever solution for extra storage. There are three cubbies on both sides of the bed that supply ample shelving space. While for Aiden's room, the bed is flush to the wall and he will only make use of three of the six available cubbies, it still gives him lots of room to store books, toys, and other such things.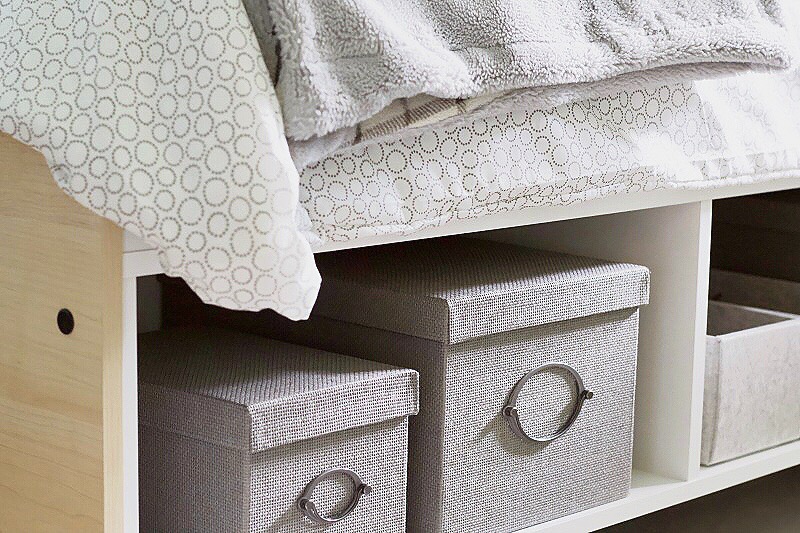 As the bed frame is quite solid, it requires two people to build it and move it, something to keep in mind. Once it's in place it's not shifting, that's for sure! Because of its strong build and wooden mattress supports, a box spring isn't required, and I assure you the mattress will be well supported.
To complement Aiden's new bed, we opted for the matching Karan Nightstand. The same light wood grain paired with the white finish and black metal accents present a balanced and modern piece that suits the dreamy, soft blue paint of his room. The additional storage and functionality of having a bedside table for a reading lamp and alarm clock, among other things, will surely be of good use!
While putting the nightstand together proved simple enough, we did run into a slight issue with the drawer itself. It sticks a bit when you open and close it. Even so, we are still overall pleased with the aesthetic and utility for storing his items. It's a perfect fit for his bedroom!
Pro Tips For Creating a Scandinavian Aesthetic
When creating a Scandinavian inspired aesthetic for your kid's room, opt for clean lines, minimalist design and functional pieces. Lightwood is a shining star when it comes to Scandinavian decor and a great choice to use a child's bedroom to keep things light and modern. A perfect partner for light wood bedroom furniture is soft, cozy accents such as cushions, throw blankets, and muted tone rugs. It's also key to remember to hide away the clutter. The use of baskets and boxes to stow toys, papers, and knick-knacks proves an effective way to keep things organized as well as visually pleasing to the eye.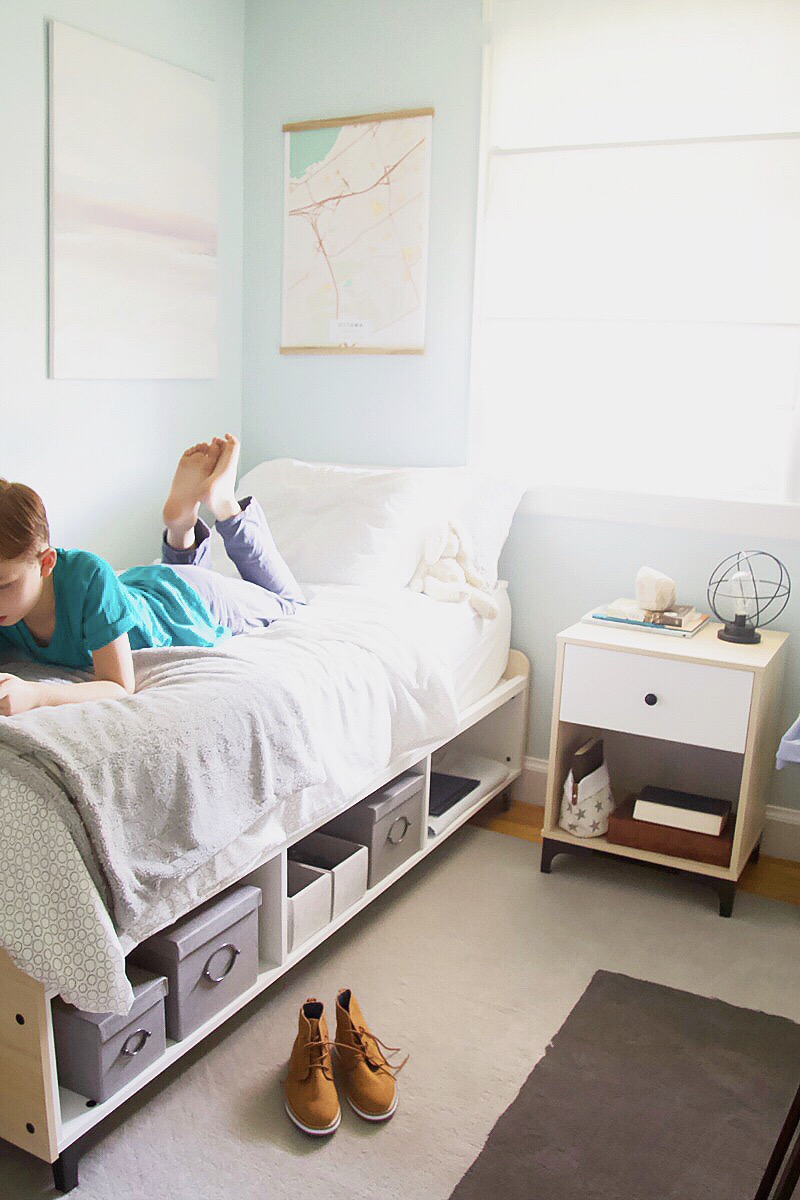 Discover Wayfair's Expansive Selection of Bedroom Furniture and Accessories
I just love the way his room has turned out! What do you think? I welcome your thoughts on the pieces we chose – let me know in the comment section!
If you're looking to update your child's bedroom, I encourage you to visit wayfair.ca to peruse their vast selection of bedroom furniture and home decor accessories. They were the perfect resource for our master bedroom update last year, and now for Aiden's bedroom makeover as well. I also recommend signing up for their promotional emails to receive updates on their sales. I have to say, it's quite worth it as they regularly have great offers.
We're so happy with the bedroom furniture we chose for Aiden's room and, most importantly, he loves them too! 
This post is sponsored by Wayfair Canada. As always, all opinions are honest and personal. Thank you for supporting my efforts to bring you exciting, new content.
Latest posts by Emily Smith
(see all)