The Self-Care Edit: Gift Ideas That Encourage Rest and Rejuvenation
By the time the holiday season rolls around, everyone can use a little extra self-care.
Here you will find a list of curated gift ideas that encourage rest and rejuvenation. For the people on your list that would thoroughly enjoy some TLC (tender loving care).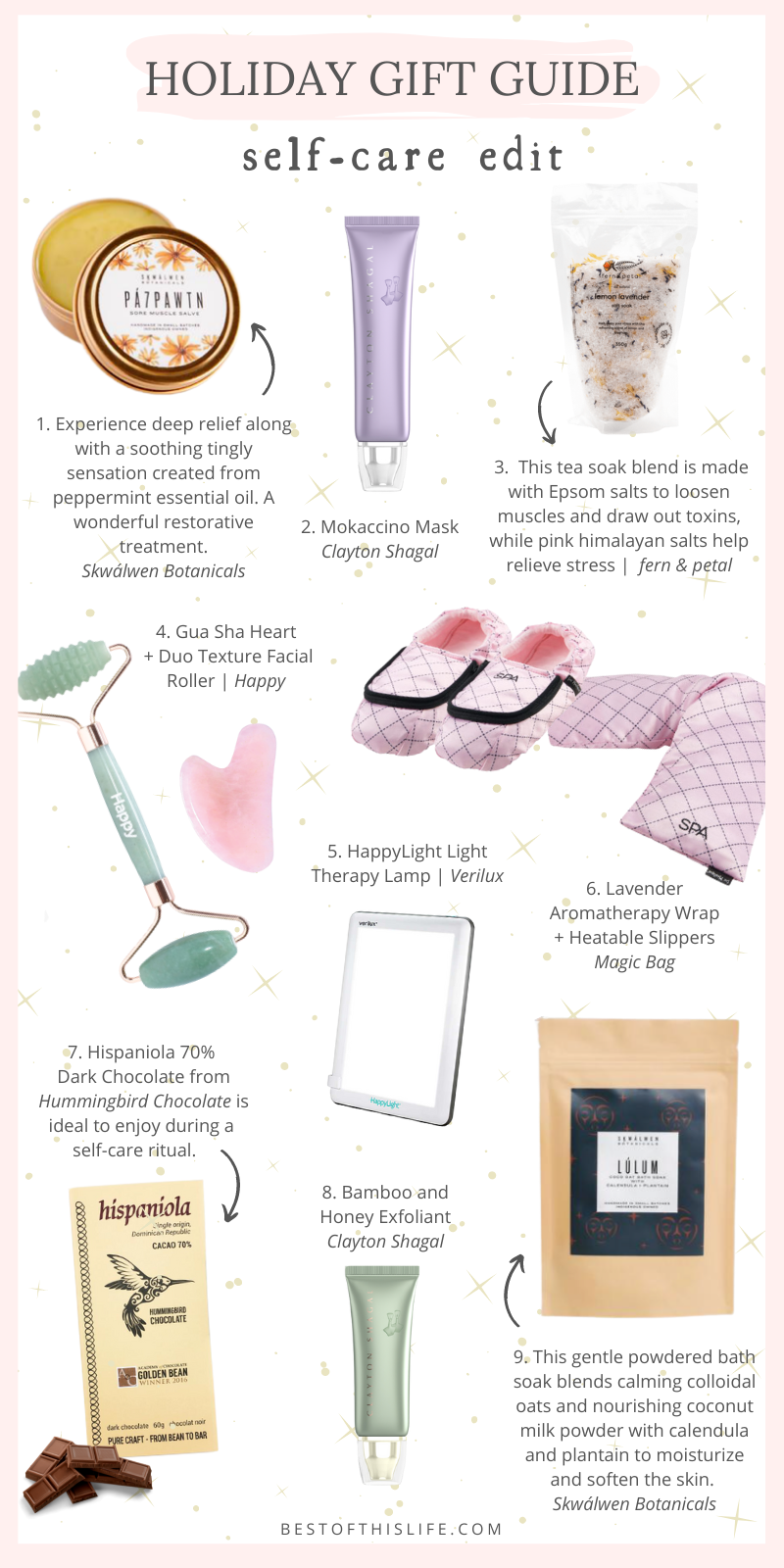 What Is The Definition of Self-Care?
self-care/ˌselfˈker/ the practice of taking an active role in protecting one's own well-being and happiness, in particular during periods of stress
When I think of self-care, I imagine drops falling into a bucket. Each act of self-care is a drop in our personal bucket of well-being.
Doing a facial mask won't entirely alleviate the weight on someone's shoulders or the exhaustion they might be feeling. But every drop of self-care works towards bringing comfort to their mind, body, and soul.
So while individually, a cup of tea or a bath doesn't melt all our cares away, collectively, these simple actions come together to provide us with the strength, the peace, and the comfort needed to carry on in life. Hopefully a little lighter and brighter.
These self-care gift ideas are not only on my shopping list for family and friends; they are some of my personal favourites or added to my wish list this year because they are from brands I've tried and trust.
Thoughtful Self-Care Gift Ideas They Are Sure to Appreciate
Nettle and Arnica Sore Muscle Salve: I've been using this salve for the past month for tension in my neck and shoulders, and for my calves after a long walk in the cold. It brings relief and feels good on my skin.  "This powerful muscle salve is made with oils of nettle and arnica. Experience deep relief along with a soothing tingly sensation created from peppermint essential oil. A wonderful restorative treatment." Sold at skwalwen.com, $18 CAD
Mokaccino Mask: for the person who loves to indulge in beauty treatments, I highly recommend this facial mask. It's ideal for all skin types and goes to work for your skin! Some of the many benefits include improving visible signs of premature aging and restoring balance and suppleness to the skin. Sold at claytonshagal.com, $48 CAD
 Lemon Lavender Tea Soak: baths, you either love them or you don't. I love taking baths, and this tea soak is everything. From the wonderfully delicate and soothing scent to how it makes the bath water feel silkier. This tea soak helps soothe and relax! Sold at fernandpetal.ca, $17 CAD
Gua Sha Heart and Duo Texture Facial Roller: this pairing is the ultimate in simple yet effective home facial treatments. Why do I love these self-care tools? Because they are easy to use every day with your favourite skin products, help relieve facial tension, and reduce puffiness. Sold at happynaturalproducts.com, prices vary, starting at $30 CAD
HappyLight Light Therapy Lamp: this is such an important self-care tool! Boost energy, improve mood, enhance focus, and regulate sleep patterns using the HappyLight® LED technology. Sold at bedbathbeyond.ca, $89.99 CAD
Lavender Aromatherapy Wrap and Heatable Slippers: talk about ultimate in rest and rejuvenation! Magic Bag's spa line is where you'll find the perfect aromatherapy compress, and slippers, to ease your mind. Sold at magicbag.com, prices vary. Magic Bag is giving away over $3,000 worth of products for its 30th Anniversary! Enter for a chance to win here.  
Hispanolia 70% Dark Chocolate: when you want a little piece of dark chocolate. This rich, vegan chocolate delivers notes of raisin and cherry, yum! The perfect addition to any self-care gift, this delightful chocolate bar will surely be well-received and enjoyed. Sold at hummingbirdchocolate.com, $7.99 CAD
Bamboo and Honey Exfoliant: give the gift of beautiful skin! Revive, soften and brighten skin with this lightly fragranced, creamy exfoliant. It removes dead skin cells and impurities leaving skin smooth and radiant!  Sold at claytonshagal.com, $50 CAD
Lúlum Coco Oat Bath Soak: "Lúlum (low-lum) means "to sing" in the Squamish language. The name reflects the nurturing love of a mother, bringing to mind the act of singing to calm and soothe her child. This gentle powdered bath soak blends calming colloidal oats and nourishing coconut milk powder with calendula and plantain to moisturize and soften the skin. These botanical ingredients aid in soothing irritated skin, offering a renewing soak for all ages." Sold at skwalwen.com, $26 CAD
In my opinion, self-care gifts should be on everyone's list this year. Giving a gift that encourages someone in your life to take time for themselves is another way to show how much you care. It's a small reminder that says to another person: you matter, and I care about your well-being.
Latest posts by Emily Smith
(see all)