These Rainbow Fruit Kabobs Are Fun to Make and Tasty to Eat!

Rainbow Fruit Kabobs – A fun-filled fruity surprise, a tasty summer treat!
We all know kids are tempted to want to snack on junk food all summer long, especially when they're home and in the mood for a treat. As a mother to two lovely children, my secret to helping them make healthy choices is to have lots of nutritious foods available, like cut up fruits and vegetables, ready for a snack attack.
Now when my kids ask for snacks, they know their mama will surprise them with something exciting and delicious. Last week, when my kids came back from the pool, I surprised them with a large platter of fruits and nuts. They were delighted to see the presentation and loved the rainbow of colours. And, the best part was that they devoured the whole platter! They're pretty big fans of fruit, so it's not too hard to win them over, but they loved the presentation and all the colours.
The next day, a thought hit me hard and strong. I sat down to think that there had to be a more interesting way to go about the fruits platter and that's when I remembered seeing in a magazine a creative recipe – the perfect, fun-filled, fruity surprise for my little angels – Rainbow Fruit Kabobs. An incredible snack for kids that's both vitamin-rich and exciting to eat. With Rainbow Fruit Kabobs, you don't need to worry if your kids are devouring them. The snack is immensely nutritious, thanks to a variety of fruits.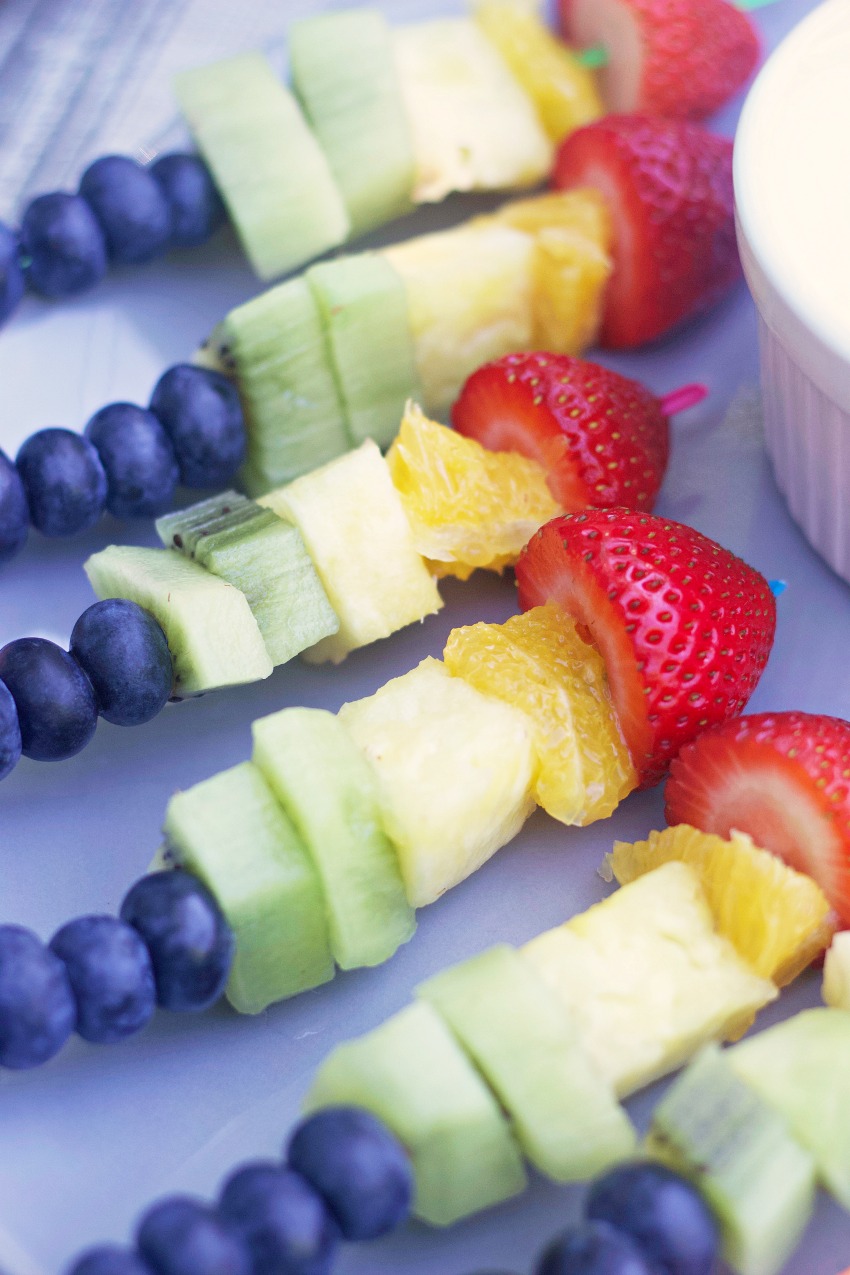 A great way to indulge with your kids on the weekend
Think of the Rainbow Fruit Kabobs as an indoor activity for a rainy summer's day or an outdoor activity on a beautiful breezy one. It's a great activity to spend some creative, fun time with your kids during the weekend. My kids were amazed to see their mommy create a spectacular arrangement of their favorite fruits. And, they were equally excited to make the fruit kabobs, all by themselves. Now when they know that the weekend is approaching, they ask me to get different fruits every week to create different versions of the Rainbow Fruit Kabobs.
Though I don't allow them to use a sharp knife at this age, I prep the fruit (peel and make large cuts) so they can use a butter knife to make the smaller shapes. They also have a world of a time organizing the colourful fruits on the skewers and making their own patterns. And, I cannot explain their excitement in words when the snack is ready! The recipe of this simple wonder snack is family-friendly and so easy to follow for younger kids.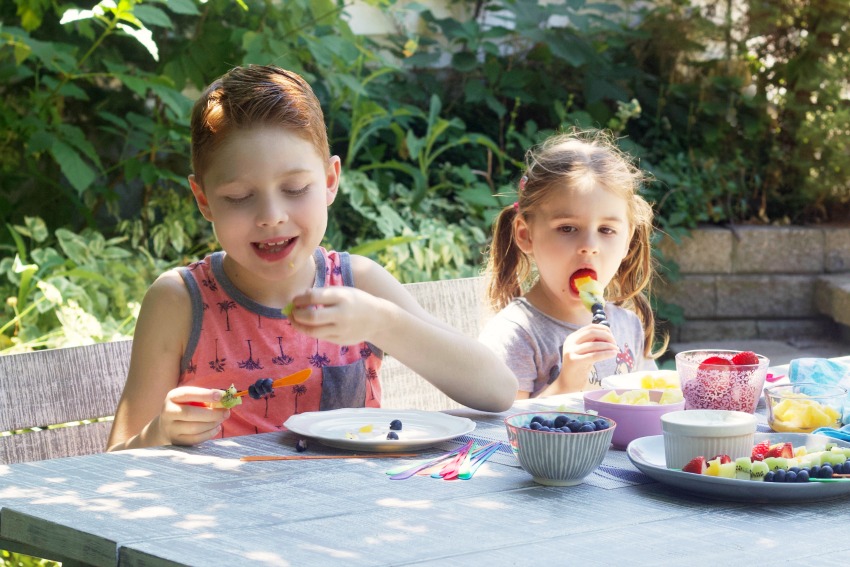 My kids simply love Rainbow Fruit Kabobs
I'm a busy mommy with two super active kiddos, so I am constantly balancing with a hectic work schedule, hungry little bellies, and coming up with snack ideas. I was delighted to see their excitement and how much they love the idea of their favourite fruits, stunningly decorated on the skewers. Rainbow Fruit Kabobs are perfect for summer kids parties as desserts or snacks, and make a great contribution to school picnics too!
Serve Rainbow Fruit Kabobs with interesting dips and sauces
This is a tried and tested kitchen experiment!
To make sure my kids don't get bored with the Rainbow Fruit Kabobs, I try to make the snack more and more interesting, each time I serve it to my kids.
Last week, I prepared an amazing dip for the Rainbow Fruit Kabobs using vanilla yogurt and honey. And, this week I am planning to create a refreshing dip with Greek yogurt and mint. I am also planning to do something out of the box with natural peanut butter and chocolate chips.
Everything depends on your creativity and what your kids will love.
What's special about these delicious fruits on skewers?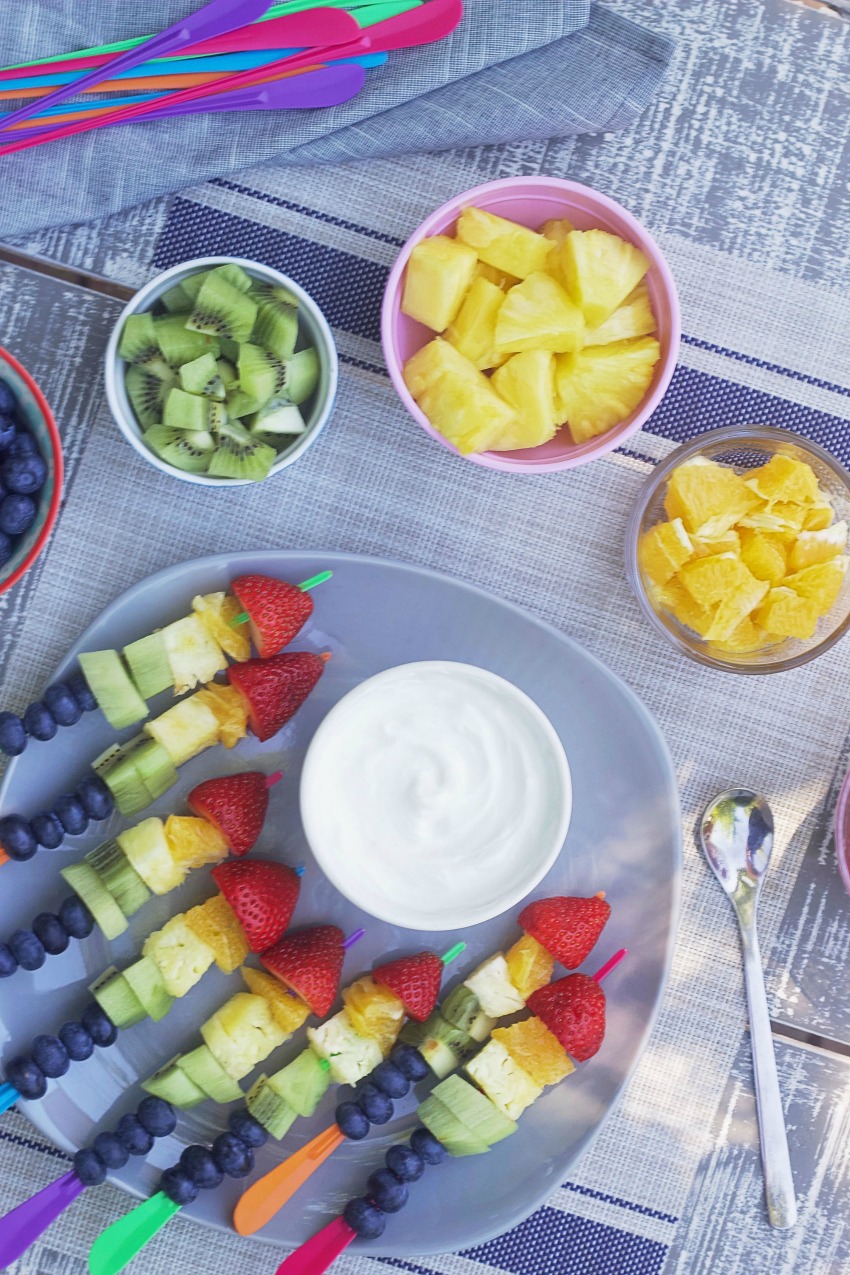 Rainbow Fruit Kabobs have become a tried and true favourite among young kids and adults alike. Wondering what's special about these delicious fruits decorated on skewers? Hear me out!
Rainbow Fruit Kabobs are rocking because:
Their bite size is ideal for kids
Kids can hold them easily
You can prepare them in hardly 10-15 minutes
They are healthy and nutritious
You can create different patterns and color combinations by combining different fruits (great for pattern lessons)
Here's a heart to heart note for all parents out there. I can completely relate to the scenario where you're busy attending an official call or busy doing a household task, and your kids are staring at you, waiting for you to feed them with some delicious snacks as soon as they are back from playing at their friend's house or just home from school. This balancing act is one of the main reasons for keeping cut up fruits (and veg!) in the fridge. DIY Rainbow Fruit Kabobs are a perfect way to set them up and keep them busy doing something creative and gives them a snack, it's a win-win! My kiddos love it, and I am sure your kids will love it too!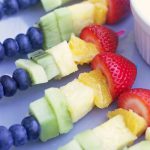 Rainbow Fruit Kabobs
---
Description
A fun-filled fruity treat kids love!
---
8

hulled strawberries

8

small orange segments

8

small bites of pineapple

14

peeled kiwi fruit, cut in small bites

32

blueberries
---
Instructions
Wash and prepare all of the fruit.
Thread the fruit onto reusable (plastic) skewers or wooden ones.
We did ours in the following order: 1 strawberry, 1 orange, 1 pineapple, 2 kiwis, 4 blueberries.
Present on a platter with a dipping sauce!
Vanilla Yogurt and Honey Dipping Sauce
1/2 cup vanilla yogurt
1 Tablespoon of honey
Notes
There are so many options of fruit you can use to get the colours of the rainbow! Use whatever is available in the grocery store for the season you're in. Some ideas: green or purple grapes, raspberries, clementines, bananas, apples (with peel).
PIN this recipe!

Latest posts by Emily Smith
(see all)