Fun and Trendy Holiday Gift Ideas For Kids
Discover trending toys and gift ideas for kids! We're sharing some of our top picks for fun and trendy gifts for kids this holiday season. From the cutest plush toys to imaginative play sets that spark creativity.
For children's gifts that encourage play, reading, imagination, and learning – you'll find ideas below to inspire your holiday shopping!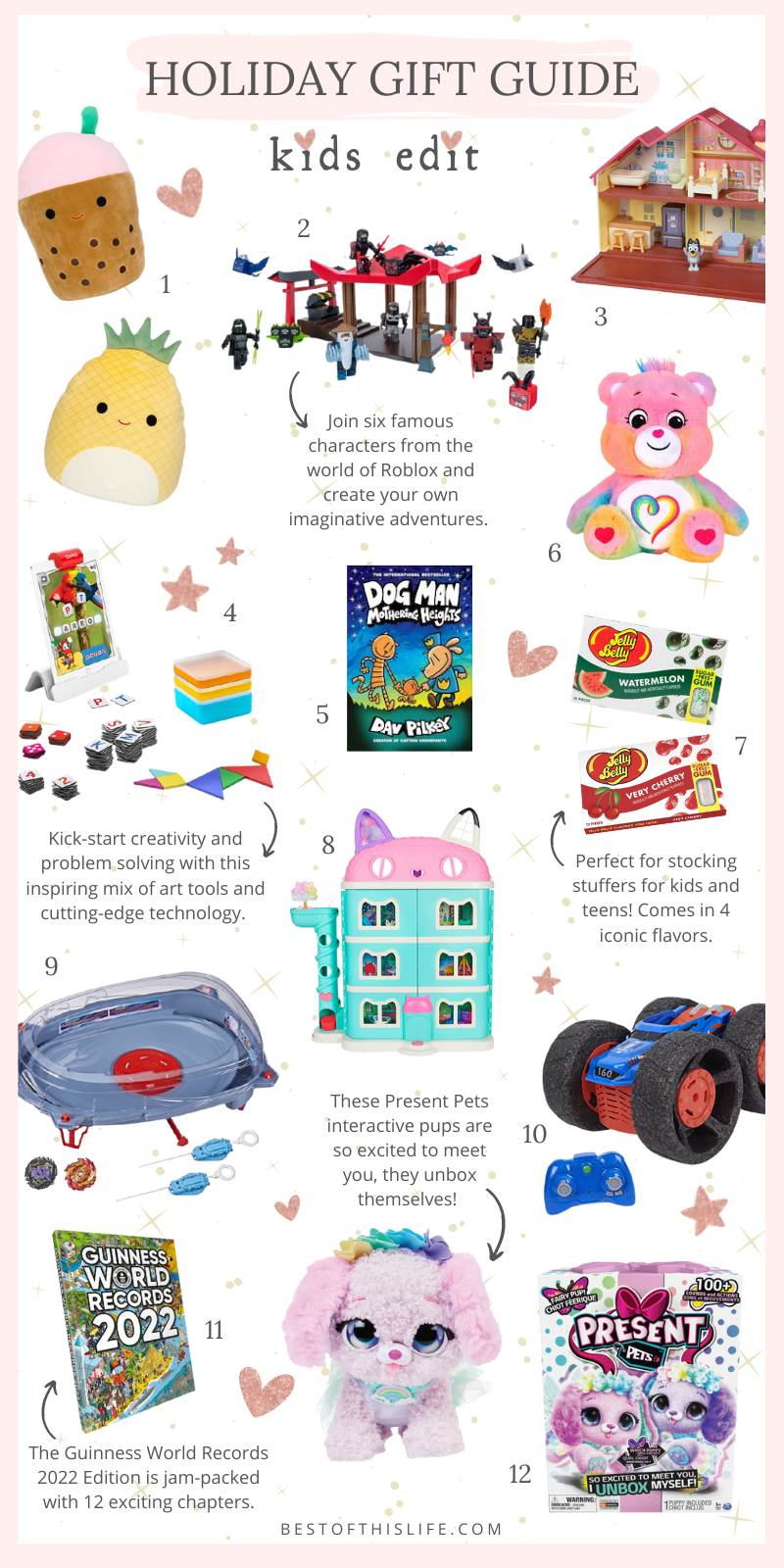 12 Trending Holiday Gift Ideas for Kids in 2021
Squishmallows Food Squad: Are you a foodie? The new Squishmallow Carry Over Food Squad features everything from appetizers to a cheeseburger (and fries, of course!) to luscious desserts and even drinks! From Carmelita the S'more to Bernard the Burrito, there's a squad member for everyone! Available in a variety of shapes and sizes from 3.5 inches to 24 inches. Sold at Amazon, Walmart, Target, Walgreens, and Claire's.
Roblox Ninja Legends: Join six famous characters from the world of Roblox and create your own imaginative adventures. Mix and match parts to build your own unique Roblox character. Deck out your figures with the included accessories. Sold at Amazon, Target and Walmart.
The Bluey family home is the perfect playset for Bluey and her family! Big in size and features, this enormous toy playset includes fully molded details with opening doors for some added fun. The Bluey Family Home Playset has 4 different rooms and an amazing outdoor patio loaded with many pieces of removable furniture to play with and explore. Sold exclusively at Toys 'R' Us.
Osmo Genius Starter Kit: Kick-start creativity and problem solving with this inspiring mix of art tools and cutting-edge technology. Osmo's fun character Moz the Monster encourages children to draw images from their imagination on the real-world creative board and then, thanks to Osmo's advanced computer vision technology, they can watch in wonderment as they see their creation come alive on the screen. Sold at Best Buy, Indigo, Amazon, and Mastermind Toys.
Dog Man: Mothering Heights: Dog Man is down on his luck, Petey confronts his not so purr-fect past, and Grampa is up to no good. The world is spinning out of control as new villains spill into town. Everything seems dark and full of despair. But hope is not lost. Can the incredible power of love save the day? Sold at Indigo.
Care Bears Togetherness Bear Plush: This year the Care Bears will continue to share and care with the introduction of a NEW Care Bears Friend – Togetherness Bear! Togetherness Bear has an important message to share, a unique design for all to love, and a Care Bears family ready to welcome her into the line. There's only ONE way to describe Togetherness Bear – she's "one of a kind!" Unique, colorful, and all about bringing everyone together. Sold at Walmart.
Jelly Belly Gum: The Jelly Belly flavors you love, now in long-lasting GUM format. Perfect for stocking stuffers for kids and teens! Comes in 4 iconic flavors – Berry Blue, Watermelon, Verry Cherry and Island Punch. Sold at Amazon.
Gabby's Purrfect Dollhouse stands over two feet tall, and is a fantastical kids dollhouse packed with exciting features to discover, including a Dollhouse Delivery tower, working Cat-A-Vator, sounds and more. With a 3.5-inch Gabby Girl collectible figure, Pandy Paws figure, furniture for each room, three accessories and two Dollhouse Deliveries, you can get straight to the fun right out of the box. For one last surprise, scan the QR code found inside one of the Dollhouse Deliveries to unlock a special reward in the free Gabby's Dollhouse App. Sold at Amazon, Target, and Walmart.
Beyblade Burst Surge Speedstorm Motor Strike Battle Set: Supercharge the battle strategy with Beyblade Burst Speedstorm tech! Launch into a high speed head-to-head in the official Beyblade Burst Speedstorm Motor Strike Beystadium by Hasbro – the first motorized Beystadium in the Beyblade Burst line. At the center of the battle arena is the inescapable spinning Motor Vortex – an energy zone designed to redirect the battle and give tops the ultimate energy boost. Sold at Toys 'R' Us.
Air Hogs Super Soft Jump Fury: Take remote-control trucks to new heights and jump up to 22 inches high with this all-new innovative RC truck. Jump on, over and on top of the competition. Go wild indoors and master epic stunts including 360-degree spins, flips, drops, rebounds and more. The innovative performance wheels are super soft – they won't scratch walls or furniture, so it is safe to play indoors. Sold at Amazon, Target, and Walmart.
Guinness World Records 2022 Edition: The Guinness World Records book is an annual best-seller packed full of the most inspiring, and jaw-dropping record holders from around the world. Not to mention, it's the perfect holiday gift for curious kids who love to learn about our extraordinary world. From fantastical adventures to out-of-this-world talents, the Guinness World Records 2022 Edition is jam-packed with 12 exciting chapters. Sold at Indigo.
Present Pets: These interactive pups are so excited to meet you, they unbox themselves! With two new themes, Princess and Fairy, and four different pups to discover, these playful pooches will melt your heart. Featuring 100 new sounds and 2 themed interactive games. Sold at Amazon, Target, and Walmart.
It's That Time of Year!
Holiday shopping for kids is always fun and exciting! There are lots of new toys, books, and educational games landing in-stores this time of year. It's the perfect time to browse online, learn more about this year's hottest kids toys, and get ideas from your kids too!
Many retailers are offering pre-holiday sales. Now's your chance to scoop up those special items while they're still in stock.
Remember, many local shops will also carry big brand names and the hottest kids items. Pop into your local toy store to see what curated selection they have to offer. Not only could you find an item that's sold out online, you might also discover other unique kids' gift ideas. Not to mention, you'll also support a local neighbourhood shop.
Happy holiday shopping!
Latest posts by Emily Smith
(see all)