Two Family-Friendly Holiday Recipes Everyone Will Love
I can hardly contain my excitement! December is here and the holiday season is in full effect! For many of us that means holiday parties galore. Whether you're attending a casual Christmas get-together or hosting your own festive fete, Walmart wants to lend you a hand in the kitchen with these two simple holiday recipes that will be sure to wow your guests.
Around here, Christmas is a big deal. We love baking and cooking seasonal favourites all month long. We have friends and family visit throughout the holidays, so having a variety of delicious foods to serve for appetizers and treats is a must!
Every year, we make ginger-molasses cookies. This, though, was the first time we made Ginger-Molasses Reindeer Cookies – a wonderfully festive and adorable twist on a classic Christmas cookie. My kids absolutely loved them for all the obvious reasons: they're incredibly cute, lots of fun to make, and super tasty.
The blend of warm spices, the salt from the pretzels and the sweet touches of icing hit all the right notes. May I suggest putting on your favourite Christmas tunes and having yourselves a merry little Christmas baking party?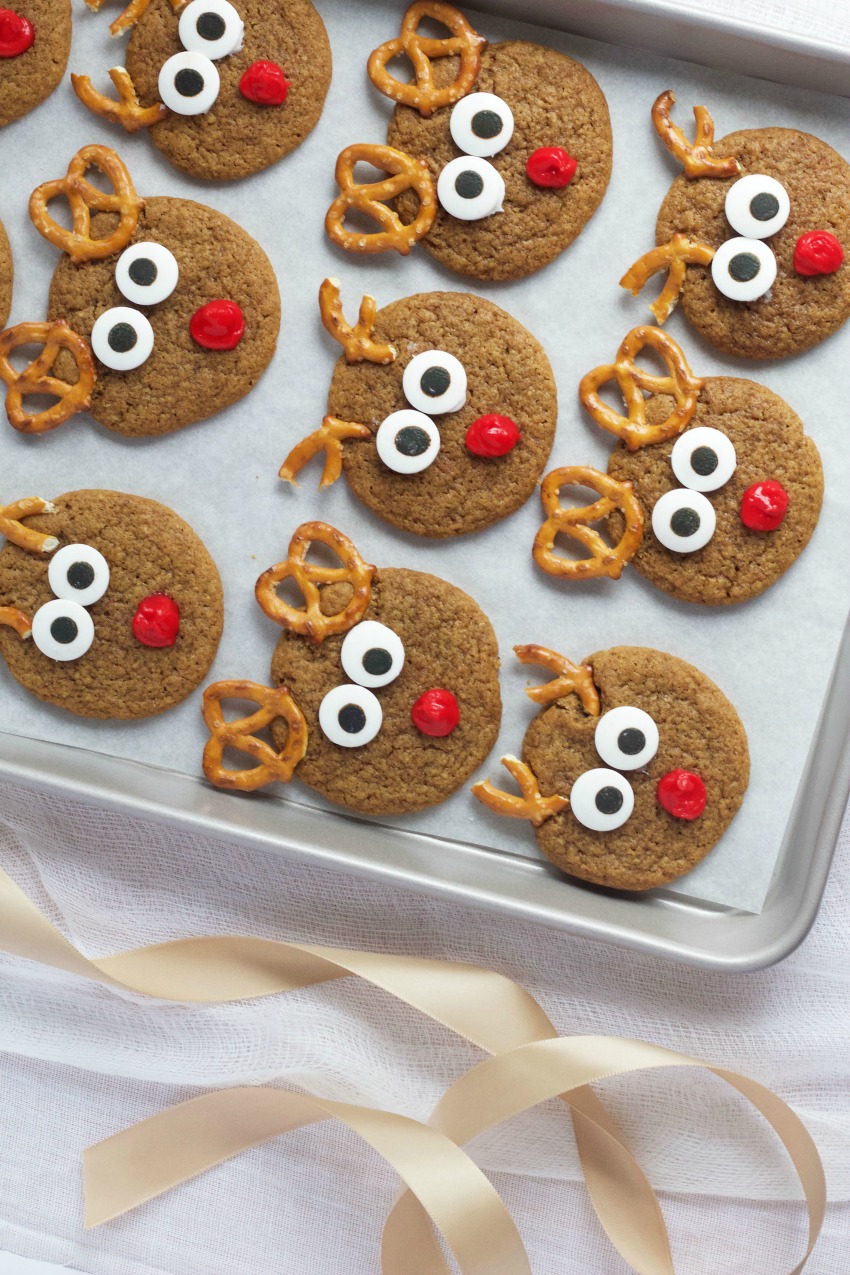 Our cookies couldn't have turned out better. Here's the recipe: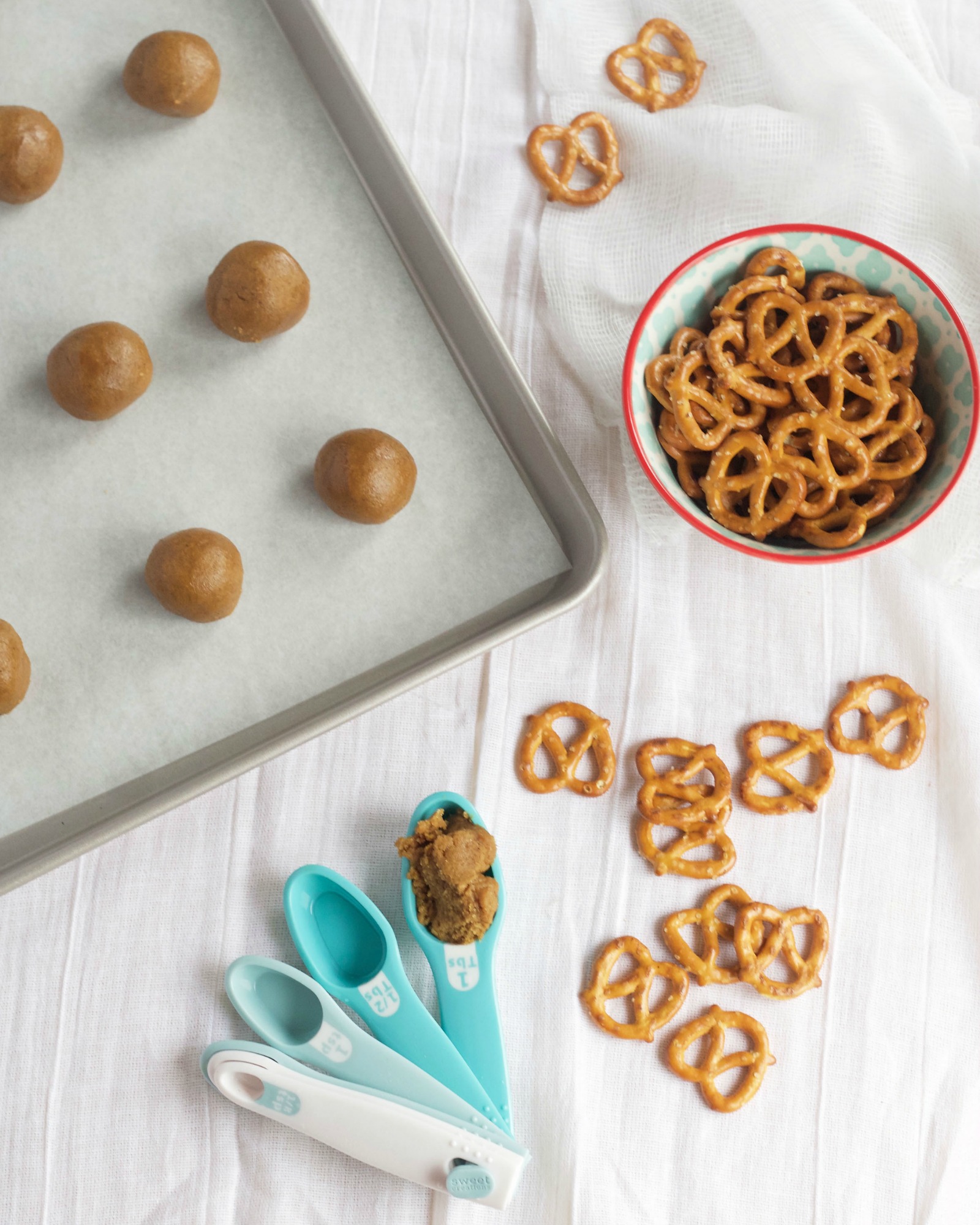 Ingredients:
1-¾ (425 ml) cups flour
1 tsp (5 ml) baking soda
1 tsp (5 ml) ground ginger
½ tsp (2 ml) cinnamon
½ tsp (2 ml) salt
¼ tsp (1 ml) cloves
½ cup (125 ml) unsalted butter, softened
¾ cup (175 ml) granulated sugar
1 egg
¼ cup (60 ml) fancy molasses
70 mini pretzel twists
1 package (200 g) prepared red cookie icing
70 candy eyeballs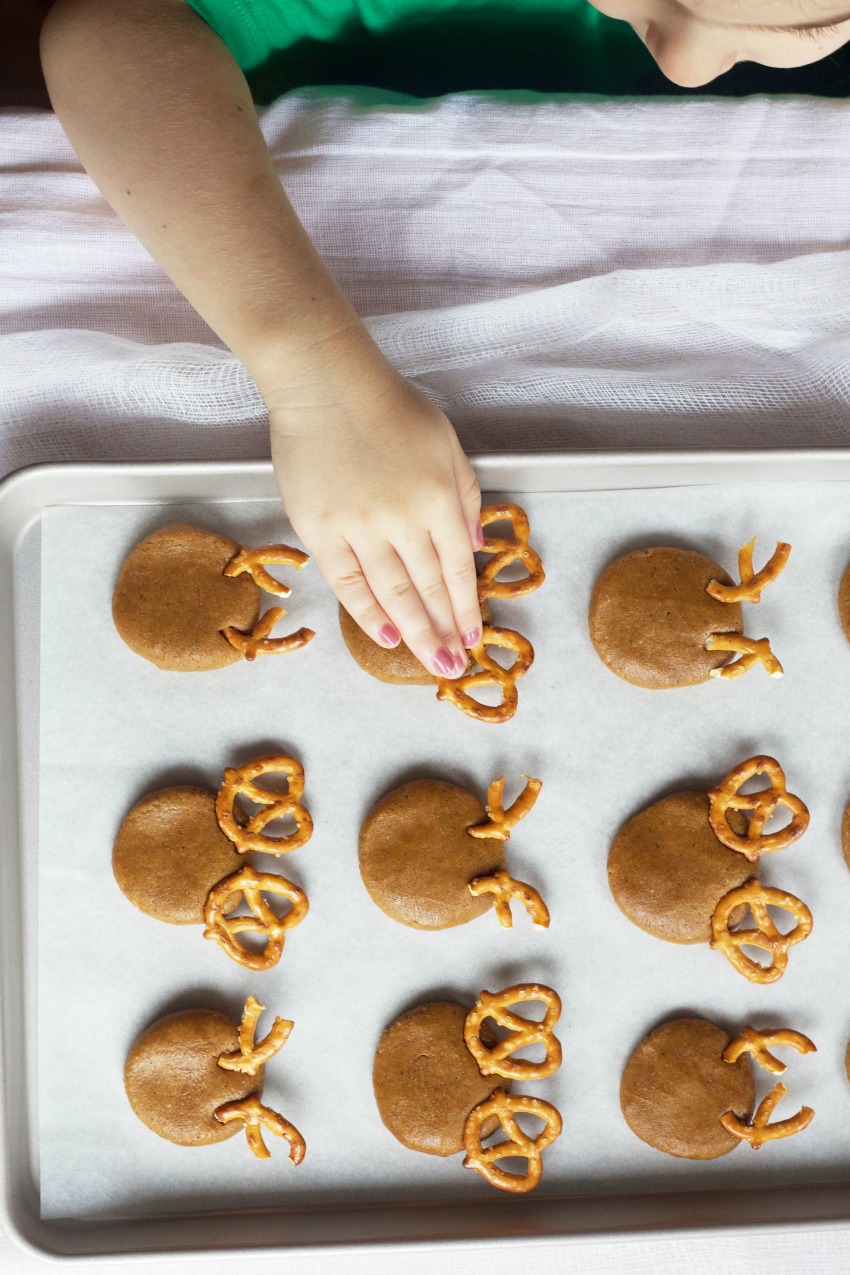 Directions:
Heat oven to 325F (160C). Line two baking sheets with parchment.
In a medium bowl, whisk together flour, baking soda, ginger, cinnamon, salt and cloves.
In a large bowl using a hand mixer or in the bowl of a stand mixer, cream together butter and sugar until light and fluffy, about 2 min. Add egg and molasses, mixing until fully combined. In 2 equal parts, add flour mixture, mixing until just combined.
Roll dough into 1 tbsp. (15 ml) balls and place on prepared baking sheets 1-½ inches (4 cm) apart, pressing down lightly with palm. Place two pretzels next to one another ¼ inch (0.5 cm) inside the edge of each cookie to resemble antlers; press pretzels lightly to adhere to cookie dough. Bake in batches just until set, about 12 min. Let cool 4 min on sheets before cooling completely on racks. Once cooled, use cookie icing to adhere candy eyeballs to cookies and to draw noses. Allow to set completely.
Kitchen Tip: Use leftover cookie icing for the remainder of your Christmas cookie decorating.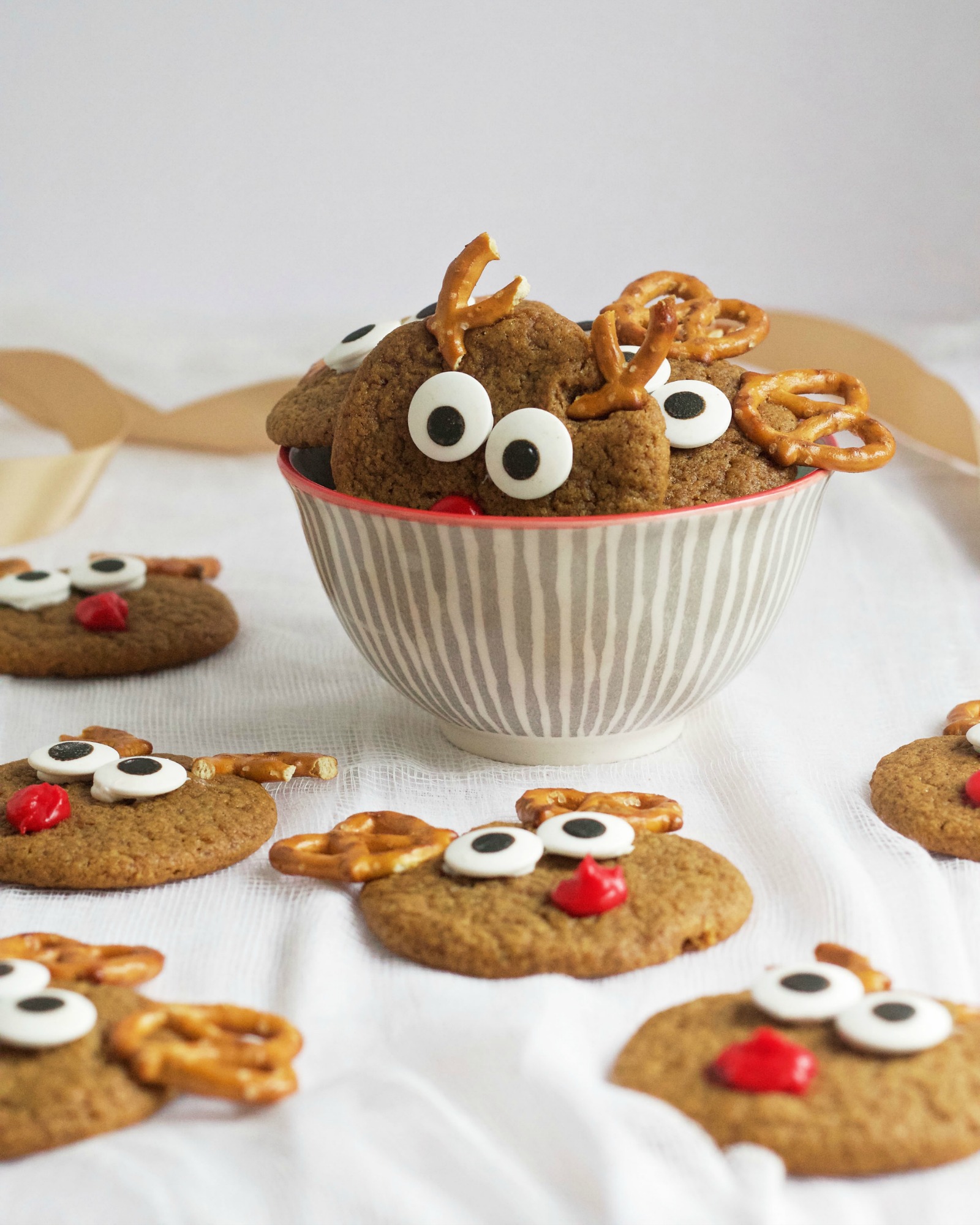 For the most part, I have my go-to hors d'oeuvres; however, I do like to try a few new ones each year to mix things up, add variety, and surprise my guests. These delectable Puff Pastry Canapes hit the mark and are sure to be a crowd pleaser – just ask my family!
We put these heavenly bites to the test and they got rave reviews. My kids were smitten with the sweet flavour of the puff pastries topped with ricotta cheese, walnuts, pears, and honey, while my husband reached for thirds of the ricotta, prosciutto, arugula, and sundried tomato version.
As for me, I fell for both of them! I love that you can choose between sweet and savoury. Not to mention, you can customize these canapes with any of your own favourite toppings.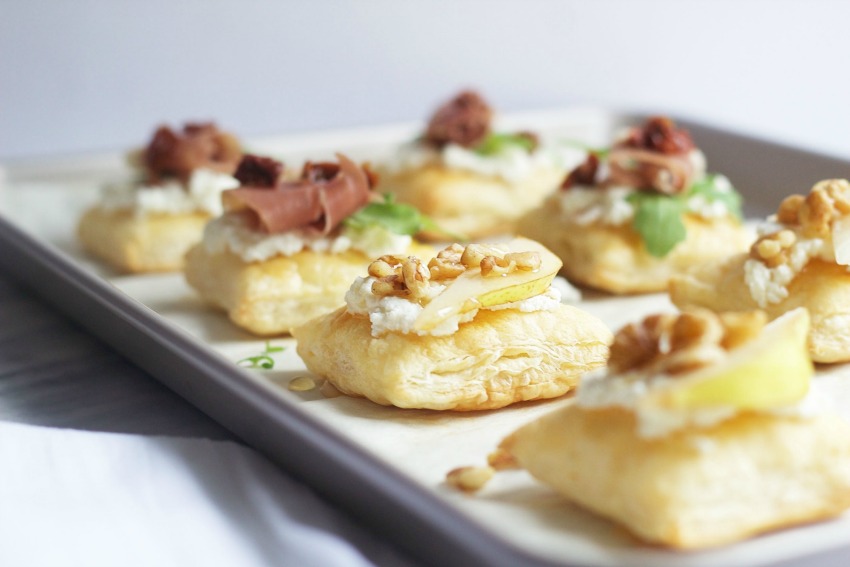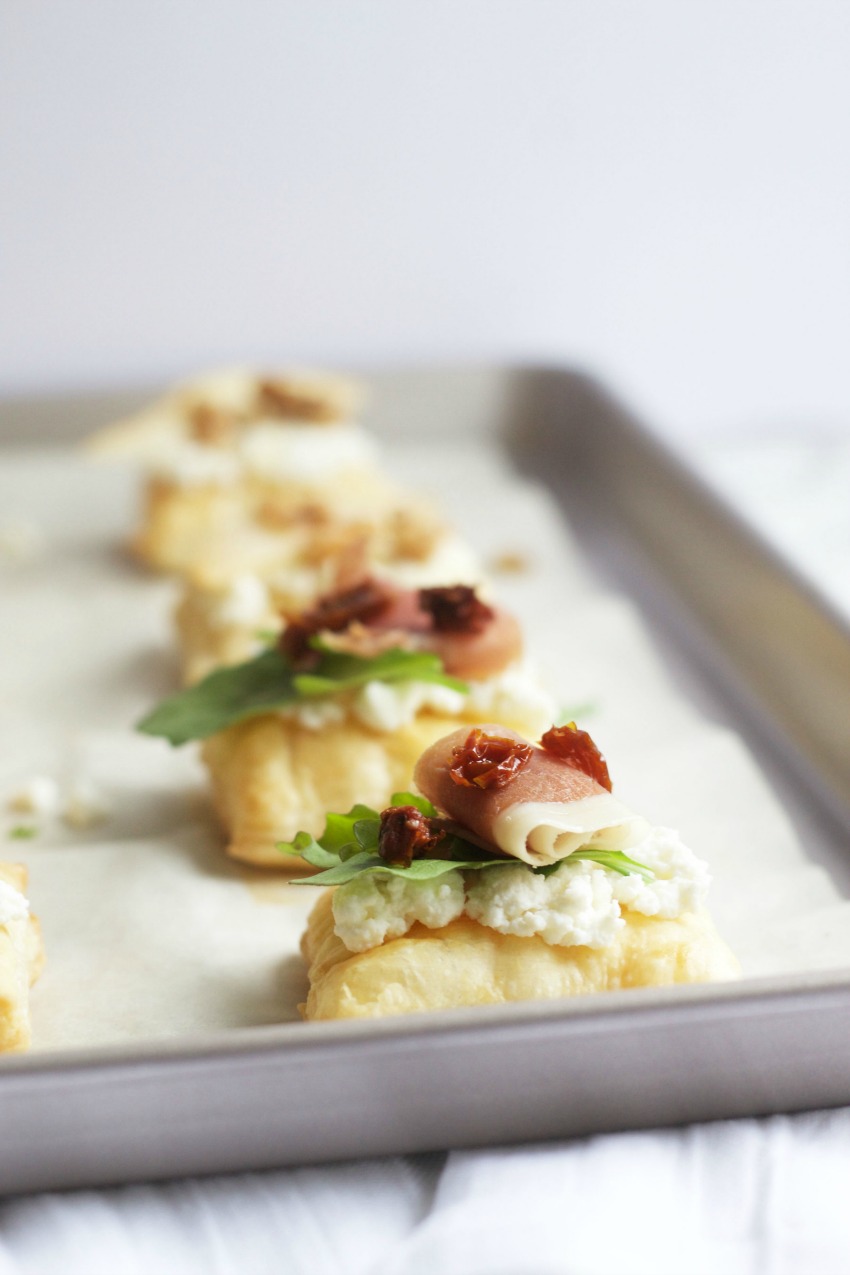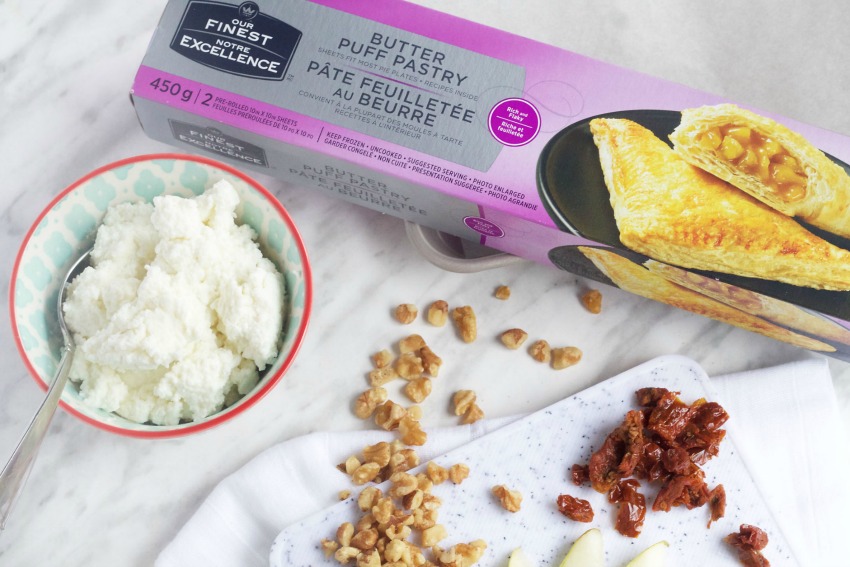 Ingredients:
1-450 g pkg. butter puff pastry, thawed
1 egg, lightly beaten
1 cup (250 ml) ricotta cheese
½ pear, thinly sliced
¼ cup (125 ml) chopped, toasted walnuts
3 tbsp. (45 ml) honey
1 cup (250 ml) arugula
8 slices prosciutto, cut in half lengthwise
¼ cup (60 ml) chopped sundried tomatoes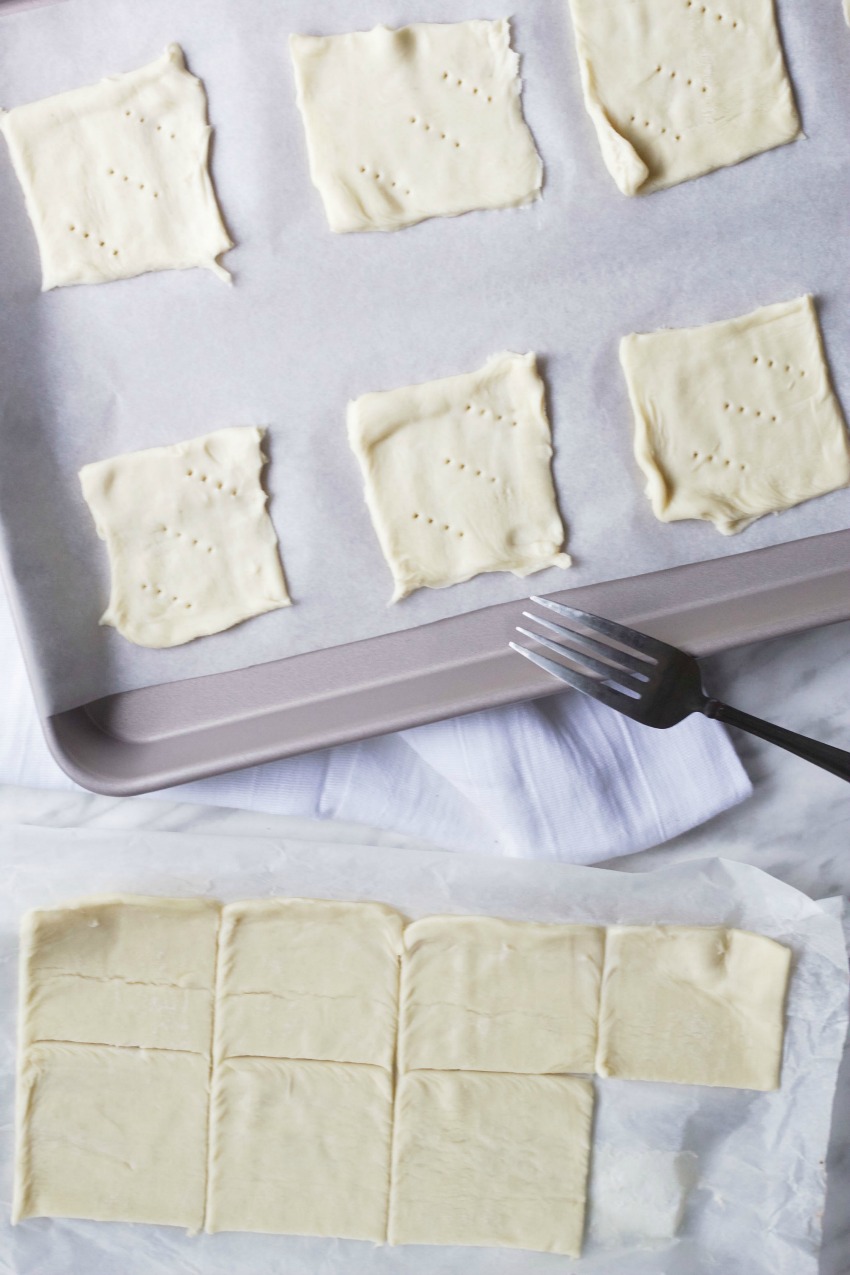 Directions:
Heat oven to 400F (200C). Line two rimmed baking sheets with parchment.
Unroll one sheet of pastry. Cut pastry evenly into 4 strips. Cut each strip evenly into four to make 16, 2-1/2-inch (6.5 cm) squares. Place on a prepared pan, score 2 or 3 times with a fork and brush with egg wash. Baked until golden and puffed, about 14 min. Repeat with remaining sheet. Cool 5 min.
Spread each square with 1-½ tsp (7 ml) ricotta cheese. Top half with pear slices, walnuts and a drizzle of honey. Top remaining evenly with arugula, prosciutto and sundried tomatoes.
Kitchen Tip: For a variety of elegant appetizers, try these canapes with different toppings like mozzarella and basil with halved grape or cherry tomatoes, or cheddar, salami and olives.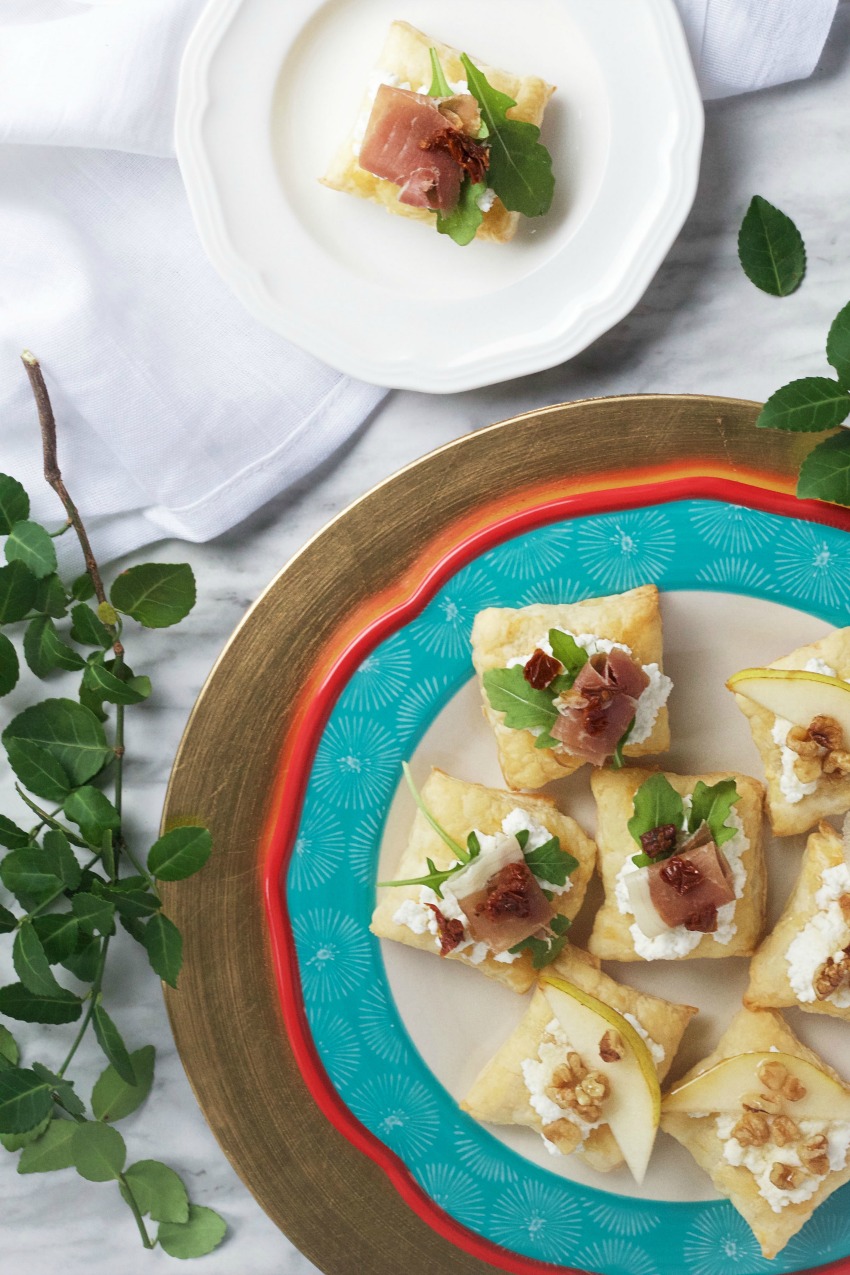 Walmart makes shopping for your holiday needs as easy as pie, offering the convenience of picking up gifts (the toy section is amazing!) and groceries at one location. I'm all about saving time so I can spend as much of it as I can with my family during this special and magical season.
From our family to yours, happy holidays!
---
This post is sponsored by Walmart Canada as part of the Walmart Canada Amazing Apps program. In exchange for this post, I have received perks in the form of products and/or compensation. All opinions on this blog are my own.
Latest posts by Emily Smith
(see all)