Wholesome Bacon and Egg Bread Baskets Made with Natural Ingredients
This is a sponsored post written by me on behalf of Maple Leaf Foods. All opinions are 100% mine.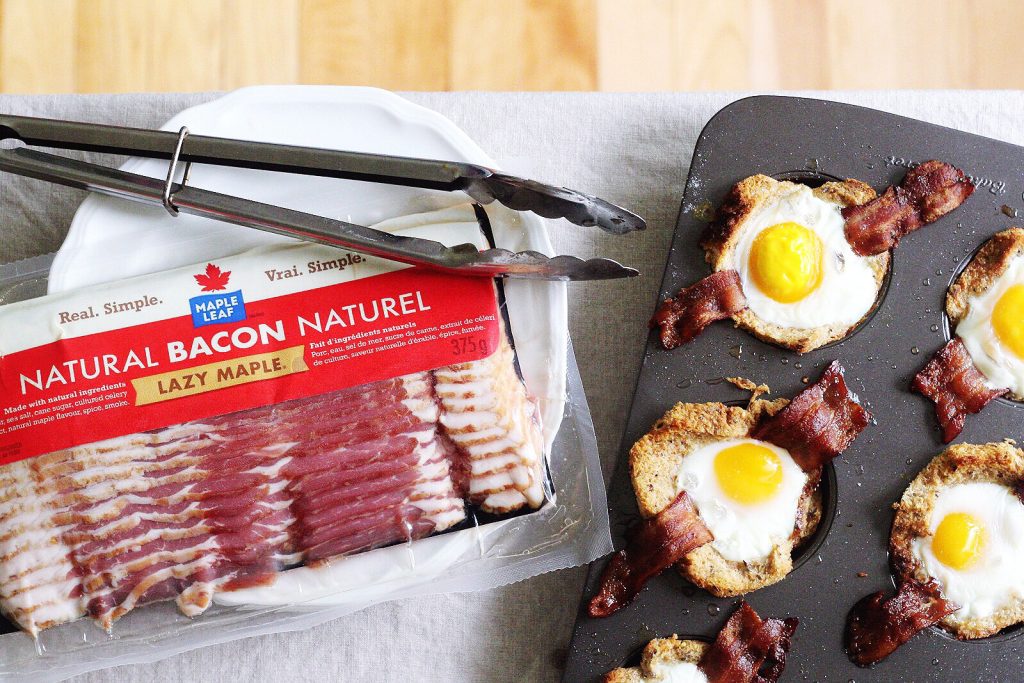 Packaged Doesn't Always Mean Artificial
When we think about 'quick and easy' foods, processed products made with unhealthy, artificial ingredients might come to mind. The message we often hear from nutrition and parenting platforms, when it comes to nutritious eating, is to avoid packaged foods and anything that is fast to cook. As much as I can appreciate that logic, I do think there are exceptions and I actually think the belief that healthy meals are more difficult and time-consuming to prepare is, in fact, one of the very deterrents people have that prevent them from attempting to make them. How often have we seen in lifestyle shows where a person is bettering their lifestyle habits and says, "I can't believe how easy it is to make healthy food." There's an assumption that quick and easy equates unhealthy and that's not categorically true.
There are tons of healthy recipes that are incredibly simple, delicious, and don't demand you to be in the kitchen for hours. For example, let's take these scrumptious and wholesome Bacon and Egg Bread Baskets I'm sharing with you today. They're made with natural ingredients, including bacon from a package! But here's why I'm okay with that – because it's Maple Leaf Foods Natural Bacon (Lazy Maple) and the ingredients are as follows: pork, water, sea salt, cane sugar, cultured celery extract, natural maple flavour, spice, smoke. That's it. Only the good stuff.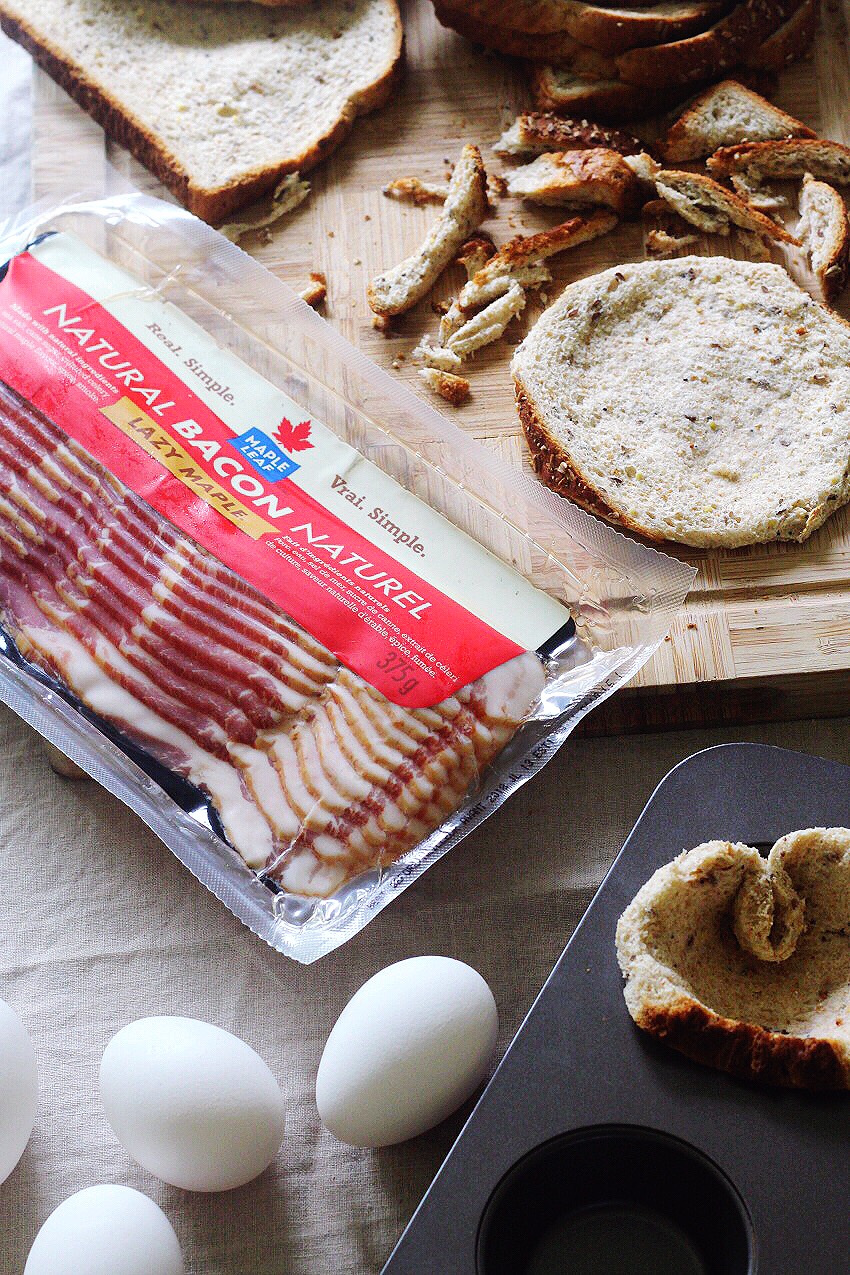 You Can Make Quick and Easy Healthy Meals at Home
Before I continue with my recipe and the positive changes Maple Leaf Foods has made to their products recently, let's talk about convenience for a second. Some might say, it's more convenient to go through a drive-thru to pick up a similar breakfast, but I would beg to differ. On the rare occasion I've attempted this, I've been stuck waiting for at least 20 minutes in the lineup for our breakfast. That's 20 minutes, not including putting my kids in the car and driving time, I could have been at home whipping up a fresh, wholesome, homemade breakfast – which doesn't include nitrites and other unnecessary additives. I get that fast food and drive-thrus can be an option for on-the-go, but when it comes to getting a meal on the table quicker, it's not always the case!
You can have scrumptious, nutritious, and convenient meals cooked at home when you use quality ingredients and roll up your sleeves in the kitchen! And there's no doubt that's what more and more families are doing and desire to do.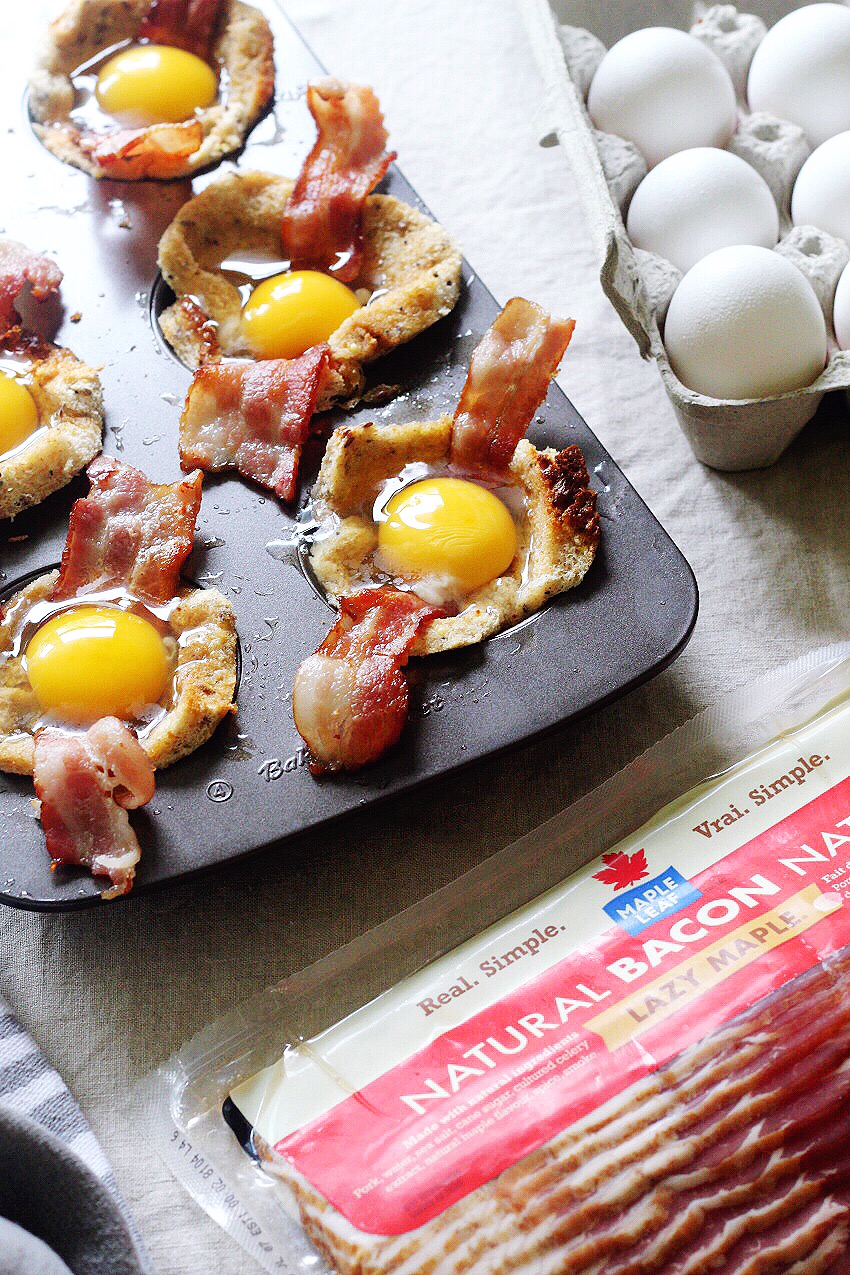 What Maple Leaf Foods New Food Manifesto Means for Your Family
At a recent media event in Toronto, I had the opportunity to tour Maple Leaf Foods headquarters and meet with President and CEO of Maple Leaf Foods, Michael McCain. He shared with us that over the past years consumers are changing their eating habits and looking for ways to eat healthier. As a result, consumer feedback to Maple Leaf Foods has included the request to have only real and natural ingredients in their products, so Canadian families can feel good about what they are eating.
Maple Leaf Foods has made a promise to its consumers, through their new Food Manifesto, to make real food from simple ingredients (that you can pronounce) and to not use artificial preservatives, artificial flavours, artificial colours, artificial sweeteners, or animal by-products. The proof is in their new natural product line, featuring real, simple ingredients.
As a mom who is always looking for ways to feed her kids high-quality protein to help them grow and be strong and healthy, this is the kind of thing that makes me happy to know. Whether I'm buying a pack of hot dogs or a holiday ham from Maple Leaf Foods, knowing only natural ingredients are being used takes away any hesitation that I'm not feeding my family the best, premium meats.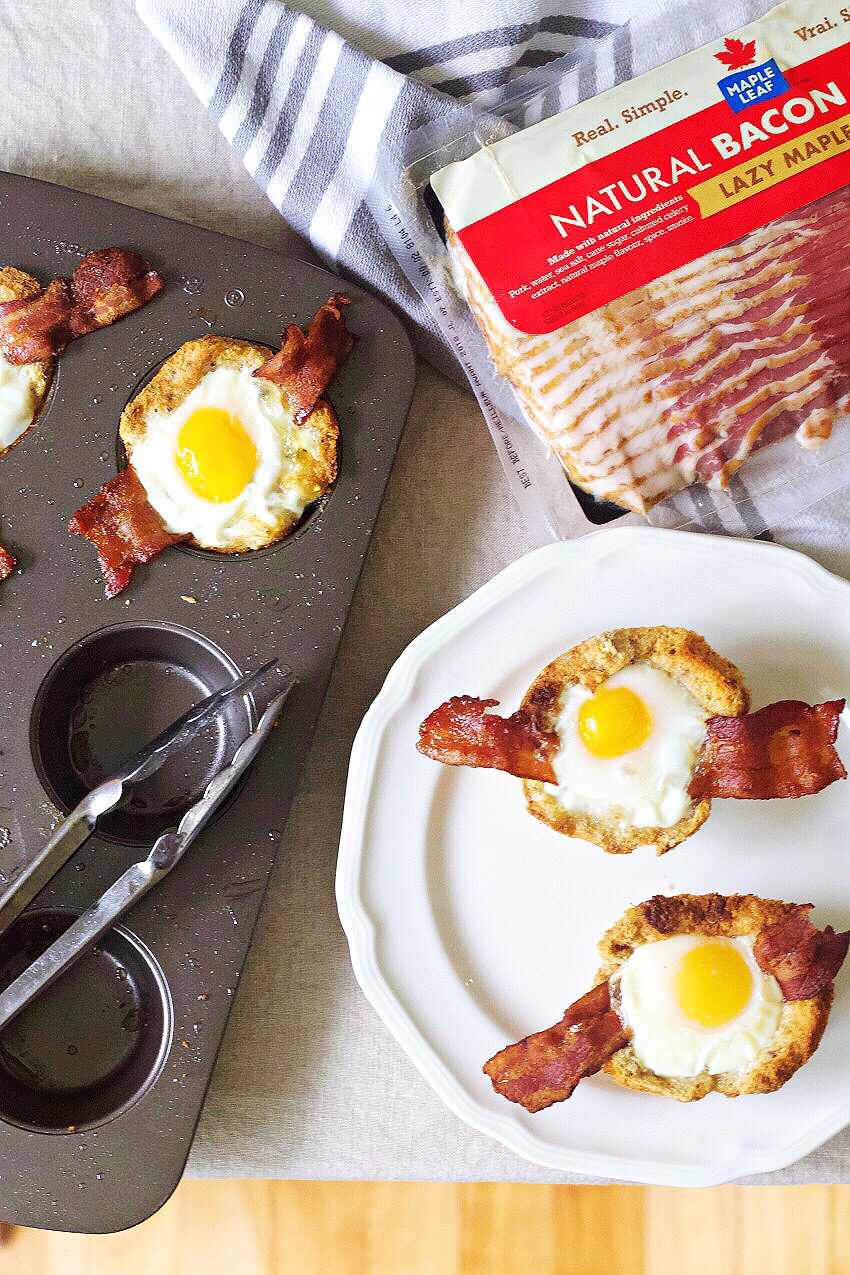 Now, let's circle back on this amazingly yummy breakfast recipe you can make with your family. First off, I have to tell you how delicious Maple Leaf Foods Natural Bacon is. All varieties serve up major flavour and quality, you can just taste it – not to mention, it cooks beautifully. For this recipe, I chose their Lazy Maple variety, which adds a subtle sweetness to the bacon and egg baskets which your kids are sure to love (and the grown-ups too of course!).
Here's the recipe for your enjoyment friends, if you love breakfast as much as my family does I have no doubt this meal will become a new favourite.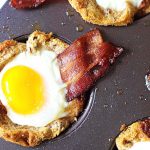 Wholesome Bacon and Egg Bread Baskets
---
Author:

Total Time:

30

Yield:

6

1

x
Description
These personal-sized bacon and egg bread baskets are one of the best ways to enjoy a fun twist on a traditional breakfast.
---
4 tablespoons

unsalted butter, melted

7

slices soft whole grain bread

6

slices Maple Leaf Foods Natural Bacon (I used "Lazy Maple")

6

large eggs
Salt and pepper to taste
---
Instructions
Preheat oven to 375 F.
Grease muffin cups and set aside.
In a large skillet, cook bacon over medium heat, until nearly crips (about 2 minutes on each side). While it's cooking, work on the bread baskets and keep an eye on it.
Using your hands (or a rolling pin), press down on the bread to flatten it. Cut around the edges to form a circle (you can use a small bowl or cookie cutter to help form the large circles, about 4-5 inches)
Press the circles into the muffin cups, to make a basket. If the bottoms break on any of your baskets, use the extra bread to fill in the holes.
Press the top sides down around the edge of the muffin cups.
Brush the bread baskets with remaining melted butter.
Place a bacon slice in each bread cup and crack an egg over each. Season to taste with salt and pepper.
Bake until egg whites are just set, about 20 to 25 minutes.
Use a knife to loosen up the baskets and release them from the muffin cups. You can pick them up using large tongs. Serve and enjoy!
Pin this recipe!

Latest posts by Emily Smith
(see all)