Young Athletes Dream Big at Scotiabank Girls HockeyFest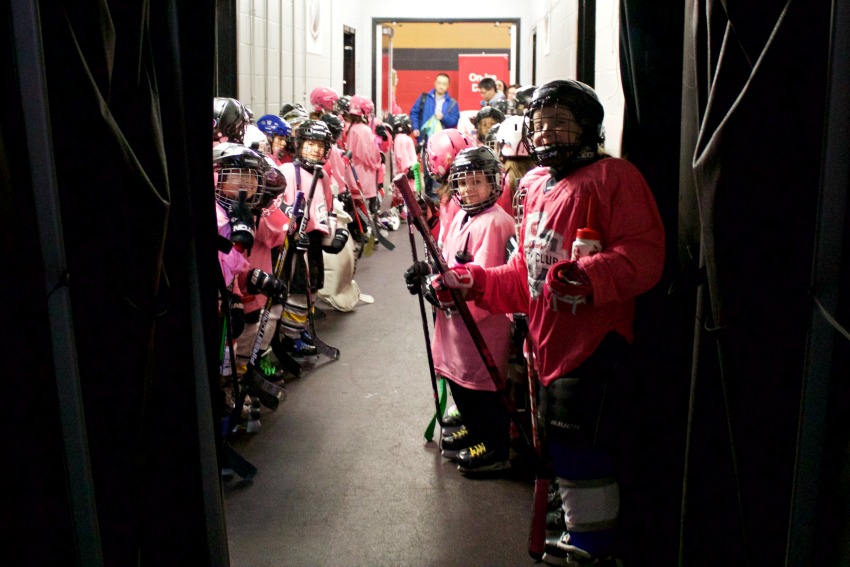 Yesterday morning, young female athletes from around the greater Ottawa area arrived in droves to the Canadian Tire Centre to participate in Scotiabank Girls HockeyFest. Over 250 girls gathered for an exciting all-day on and off-ice training series. The girls were warmly welcomed and gifted Scotiabank Hockey Club jerseys and packsacks – filled with a water bottle, hockey puck, and a toque. Soon there was a sea of pink, white, and red jerseys with red hats bobbing from one end of the arena to the other. Their excitement and enthusiasm was palpable!
Scotiabank Girls HockeyFest is an incredible cost-free event designed for girls between the ages of 7-12 across Canada with the purpose of inspiring them to dream big, while offering encouragement and motivation to support them reaching their full potential. The series of workshops included on and off ice training with Olympian and World Champion, Cassie Campbell-Pascall, and members of the University of Ottawa Geegees and the Carleton Ravens Women's Hockey Teams. Along with plenty of physical activities and drills, the attendees also participated in an interactive nutrition session from the Ottawa Senators Strength and Condition coach, who highlighted the benefits of proper hydration, nutrition, and rest – among other things. During a healthy lunch break, the girls listened to a motivational key note presentation by Cassie Campbell-Pascall on the importance of teamwork, confidence building, and giving back to the community.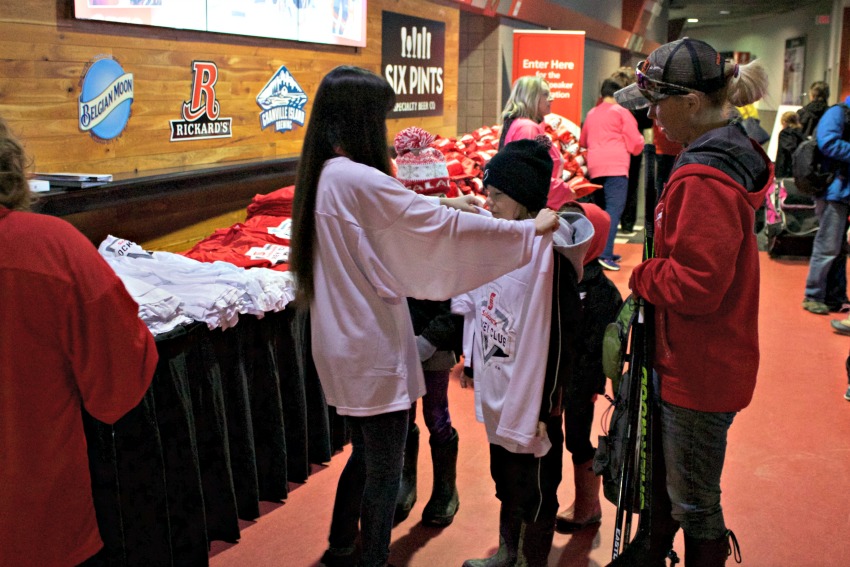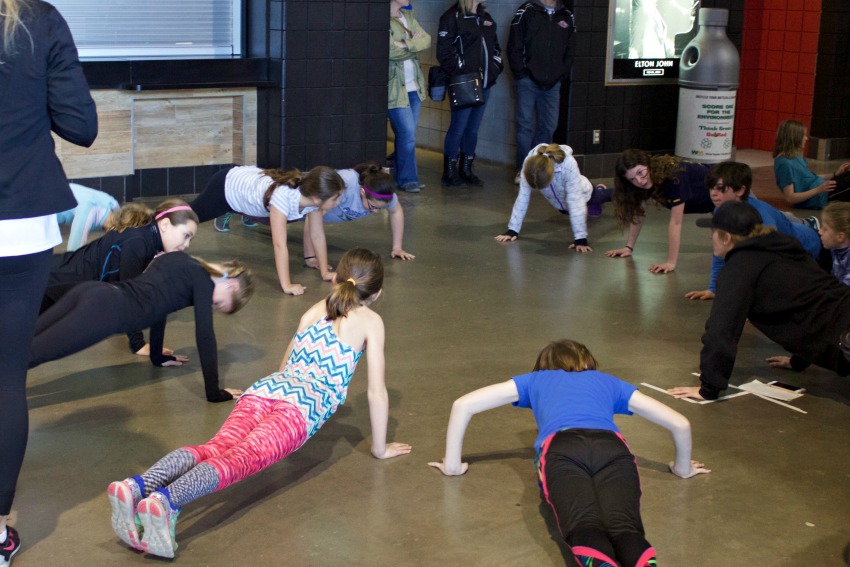 In a one-on-one conversation with Cassie Campbell-Pascall, she shared with me how valuable an experience such as the Scotiabank Girls HockeyFest is to so many, and what a terrific opportunity it is to engage with this community of young athletes. "For some girls, it's actually their first time playing hockey as they usually play ringette. This is so exciting to get to expose them to the sport and encourage them to pursue it. Ringette is great, and so is hockey!" she said. I asked Cassie how she hoped to inspire the girls during the event and she replied, "It is them who are inspiring me! Looking around at all of them, it's incredible. When I was in grade school, there was maybe one girl who was playing hockey, and now we are seeing so many. It's wonderful."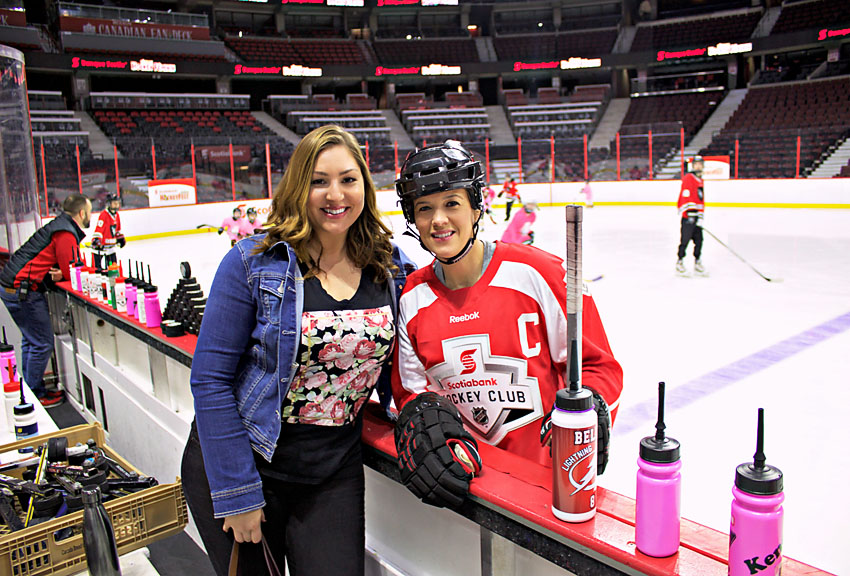 For us parents who haven't yet put their daughters in hockey, or any team sport really, I invited Cassie to share a few words of advice and encouragement. She suggests starting with small steps, exploring community sports, meeting with other parents who are already in a league, and ultimately getting involved as little or as much as you and your child wants. There's no doubt, Cassie is fully supportive and encouraging of getting girls involved with hockey for so many reasons, among them – the amazing skills and opportunities hockey leads to.
Scotiabank Girls HockeyFest is an incredible opportunity to bring together young female hockey players to improve their skills, build their confidence and celebrate Canada's game," said Cassie Campbell Pascall. "I know first-hand how valuable it is to receive support from the hockey community as a young athlete. The support I received helped me get to where I am today, and I'm thrilled to be able to give back through Scotiabank Girls HockeyFest–and to celebrate Canada's game with these girls who share my love for the game."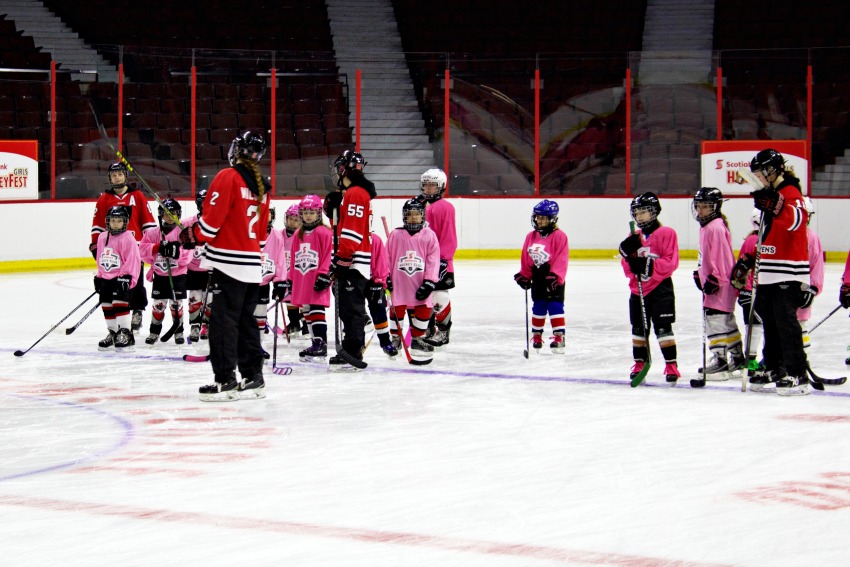 It was truly incredible to watch these young girls bring such energy, discipline, and skill to the day. They definitely rocked the ice! There's no doubt, the 13th annual Scotiabank Girls HockeyFest in Ottawa was an all around inspirational event, and left hundreds of future hockey stars motivated to go after their big dreams!
Through the Scotiabank Community hockey Sponsorship Program, Scotiabank is proudly supporting over 8,000 community hockey teams across Canada. To learn more about Scotiabank Girls HockeyFest and Scotiabank's commitment to youth community hockey, visit www.scotiabankgirlshockeyfest.com
---
This piece is in partnership with Scotiabank Girls HockeyFest. As always, all opinions are personal.
Latest posts by Emily Smith
(see all)