10 Products That will Help Save Your Skin From Winter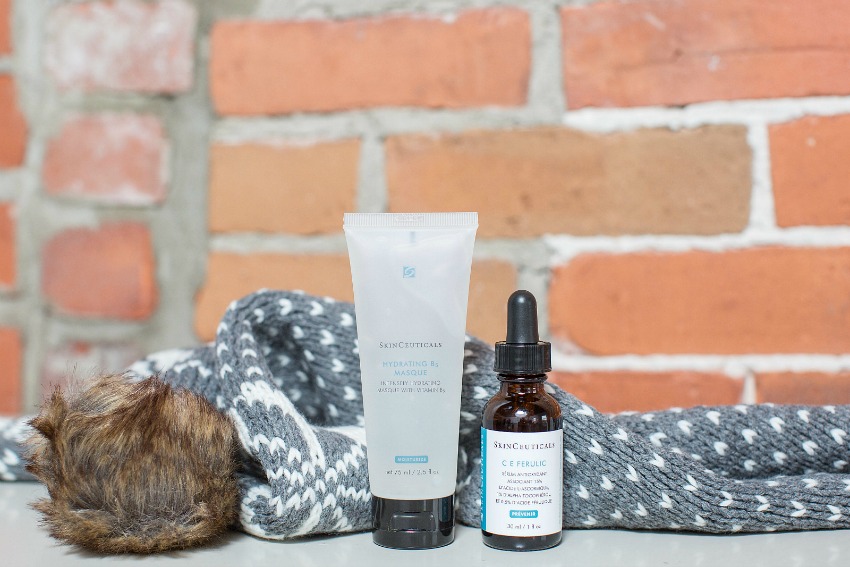 With three more months of winter ahead of us, taking care of our skin the winter way is crucial. It requires different focus and products than other seasons, as we defend against the extreme cold, harsh winds, and dry indoor heat we're presently up against. Equipping yourself with trust-worthy skin care products that will help save your skin from the elements is key! You want a winter skin care regime that will work for you, not against you, and keep your skin glowing and hydrated all winter long. Below is a list of 10 products I'm currently using that are working for me. I'm sharing with you what the product is intended for and my present day review of it. As I write this, even after a night of zero sleep (thanks to a sinus headache and my little girl who was awake a few times in the night), I find my skin is looking fresh and healthy thanks to my routine:
1 // SkinCeuticals C E Ferulic
($170.00 CAD, available at dermatologists offices and medi-spas nationally, as well as SkinCeuticals.ca)
The scoop: C E Ferulic features a synergistic antioxidant combination of 15% pure vitamin C (L-ascorbic acid), 1% vitamin E (alpha tocopherol), and 0.5% ferulic acid to enhance protection against atmospheric aging – environmental damage and premature signs of aging caused by free radicals from UVA/UVB, infrared radiation (IRA), and ozone pollution (O3). In addition to antioxidant benefits, C E Ferulic improves the appearance of lines and wrinkles, and the loss of firmness, while brightening skin's complexion.
Provides advanced environmental protection by neutralizing damaging free radicals
Visible anti-aging benefits, such as the improvement of the appearance of lines and wrinkles, loss of firmness, and brightens skin's complexion
Once absorbed, this vitamin C serum remains effective for a minimum of 72 hours
Paraben-free
Ideal for normal and dry skin types
Tested suitable for use post-laser, always consult with a physician for individual post-procedure care
My review: I've been using this product for 4 weeks. I apply it in the morning, after washing my face and applying a toner. It has a little bit of a strange smell, however once absorbed into the skin, I apply a daily moisturizer and the smell fades away. What I like about the product is how quickly it absorbs – it feels like my skin just drinks it up. I've been mostly applying it on my cheeks and forehead, considering the other parts of my face are quite oily. I have noticed that the very fine lines on my cheeks (just under the apple of my cheek) are minimized and I wonder if it's this product, or a combination of using Clarisonic Smart Profile Uplight and then applying this serum. Either way, I feel the benefits of using SkinCeuticals C E Ferulic are long term and preventative. With the harsh elements of the winter in effect, a daily dose of antioxidants, vitamin C, and vitamin E for your skin is a great way to protect it from environmental damage.
2 // SkinCeuticals Hydrating B5 Masque
($68.00 CAD, available at dermatologists offices and medi-spas nationally, as well as SkinCeuticals.ca)
The scoop: Enhanced with a unique complex containing constituents of the skin's natural moisturizing factor (NMF), this weekly hydration treatment re-establishes the water balance critical for maintaining skin metabolic functions at optimal levels.
Contains high concentrations of hyaluronic acid and vitamin B5
Optimizes moisture infusion in targeted areas
Leaves skin supple and smooth
Ideal for all skin types
My review: I am really loving this weekly moisturizing mask. It feels so soothing on the skin and really leaves skin feeling hydrated and refreshed come morning time. Once a week, I apply a generous layer at night, my skin absorbs in while I sleep and in the morning I use my usual cleanser, toner, serum, and moisturizer. It's a wonderful product to boost hydration, which is crucial during the dry winter months, where you're skin faces brutally cold temperatures outside and high heat indoors (office and malls can be the worst!).
3 // Khiehl's Midnight Recovery Concentrate
($82.00 CAD, available at khiels.ca)
The scoop: A night time oil that visibly restores the appearance of skin by morning. Regenerates, repairs, and replenishes skin for smoother, healthier skin. Works with the skin's natural nocturnal activity – when skin is most receptive to repairing itself from daily aggressors – to dramatically restore skin. 99.8% naturally-derived and paraben-free oil for face.
My review: This is an oil for your face. If you haven't yet tried applying beauty oils to your skin, this might be the winter to give it a shot. I admit, I was skeptical about the whole oil on your face thing – because for years, it was about deep cleaning to get rid of ALL oil. Well, turns out, some oils are good and help keep a healthy barrier for your skin – which in fact, pushes away dirt and bacteria. I have been using this concentrate every other night for over 6 weeks, and the bottle is still 3/4 full. I target apply it on my cheeks, jaw, forehead and neck. When they say "visibly restores the appearance of skin by morning" – they're not kidding. I always notice the glow on my forehead and cheeks when I wake up, which is in part to the oil itself on my skin (my skin absorbs what it needs and the rest gets washed off in the morning), but it does appear rosier! It should be noted, the smell of this oil is a touch floral, as it includes Evening Primrose and Lavender, however I don't find it overpowering or irritating as I have with other botanical products.
4 // Clarisonic SMART PROFLE UPLIFT
($429.00 CAD, available at clarisonic.ca)
The scoop: 2-in-1 cleansing & micro-firming face massage device. Use Uplift to address 15 signs of aging on face, neck and décolleté. Smart Profile Uplift delivers skin changing sonic cleansing plus next-level micro-firming massage. Pop on the Firming Massage Head for an instant face massage and visible, cumulative results.
My review: I've just begun using this product and I love it! I'm already a fan of cleansing brushes, and this one definitely delivers. The added bonus for me is the micro-firming massage. It feels SO good and my face and skin look refreshed and plump after I use it. First, I use the cleansing brush for around a minute and a half. Then I use the firming massage head for three minutes. Here's where you can actually apply your serum, oils, and creams and massage them deep into your skin for better results. After each use (especially when using product), I wash the massage head with warm soapy water, rinse with clean water, and pat it dry so it's ready for next use. There's no doubt this product is an investment, however if you're someone who enjoys facials and the benefit of facials, as I do, there's a good chance you will really love this product and get a lot of use and results from it.
According to this article in Marie Claire, "There's a reason your skin looks so good post-facial: The massage. An hour of careful facial massage will work wonders on ageing or tired skin, from lifting and firming to calming and soothing. But you don't need to head to a professional every time you want to reap the benefits of an hour-long treatment. There are tricks and tips you can use at home to see the same results…Your facial muscles are actually arranged diagonally in line with your cheekbones, so long, diagonal strokes upwards will engage with them and tighten up skin.."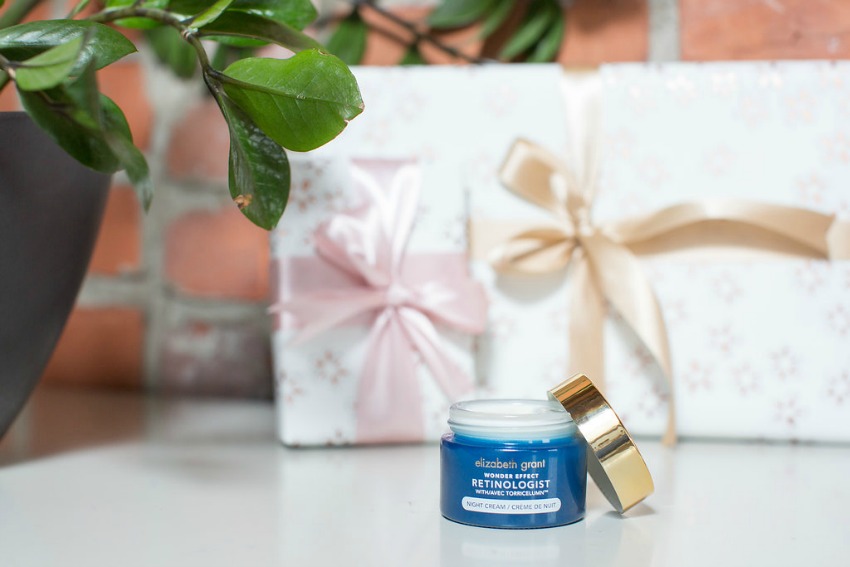 5 // Elizabeth Grant's Wonder Effects Retinologist Night Cream
($70.00 CAD, available at ElizabethGrant.com)
The scoop: This Retinologist collection from Elizabeth Grant includes Retinologist Day Cream, Retinologist Night Cream, Retinologist Eye Cream and Retinologist Refining Serum which all work together to help smooth and soften the skin, boost collagen production and increase skin elasticity while helping to reduce the appearance of wrinkles. Elizabeth Grant's brand new Retinologist uses Synchronized Retinoid Complex-10, also known as SRC-10 Technology, which contains five forms of retinol, five pro-retinol precursors with an innovative Torricelumn™ combination that will help to deliver active retinol to skin cells, revitalizing cell metabolism and creating a healthy, youthful glow.
My review: This goes on like your traditional night cream, it's a bit creamier and thicker than a day cream yet not too rich. The immediate feeling is moisturized skin, the long term benefits are healthy hydration and boosting skin elasticity. I've been alternating between my night oil and EG's night cream. It has a natural, barely-there scent, absorbs nicely into the skin, but it does leave a skin creamy as it soaks in, which is why it's great for bedtime. I have found that with this extreme cold we're experiencing in Ottawa, and the heat being on high in our home, this cream has helped protect my skin at night and replenish it's moisture levels on a deep level – not to mention all the other advanced work it's doing with the retinol – like increasing elasticity. I feel like this product offers long term benefits with continued use, which is exactly what I want in a night cream.
6 // BIOTHERM BIOSOURCE Foaming Cream
($25.00 CAD, available at biotherm.ca)
The scoop: Biotherm biologists create BIOSOURCE Hydra-mineral cleanser toning mousse. Containing zinc, the foam cleanses the skin without drying skin out. Results: the skin is cleansed and looks healthier.
My review: When I see foam cream, I get a bit nervous because I don't want anything too rich going on my skin and clogging my pores. Well, you needn't worry with this cream cleanser, not only does it feel really soothing as you wash your face, it cleanses without drying. I need a deep cleanser to keep my oily spots in check, without drying out the rest of my face. Classic combination skin! I've been using this product for about 3 weeks and I find it's doing a fantastic job at keeping my skin healthy and dewy clean – no overdrawing here.
7 // BIOTHERM BIOSOURCE Toner
($25.00 CAD, available at biotherm.ca)
The scoop: Toning the skin is one of the most important steps of your daily skin care routine. This refreshing toner reaches the deep dirt that cleansers cannot. More than a simple toner, it works as an exfoliant, ridding your skin of impurities and dead cells, revealing its natural radiance. Tones and leaves skin feeling clean and fresh.
8 // BIOTHERM AQUASOURCE gel
($50.00 CAD, available at biotherm.ca)
The scoop: NEW AQUASOURCE WITH THERMAL PLANKTON CELLULAR WATER Our latest breakthrough, Biotherm's next generation Aquasource formulation, delivers intense and long-lasting hydration. For plump and radiant looking skin NEW FORMULA With Mannose, a new patented hydrator 36 nutrients in thermal plankton cellular water Vitamins, minerals, amino acids. Discover the innovative gel texture of new Aquasource. Now paraben free and mineral oil free. A fresh and creamy touch that melts on the skin to help awaken the senses every day.
The review: This hydrating gel has always been great for me. I don't use it everyday, probably every three days in the morning after cleansing, toning, applying serum and then I put it on. It's refreshing and gives my skin an immediate healthy glow. It's really nice to wear under my BB cream (which has SPF), as it offers a smooth base that's easy to apply makeup on top of. I also love just using a small amount throughout the day, when I'm feeling the indoor heat is getting to my skin, it's a terrific boost and makes me feel rejuvenated.
9 // BIOTHERM AQUASOURCE Total Eye Revitalizer
($42.00 CAD, available at biotherm.ca)
The scoop: Fast eye refreshmen. -2°C after only 2 minutes Biotherm's first flash gaze awakener gives your eyes a revitalized look. Formulated with all the hydration agents of Aquasource and containing a specific combination of cooling, de-puffing, lightening and blurrung complex, Aquasource Eye Revitalizer provides a fast cooling effect and a fresh eyes sensation. Bags look visibly depuffed, dark circles appear reduced, dehydration lines seem smoothed, eye contour hydrated all day long. Apply to eye contour morning and evening.
My review: This eye revitalizer definitely has an awakening effect! From the cool feeling on your skin, to the almost instantaneous de-puffing effect, it really does deliver. After you've washed your face in the morning, apply a little touch of BIOTHERM AQUASOURCE Total Eye Revitalizer to clear away the sleepiness and brighten your eye area.
10 // AVÈNE Thermal Spring Water
($21.95, available at beautyboutique.ca)
The scoop: Avène Thermal Spring Water is captured directly at its source and bottled in a sterile environment, ensuring that all its soothing and softening properties are preserved.
Your skin will feel wrapped in soothing softness. All the gentle purity of Avène Thermal Spring Water provides long-lasting protection.
My review: This product is a lifesaver if you do encounter painful dryness, itchiness, and sensitivity brought on by the harsh winter weather. Even if I don't have any visible dryness on my skin or irritation, some days I can just tell it's too sensitive to apply any product. A few sprays of AVÈNE Thermal Spring Water makes a huge difference, hydrating and soothing my skin. I also like to use it throughout the day for a gentle spritz of moisture and protection, especially before going outdoors. I've used this spray for years and have always loved how it balances and refreshes my skin. It's great for post-workouts too!
---
There you have it, some of my favourite products to use in 2018 to save your skin from the dry, harshness of wintertime. My list wouldn't be complete without one further recommendation, which is water! Hydrating from within is just as important as what you put on your skin from the outside. Your skin will be more receptive of products and you'll see better results if you make sure to get enough water throughout the day – and a diet rich in fruits, vegetables and healthy fats (like nuts) doesn't hurt either!
Have you tried any of the skin care products I've share with you here today? Do you have any to add to the list?
---
The Best of this Life received product samples of some of the products mentioned, for review purposes. As always, all opinions are honest and personal. Thank you for supporting my efforts to bring you new and exciting content. xx, E.
Latest posts by Emily Smith
(see all)