28 Things to Do in February
It's a new month full of possibility! If you're looking for ideas of things you can do in February, I'm sharing some in today's post. From self-care, continuing education, and family activities to celebrating themed days, baking, and getting creative – there's lots you can do to make the most of the month ahead.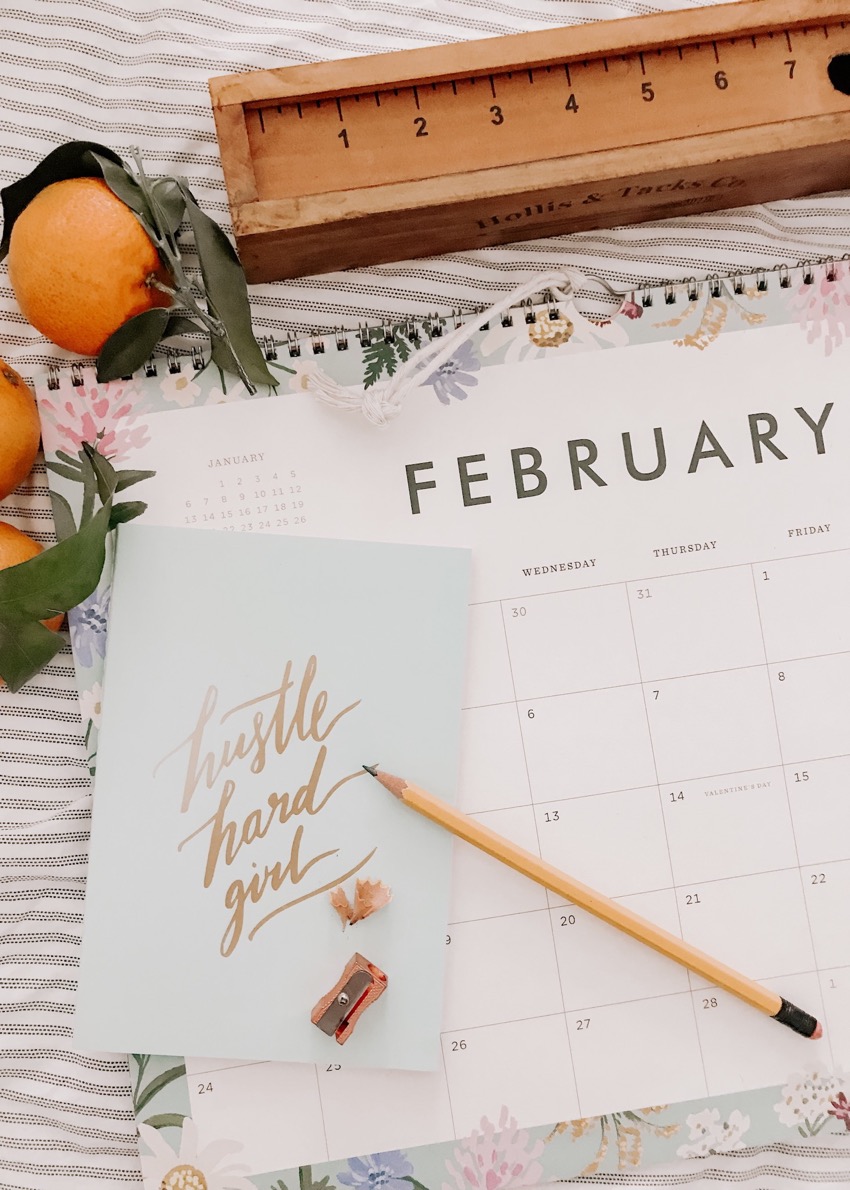 Here Are 28 Things You Can Do in February:
1. Countdown to Valentine's Day with 14 heartfelt love notes to your partner or kids: write them on small hearts and put them in a jar so they can read one each day.
2. Read a romance novel: visit your local library to discover or pick up a favourite book for this month. Some titles you might enjoy are Pride and Prejudice, The Notebook, The Time Traveler's Wife, and To All The Boys I've Loved Before.
3. Start a knitting project: whether you already know how to knit or have always wanted to learn, pick up some needles and wool and create something cozy.
4.
Celebrate Black History month:
try a few traditional soul food recipes, read a book about Black History (
9 Black History Month Books to Read
), learn more about some of the great African American inventors such as Dr. Patricia Bath, George Washington Carver, and Benjamin Banneker.
5. Make a treat with Nutella: February 5th is World Nutella Day, so why not whip up a special dessert featuring the delicious chocolate hazelnut spread.
6. Take a winter trip: whether you go solo, with a friend, or your family – a winter adventure near or far is a fun way to get out and enjoy the best this season has to offer. You can plan a ski trip, a weekend getaway to a cabin, or find some local winter attractions.
7.
Create some DIY Valentine's Day decor:
make your own heart wreath, a pink and white banner, personalized valentines, or a
Valentine's Day heart tree
. A quick Pinterest search will get your creative engine started.
8.
Have a home spa afternoon:
pick up some of your favourite beauty treatments from the store or
make some of your own at home
and treat yourself to a spa date at home.
9.
Make a pizza:
February 9th is National Pizza Day, the perfect day for
making pizza dough
from scratch (it is easy as pie)! Get the whole family involved and whip up some homemade pizza to celebrate pizza day.
10. Go on a nature walk: bundle up and head outside to the nearest nature trail to take in the snowy scenery and peaceful sounds.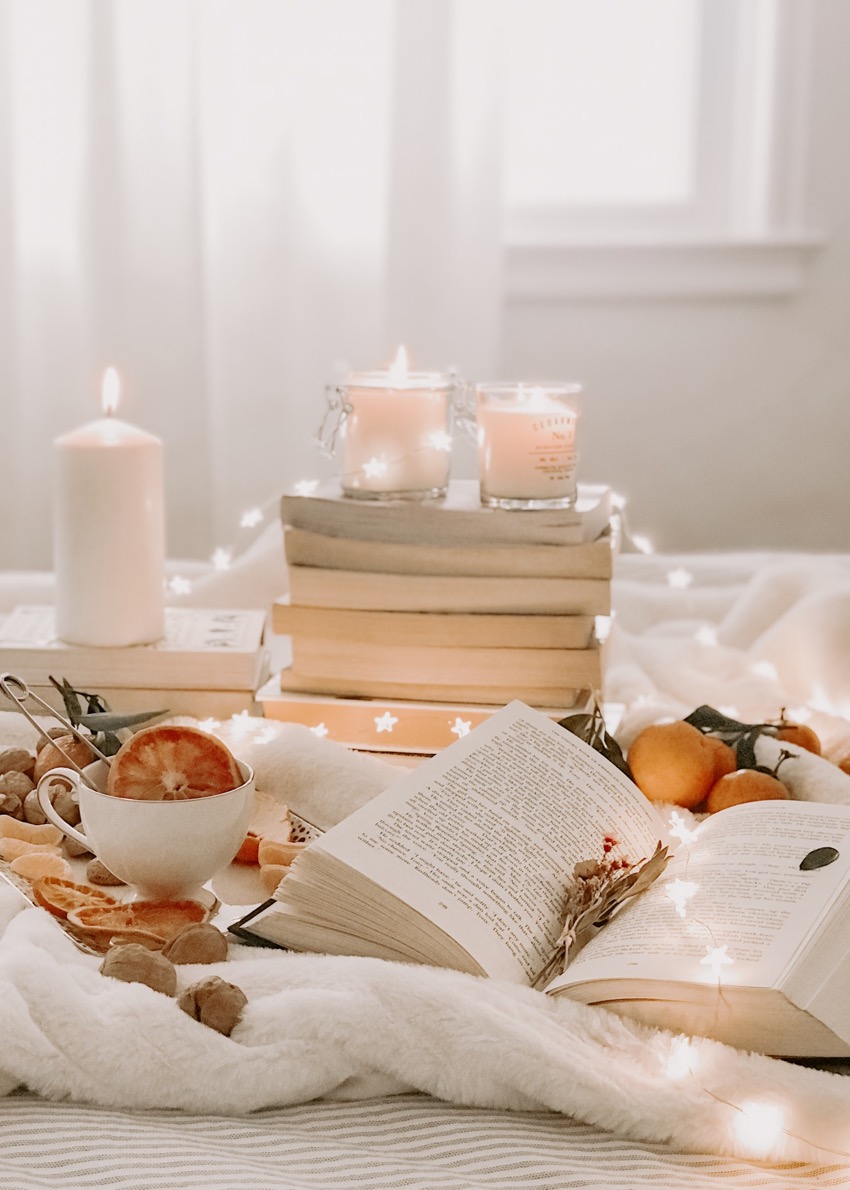 Try a new seasonal recipe, watch a romantic movie, celebrate Valentine's Day!
11. Visit a new coffee shop: heard of a new coffee shop in your area? Why not check it out! You might just discover your new favourite spot.
13. Watch a romantic movie: Valentine's Day is just around the corner, get in the mood with a classic (or new!) romantic film. Some movies you might enjoy are Notting Hill, You've Got Mail, Bridget Jones's Diary, and The Proposal.
14. Celebrate Valentine's Day: there are so many different ways to celebrate this day, from a romantic date to a girls night in. Treat your significant other, your children, or yourself with something special. Homemade desserts, thoughtful gifts, and sweet notes are some of the ways that come to mind!
15. Get a head start on spring cleaning: pick a space in your home and begin the process of decluttering. For organization tips, check out Pinterest or Marie Kondo's book called "Spark Joy". You can also find inspiration from her Netflix show, "Tidying Up with Marie Kondo".
16.
Carve out time to relax:
the winter months can be tough on the body, especially if you live in a colder climate where the frigid temperatures can leave you feeling tense and the lack of sun can make you feel blue. It's important to
make time to relax
– enjoy hot cups of tea, light candles, read books, and watch movies in bed.
17. Do something kind for someone: February 17th is National Random Acts of Kindness Day. Let someone go ahead of you in a line, bake cookies for the office or a friend, thank a teacher with a gift, send a letter to a friend or family member. There are lots of ways to spread kindness all around!
18.
Bake your family their favourite dessert(s):
everyone's got a favourite, surprise them with it. Need inspiration? Check out my
recipe index
.
19. Take a sunny vacation: if you have some time off coming up and can make it happen, a trip to a warm destination is always a fun adventure.
20. Spoil your pet: February 20th is National Love Your Pet Day, so give them some extra love and attention, I'm sure neither of you will mind.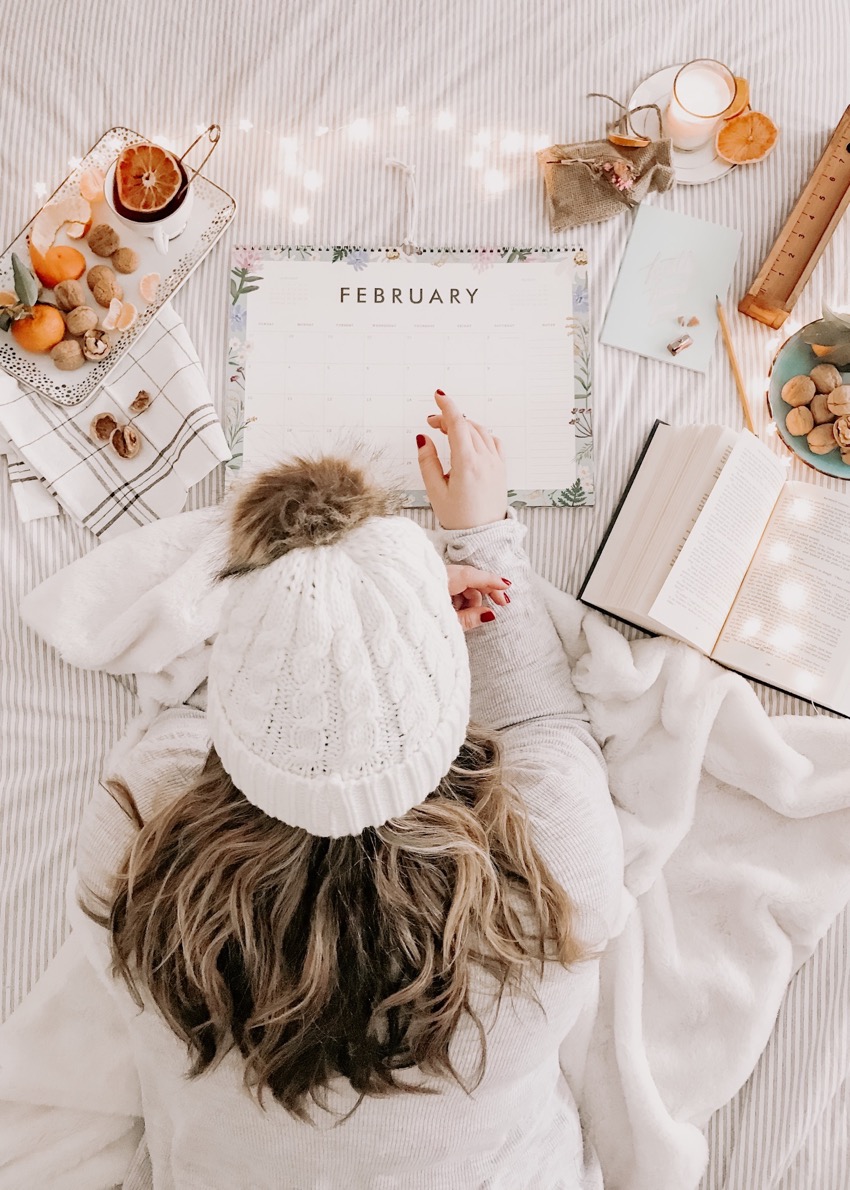 Donate gently used clothing, make a Pistachio cake, write a gratitude list…
21. Tackle a few things on your to-do list: we all keep a running to-do list, take a day to knock some of the items off, then sit back and relish in your accomplishment.
22. Try a new fitness class: check your gym's schedule or search online for classes in your area and give a different activity a go.
23. Donate gently used clothing: go through your closet and choose items that are gently worn that you no longer wear and donate them to a local thrift store.
24. Do something creative: try your hand at painting or pottery! There are lots of online tutorials (YouTube), or local beginner's classes you can attend.
25. Make a decadent hot chocolate: when you come in from shovelling the snow or an afternoon of ice skating, a rich mug of hot cocoa can feel like a dream. In a saucepan on low to medium heat, whisk 1 ½ cups of milk, ½ cup heavy cream, ½ teaspoon of espresso powder. Stir until heated (don't boil), remove from stove top and add in 6 ounces of chopped dark chocolate. Stir until combined, serve in two mugs and top with whipped cream or marshmallows. Enjoy!
26.
Make a Pistachio Brown Butter Cake:
February 26th is National Pistachio Day and no better time to whip up a sweet pistachio treat like
this simple and beautiful cake
.
27.
Write out 28 things you're grateful for:
make
a gratitude list
with all the things you're thankful for this month.
28. Treat yourself to something special: whether that's sleeping in an extra hour, getting a massage, taking a day off work, or a new top – take care of yourself in an extra special way.
February can sometimes be a challenging month as the winter drags on. However, by planning some simple and fun activities you can motivate yourself to make the most of it! I hope you found some of these ideas inspiring, whether you follow them as listed or use them as a kick-off point to write your own February bucket list. With that in mind, what would you add? Share your February plans in the comments, you never know who you'll inspire! And if you know a friend who would enjoy this post, be sure to send it their way.
PIN this list for easy reference!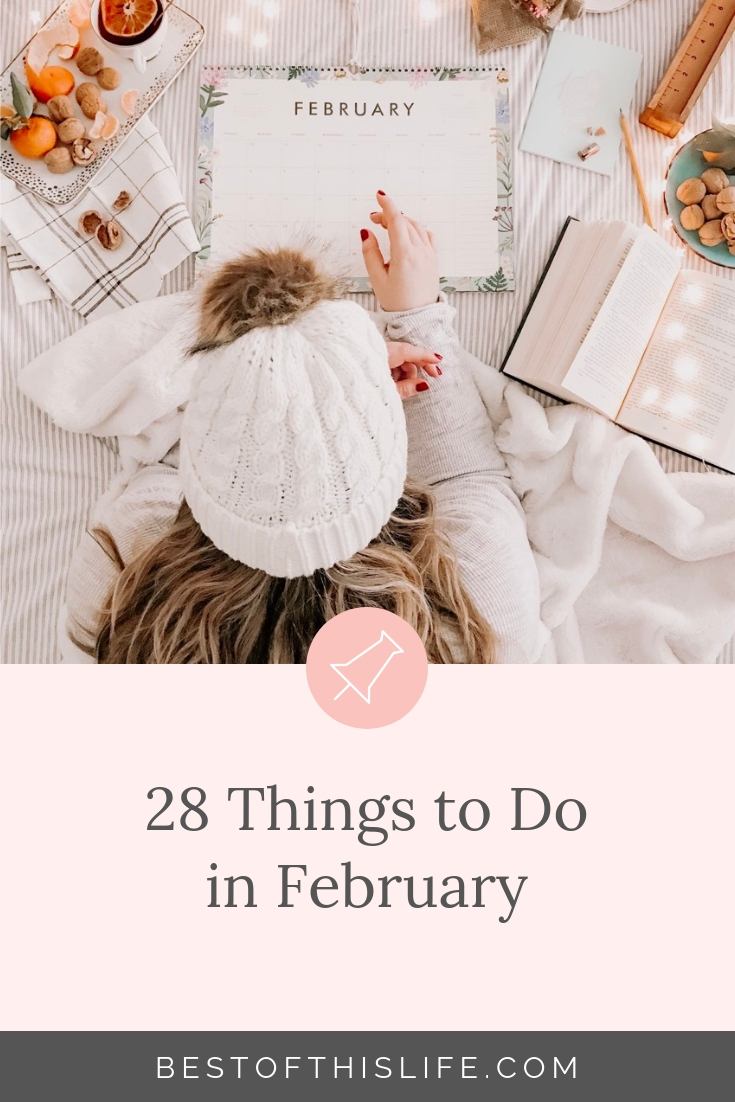 Latest posts by Emily Smith
(see all)