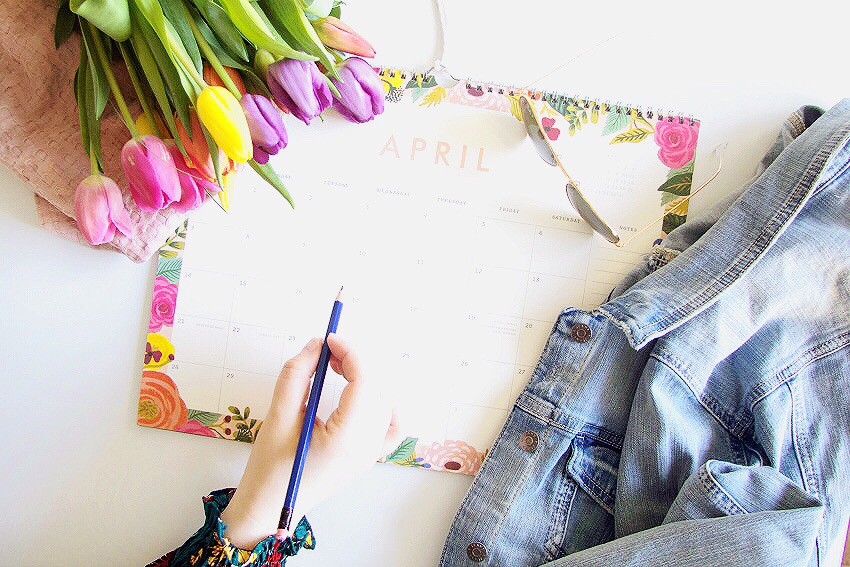 March went out like a lion this weekend with what I'm hoping was the last snowfall in Ottawa this winter. Even though that might be wishful thinking at this point. We often get a few more flurries in April, but let's stay optimistic together, ok?

Especially as it's the first full month of spring, I'm aspiring to make it a time of rejuvenation and springtime adventures.

As we do begin to see warmer days, I couldn't be happier. Winter's been nice and we made the most of it, but now is the time to throw those windows open, smell the flowers, and watch our part of the world become green again.

If you're looking for inspiration for making the most of April, below are 30 activities to help you get the ball rolling. I hope it's a great one for us all!
A Random List of Simple and Joyful April Activities:
Play a trick – kick this month off on a cheeky note, it begins with April Fool's Day. Somehow I always manage to pull one over on my husband!
Jump in some muddy puddles – there are so many times rushing the kids to school or heading to work we have to avoid splashing around, but when you plan for it getting wild in wet weather can be super fun.
Go for a bike ride – with the weather warming up, exploring your city or a local park with a bike ride can be medicine for the soul. Travelling around differently also allows you to gain a new perspective from everyday scenes you are used to.
Spring clean your home – you may have done this already, but if you've put it off, a good spring cleaning (or another one) can be just as good for your mental health as it is for the well being of your home.
Make a dessert with rhubarb – packed with tons of minerals and vitamin K, this plant is in season until June and is a great addition in a pie or crisp.
Listen to the rain – as the saying goes "April showers bring May flowers," and there is certainly a beautiful purpose to rain for our earth. Pausing everything and just listening to it can be very restoring.
Enjoy classical music – there have been a lot of benefits purported about listening to classical music, but for me, there is the gain of listening to a piece of music that is a little more complex and demands more engagement. By taking the time to sit back and listen to classical music for enjoyment (instead of having it in the background while doing another project) you interact with music in a more intimate way.
Add asparagus to the menu – these vegetables are in season in April; I love adding them as a side dish to my meals. You can enjoy them blanched with some olive oil and salt, in a Bibb salad with radishes, or roasted with almonds.
Design a garden – last month I suggested spending time planning your garden if you are going to grow vegetables, fruits, or flowers. Even though the planting season doesn't start in Ontario until next month it doesn't hurt to learn more about what things easily grow here (or in your environment), especially if this is a first time garden. The more research you can do beforehand will help give you the confidence needed to make your own beautifully unique space.
Make a friendship bracelet – if you've been thinking of trying your hand at craft-making, items like friendship bracelets are a great place to start, it might seem juvenile at first but crafts like these once completed bring a lot of delight, and it makes a fun gift too!
Try callisthenics – this type of exercise utilizes bodyweight movements, there are many exercises and hundreds of variations you can try, incorporating this type of workout into your weekly routine is a wonderful way to really jump into spring.
Go for a jog – walking is such a pleasurable experience, but taking it up a notch is a great way to burn off extra energy and clear your mind.
Try your hand at making a spring dessert – I like to change the way I eat seasonally, not only does this make for making sure my diet has variety but it's nice to switch things up. Desserts are no exception, and spring is perfect for fruit tarts or fresh, creamy puddings; making them yourself is all the more rewarding.
Create a personal stretching routine – stretching doesn't have to be an elaborate practice, it can be as simple as taking five minutes in the evening to do some basic poses, and in my experience, it helps with muscle soreness and increases injury prevention.
Try a paper craft – craft-making is a "more you put in the more you get out" sort of experience, but just doing crafts teaches you a lot of skill-sets that can be used in other areas of your life. Taking colourful paper and turning it into anything is such a creative and light-hearted thing to do this spring.
Sing – I love listening to music, and love to sing but you don't have a perfect voice or have much experience to enjoy the capacity to sing, and in my experience, it is great for your mental health and a fun way to express yourself. Remember, the sound of your voice is entirely unique.
Make a birdhouse – with spring here all of our friends outside are there isn't a better way to make your backyard a nice neighbourhood for them then putting out some seed in a handmade birdhouse, just watch out for those sneaky squirrels.
Blow some bubbles – this is a perfect activity with kids, but it's also fun for grown ups! Blowing bubbles is a childlike and joyful pastime. Before you know it you can get caught up in this simple play and let stress drift away.
Go for a picnic – picnics are perfect summer activities, but spring picnics are fun too and it's not as hot out so it may be more enjoyable!
Put away your winter clothes – hopefully by this time the weather will be nice enough that you won't need your bulky winter clothes and by storing them away carefully it may help keep them in better condition longer. This will also help create space for you in this new season.
Celebrate Easter – there are so many ways to enjoy this beautiful holiday and I hope you have a wonderful one!
Help clean up – April 22nd is Earth Day, and it's important to know that we share this world with many other creatures, a simple way to be involved is going around and cleaning up your neighbourhood.
Jump rope – did you jump rope as a kid? It is a wonderful way to move your body, get in a workout, and have fun.
Visit a museum – museums are interactive ways to learn and explore, they are also really a memorable family activity.  We're lucky to have so many wonderful museums here in Ottawa like the Canadian Museum of Nature and the Canada Agriculture Museum. Can't get there in person? Museums offer tons of interactive and online resources, like virtual tours!
Make a great cup of tea in the afternoon – coffee is a staple in my morning routine, but lately enjoying a good cup of tea later in the day is very relaxing.
Go for a drive – it feels like during the winter we all try to get where we're going as fast as possible, with snow and poor weather conditions it's not that fun to drive, but with better weather driving along winding roads can be enjoyable.
Find a rainbow – don't take for granted the most beautiful things the world has to offer, wait to after a rainstorm and challenge yourself to find a rainbow.
Watch a superhero movie – April 28th is Superhero Day and a fun day to explore the genre or rewatch your favourite superhero movie.
Clean out your garage – if you have a garage there is the chance that it has accidentally become a very large jungle closet. Cleaning it out now will make it easier to access bikes and outdoor toys for the months ahead.
Video chat with a friend – haven't seen each other in a while? Plan a video chat together so you can catch up!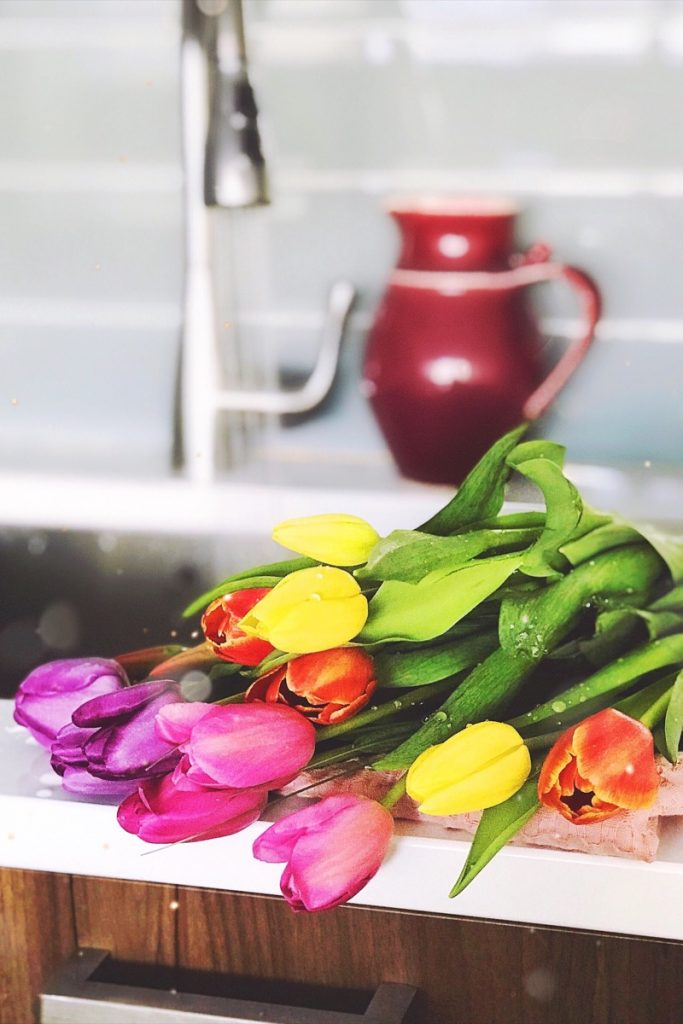 At the beginning of each month, I like to pull out my calendar or agenda, and write out the things I'd like to accomplish that month. Some goals are bigger than others, some are simply an 'if I get the chance' – regardless of their loftiness, writing them out reminds me of the possibilities for the days ahead and what I can make of each one of them.
Trying new things, discovering new places, and accumulating small accomplishments add to my overall feeling of happiness and contentment. Do you feel the same way?

I hope you have a wonderful April friends!

xx, E.
Latest posts by Emily Smith
(see all)