30 Things to Do in November
Last month was busy! Good busy. A trip to Niagara Falls, lots of fall family outings, my son's 9th birthday, family visiting from the North Carolina and an awesome Halloween.
While October is one of my favourite months, so is November!
November is my birthday month and it's also the month I get ready for the holidays. Honestly, I'm not sure how long I can wait before I put up all the Christmas decorations and start making gingerbread houses. Any other Christmas fans out there?
To me, November is such an exciting month and it usually goes by pretty fast. But, I am going to try to slow it down if I can and enjoy watching the last leaves fall on this beautiful autumn we've had.
In keeping with my "things to do this month" series, today I am sharing some simple things and fun activities you can do in November, including a few local Ottawa events you should check out.
Things to Write on Your Calendar for November
1. Start your holiday shopping – I've already got a jumpstart on my Christmas gift list, and I am happy about that, because by the time the holidays roll around things can get a bit crazy. Slow it down and start your shopping earlier so you have time to browse and find thoughtful presents. It also means more time sipping eggnog and chilling by a yule log come Christmastime.
2. Attend the Tea and Chocolate Festival – at the Nepean Sportsplex, on November 2nd to 3rd, tea and chocolate lovers can enjoy a delightful time discovering new brands of their favourite treats.
3. Change your clocks – While not a super "fun activity", this is a friendly reminder that daylight savings time ends November 3rd at 2 am, so you fall back an hour. It does mean an extra hour of the weekend!
4. Take a serene walk in the woods – we're having an awesome autumn here in Ontario, but now the leaves are falling down. Take advantage of walking on a tapestry of leaves before it snows and get lost in the woods for a while.
5. Pick up some throw blankets – I may have a throw blanket obsession; I love them so much and so do the rest of the family. As we are moving into the colder months, get out your favourite throw blankets and maybe get a new one or two, they will come in handy!
6. Take deep breaths – the first Wednesday of November is National Stress Awareness Day, and it is a great opportunity to take a step back and do anything that is stress-free!
7. Binge watch a new show – there are so many great things to do on the weekend, but every now and then you need to chill out in your jammies, on the couch, watching a new or favourite show.
8. Make your own homemade jam or chutney – not only is jam and chutney perfect for so many holiday meals, they make great gifts too.
9. Attend the Pet Expo – if you're a pet lover (or know someone who is) this is the event for you! November 9th – 10th at the EY Centre here in Ottawa get together with thousands of pets and pet owners for an event that is sure to be fun!
10. Bake cookies – the whole month of December is like gameday for baking cookies, but right now is the best time to try out a whole bunch of recipes for the holiday season! Even better if you can freeze them for the holidays.
11. Observe Remembrance Day– it is important to remember those who came before us to make this nation the amazing country it is today! We'll be taking the time to remember today. In the United States, it is Veterans Day and a wonderful time to say thank you to veterans who have served. I am going to give my husband a big hug, he served in the US Navy!
12. Take family photos – whether you hire a photographer or DIY a photoshoot, family photos are a blast for Christmas cards and sharing on social media, now is a great time to start planning for a session.
13. Be extra kind – November 13th is World Kindness Day and the perfect day to be extra kind to everyone you meet. If you are looking for an excuse to bring something tasty into the office, today is the day!
14. Get into your pyjamas early – November 14th is National Family Pajama Day and I think it should be a day of having the whole family in their PJs with a good movie and a bowl of popcorn!
15. Start watching holiday movies – let's be honest, one month is not nearly long enough to watch all the awesome holiday movies. You have to start early! Right now is the perfect time to begin a marathon of the best holiday movies (and movies you watch around the holidays. My husband watches Lord of The Rings around this time, for some reason).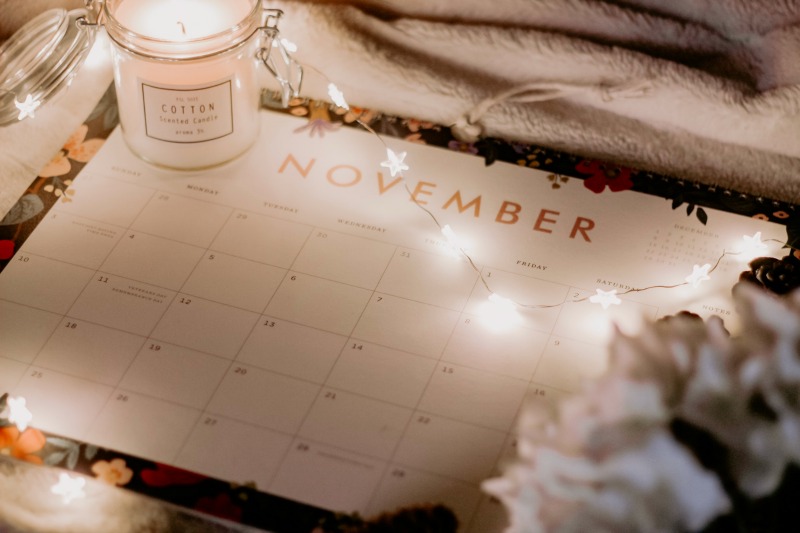 16. Visit a handmade market – I love all things crafty and if you are looking for great decorations and gift ideas, visit the Mistletoe & Ivy Handmade Market here in Ottawa, at Allsaints event space on November 16th, hosted by Grow Studios. Last year I had the awesome privilege of visiting the studios and the wonderful craft-makers!
17. Donate to your local food bank – recently I had the opportunity to drop by our local food bank warehouse and felt humbled and thankful for all the amazing work they do. Now is a great time to make a donation and give them a helping hand!
18. Host a bake exchange – baking is such a fun way to celebrate the approaching holiday season. It's also a great excuse to host a party. A bake exchange is an awesome way to hang out with friends and share tasty treats!
19. Play a game of Monopoly – November 19th is National Monopoly Day and it's the perfect excuse to bust out that beloved board game. But to be honest, my husband and I get super competitive playing Monopoly, thankfully we have two little cuties that keep us grounded as we play.
20. Make your favourite fall crockpot meal – if there is ever a time to pull out the crockpot it is now, this season is perfect for soups, stews, and chilis. A quick Pinterest search will land you tons of inspiration.
21. Eat gingerbread cookies – too early, you say… not yet Christmas, you say…well let me tell you, November 21st is National Gingerbread Cookie Day! It's THE day to snack on some tasty gingerbread cookies, and of course later on during the holidays too!
22. Get your winter accessories in order – we will be jumping into some considerable cold here in Ontario very soon. Now is the time to make sure all those boots, scarves, mittens, hats, and so on are ready to go.
23. Listen to live jazz – Ottawa has a few hot spots where you can listen to live jazz, including The Rainbow and Brookstreet Hotel.
24. Create your own chicken soup recipe – nothing like a hot bowl of chicken soup when you're feeling under-the-weather or it's getting cold outside. Having your own go-to chicken soup recipe will come in handy for the next few months!
25. Make a Christmas card list – Christmas cards are a wonderful tradition, especially in a day and age when a lot of our communication is online. Receiving and giving Christmas cards is a memorable way to celebrate the holidays. Take some time to update addresses and make a list of those you want to reach out to!
26. Bake a sweet potato pie – I always grew up with pumpkin pie around the holidays, but for Canadian Thanksgiving, I surprised my husband with a sweet potato pie. It's similar to pumpkin pie but totally different. Give it a try and expand your pie palette.
27. Make a cup of homemade hot cocoa – I drink coffee and hot teas throughout the year, but hot cocoa is something I reserve for when it starts to get really cold. This is a perfect drink to mix up your hot beverage routine!
28. Celebrate American Thanksgiving – it took my husband years to get used to having Thanksgiving in October, but we still celebrate Thanksgiving again in November with the rest of America!
29. Do some Black Friday shopping – it might be crazy (I remember the madness of going to the mall last year) but Black Friday can also be a time to save and get some deals. Just get out there with a positive attitude and go for it! On the flip side, many small businesses host Black Friday alternative sales which is a great opportunity to support them.
30. Decorate for Christmas – if you've made it this far without decorating, go for it! Christmas is a time for joy and happiness, and if decorating the whole house makes you feel happy, why not?
There you have it, a list of random things to add to you November calendar page! I hope you have a great month ahead friends and enjoy the final days of fall and the beginning of the holiday season.
Latest posts by Emily Smith
(see all)