Spring, is that you I see coming around the corner? I know I'm not the only one excited for longer and warmer days ahead. In today's post, I'm listing ways to add some fun to your March calendar page. Oh, and also reminding you to mark it for when you get to move your clocks forward! You gotta celebrate the little things, am I right?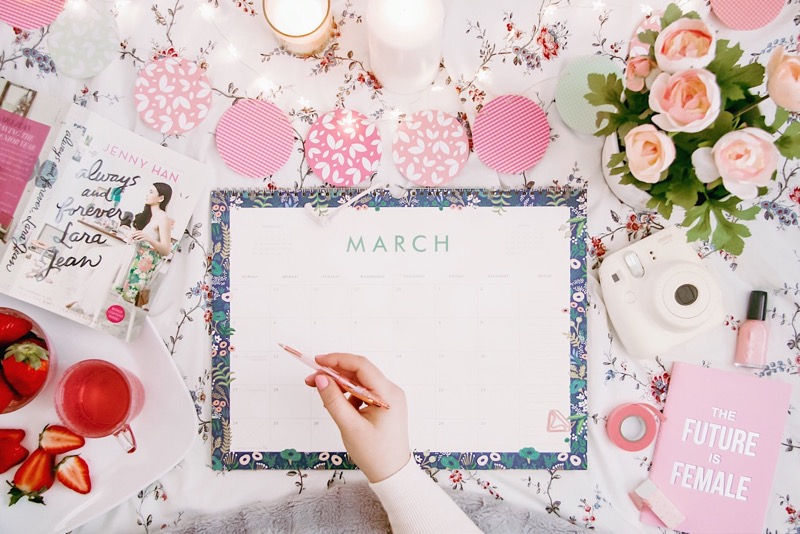 31 Ideas for Things to This March:
1. Go fly a kite: March is a very windy month and kite flying is such a fun activity that the whole family can enjoy, just remember it can still be very cold so bundle up!
2. Start planning your backyard garden: before you know it it will be time to start planting flowers, vegetables, and fruits; right now is the perfect time to coordinate what would be perfect to grow for your region and space availability.
3. Learn a new cooking style: hearty foods a great and comforting in the winter but it is so fun to try new foods and cooking styles, have a go at using more raw vegetables and herbs in your meals to add some zest that is complimentary of a spring palate.
4. Spring clean your home: taking a day to go through your home to give it a little extra attention is a great way to transition from one season to another. Check out my helpful tips to make your spring cleaning a success! 
5. Have a pancake: March 5th is Shrove Tuesday or Carnival, it is the last day before a fast for those who observe Lent. Looking for a yummy pancake recipe? Try these Delicious Vegan Gluten-Free Buckwheat Pancakes.
6. Try a Til Tok Dance: dancing is such a great way to shake off winter blues, it is as simple as putting some music on and going for it, it's also much easier nowadays to put on a YouTube video or find inspiration on Til Tok and learn a new dance routine.
7. Learn a new sport: warmer days are on the way friends and recreational sports are so fun and good for you. I grew up playing softball and love the memories I made, and it makes me so happy to just go in the backyard and throw a ball with my kids! It is never too late to start a sport or pick it back up.
8. Celebrate International Women's Day: tell the women in your life they are amazing, have an IWD party at work, attend a women's networking event, donate to your local women's shelter – there are so many great ways to celebrate this day. 
9. Visit a Sugar Bush: seeing how that lovely maple syrup is made is a really fun experience, especially if you get the opportunity to pour it over pancakes too!
10. Change your clocks: daylight saving time starts on March 10th so remember that clocks move forward by an hour!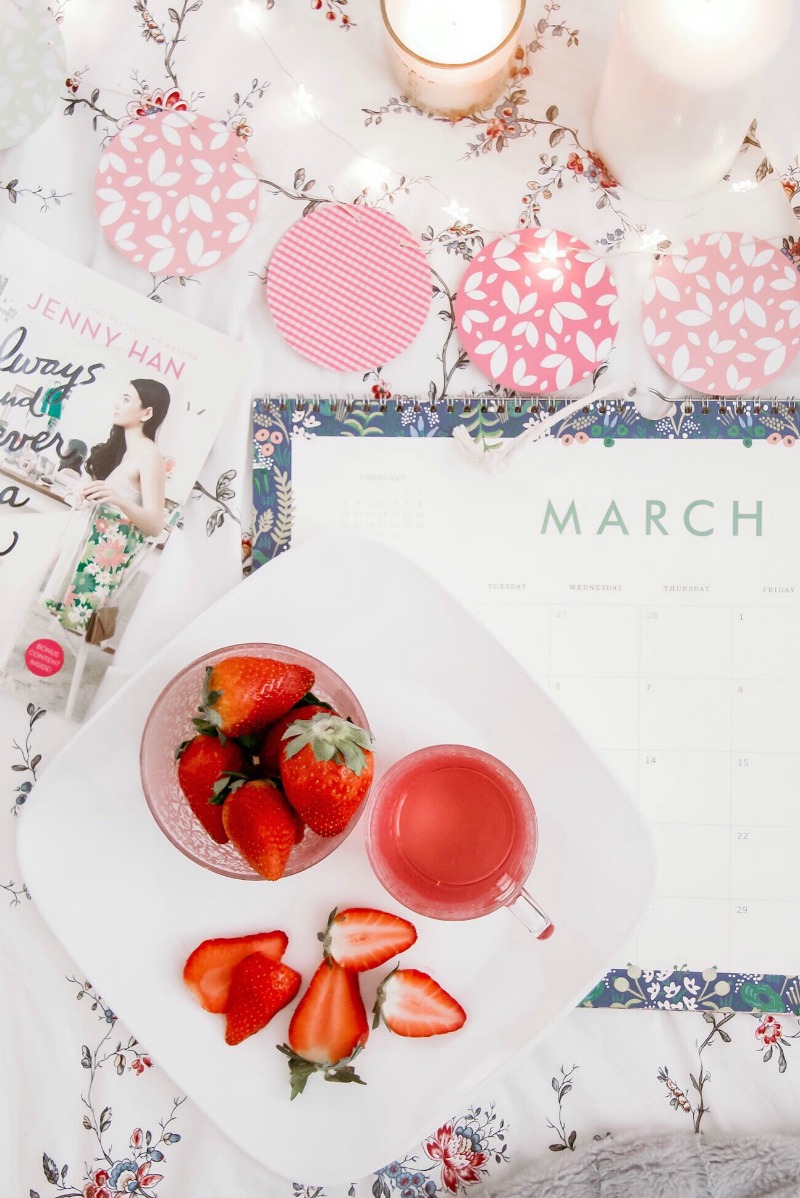 Make Plans for Spring Break, Celebrate St. Patrick's Day, and Pull out Your Joke Book!
11. Check out some public art: spend a day in your city exploring murals, statues, graffiti, and more.
12. Practice breathing: our culture is so busy, and often the suggestions we get to relax are busy too, sometimes the most beneficial thing we can do is unplug everything and just breathe. Try this out, even for a few minutes whenever the walls feel like they're closing in. I suggest adding it to your daily calendar as a little reminder.
13. Go on vacation for Spring Break: sometimes you just need to get out of dodge, there so many fun ways to take off and even make it a family getaway!
14. Learn a new language: learning a new language is like giving your brain an energy drink that is great for you. It's pretty amazing how quickly you can pick up conversational words in a different language. 
15. Try a seasonal sweet: I love bake traditional treats during the holidays and winter but by the time spring approaches my family and I are ready for something new, a great way to add seasonal zest would be adding lemon to your baking. Or perhaps a St. Patrick's Day dessert, like these St. Patrick's Day Gluten-Free Rainbow Cupcakes
16. Paint or draw: a lot of us are so used to communicating verbally, through writing, or body language but when we express ourselves through an unfamiliar medium like painting or drawing we can discover a new way of expressing ourselves and may be able to understand our own emotions better.
17. Celebrate Saint Patrick's Day: a wonderful day to learn more about Irish heritage and culture, this holiday has a little fun for everyone. Need some inspiration? Check out my post: Have You Been Missing Out On These Fun Traditions for St. Patrick's Day?
18. Visit your local library: I would argue that most of our entertainment and learning (especially as adults) is done online or involving some type of screen when we go the library we are invited to slow down and explore. You may rekindle a love for reading or discover a fun genre!
19. Tell a joke: March 19th is Let's Laugh Day, a perfect excuse to share a dad joke or watch your favourite comedy.
20. Celebrate Spring: March 20th is the beginning of spring, pick up a bouquet of flowers and get ready for everything to be green again (soon)!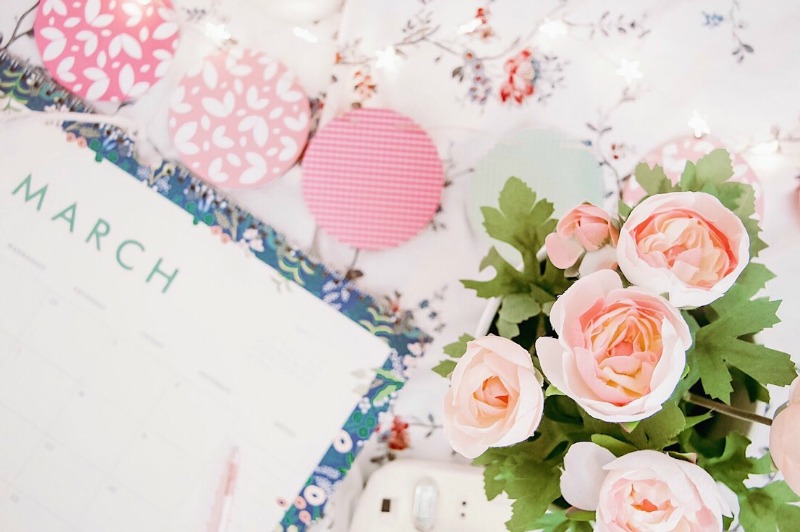 Why Not Watch a New Cooking Show, Take a Walk in the Park, and Eat Your Greens
21. Visit an indoor poor: if you are up north like me it is still way too early to be thinking about swimming pools but indoor pools are a great reason to pull out that swimming suit and start daydreaming of summer!
22. Chill out: March 22nd is Goof Off Day, if you've been waiting for a day to kick up your feet up and take it easy then this is a great day to pencil it in.
23. Listen to a different genre of music: I really think it is special when a month includes the changing of one season to another, for me it's an invitation to do something new, exploring a different music genre is a wonderful way to express that.
24. Go to the cinema: March 24th is Chocolate Covered Raisins Day, and for me, nothing goes better with those then a soda, popcorn, and great movie.
25. Watch a cooking show: we can all cook better, and one of the ways my family finds inspiration is watching cooking shows (we also have fun arguing about who is the best).
26. Eat some greens: March 26th is Spinach Day, I think that a big salad or spinach smoothie is a perfect way to celebrate!
27. Go through your wardrobe: it may certainly be too early to put away your coats and scarves but pulling out all of your warm-weather clothes lets you plan a great seasonal look to come!
28. Get your rain gear in order: in the next month we can usually expect more snow, but March can be very rainy too, time to get those umbrellas and wellies and go find some muddy puddles! 
29. Do something unexpected: it is spring now, the time when everything comes alive again, start this new season by doing something totally out of the blue!
30. Visit a park: March 30th is Take A Walk In The Park Day, and it's a great way to get outside and relax, especially after a busy work week.
31. Go bird watching: soon our Canada geese will be flying back home, I love hearing them honking their way back because it makes me feel like they are announcing spring.
Here's To Longer Days and Jumping In Puddles
We're in the final stretches of winter, so if there's any winter activities you haven't done yet but want to take part in, now's your chance! But if you're ready to move on and look ahead to spring, March brings with it the hope of a new, warmer season ahead. I'm looking forward to celebrating IWD, St. Patrick's Day, family birthdays, and seeing some snow melt. Hehehe. I asked my kids what they are looking forward to this month and the two biggest things were spring break and new spring recipes! I'm pretty sure puddle-jumping will be one of their favourite activities too. Here's to a great March friends, I hope you're inspired to pencil in some fun this month.
PIN this list for quick reference!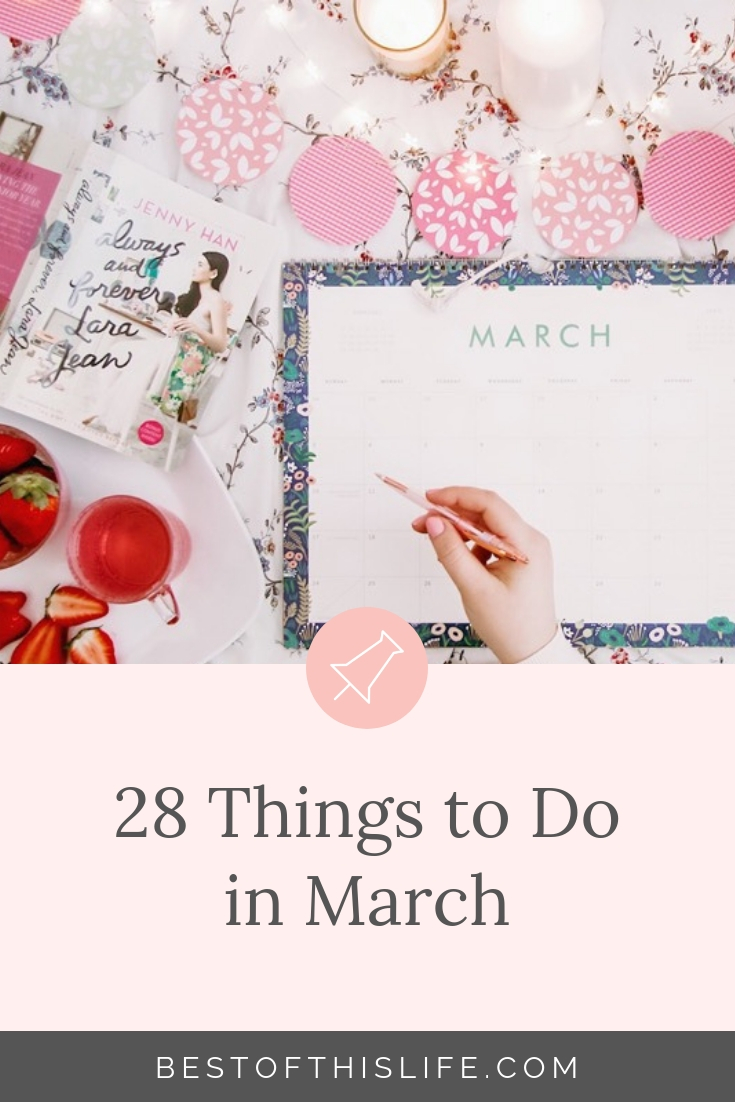 THE BEST OF THIS LIFE: ESTABLISHED IN 2011 AND INSPIRING READERS TO LIVE THEIR HEALTHIEST, HAPPIEST, BEST LIFE SINCE!
Latest posts by Emily Smith
(see all)