5 Simple & Healthy Ways To Cook With Tomatoes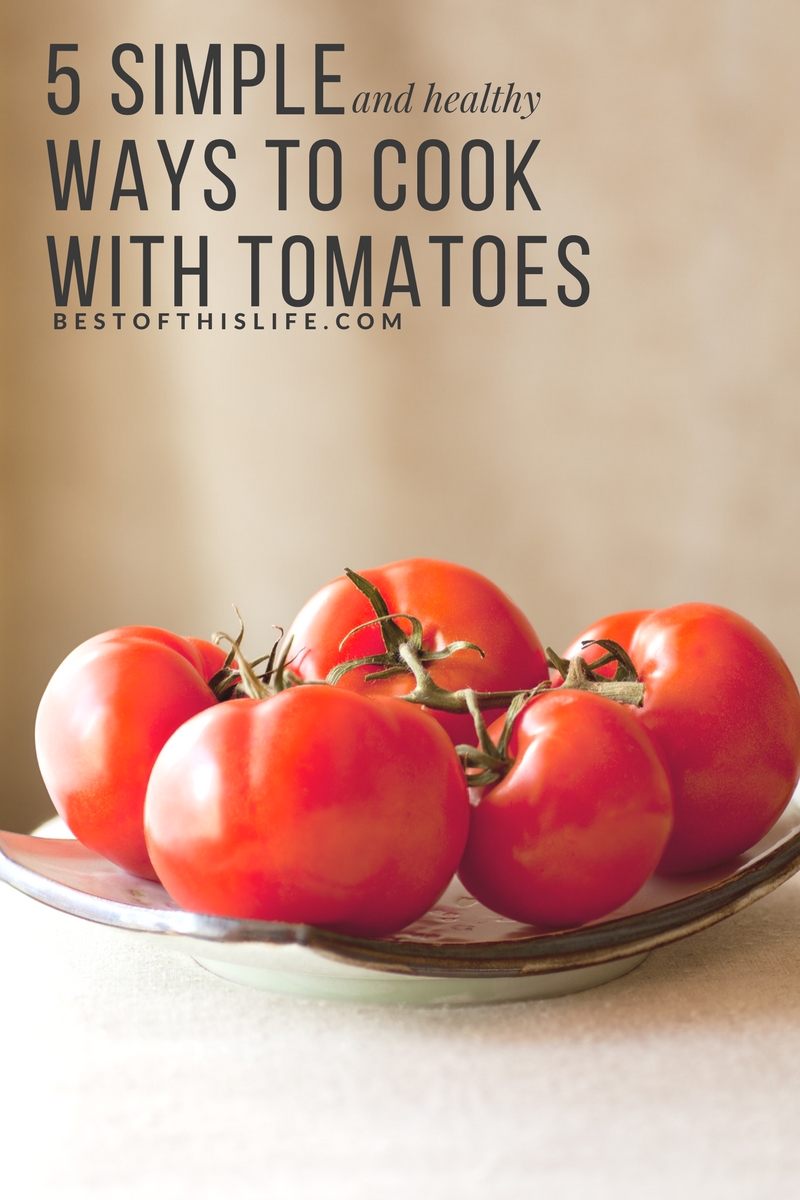 On a hot summer day, I'm not sure there's anything better than slicing up a big, juicy tomato, sprinkling a bit of salt on it, and munching away. Tomatoes are great in salads, as the base for pasta sauces, or added into a delicious soup, and I could truly eat them all summer long. If you feel the same way about tomatoes, that's wonderful—they have a massive amount of lycopene, which is an antioxidant renowned for its protection against cancer-causing free radicals. Their high amounts of vitamin A, C, and K also promote healthy skin and digestive health, and can improve your vision. I encourage everyone to add more tomatoes to their diet, and have made a list of my top five recipes for incorporating tomatoes into mealtime below. They're healthy, simple, creative, and I can't promise your family won't be helping themselves to seconds or thirds. Where the recipes call for canned tomatoes, you can easily make your own from fresh tomatoes from your garden or local farmers market!
1. The Girl Who Ate Everything's Easy Tomato Soup
This recipe calls for whole tomatoes, onions, garlic, butter, and chicken stock, but can easily be tweaked for a vegan diet with water and a vegan all-natural spread like Earth Balance.
2. Food 52's Mixed Mediterranean Vegetable Bake
This medley of sweet potatoes, eggplant, zucchini, green beans, and more gets its hearty richness from two cans of tomato puree. Consider crumbling feta cheese on top for a truly Mediterranean feast!
3. Simple Vegan Blog's Homemade Tomato Sauce
With only eight ingredients altogether, this homemade tomato sauce is shockingly easy to make. The carrot cuts down on the acidity of the sauce, and you can add other veggies or vegetable broth for a more robust flavor.
4. An Oregon Cottage's Addictive Tomato Chutney
This scrumptious condiment is amazing on frittatas, chicken, fries, grilled veggies—it could very easily become addictive! Utilizing brown sugar, honey, ground ginger, cumin, and hot pepper flakes, this tomato chutney is about as far from boring ol' ketchup as humanly possible!
5. Brand New Vegan's Hearty Vegetable Stew
This rich, flavourful vegan stew calls for a lot of chopped veggies, so I recommend a food processor to make things go more quickly. Also, you can use whichever ones you have on hand and let the tomato sauce base shine through. Perfect for a cookout!
What are some of the ways you enjoy cooking with tomatoes?
THE BEST OF THIS LIFE: ESTABLISHED IN 2011 AND HELPING READERS LIVE THEIR HEALTHIEST, HAPPIEST, BEST LIFE SINCE!
Latest posts by Emily Smith
(see all)