6 Dependable Thanksgiving Hosting Tips To Make You The Hostess With The Mostest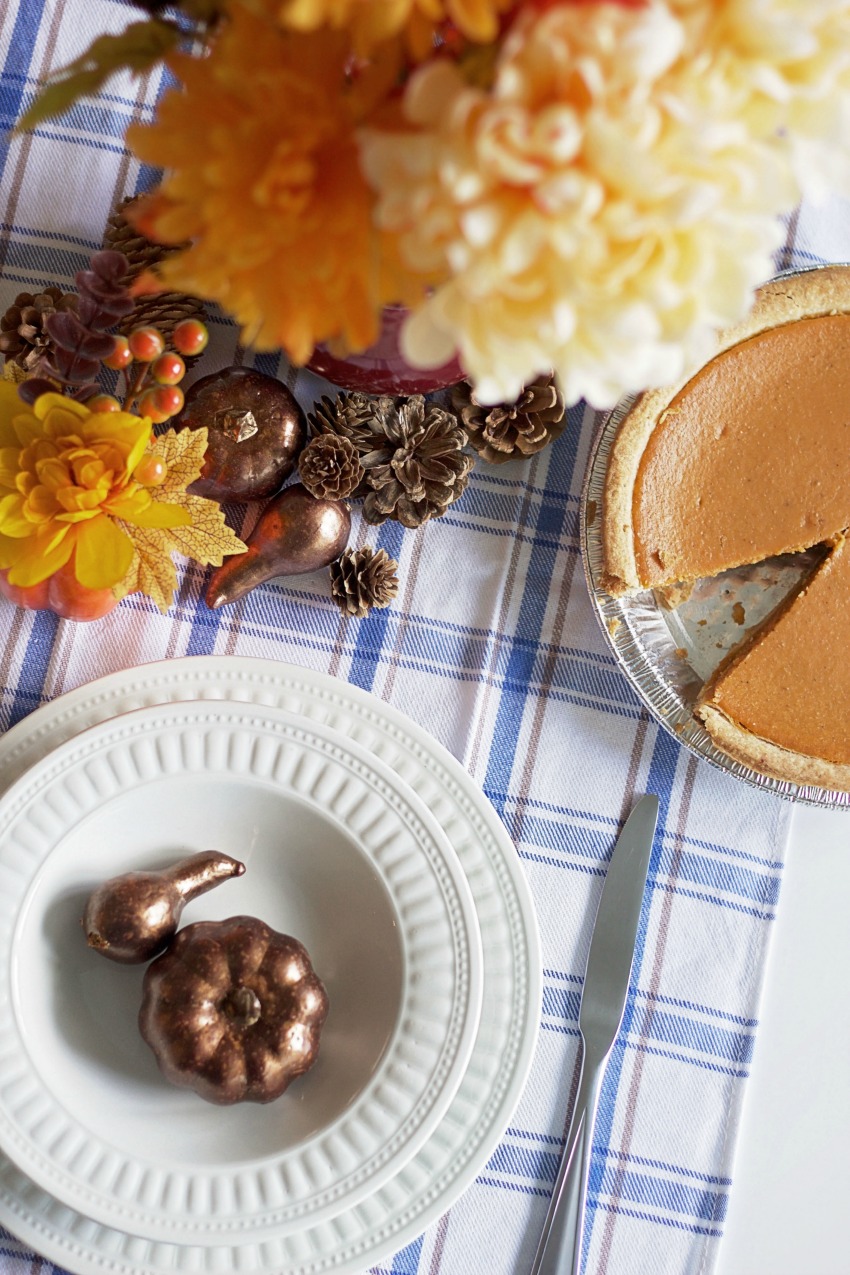 When the weather becomes cooler and the leaves begin to change their colour, you know Thanksgiving is just around the corner. In our home, Thanksgiving is a time to gather with loved ones to celebrate the harvest and count our blessings for the past year. We invite friends and family to share in this holiday of gratitude with us and enjoy a delicious fall meal together.
The last thing this special time of year should be is stressful, which is why I want to share with you some helpful and dependable hosting tips you can put to action this Thanksgiving for a smooth and pleasant time.
Company Is Coming
A clean house is the first step to setting the stage for a warm, inviting Thanksgiving dinner. Before the big day, write out a list of what needs to be done and tackle it in increments so you don't burn all your energy cleaning the day of. Washing all of your linens (tablecloth, napkins, seat covers) is an easy task you can do in advance to make sure they are all set for the big day. Maytag's Extra-Large Capacity Top Load Large Washer is always dependable to get the job done. Thanks to its PowerWash system, everyday tough stains are removed in a single wash. using the PowerWash cycle, PowerSpray, optimal dispensers and an internal heater.for the Best Cleaning in the Industry.
Make Ahead Dishes
There are many dishes and desserts you can prepare in advance, so you are not glued to the kitchen the entire time your guests are over. Items such as potato salad, sweet potato casserole, stuffing, gravy, cranberry sauce, pumpkin pie, and no-bake apple cheesecake, to mention a few, are all perfect examples of make-ahead dishes. Is your mouth watering already? To keep all of your prepared food fresh and delicious, the Maytag Four-Door Refrigerator certainly comes in handy with its PowerCold feature that chills the refrigerator compartments quickly, even while you're opening and closing the door to fill it with all your Thanksgiving delights.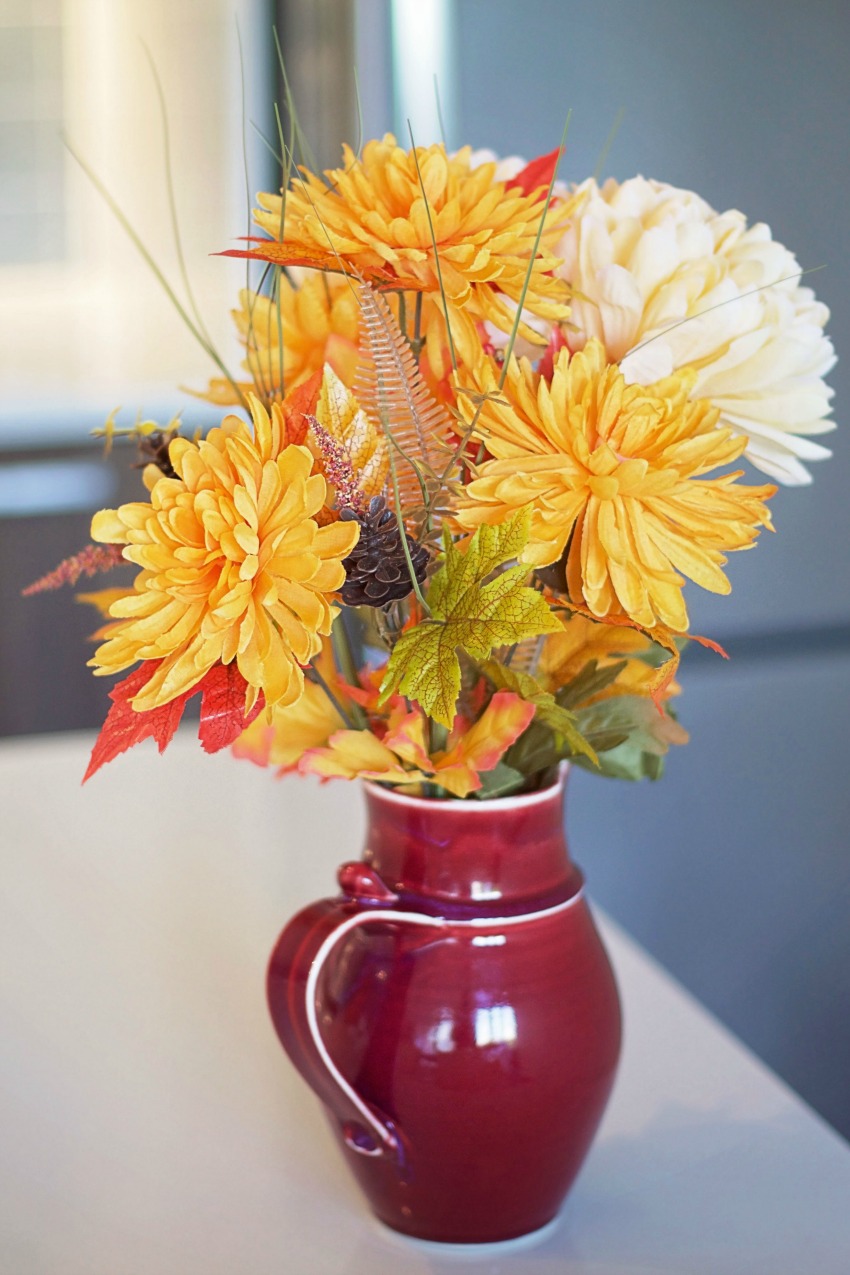 DIY Decor
Creating a beautiful autumnal ambiance provides a welcoming and cozy environment for the festivities. With a fall theme in mind, you don't have to break the bank to add decorations to your home and table. With a little bit of creativity, you can achieve an inviting Thanksgiving atmosphere. Here are a few ideas to get you started:
Thanksgiving Gratitude Board: use a small bulletin board to have guests write what they are grateful for on construction paper leaves and pin it up.
Autumn Mantel: using a range of small to medium-sized gourds and pumpkins, dried wheat, and plain candles decorate your mantel in a Thanksgiving theme. You can even add the Gratitude Board here as well.
Dollar Store Flower Bouquet: pick out single fall coloured silk flowers from your local dollar store. Often around this time of year, they have oranges, creams, yellows and accent foliage that works perfectly for a Thanksgiving bouquet. Choose a coloured vase (not clear) and don't be afraid to cut the plastic stems to arrange them to feel more natural. I also picked up some pinecones and bronzed mini-gourds and pumpkins to add to my tablescape.
Keep Your Eye On The Turkey
With the majority of your salads, sides and desserts all ready to go with the exception of heating some of them up right before dinner, your focus should be on the piece de resistance. That is, the turkey! Or ham, or chicken, or whatever main you are cooking up – you want to make sure you give it your full attention.
Dress For The Occasion
Don't forget to pick out and wash the whole family's outfits. With Maytag's Extra-Large Capacity Dryer you can get even the largest of loads dry in no time thanks to its PowerDry cycle. Not to mention the Steam Boost option can help relax wrinkles and reduce odours. You'll all look fresh, clean and be party-ready!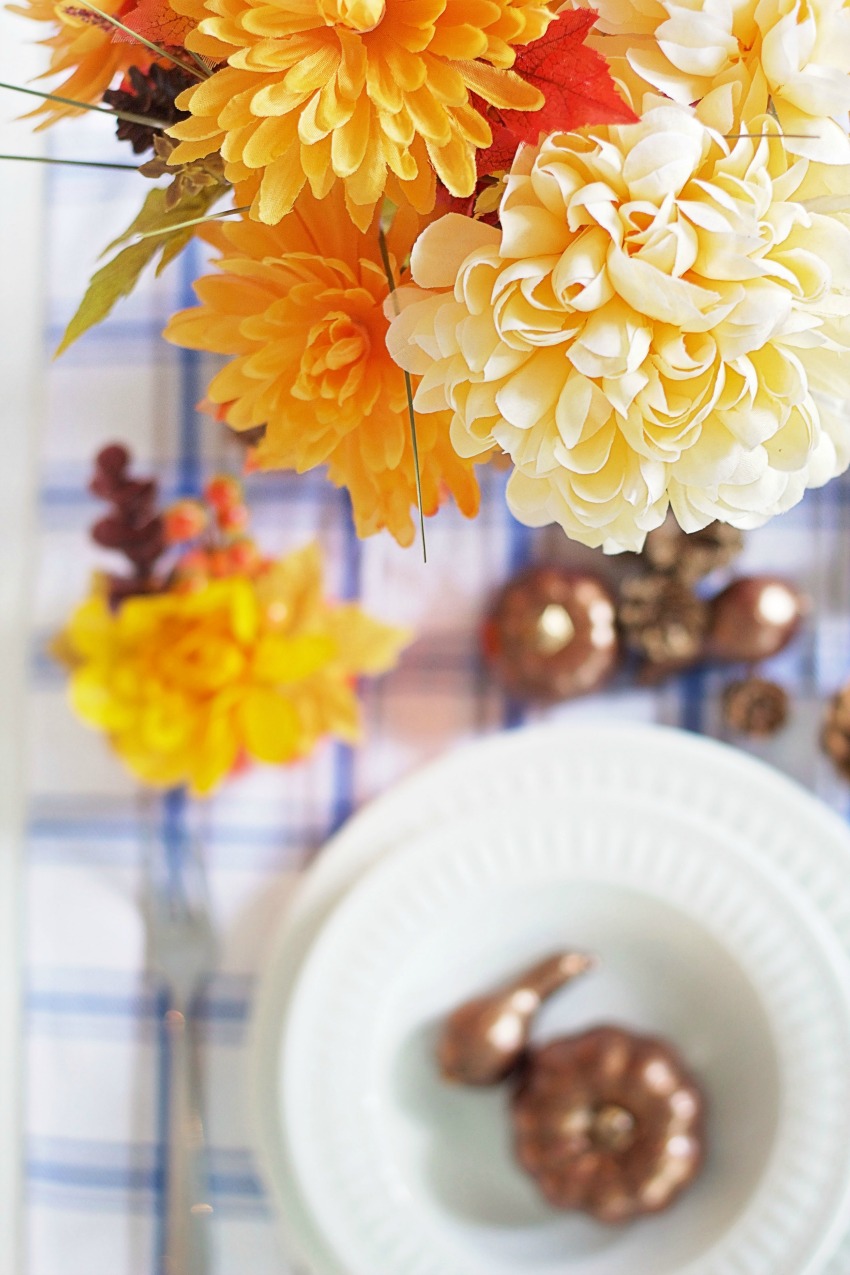 After Clean Up Time
Prepare for the after clean up with a few easy steps. In your kitchen, set out three empty medium-size waste baskets lined with bags and labelled: garbage, bottle recycling, can recycling. This will make it easy for yourself and any helpers to sort the mess quickly. I also like to have an inexpensive rolling bar cart handy to clear off dishes from the table easily while not cluttering counter space, which is better used for putting the finishing touches on desserts before serving them. After the party, Thanksgiving dishes are no match for the Maytag Top Control Dishwasher! Its PowerBlastCycle removes stuck-on food with high pressure spray jets, increased temperature and hot steam to finish the job – all while you're tucked in bed enjoying a blissful post-Thanksgiving sleep!
Lastly, my most important hosting tip for Thanksgiving is to be a joyful host! Even though you've planned and prepared thoroughly, are making sure everyone is taken care of, and ensuring dinner is served hot and on time – don't forget to have fun, laugh, and make memories with your loved ones.
Here's a festive and humorous toast you might want to give, it usually gets a good chuckle:
May your stuffing be tasty, may your turkey plump, may your potatoes and gravy have nary a lump. May your yams be delicious and your pies take the prize, and may your Thanksgiving dinner stay off your thighs! (~author unknown)
Happy Thanksgiving friends!
---
Disclosure: Whirlpool has compensated me for my services and my posts, but all posts represent my own opinion.
Latest posts by Emily Smith
(see all)