A Delightful Gluten-Free Pumpkin Tart for Thanksgiving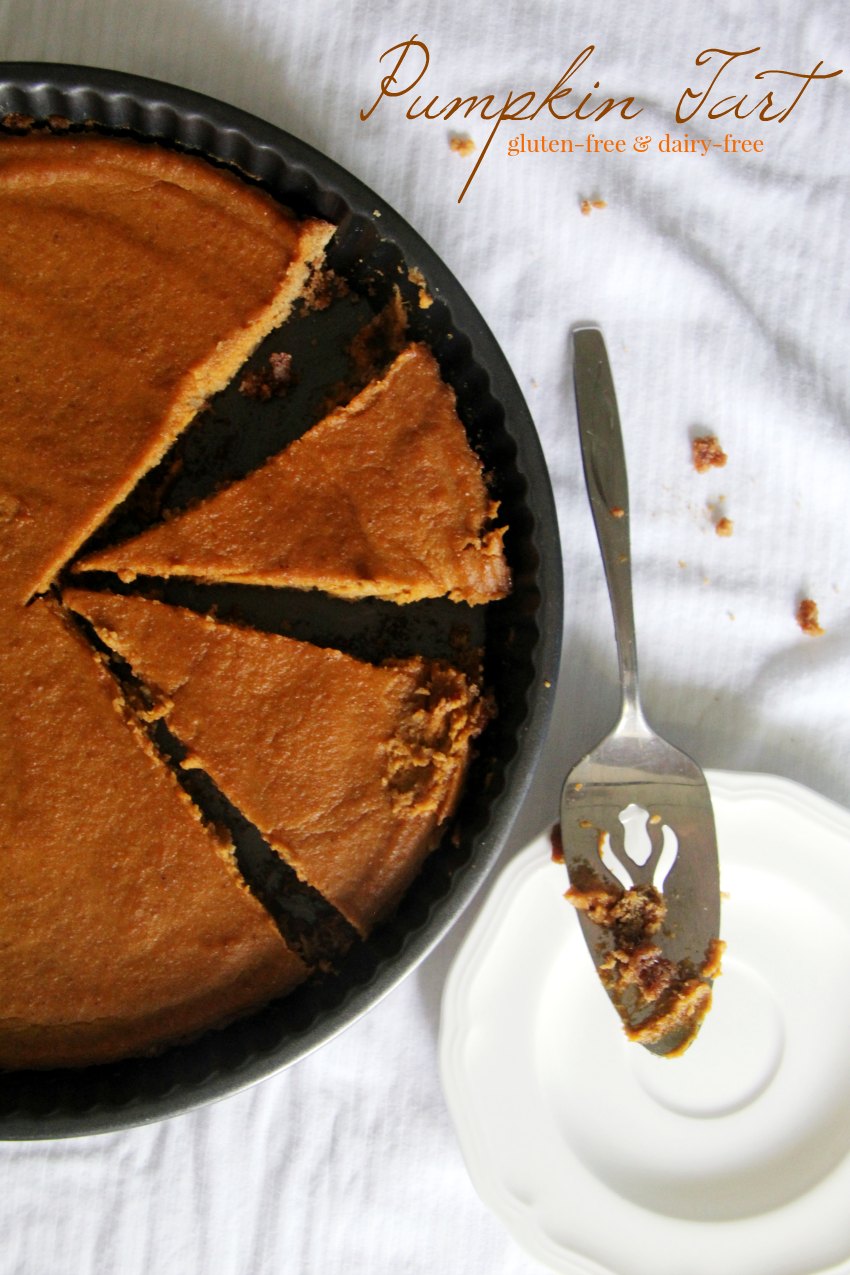 The season for fall baking has begun and really, there's no turning back. Canadian Thanksgiving is just around the corner, then there is my son's birthday, then my birthday, then American Thanksgiving (of course we celebrate both!) – and then the Christmas baking season will be upon us.
I've officially been bitten by the baking-bug.
Admittedly, I didn't do very much baking this summer. There were a few crisps and fruit-filled muffins, but for the most part I took a hiatus. And now I'm back, baby. There's nothing like the fall harvest to get me in the mood to bake. So many of our family's favourite treats are seasonal to this time of year. Amongst those is the covetted pumpkin pie. Oh, pumpkin pie – we love you so!
Over the years, we've made many variations of pumpkin pie. Gluten-free but with dairy, dairy-free but with gluten, gluten-free and dairy-free (but with eggs), and vegan – many, many variations! Some great some not so great. But no matter the outcome, there will always be pumpkin pie or something similar. This year, to prepare for Thanksgiving, I wanted to try to make a pumpkin tart. It's essentially a pumpkin pie, but in a tart pan and using allergen-free graham crackers as the crust – which makes me think of it as more of a tart than a pie.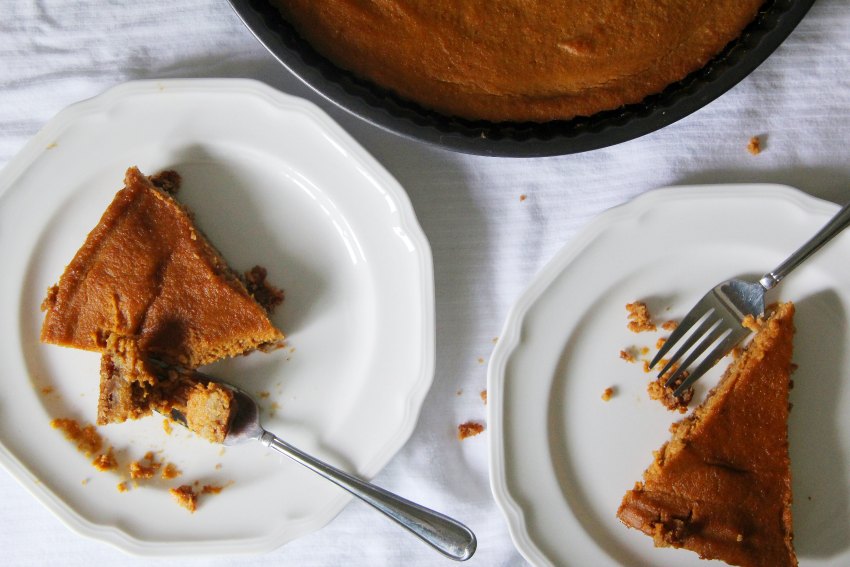 Regardless of its name, it is a thinner, creamier and lighter filling over a sweet and delicious base. This, my friends, is a winner. It's full of pumpkin flavour and warm spices that absolutely hit the spot. If you're feeling a bit extravagant (and why not?) – feel free to top it with whipped coconut cream or your favourite whipped topping.
I promise you this is recipe is easy as pie!
Print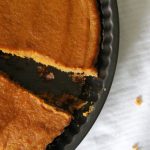 A Delightful Gluten-Free Pumpkin Tart Just in Time for Thanksgiving
---
Description
A seasonal dessert that hits the spot with hints of cinnamon, ginger, nutmeg and cloves. This gluten-free, dairy-free version of the tradition pumpkin pie is a great option for an allergy-friendly dessert for Thanksgiving.
---
Crust:

8 ounces

gluten-free & dairy-free graham style crackers (I used Kinnikinnick)

2 tablespoons

of brown sugar

4 tablespoons

of melted dairy-free buttery spread (or coconut oil or butter)
Filling:

2 cups

of pumpkin puree

3/4 cup

brown sugar

1/2 teaspoon

ground cinnamon

1/2 teaspoon

ground ginger

1/2 teaspoon

salt

1/4 teaspoon

ground nutmeg

1/8 teaspoon

ground cloves

2

large eggs

1 1/2 cups

of almond milk
---
Instructions
Preheat oven to 350F. To prepare the crust, place cookies and sugar in a food processor and process until they are finely ground (not powdery!) Add in the melted dairy-free buttery spread and blend until moist, but still crumbly.
Lightly grease a 9-inch pie or tart plate and press the crust into the bottom. Bake for 8 minutes, remove and cool completely.
Combine pumpkin puree, sugar, spices, and eggs in a large mixing bowl. Using an electric beater, mix on low until well combined. Gently and slowly, add in the almond milk. Store to blend. Pour the filling mixture into the cooled crust. Bake at 350F for 45 minutes or until centre is set. Remove and allow to cool completely before serving.
Optional:
Top with whipped topping of your choice (coconut whipped cream is delicious with it!)
Notes
You can substitute the almond milk for full fat coconut milk. This will make a richer dessert which is also very tasty.
Latest posts by Emily Smith
(see all)