All About Me Free Printable for the First Day of School
We love this first day of school activity for young kids! They get to write, draw and share a bit about themselves and their first day of school. To get started, print our free printable All About Me worksheet.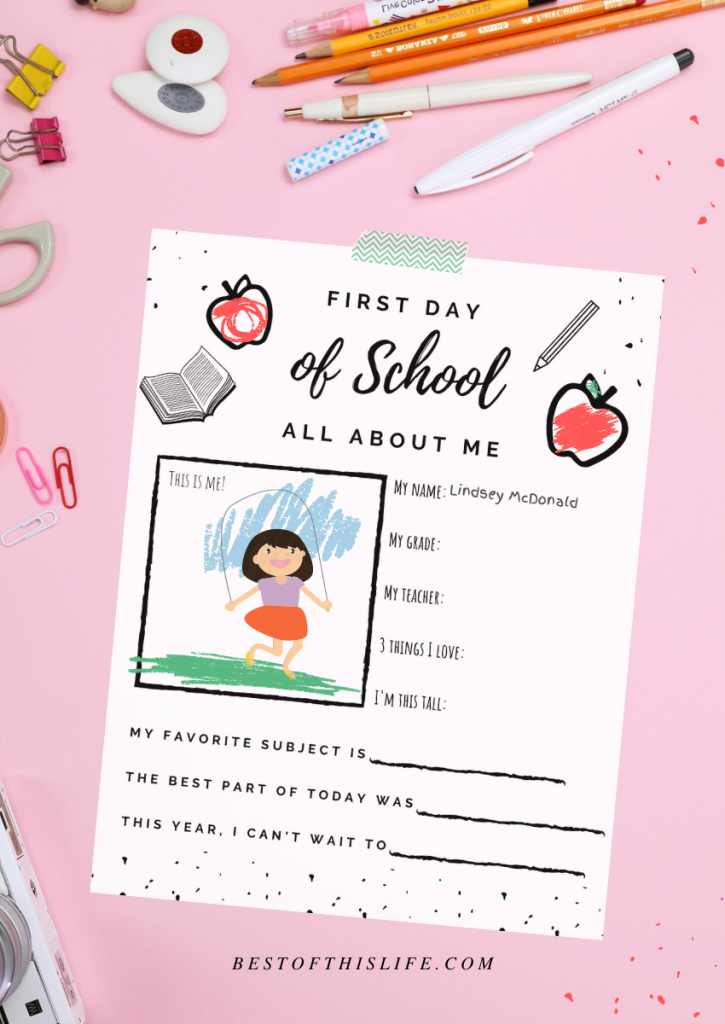 First Day of School Memento
The first day of school is always exciting, if not a bit overwhelming for kids. For some children, they can't wait to return to classes and see their friends. For other kids, they are anxious and a bit apprehensive of the new school year ahead. At times, they are both. We've experienced all the emotions over here! And as parents, we just want to encourage our kids the best way we can. We want to support them as they enter a new grade and make strides in their education.
For our family, the first day of school will look differently this year. We are beginning the school year with virtual learning. Which means our kids won't be waving goodbye from the window of the school bus as they've done for years. They won't be heading off to see all their friends or to meet their new teacher in person. Things will be different, but we're planning for things to be as best as they can be.
That's why we're doing small things, like this sweet and simple "All About Me" activity. We want to celebrate the return to school, even if it looks differently than in the past.
Planning for Fun Kids Activities at Home
Part of our planning includes:
designated kids workspaces in the home
scheduled chat time with their friends
tons of creative arts and crafts
fun worksheets, they typically would do seasonally at school (for holidays and spirit days)
Outdoor sports and games
Almost every year since kindergarten, our children have filled out an "All About Me" worksheet. This allows them to introduce themselves to the class and teacher. I always loved seeing them come home with their paper in hand!
This year, we'll be sure to do it again, at home, to honour the tradition; along with so many other activities we'll be recreating at home. Even though things are very different, I want my kids to think of their education positively. Their teachers and school are working hard to get everything ready for the return to virtual (and in-class) learning. And, as parents, we're doing the same.
All About Me Free Printable
This activity is simple and fun for kids to do on the first day of school! Whether kids are heading back to class, learning virtually, or homeschooling, it's a great keepsake.
It's easy as 1, 2, 3!
Print the All About Me free printable
Ask kids to answer the questions and fill in the blanks
Have them draw their portrait in the picture frame
Elementary school aged children often have show-and-tell days to share a bit about themselves. This is a perfect printable to share with their teacher and classmates. Kids can share it virtually, as well, during a class meeting!
Are your kids doing virtual learning or homeschooling this year as well? What kinds of extra activities will you be incorporating into their schooling? I saw online some parents will be carrying on "pizza days" and "spirit days" at home. I love those ideas!
Latest posts by Emily Smith
(see all)