How a Baby Shower, White Pick Up Truck, and 4 Hour Conversation Led To Happily Ever After
Heyyyy beautiful Best of this Life readers!! My name is Holly Bowman, and I'm a blogger over at Holly Bowman XO + if you've been following my little blog for quite some time, you'll know that my family is everything. And you'll also know how drunk in love I am with my hubs. I was thrilled when Emily approached me to share our Love Story and to be honest, writing it all down, really got some butterflies going. Haha, I know, #nerdalert.
SO.
It was the summer of 2009 + I was single and totally (for the first time) trying to embrace my bachelorette status. It was the first time I had accepted that I hadn't met "the one" yet + it was my time to have fun and enjoy my single life. I had actually made a decision with myself to not actively look for a boyfriend.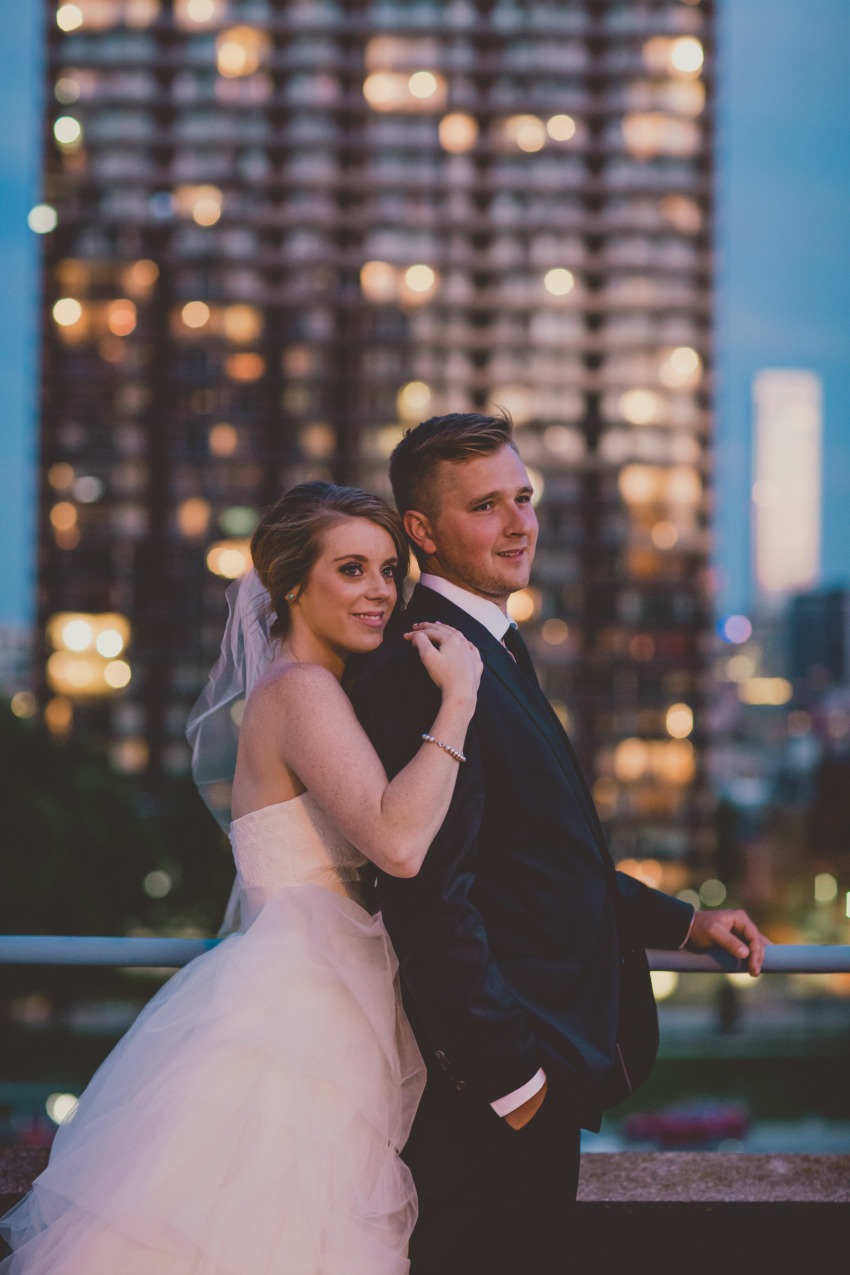 I was 22 years old (so young!) and heading to a baby shower for my best friend's friend (who kindly invited me so I could meet a whole bunch of new ladies!), and there he was. Aaron was in the backyard BBQing, ball cap backwards, birkenstocks, and drinking a corona + I was immediately intrigued. I knew of him through friends but no one ever told me how cute he was!
And hilariously enough, he didn't really say a word to me. I was the one who introduced myself and brought a chair over and made small talk.
My best friend, who had driven me to this baby shower out of the city, tells me that she can't give me a lift home. WAIT. WHAT?! So, here I am at this baby shower with lovely ladies who are all trying to help me get back into downtown Toronto…and Aaron says to me (and I always hear his voice in my head when I tell this story + it's always very deep and James Dean-esque) "I'll give you a ride home". He doesn't actually sound like that in real-life either, ha.
He pulls up in his white pick-up truck (and I nearly died because I've always loved white pick-up trucks and for some reason, they remind me of Alan Jackson and for another odd reason, I love that man). We made small talk in the truck and parked outside my sketchy walk-up apartment + talked for 4 hours! He was much more forward than he was at the shower and took my number and actually called me the next day! WHO DOES THAT?!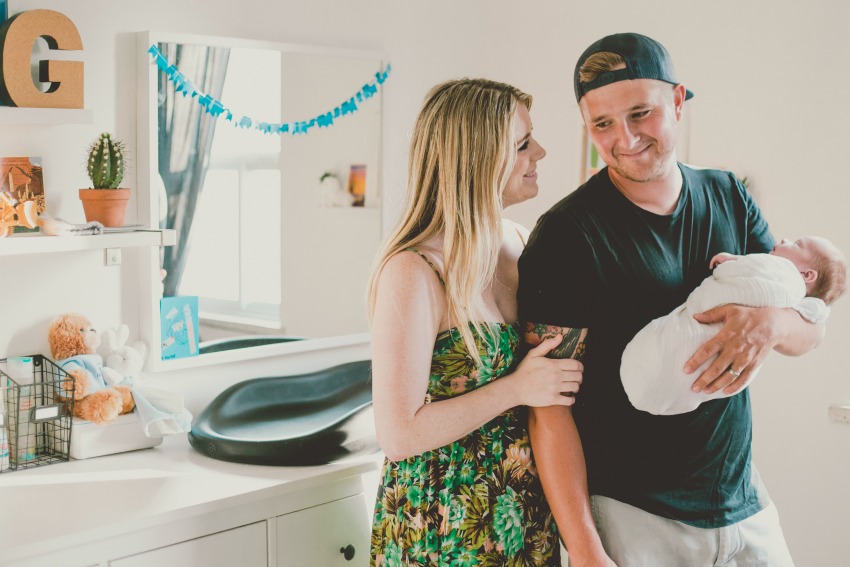 I wish I could say I didn't play the annoying dating game for a month of "not being sure blah blah blah" but truthfully, I was terrified because I had a feeling about Aaron. I knew that this wasn't going to be just a little relationship in my life. I had a feeling (and I know this probably sounds super corny + super Lifetime movie) that he was the one. Aaron was totally not interested in my games and set me straight, thank goodness for that. I don't even want to think about what life would be like had I not pushed past my "commitment" fear. Even just writing it makes me cringe.
We quickly fell in love. We moved in together after 9 months of dating, we were engaged a week before our three year anniversary (and Aaron planned the most amazing engagement surprise!), were married in 2013, we welcomed our son in 2015, and his darling sissie, Eloise Belle Bowman, just arrived on January 24th of this year. Talk about whirlwind!
It has been the most amazing 7 years of my life. We did a little bit of travelling here and there, we hosted tons of parties, experienced our fair share of up + downs, but I will be honest with you; my absolute favourite moments with Aaron have been the simple ones. The ones that you wouldn't necessarily "write home about". The moments where you're sitting with one another on the couch and not saying a word to each other but you're so deeply comfortable—like deep down to your core comfortable. The early parenting moments when the baby is finally sleeping + we're both sitting in the kitchen debating if the dishes really need to be done or if they can wait until morning. The moments when we're driving and our toddler is telling us a story and I look over at him and I've never seen his smile so big. Oh gosh, the moment George was born + the look on Aaron's face; his eyes were flowing out love. I will never forget that moment. And just when I think I can't love him more, I do.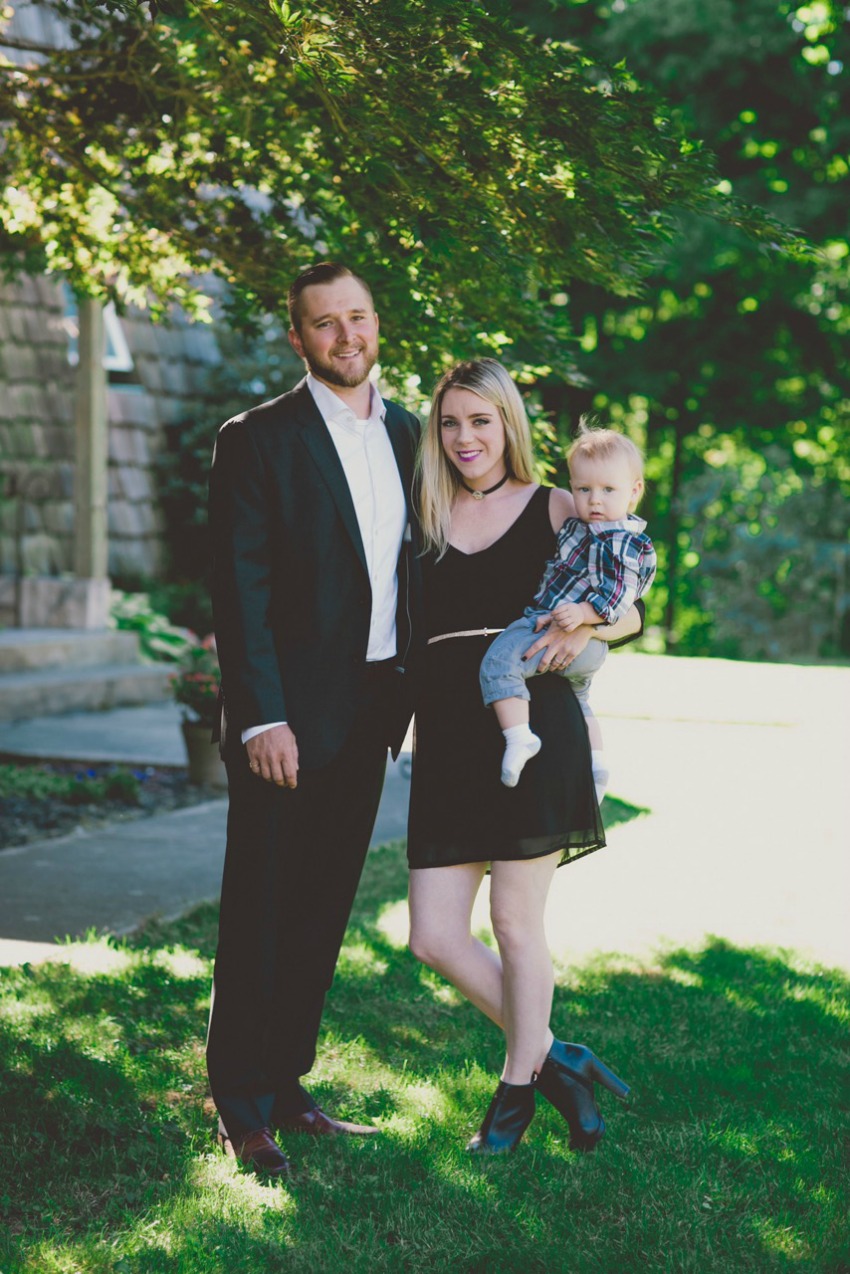 Our marriage isn't perfect + we have our moments…a lot. But we work tirelessly on our communication with one another and it can be hard, but we're committed to working through life's valleys and mountains hand-in-hand. And I know that people often say that they marry their best friend + it's true. I get to spend my life with my very best friend, the man who knows me sometimes better than I know myself, who makes me laugh so hard and who loves me so much. Never have I ever doubted his love for me.
Aaron is everything I have ever wanted in a husband and I feel so blessed to have the opportunity to love him for all my days. He is my first love. The hopeless romantic in me does a serious happy dance when I think about it.

Latest posts by Holly Bowman
(see all)