Beauty Buzz: Brighten Dull Skin with SkinCeuticals Metacell B3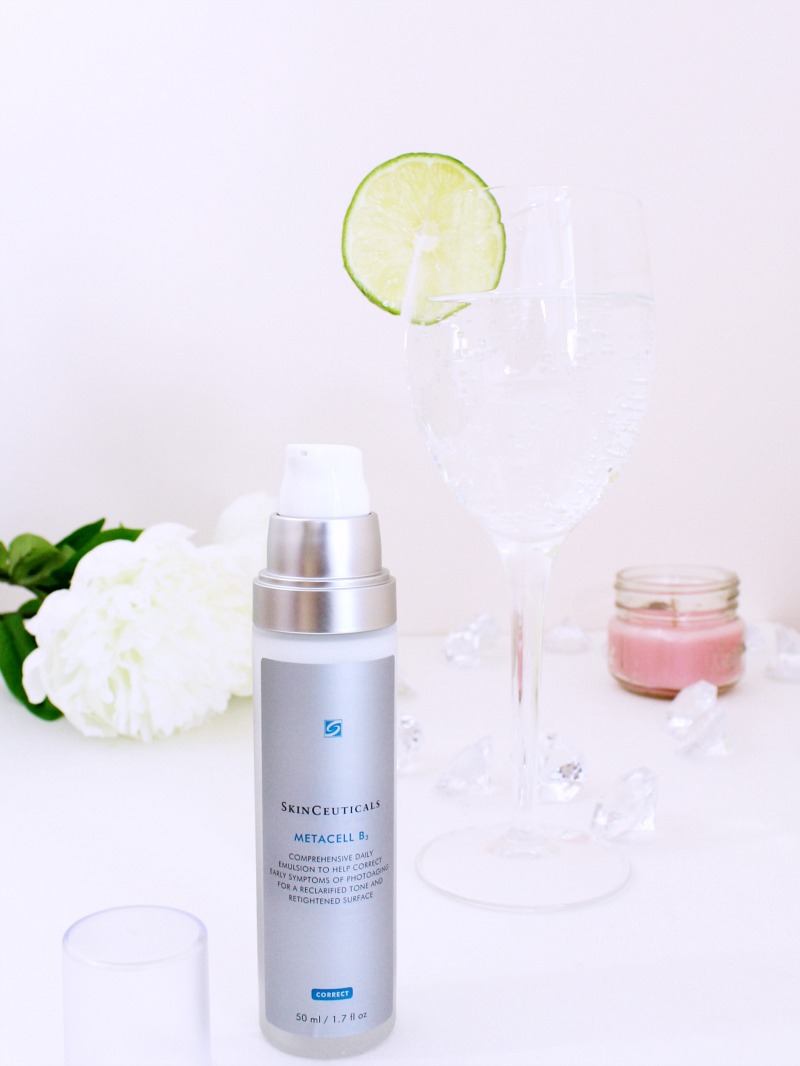 I've been trying out SkinCeuticals Metacell B3 for just over two weeks now. The directions suggest using it twice daily. I began using it morning and night, however I found it a bit too rich for my skin, causing a few breakouts on my chin, and so I opted to use it only at night with a concentration on my forehead and cheeks. This is where I am starting to notice fine lines developing. It's also where I have the last remnants of my "pregnancy mask" – also known as melasma.
This product appealed to me because it targets overall dull skin and promotes healthy skin renewal. I find that during the winter months, my skin gets drier and a bit lacklustre.
THE PROMISE: This comprehensive daily emulsion visibly improves early signs of photoaing by increasing cell turnover to resurface skin, help reclarify and even skin tone, and improve the appearance of wrinkles and surface elasticity.
Promotes skin renewal by increasing cell turnover
Strengthens skin's moisture barrier
Reduces the appearance of discoloration and blotchiness
Lightweight emulsion delivers intense hydration without a heavy or tacky feel
Helps improve the appearance of skin's firmness
THE RESULT: As I mentioned, I've been using this product nightly for just over two weeks and so far I am happy with what I am seeing first thing in the morning. The winter dullness is not as apparent. I find my complexion is smoother and brighter. I also find that after I wash my face with my morning cleanser, it's super soft and not dry. Which tells me that my skin is getting a good night's dose of moisture from this product.
Pros
Noticeably soft skin
Brighter complexion
Slight fading of spots
Very light and soft texture that melts into skin, without greasy feel
Overall moisturized skin
Cons
Small breakouts from applying on nose and chin (I stopped doing that and didn't get any on my forehead or cheeks)
Haven't noticed the correction of fine lines
This product includes 2.5% tripeptide concentrate, a type of protein made up of amino acids which is the building blocks of skin and body tissue. When you hear skin experts talk about products that can actually correct symptoms of aging, this is an ingredient that is often mentioned. After two weeks of using the Metacell B3, I haven't yet noticed a correction of what I consider my photoaging – fine lines. However, it is still a bit early to tell.
The verdict
This product comes highly recommended, with lots of positive reviews across the web. Overall, I am happy with the scent, texture, feel, and immediate difference in my skin's appearance. I will definitely continue to use it, because it is working on some of the concerns I had, like dull skin and even tone. Even though I didn't notice a difference with my fine lines around the eyes/cheek area yet, I will be watching closely. I've heard great things about tripeptide concentrate and it's preventative and corrective benefit.
SkinCeuticals Metall B3 retails for approximately $110 (US) and is sold online or at high end retailers and spas across Canada.
In Ottawa, SkinCeuticals is available here:
http://www.ottawaplasticsurgery.com
http://www.renuspa.ca
http://www.accent-on-beauty.com/
http://www.claritelaser.ca/
For more locations check the store locator.
The Best of this Life received this product for review and article writing purposes. All opinions are personal.
Latest posts by Emily Smith
(see all)