Beauty Buzz: Putting The Power of Hyaluronic To The Test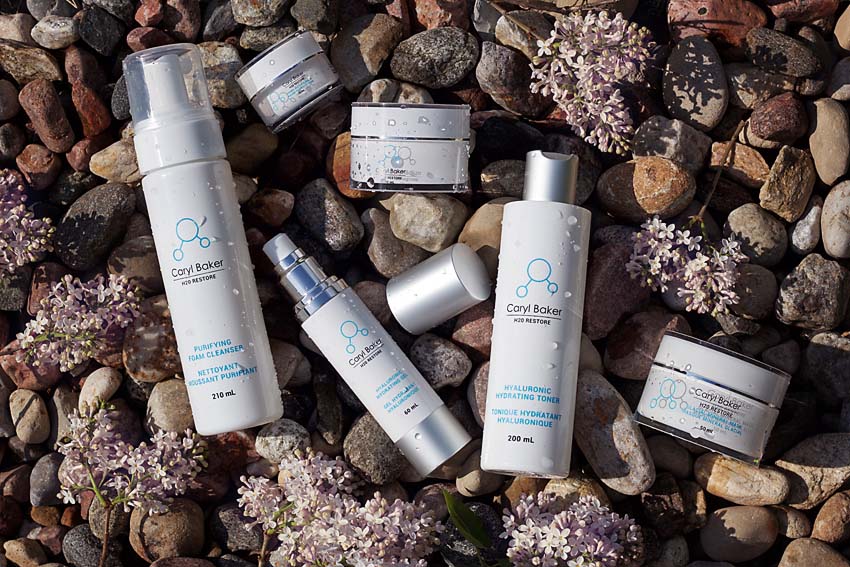 Earlier this month, I indulged in some much needed self-care. After the weeks of sickness my family and I had just gotten over, we all needed a little extra TLC. For me, that was getting to experience The Power Hyaluronic Facial at Caryl Baker Visage.
I've been to Caryl Baker Visage before for eyebrow shaping and makeup application, which I've always been very pleased with, however it was my first time enjoying their facial services – and now, it surely won't be my last!
Experiencing Caryl Baker's exclusive facial experience- The Power Hyaluronic Facial by Skeyndor
I was invited to experience The Power Hyaluronic Facial, which is new and exclusive to CBV. Hyaluronic Acid (HA) is a natural component of the body which can capture and retain 1,000 times its weight in water to maintain moisture and hydration in the skin. For this specialized facial, HA is combined with aquaporin to balance the skin's natural hydrodynamics to obtain an optimum degree of hydration and skin renewal as far as the middle layer of the epidermis. What does this all mean? It's a major boost for your skin's barrier function, helping to regulate the skin's regeneration process and protect it from premature water loss. The result is plump, hydrated, radiant skin.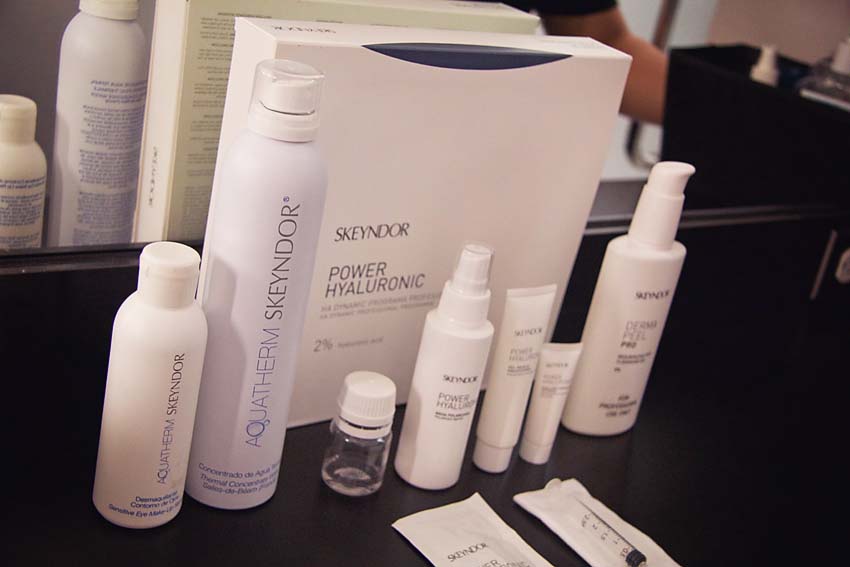 Prior to beginning my facial Nicole, my esthetician, took extra time and care to explain the scientific formulations of the Skeyndor products that are used throughout the facial and their incredible beauty benefits, as I highlighted above. I was excited to see the results!
For the facial, I laid down with a comfortable blanket over top of me and immediately began relaxing with the application of Thermal Concentrate Water on my skin – which reduces any tightness of the skin. Following, I received a gentle massage of Hyaluronic Acid Concentrate, Polarized Water and Aquaporin Gel which facilitates penetration of the products. Then it was time for the Ultra Hydrating Gel Mask, for improvement of the skin's barrier function. And finally, a layer of Intensive Moisturizing Emulsion was applied to lock in moisture.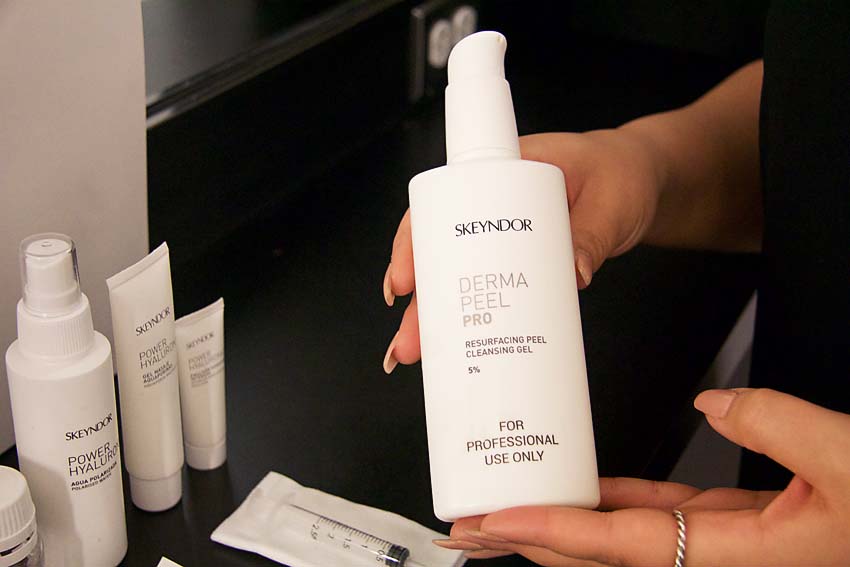 When my facial was over, I felt incredibly tranquil and relaxed. Nicole gave me a hand mirror to get to see my skin up close, and I couldn't believe the noticeable glow I was rocking! My skin looked so refreshed and radiant, the effects of the facial were immediate. I said to her, "I can't believe how obviously good my skin looks!" Haha. And it's true.
We often think of a facial as a luxury spa treatment, yet we dish out for daily coffees, manicures, and new clothes. But what about the investment in a facial that impacts our skin's health and look to such a degree? I think it's absolutely worth it!
Keeping skin radiant at-home with H20 Restore Collection
To help maintain my glowing complexion, I took home with me the Caryl Baker H20 Restore Collection, which provides 24 hours of intensive moisture and continuous hydration. This exclusive at-home collection is the perfect partner to The Power Hyaluronic Facial to keep skin balanced and radiant between facial appointments. I've been using the system for three weeks and I love how my skin looks and feels. The products have a subtle, natural scent and feel light-weight, yet hydrating on the skin. They feature powerful ingredients, such as certified organic Aloe Vera, Comfrey, Cucumber and Chamomile Extracts among others. One of my favourite products of the line is the H20 Restore Glacial Mineral Mask which has Purifying Canadian Mineral Clay combined with Hyaluronic Acid and Certified Organic Extracts and Oils for a moisturizing, deep-cleansing mask which hydrates and clarifies. It leaves my skin cleansed, toned and brighter!
Restore, hydrate, brighten, and revitalize with H20 Restore:
H20 Restore Glacial Mineral Mask – $45.00, 50 ml.
H20 Restore Purifying Foam Cleanser – $36.00, 210 ml.
H20 Restore Hyaluronic Hydrating Toner – $35.00, 200 ml.
H20 Restore Hydra-Rich Eye Balm – $40.00, 15 ml.
H20 Restore Hyaluronic Hydrating Gel – $75.00, 60 ml.
H20 Restore Antioxidant Cream – $65.00 – 30 ml.
The complete collection is available in-stores and some of the products are available online.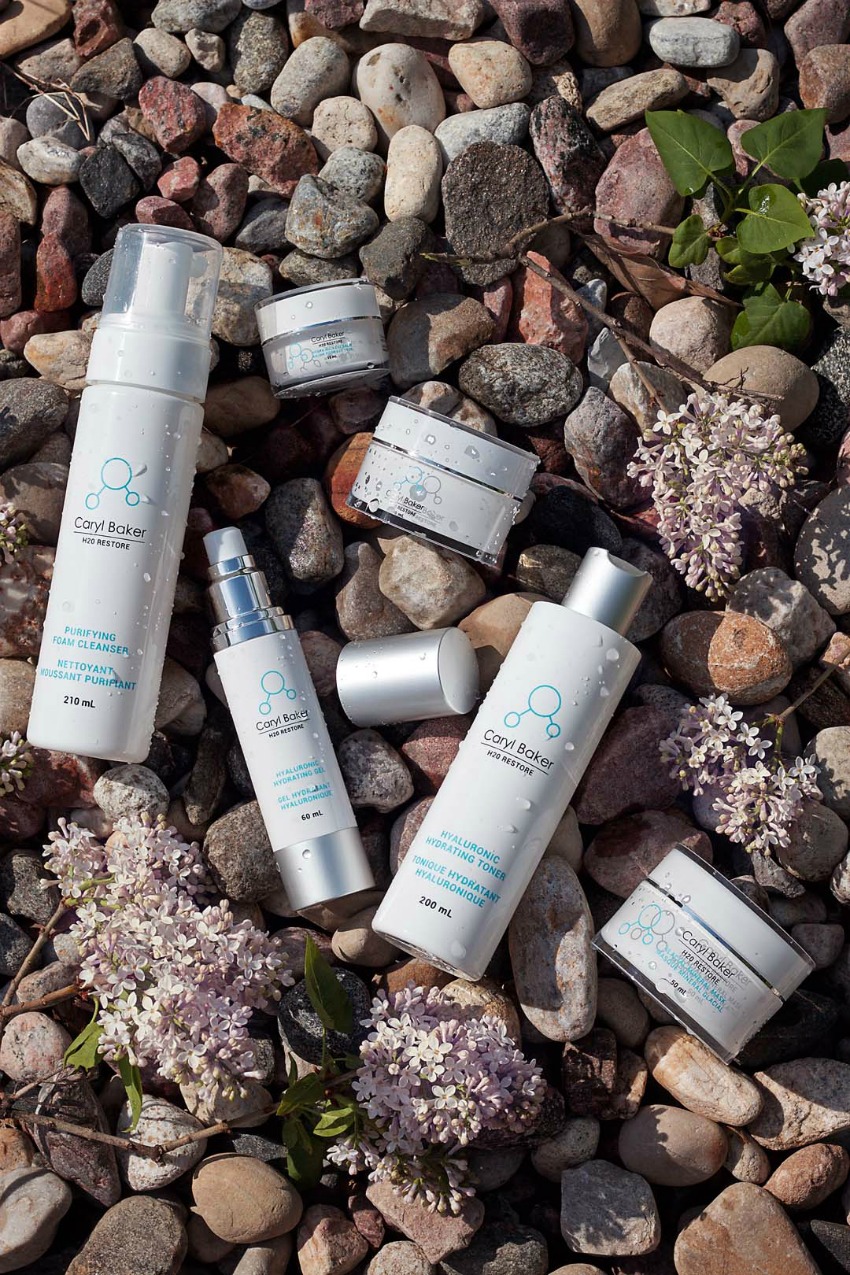 Using Caryl Baker H20 Restore collection really is like bringing the spa home! So how often does one then go back to CBV to get a facial like The Power Hyaluronic Facial? Nicole told me you could come in once a week for optimal benefits, however, once a month or even a few times a year can greatly improve skin's overall appearance and acts as a fabulous boost for your skin's luster.
The Power Hyaluronic Facial is $140 for a 60 minute facial service and you have the option of purchasing a package of 4 treatments for $392.
CBV offers an array of services, as well as the opportunity to be a Beauty Club Member which gives you awesome membership benefits, including a free makeup application on your birthday! To learn more about The Power Hyaluronic Facial, H20 Restore Collection, and other available services and to book an appointment today, visit carylbakervisage.com.
I can't wait to go back for another facial, and I also would love to try their new microblading service – have you seen the results?! Amazing.
---
Caryl Baker Visage is a unique and original concept, launched in 1969 by makeup artist and fashion model Caryl Baker. Specializing in state of the art cosmetics and services that address beauty from the décolletage and up eyelash extensions, eyebrow design, facial treatments, makeup and skin care, to complete makeovers Caryl Baker Visage has been a trusted go to beauty destination for over 45 years.
This piece is in partnership with Caryl Baker Visage – As always, my experience and opinions are personal.
Latest posts by Emily Smith
(see all)