Beauty Buzz: Biotherm Blue Therapy Red Algae Uplift Duo
This piece is in partnership with Biotherm Canada, gifted product was received for review – As always, my experience and opinions are personal.
It's often around this time of year my skin starts showing its age. The crossover from fall into winter is where I notice redness, fine lines, and general lackluster. It takes my skin some time to adjust to the cold weather and it no longer has that summer glow which naturally conceals some of those smaller imperfections. Concealer and bronzer go a long way, but on most days when I'm makeup-free, I want to give my skin what it needs the most: some TLC.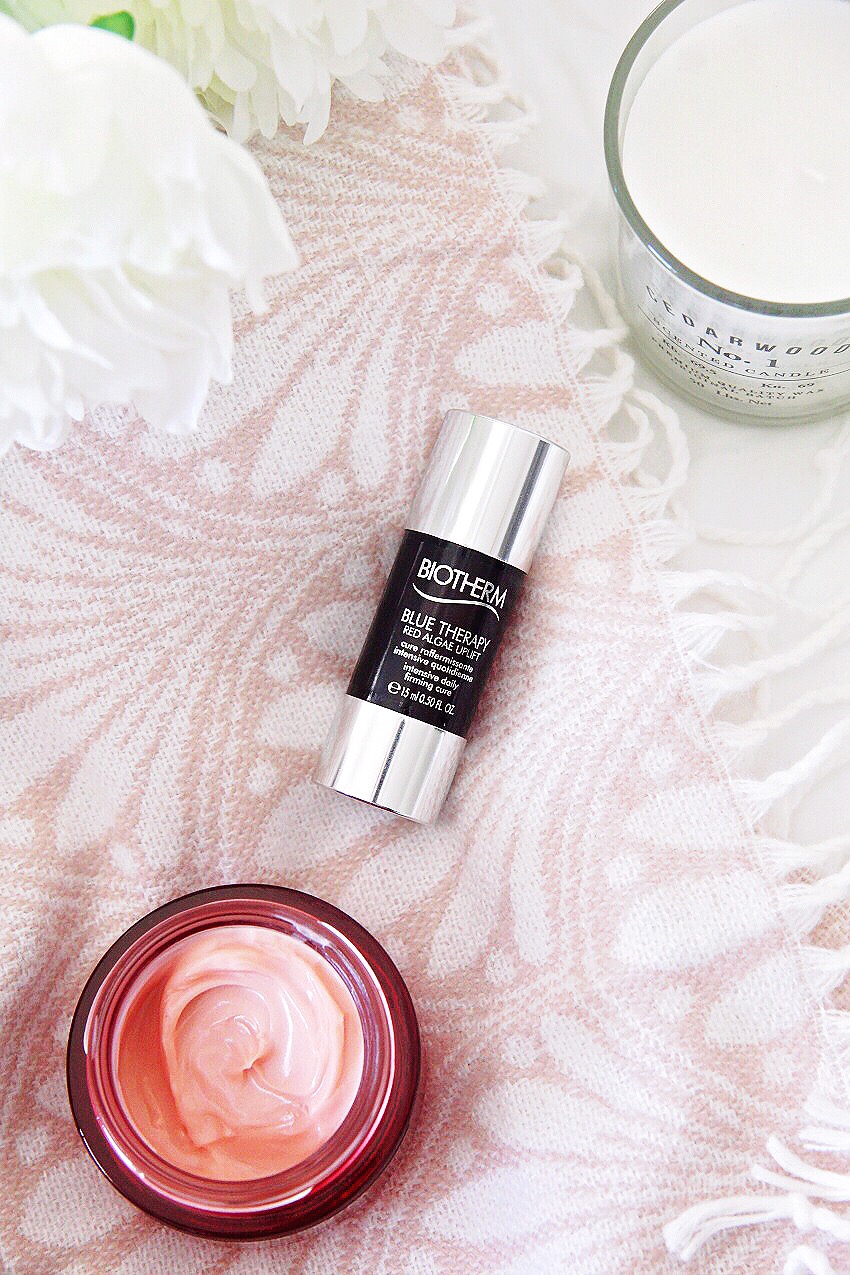 Discovering Biotherm Blue Therapy Algae Uplift Collection
Red algae, found on the Atlantic coastline, has the ability to regenerate itself and seemingly be untouched by the rough waves and movement of the ocean. It's said to be the sea's equivalent to elastin and collagen.
With that in mind, Biotherm Blue Therapy Red Algae Uplift range offers two effective products featuring red algae to help give skin a natural lift, overall smoothness and radiance.
The Ultra-Deep Firming 28-Day Cure is used morning and evening as a deep treatment on your face, neck and decollete. The application consists of using 6 drops on your skin to help lift and transform skin.
After applying the Ultra-Deep Firming 28-Day Cure, The Firming Rosy Cream is used morning and evening for instant smoothness and a rosy glow.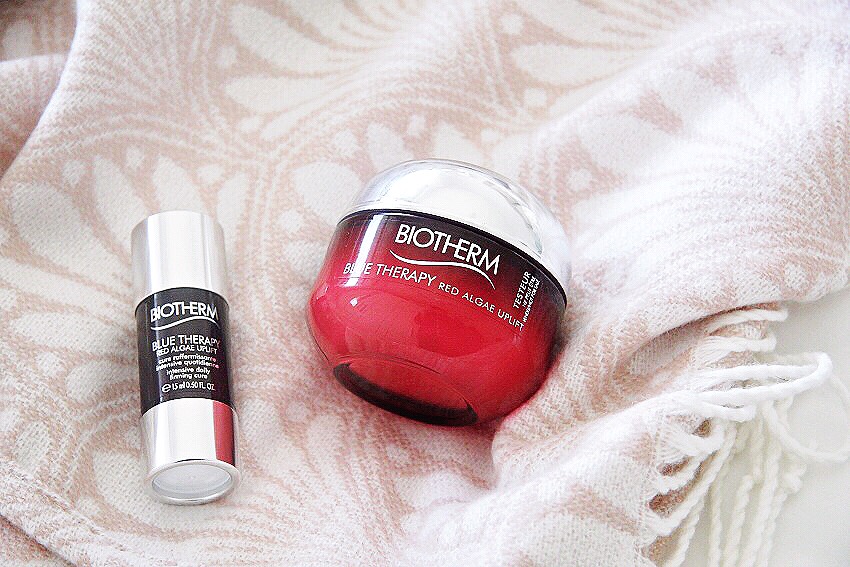 Healthier and Happier Skin
From personal use, I have found it has helped plump up my skin and nix the lacklustre that I was noticing at the beginning of October (we are now into November). As someone with very sensitive skin, I have found the Ultra-Deep Firming 28-Day Cure to be much lighter than regular serums. I have been using the Firming Rosy Cream every other day, because I do have a tendency to break out with richer creams, so I use a milder day cream in between. In terms of moisturizing and replenishing my skin's healthy look, it has been doing a great job! As far as a "lift", I'm not quite sure I would go that far, but I have noticed a difference with superficial fine lines.
During these colder, drier months, I definitely find I need to add a more substantial serum and moisturizer combo to my regular routine to help treat the skin and protect it against the elements. I find that when I apply The Firming Rosy Cream, my skin instantly feels better, like it's drinking it up! It doesn't leave any greasy film, it actually feels matte to the touch and works well under makeup too. I also like that the scent is fresh and light; it's not overpowering and non-irritating.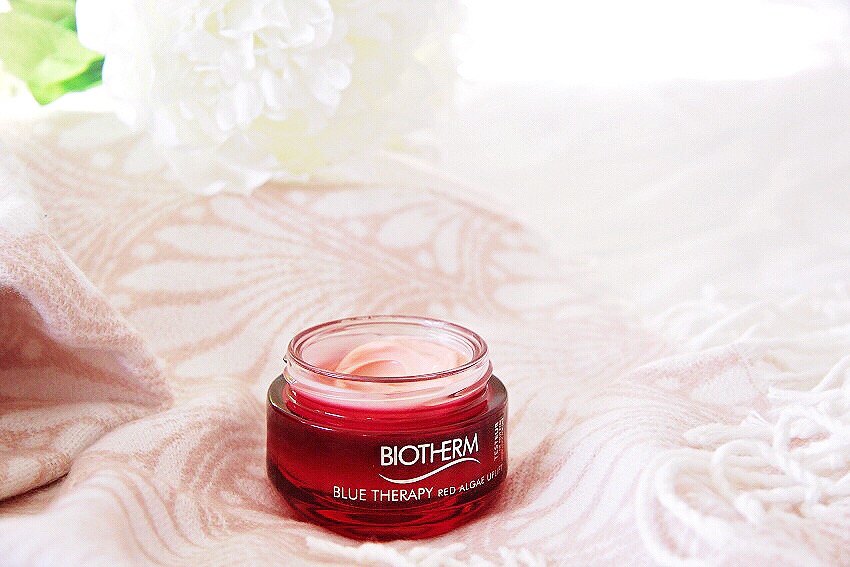 Overall, I'm really happy with the red algae range from Biotherm. I apply it liberally to my face, neck, and decollete and my skin always feels super soft afterwards. It feels like a treat for my skin and I have no doubt it's going to help it through the rougher weather climate ahead. The biggest thing I've noticed since using this duo is how "plump" and smooth my skin feels, especially noticeable along my cheekbone near my eyes, where fine lines are starting.
If you're in the market for a serum and moisturizing duo that works for both day and night, I suggest visiting your local beautycounter and learning more about it. You can even test it in the store or request a sample, if they have any available, to see how it feels on your skin.
You can also visit biotherm.ca for more information on the Blue Therapy Collection and to see all the products available in this range.
Latest posts by Emily Smith
(see all)