A Fun New Board Game for the Whole Family
This post is written in partnership with Days of Wonder. As always, all opinions are honest and personal.
Beat Boredom During the Holidays
Board games are quickly becoming one of our favourite family pass times. My children are at the age where they grasp game concepts quickly and get excited to take on mommy and daddy for the win!
When it comes to game night, we set up at the dining room table with an assortment of snacks and drinks and make an evening of it.
With the winter holiday break ahead and our kids having time off from school, we'll definitely be pulling out our game stash and now we have a new one to add to our rotation.
Ticket to Ride: London is a fun board game set in the 70's! It features London's historic streets, double decker buses, and famous landmarks like Big Ben and the Thames.
How to Play Ticket to Ride London
In this game, players are in a race against each other to claim the most important bus lines and complete their Destination Tickets.
Each player gets a set of different coloured double-decker buses with the mission to "claim routes". When you claim a route, by working towards lining up your buses along the lines of the route, you acquire points. You also acquire points by claiming a district and claiming your secret destination (given to each player by way of a card at the beginning of the game).
The point of the game is to get the most points. As I mentioned above, there are different ways to get points!
It's a bit of an initial learning curve to grasp the game concept and rules, but once everyone understands them, it's fun to jump in and strategize.
Ticket to Ride: London is both a game of chance and strategy which makes it exciting and interesting.
For our first round, we played teams and then we played as individual players once everyone got the hang of it.
The game lasts about 20 minutes, depending on the flow. It's really different than a lot of other board games we have, which makes it a novelty and a great addition to the mix.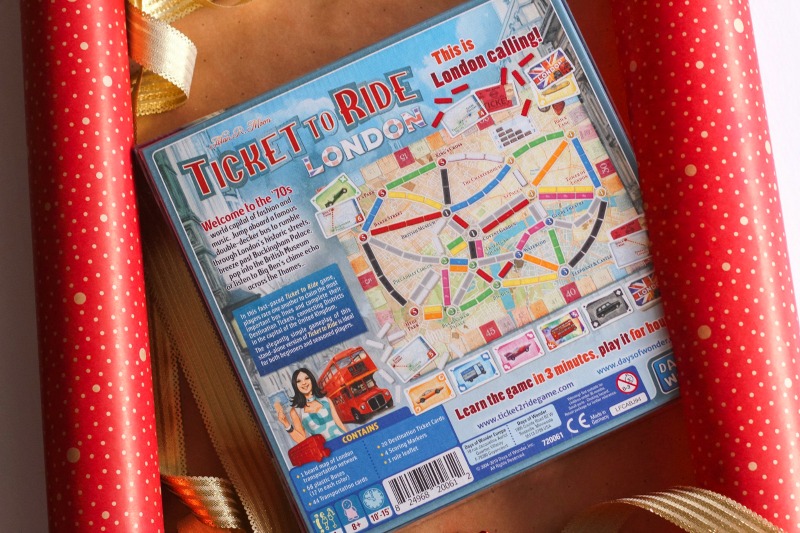 An Entertaining Family Gift Idea
If you've been on the hunt for a Christmas gift for the board game aficionado, Ticket to Ride is a fast-paced and thrilling game they're sure to enjoy! It also makes a great present to give to a family.
You can make a "game night" themed gift and include popcorn and candy with it!
Ticket to Ride: London is approximately $34.99 CDN and recommended for ages 6 and above.
It's great for both beginners and seasoned players!
Have you played any of the other Ticket to Ride games? What are your family's favourite board games?

Latest posts by Emily Smith
(see all)