Bursting Through Plateaus With Burpees
Hi Readers! Happy friday, I hope your weekend is off to a great start. In case you missed it, last week we talked about plyometrics. Burpees are a great example of a plyometric exercise and they are fantastic to help you generate that burn that keeps on going!
My personal goal is to pursue simplicity and efficiency in all areas of my life, notably with physical exercise. When I workout I don't always have a great deal of time to do so and that is why I mainly choose activities that are functional and condition my whole body. One movement in particular I want to talk about that meets my criteria, is straightforward to learn and a very good full body exercise is the burpee.
Benefits of Burpees:
no equipment needed
works out your whole body
great cardio/strength training option
improved strength, agility and endurance
related: Beginner's Guide Plyometric Exercise Moves
Right now burpees are very popular, embraced by CrossFit gyms and obstacle races alike and that is a good thing because this is a movement that is easy to learn, can be done almost anywhere and will workout your entire body. Consistent to a lot of the exercises I recommend, I was introduced to the burpee in bootcamp, where it conditioned me along with other bodyweight exercises to pass my physical examination. The way I recommend doing them is how we use to do them in boot camp; back-to-back as quickly as possible while maintaining good form.
How to do a Burpee:
squat down and place your hands on the floor
kick back your feet, your body should be in a straight line from your head to your feet (you can make this exercise harder by adding a push-up here)
jump back to the starting position, with you hands still on the floor and your body squatted down
jump up like you are going to dunk a basketball
repeat
related: 5 Reasons to Start Stretching

As easy as the burpee is to learn after a few repetitions this movement becomes harder and harder. If you are beginner, after practicing it to get the form correct, I suggest you start off with ten repetitions for three rounds. Doing this for a while and then challenge yourself by increasing both the repetitions and rounds, you can even throw in a few push-ups to really get a great workout.
This weekend, when you're not hunting for Easter eggs – I challenge you to give burpees a try, you can add them to your current workout routine or perform them alone.
If you have any questions or suggestions please feel free to comment here and as always thank you for reading and cheers to your good health!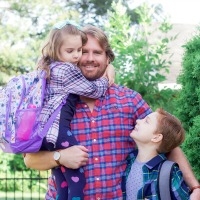 Latest posts by David Smith
(see all)