Chocolate Covered Peanut Butter Truffles for Valentine's Day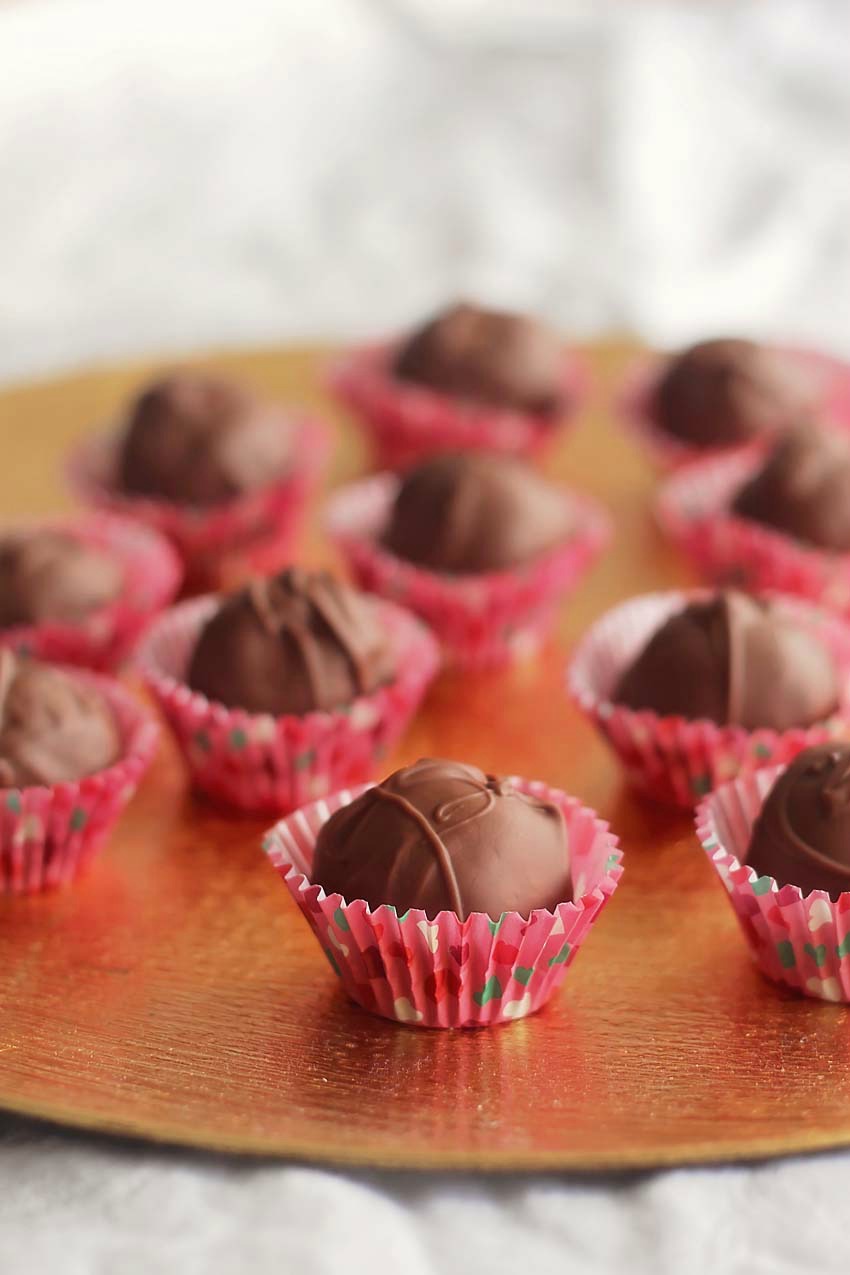 As I'm sure you're well aware of, Valentine's Day is coming up – which means we're all going to go shopping for a nice box of truffles or chocolates for our partners or kiddos, right? Why not gift a healthier option this year that's just as tasty. The great thing about these little treats, I'm sharing with you today, is they look just like truffles which makes them perfect for Valentine's Day (and they're actually pretty nutritious too)!
Healthy Chocolate Truffles, You Say?
For instance, these truffles are coated in chocolate which has proven to be good for your health if you eat it in small amounts (especially dark chocolate). With these snacks you wouldn't be eating a whole bar but just a layer of chocolate on the outside. Next we've got the natural peanut butter. A lot of people try to stay away from peanut butter because it's high in fat, but if you choose an all natural brand, it's actually not all bad! Peanut butter is filled with the good kind of fat just like olive oil which means it's good for you in small doses. Your body needs fat, especially the good kind of fat, in order to function optimally. Peanut butter is also terrific for boosting your energy. Other than that, peanut butter is also rich in fiber. As you might already know, food rich in fiber will keep you feeling full and satisfied for a longer period of time which means you'll be snacking less during the day.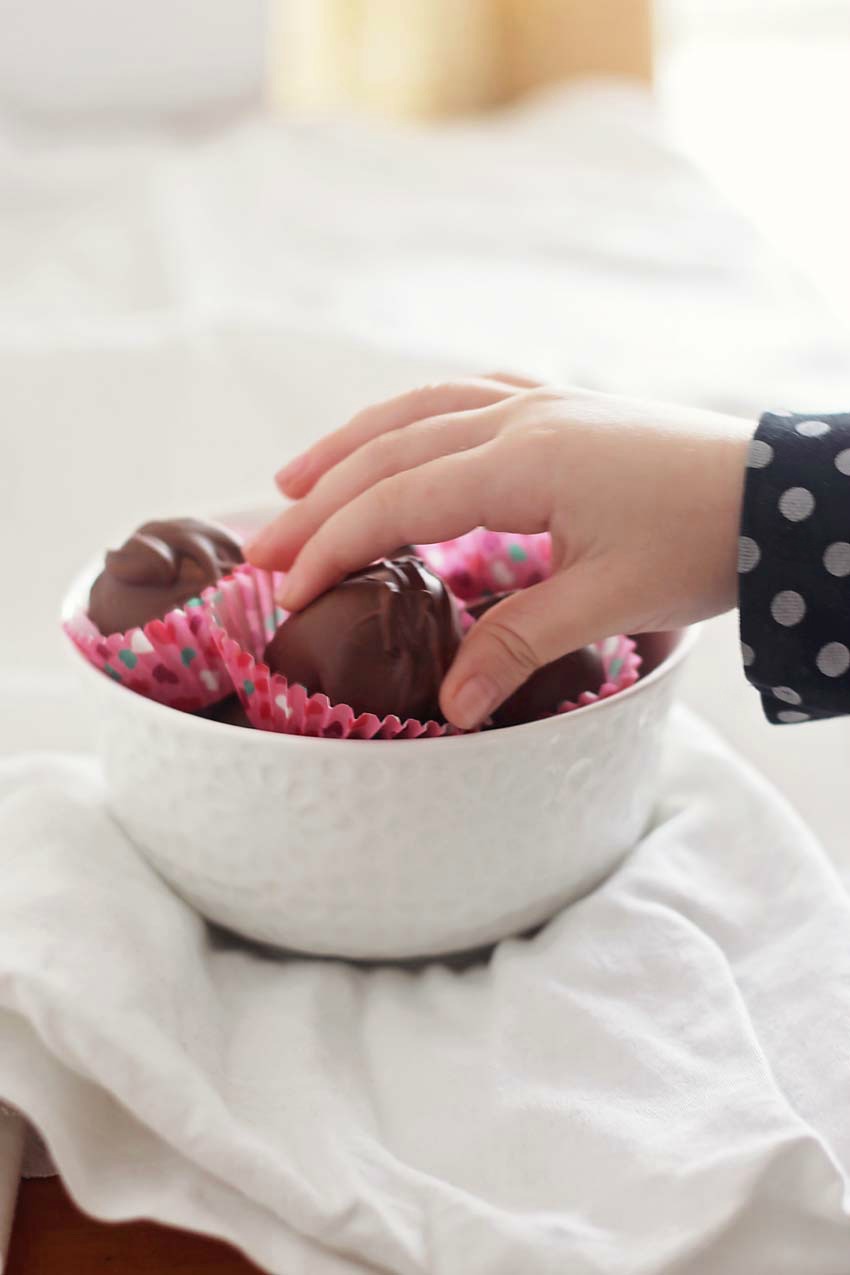 Sneaking in those nutritious oats
The oats included in the recipe are also rich in fiber. Additionally, oats have more protein and fat than you would find in most other grains (don't worry, it's the good kind of fat). If this didn't sound like it was nutritious enough yet, oats also contain around 39% of the recommended daily amount of vitamin B1 and contains tons of minerals like copper, iron, and zinc. An excellent healthy addition to your diet! Am I convincing you of the healthy properties of these chocolate covered peanut butter truffles? Good, you're going to love them (and so is anyone you give them to!).
A dose of antioxidants for Valentine's Day
Everybody probably already knows that honey is one of the greatest things the world has to offer. Its health benefits date way back to times we couldn't even imagine. One of the most popular facts about honey is that it helps relieve a sore throat and reduce coughing (feel free to take a spoonful if you've got a cold!) – but did you know, just like the other foods named above, honey contains antioxidants. The antioxidants found in honey can prevent cancer and heart disease.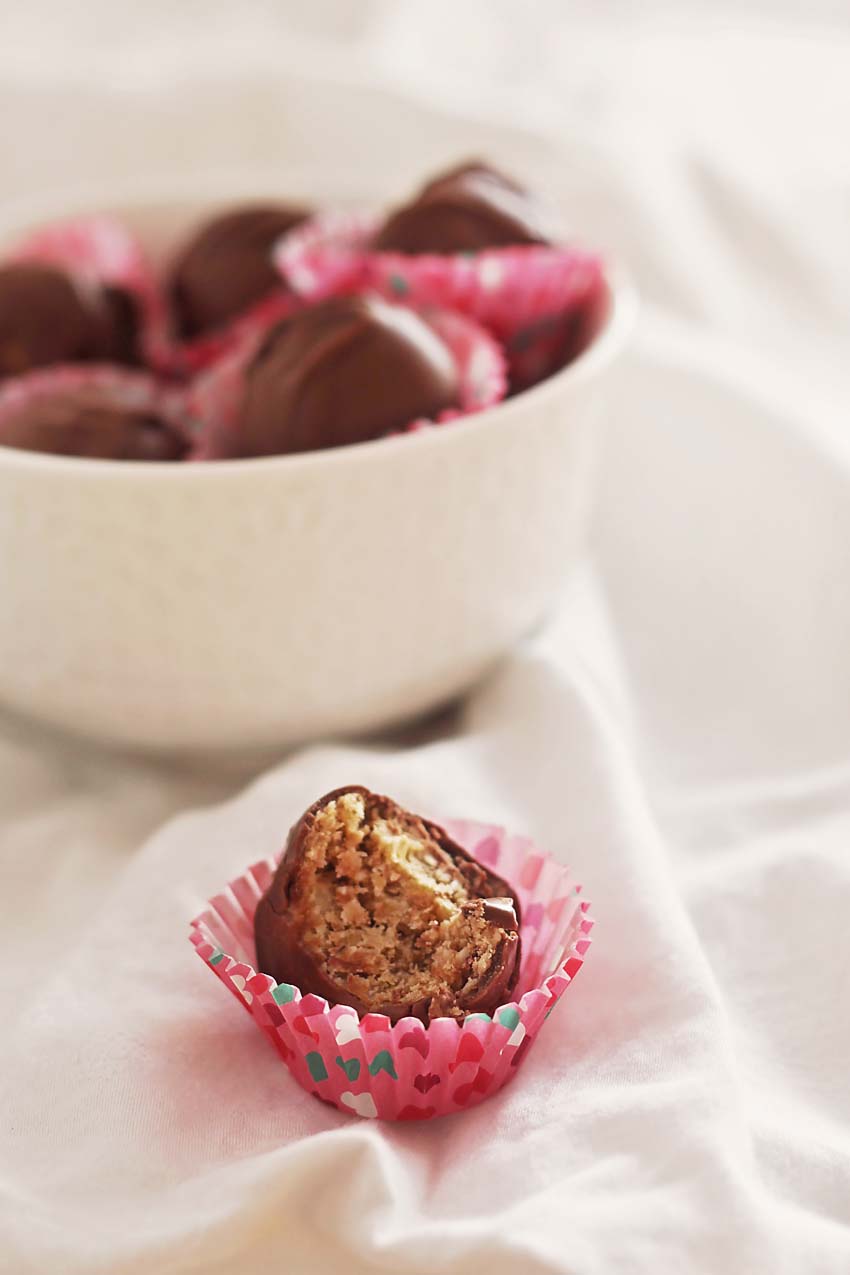 Mix all these ingredients together and you've got a healthy, nutritious and delicious little snack. They look just like truffles so if you're giving them for Valentine's Day you could put them in a cute little box with a bow and present them as a gift. They will be well received, I'm sure of it!
Print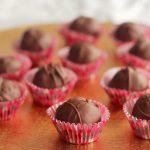 Chocolate Covered Peanut Butter Truffles
---
Description
DIY Valentine's Day truffles made with wholesome ingredients.
---
1/2 cup

natural peanut butter

1/4 cup

honey

1 cup

rolled oats

3/4 cup

chocolate chips (we used semi-sweet)
---
Instructions
Line two baking sheets with wax paper and set aside.
Mix peanut butter and honey in medium bowl until blended. Stir in remaining ingredients.
Refrigerate 20 min.
Roll into approximately 20 (1-inch) balls, using about 2 Tbsp. for each.
Refrigerate the peanut butter balls while preparing the chocolate.
Melt chocolate chips (dark, semi-sweet or milk chocolate) in the microwave or using a double boiler.
Using a spoon, dip the peanut butter balls into the melted chocolate, roll to cover and place on the baking sheet. Continue until all the peanut butter balls are covered.
Place the baking sheets in the fridge so the chocolate solidifies (20 minutes).
For presentation or gifting, place the peanut butter truffles in individual truffle liners and/or into small gift boxes. Enjoy!
Notes
The recipe will make less if you roll the mixture into large balls. Keep refrigerated for up to 3 days for optimal freshness.
What do you think? Will you be whipping up these super easy, no-bake, totally delicious truffles for your Valentine?
Latest posts by Emily Smith
(see all)