Classic Gluten-Free Apple Muffins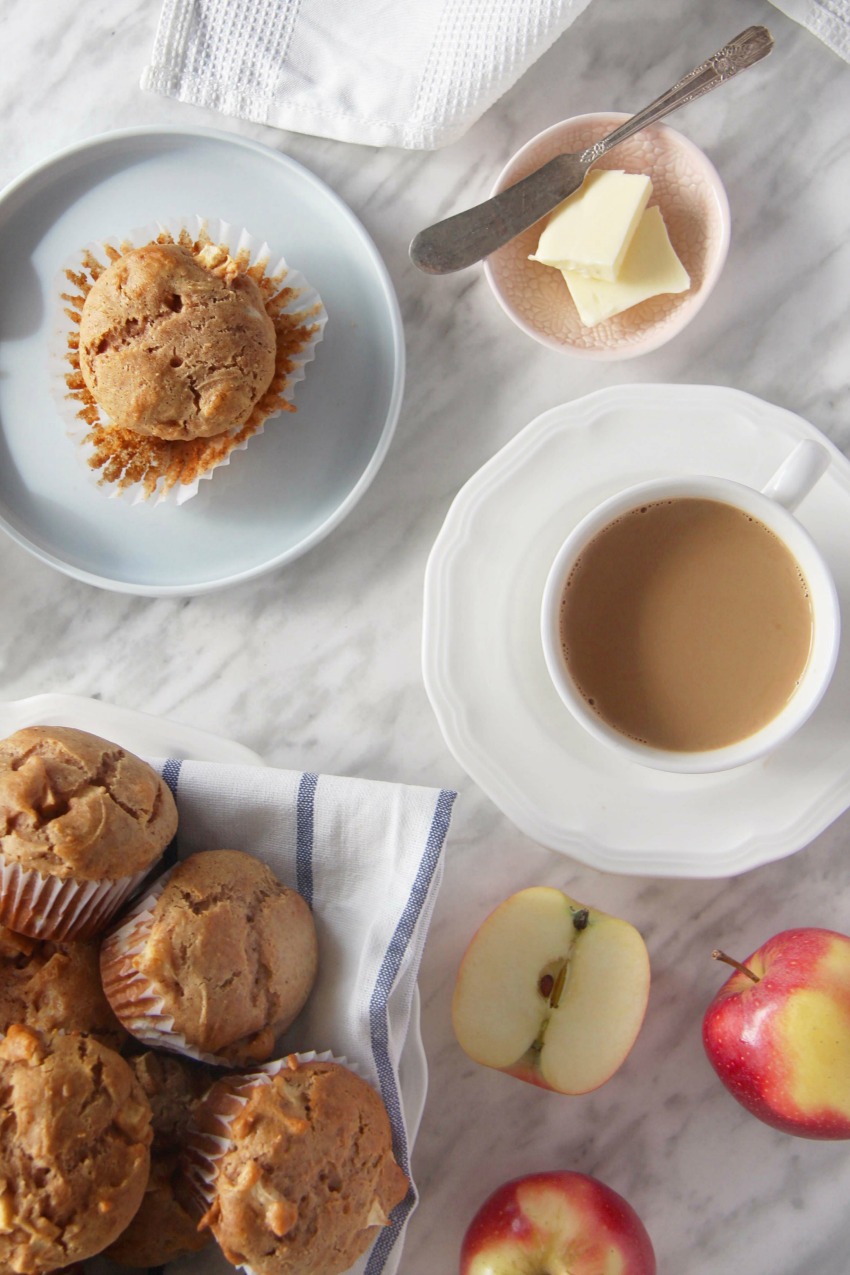 We're officially entering the negative temperatures here in Ottawa. This morning, we were sitting at a chilly -2 Celsius and it's only a matter of time before those big, fluffy snowflakes begin falling. I've pulled out all of our winter gear; hats, scarves, mittens, neck warmers, and boots are all readily available for the inevitable drop in weather. With the change of seasons comes a desire for completely different foods. We tend to reach for heartier, comfort foods to keep our bellies filled while we take on the dampness. My kids aren't as inclined to want an iced cold berry smoothie for breakfast as they were in the spring and summer months – now they're asking for oatmeal, pancakes, and muffins.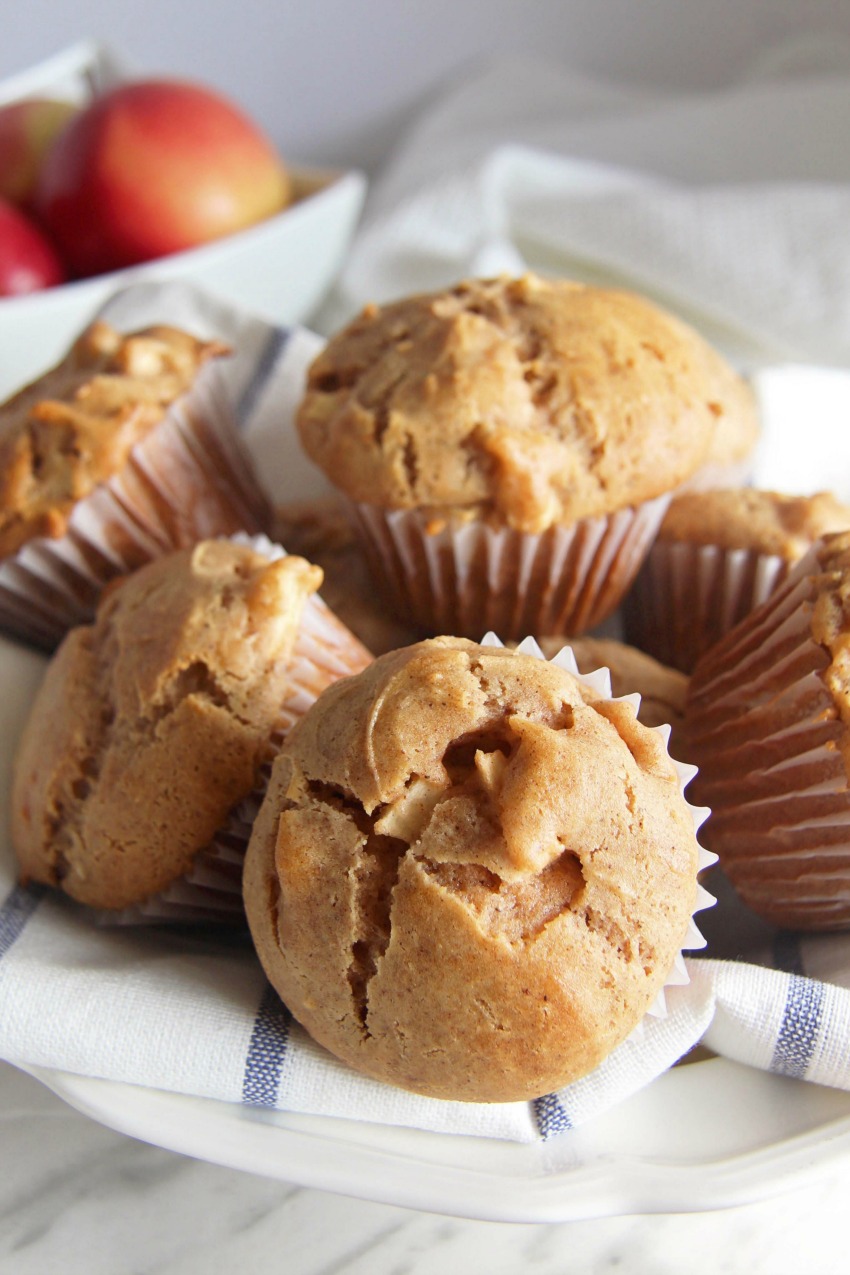 Use up all your extra apples
Considering the buckets of apples that came into our home from our trip to the orchard, we've been making lots of apple goods these days. We recently made apple butter and apple cider – both we're so delicious and easy to do in the slow-cooker. I'd like to make them again and share the recipes with you! But for today, I have a simple, yet delectable classic apple muffin recipe to share with you. They're fluffy, light, moist, and ideal for serving at breakfast time. They're really good served fresh out of the oven, but you can warm them up in the microwave or toaster oven if you or your kiddos want to have them hot throughout the week. That said, they taste equally yummy cold, and if you prepare a batch or two on Sunday, you can get a head start on the week by having breakfast all set to go.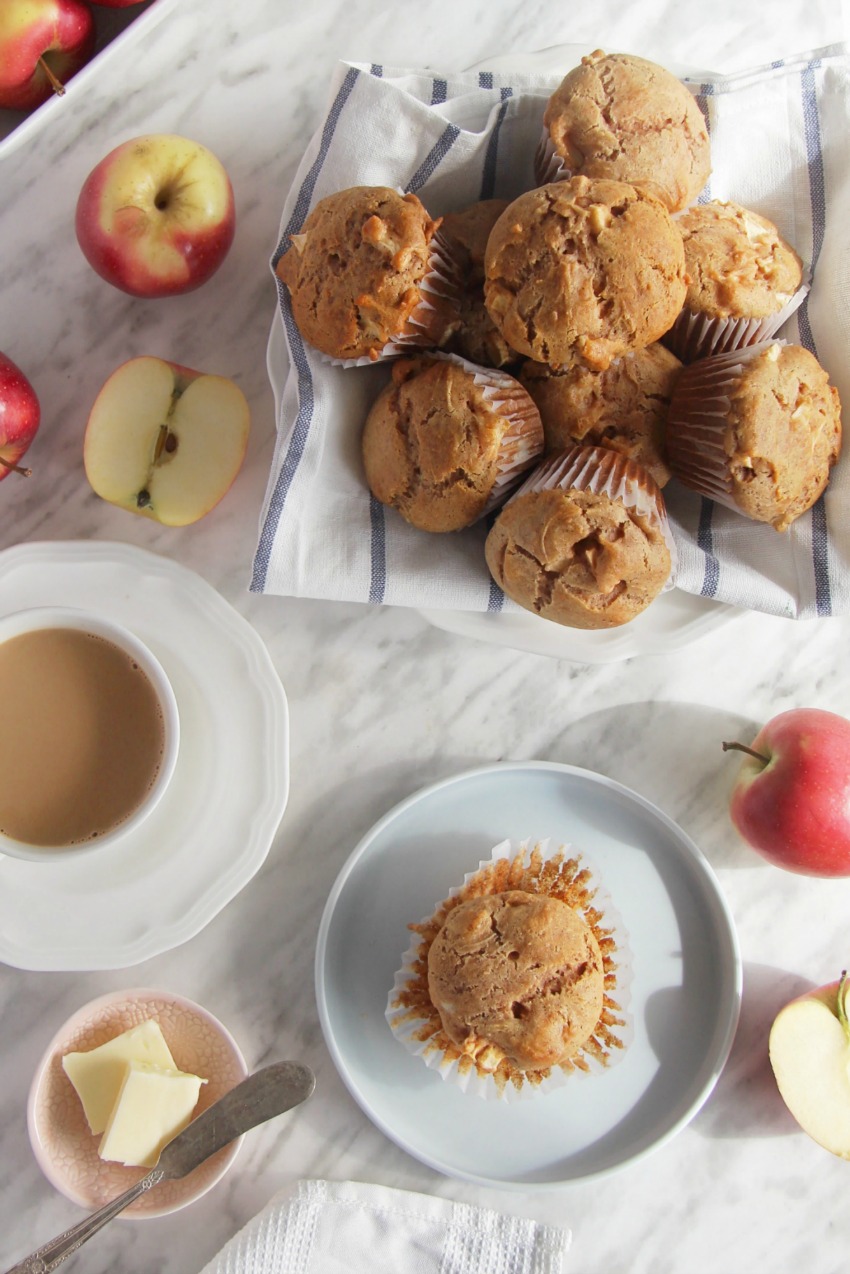 Make sure you pin this apple muffin recipe, you'll thank me later!
These apple muffins include quintessential spices of fall such as nutmeg and cinnamon. They're bursting with just the right amount of apple chunks to please your palette and keep them from drying out. They're lightly crunchy top with their soft interior make for a perfect mouthful with each bite! If you're positively crazy for all things apple, go ahead and spread some apple butter on them too. It's the season to enjoy all this apple goodness after all, isn't it!
Print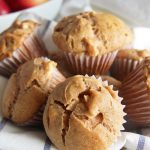 Classic Gluten-Free Apple Muffins
---
Description
Delicious moist and flavourful muffins, perfect to use up seasonal apples.
---
1 1/2 cups

all-purpose gluten free flour

1 1/2 teaspoons

gluten-free baking powder

1/2 teaspoon

baking soda

1/4 teaspoon

kosher salt

1 Tablespoon

apple pie spice (cinnamon, nutmeg, all spice, ginger, cardamom)

1/2 cup

light brown sugar

1 1/2 cups

diced apples, peeled

2

eggs, beaten

1 cup

Greek yogurt (or full fat canned coconut milk for dairy-free)

1/2 cup

of melted coconut oil or butter, cooled

2 teaspoons

pure vanilla extract
---
Instructions
Preheat over to 350 F.
Line a 12 cup muffin tin and save for later.
Mix dry ingredients first in a large bowl: flour, baking powder, baking soda, apple pie spice and sugar. Combine until lumps are gone and it's smooth.
In a separate mixing bowl, combine the coconut oil, Greek yogurt, eggs, and vanilla. Slowly add to the centre of the dry ingredients and stir until well combine.
Add in the diced apples and stir gently until they are evenly distributed.
Using a large spoon, fill the muffin tins to the top.
Bake in the oven for 20-22 minutes or until the centre comes out clean (use a butter knife or toothpick to test).
Enjoy!
Notes
This recipe makes 12 large muffins. Feel free to add raisins or cranberries for extra flavour.
Pin this recipe for later!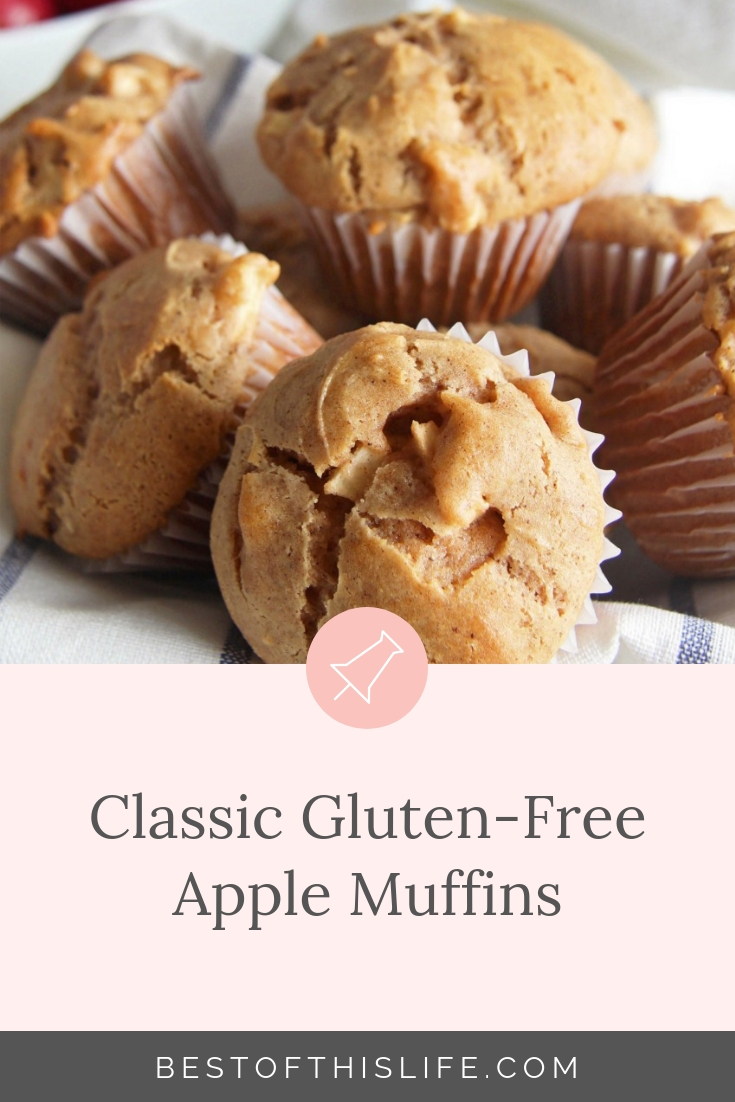 Latest posts by Emily Smith
(see all)