Gluten-Free Brownie Coconut Ice Cream Cake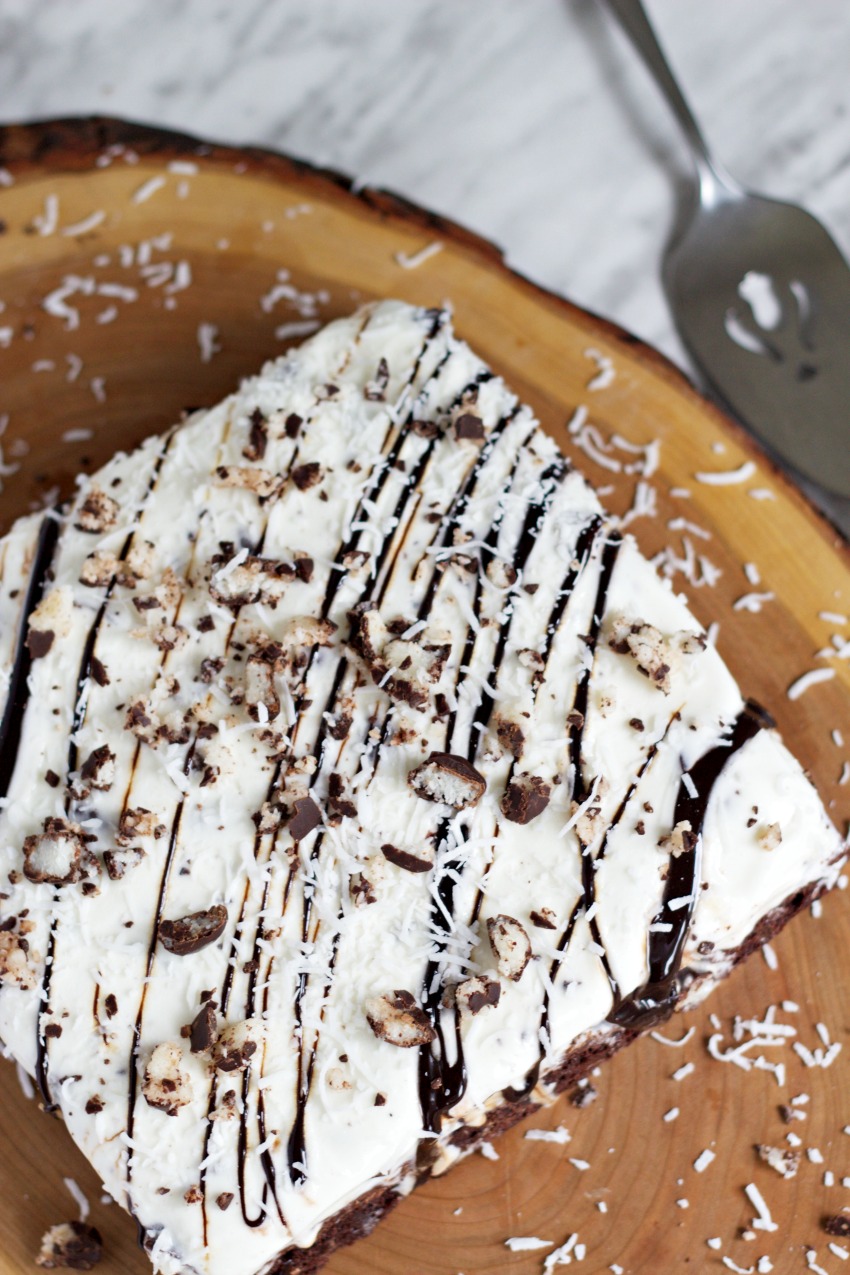 I scream, you scream, we all scream for Coconut Brownie Ice Cream…cake! It's summertime friends and you know that means cool treats are a BIG hit. Whether for your little munchkins on a hot day or to celebrate a summer birthday, ice cream cake is hands down one of the greatest crowd pleasers. Honestly, I don't think I've ever met anyone who doesn't love it! I mean, what's not to like about it. Ice cream and cake? That pairing is amazing.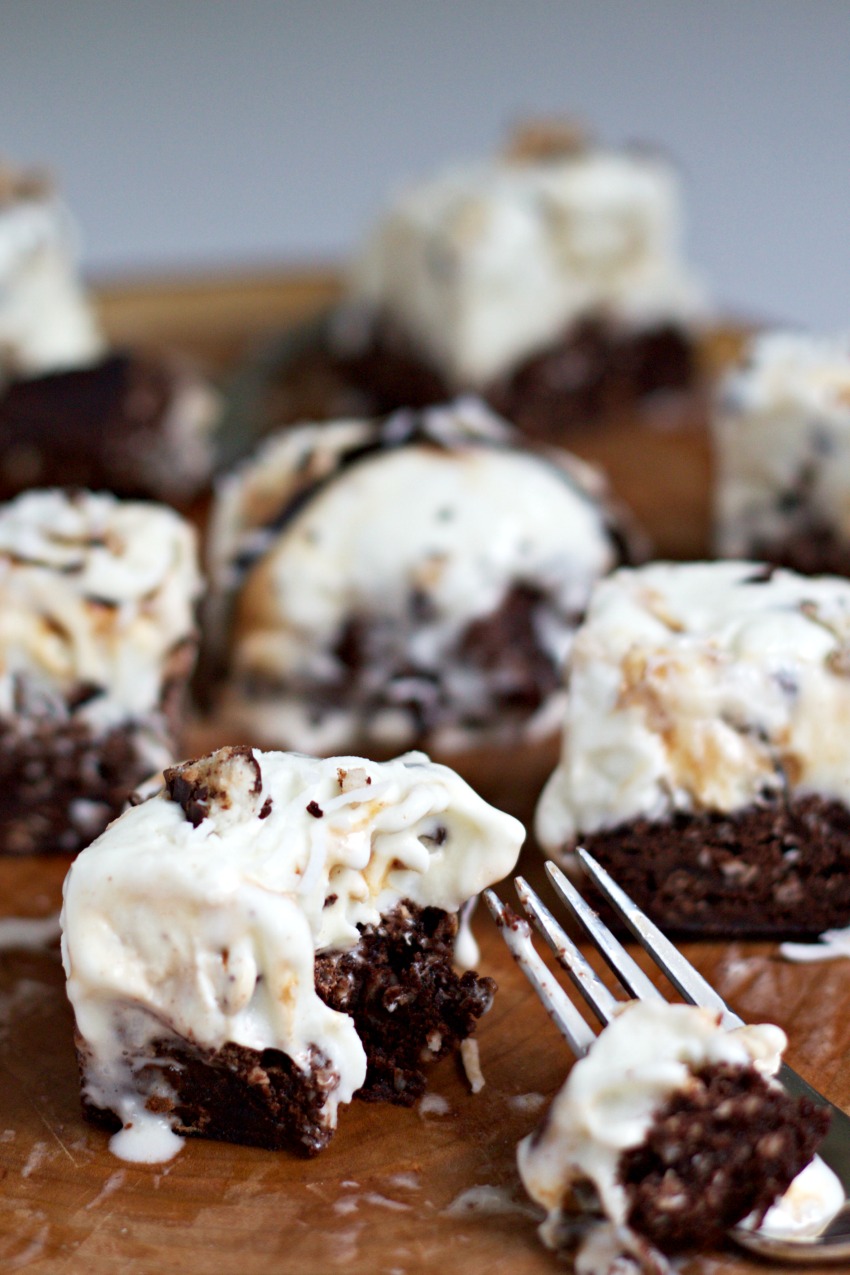 I had such a fun time in the kitchen creating a new summertime favourite: Coconut Brownie Ice Cream Cake! There is so much yumminess happening in this dessert, it's hard to know where to even begin. From the decadent gluten-free brownie layer, to the chocolate coconut infused vanilla ice cream – and finally a drizzle of dark fudge hot sauce and sprinkles of sweet coconut. It's out of this world!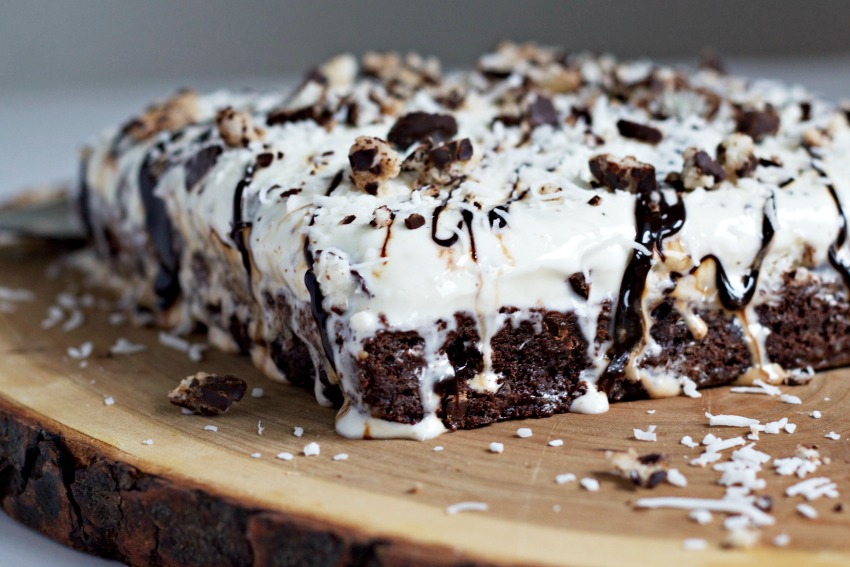 Every bite holds rich chocolate and coconut flavour that melts in your mouth. The chewy brownie, creamy ice cream with chocolate coconut chunks, and the final layer of toppings work together in harmony for the perfect ice cream cake texture. The addition of coconut is not overwhelming in this dessert, it's the subtle hints of aroma that balance wonderfully with the delectable gluten-free brownie base.
I used a coconut filled dark chocolate cookie for the candy bites added to the ice cream, which I cut up. You can use any chocolate-coconut bar, candy, or cookie to add delicious flavour and a delightful texture.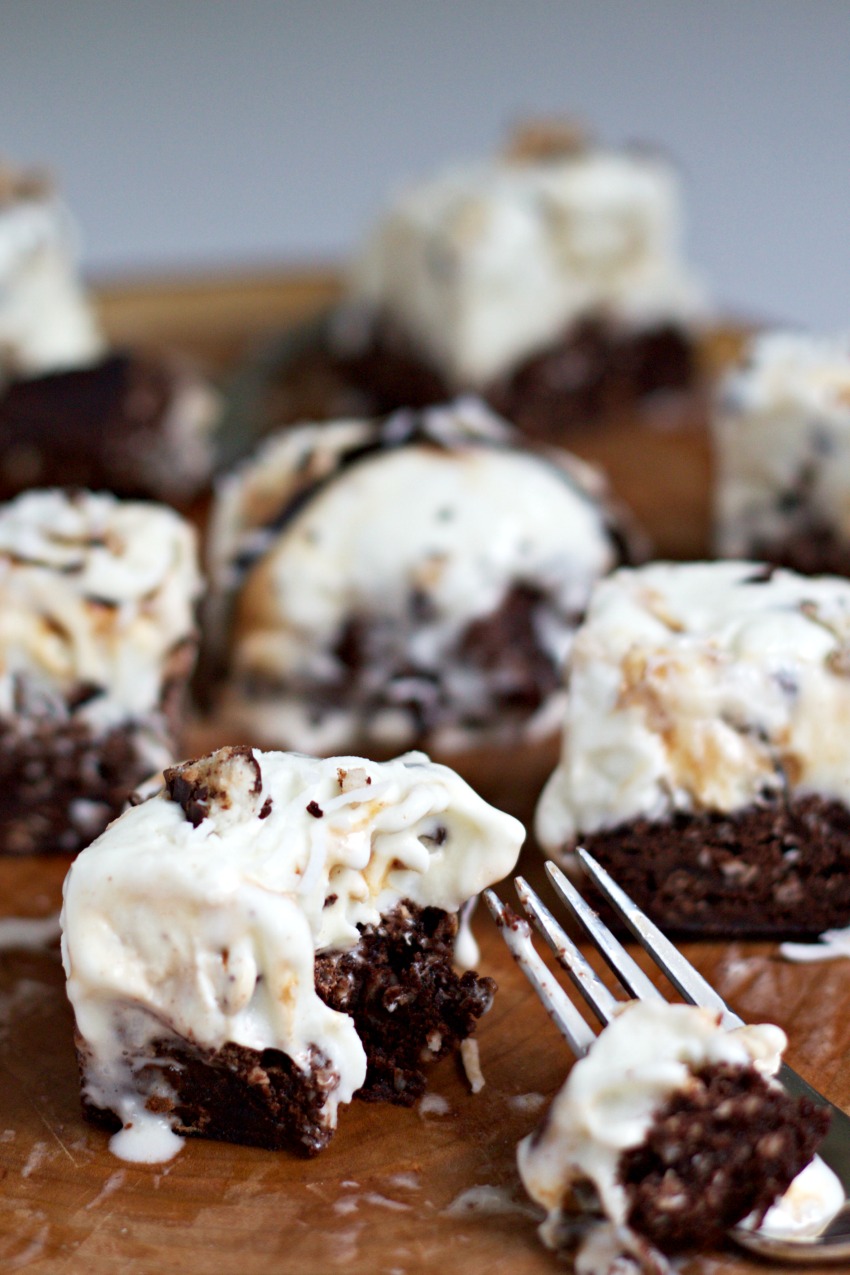 After I made this cake, I cut it up into individual squares and stored them in a freezer-safe container in our freezer. For up to a week, they taste fresh and are perfect for single servings. Let it thaw slightly before serving (so the brownie base softens and the ice cream has a creamy consistency) and dig in!
Here's the step by step to creating the ultimate Coconut Brownie Ice Cream Cake: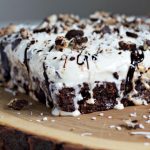 Gluten-Free Brownie Coconut Ice Cream Cake
---
Description
A decadent summer treat for the brownie-lover!
---
1

package Betty Crocker Gluten-Free Brownies

¼ cup

sweetened shredded coconut, plus extra for topping

5 cups

vanilla ice cream

1 cup

of chocolate-coconut cookies (or other chocolate-coconut candy/chocolate bar) cut into small pieces, plus extra for topping
For hot fudge
1⁄2 cup

sugar

2 tablespoons

cocoa

1⁄8 teaspoon

salt

1

1⁄2-2 tablespoons butter

1⁄4 cup

water

1⁄4 teaspoon

vanilla extract
---
Instructions
Prepare Betty Crocker Gluten-Free Brownies following the instructions on the package, stir in ¼ cup sweetened shredded coconut, and bake. Allow to cool completely.
In a large mixing bowl, add 5 cups of vanilla ice cream, and stir in chopped up chocolate-coconut cookies. Mix until the ice cream is smooth, like a soft serve.
Place the brownie base on a serving platter and top with ice cream mixture, lining up the ice cream layer with the base. Spread evenly.
Place in the freezer while you prepare the hot fudge.
To make the hot fudge combine sugar, cocoa, and salt in small saucepan.
Add enough water (about 1/4 cup) to make consistency that is easy to stir.
Add butter to cocoa mixture.
Bring to a boil over medium high heat, stirring constantly.
Allow to boil for 1 minute, stirring. Remove from heat. Add vanilla.
Drizzle the hot fudge over your brownie ice cream cake. Top with extra chocolate-coconut cookie pieces and sweetened shredded coconut. Allow to set for 2-3 minutes before serving!
Notes
Keep in freezer safe container in freezer for up to 1 week.
For everyone who loves a delicious fudge brownie and the tropical flavour of coconut – this dessert is for you!
---
Emily Smith is an Ambassador for Life Made Delicious and a member of the "Delicious Experts" Influence panel. This post is in partnership with Life Made Delicious. As always, opinions are 100% personal.
Latest posts by Emily Smith
(see all)