Cold Beet Salad with Red Onions and Chives
This cold beet salad is bursting with colour and flavour! It's a delicious side dish you can serve alongside sandwiches or a main meal. Beets are full of manganese, potassium, vitamin c, and are all-around a very nutritious vegetable. To make this dish quick and easy to prepare, you can pick up pre-cooked beets in the refrigerated produce section of the grocery store. Or by all means, you can boil, peel and cool them in advance to make this healthy beet salad.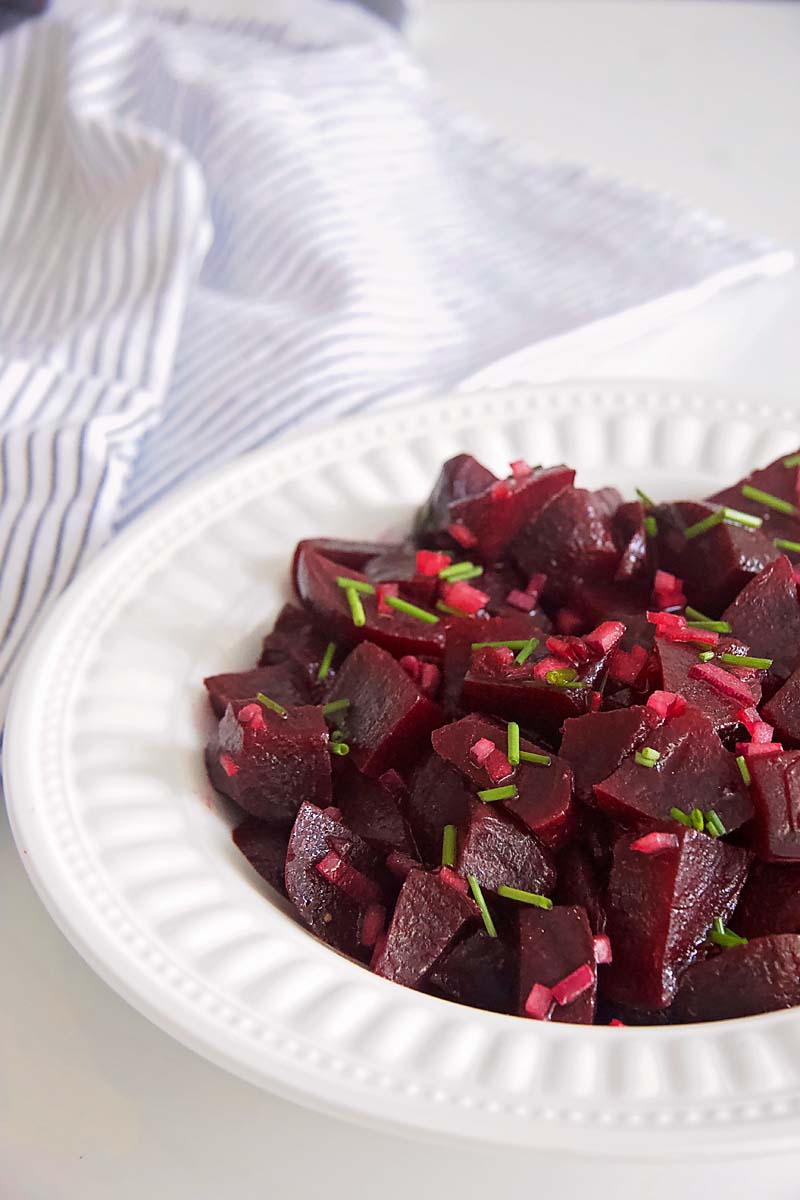 Beets Are Delicious and Healthy to Enjoy Year Round
My earliest memories of eating beets are from holiday family gatherings, like Easter and Christmas. They were always a cheerful, vibrant side dish to spot on the table, served alongside the entree. However, beets are tasty and nutritious to enjoy all year round. For this recipe, a touch of red onions and chives add complimentary flavours to the sweet beets. You can enjoy this cold salad on its own, as an add-in to a leafy green salad, or as side to a hearty sandwich. It also tastes really good with chilled quinoa and other roasted root vegetables, like sweet potatoes, turnips, and carrots.
related: Butternut Squash, Spinach, and Quinoa Casserole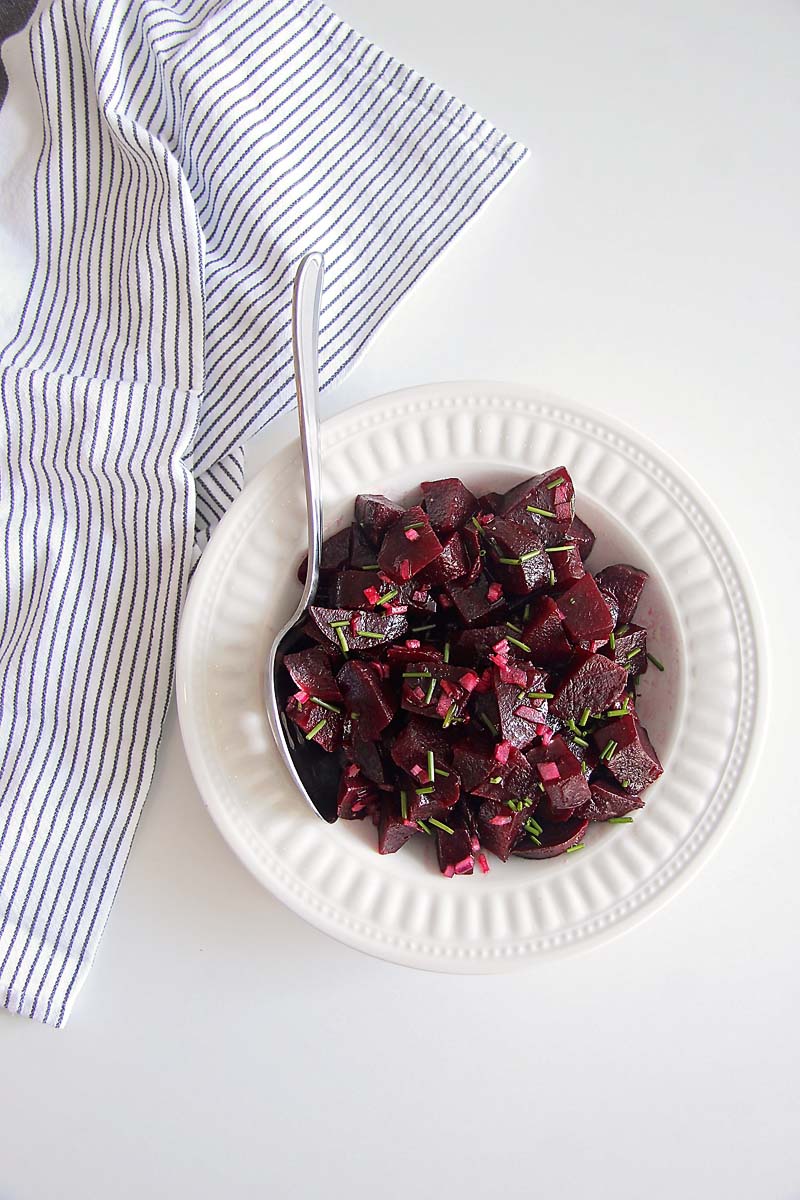 Every Cup of Beets Serves up a Good Dose of Nutritional Value
Per one cup of beets, you're getting a good source of your daily recommended value of nutrients: 34% folate, 24% manganese, 14% copper, 12% fiber, 11% potassium, 9% magnesium, 8% vitamin c, and 7% iron (source: the world's healthiest foods). That's a whole lot of goodness in just one cup! Not to mention, beets are low in calories at just 75 calories per 170 grams, yet are quite filling.
related: Detox Beet Apple Smoothie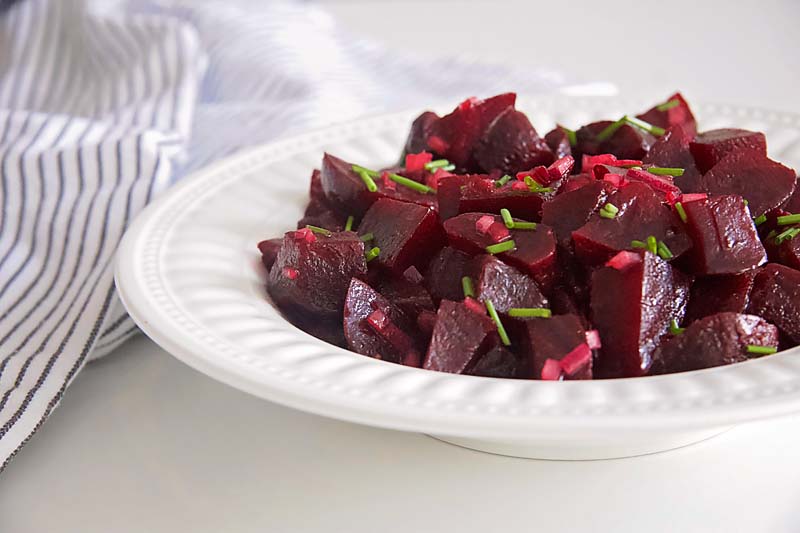 At the beginning of this post, I mentioned that you can now find organic cooked beets that are vacuum sealed in the chilled produce section at the grocery store. When it comes to adding this recipe to your weekly meal plan, purchasing pre-cooked, chilled beets is a great time-saving option!
That said, they aren't difficult to cook yourself. You simply boil them in a pot of water until they are tender. Afterwards, you rinse them off in cool water and their skin comes off pretty easily. Just remember to refrigerate them before preparing this recipe!
Print
Cold Beet Salad with Red Onions and Chives
---
Description
This chilled beet salad is a flavourful, nutritious dish that's great for serving with a sandwich for lunch or as a side for dinner.
---
5

medium beets, cooked and peeled

2 Tbsp

red Spanish onion, finely chopped

5

chive stems, chopped

2 Tbsp

of extra virgin olive oil

1 Tbsp

red wine vinegar
Sea salt and black pepper, to taste
---
Instructions
Cook beets in advance and chill for at least 1 hour (or use pre-cooked packaged beets).
Chop beets into 1-1/12 inch chunks. Chop red onion and chives.
In a serving bowl, pour in olive oil and red wine vinegar.
Add in red onions, chives, and beets. Toss until coated.
Season with sea salt and pepper to taste.
Chill for 2 hours before serving
Notes
Keeps fresh in a sealed container in refrigerator for 3 days.
PIN this recipe for later!

Latest posts by Emily Smith
(see all)